Amwell Visit Site
Overview
Amwell at a Glance
Are Amwell Counselors Licensed Professionals?
Amwell has a network of 350 professional therapists, which includes psychologists, social workers, and counselors. All of them are required to have an active license and must hold an advanced degree (master's or higher) from an APA accredited institution. Furthermore, a minimum of one year's experience is required for its practitioners.
Before therapists can join Amwell's network, their credentials are verified by an onboarding team. Regular quality assurance reviews take place throughout the partnership between Amwell and its therapists, in order to guarantee a high level of service.
Amwell Specialties and Areas of Expertise
Amwell's therapists specialize in a variety of mental health issues and disorders, including
Anxiety

Social anxiety

Stress management

Bereavement/Grief

OCD

PTSD/Trauma

Couples therapy

LGBTQ+ counseling

Panic attacks

Insomnia

Depression

Life transitions
A major advantage is that Amwell's network includes physicians and psychiatrists that can offer prescriptions online. During your online session, your therapist can direct you to someone qualified to write you a prescription if needed. You can then collect this prescription from a pharmacy of your choice.
The medications that your physician or psychiatrist is allowed to prescribe depend on his or her credentials. Amwell is unable to issue all types of prescriptions. The following are excluded:
Controlled substances (anxiety medications, narcotics, ADHD medications)

Medications for erectile dysfunction

Muscle relaxants

Any additional state-specific controlled medications (additional pain medications, pseudoephedrine)
How Amwell Works
Features and Functionality of Amwell
How to Get Started with Amwell
Signing up
The signup process for Amwell is quick and straightforward. It doesn't require any payment information, just your full name, the state that you reside in, and your birthdate. You need to be 18 years or older to sign up, or you can be added to the existing account of an adult. You also need to be located in the United States.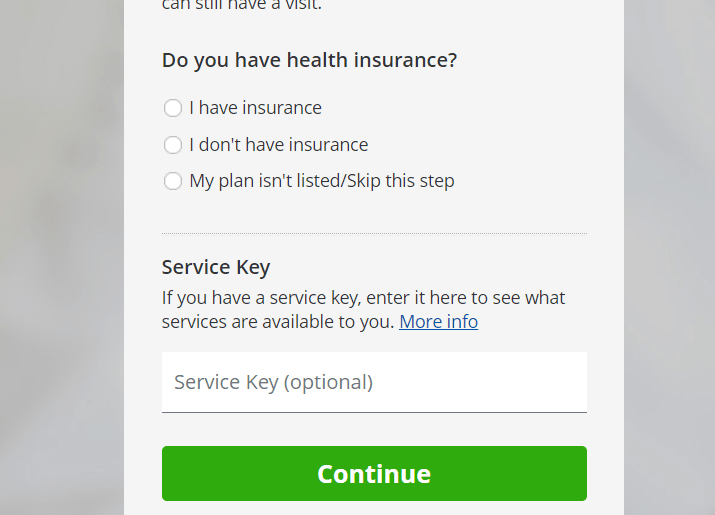 Your Amwell account will give you direct access to its online therapy platform, in addition to the many other offered services. This includes the ability to schedule a doctor's appointment for yourself or your child, book a session with a nutritionist, or request a second opinion.
Getting matched with a counselor
After completing the signup process, you will be directed to Amwell's homepage, which lists all the services that it provides.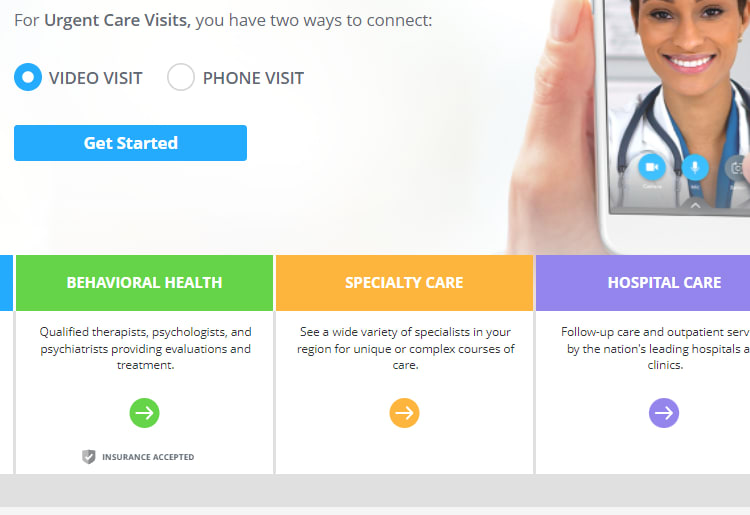 Once you click on "Therapy," you will be directed to a page where you can select a therapist. Amwell doesn't offer a matching process, but instead provides you with the ability to choose your own therapist for each session.
Amwell provides a number of convenient filters to help you find the right therapist. These include gender, therapist availability, or therapist specialty.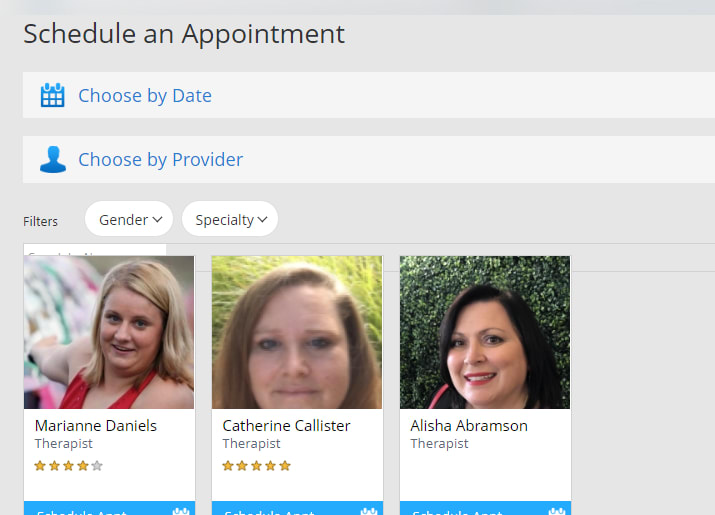 Based on your filters, Amwell offers a list of therapist profiles to choose from. These include the following information:
Language spoken

Professional education and university

Years of experience

Location

Interests

Affiliations
A therapist's profile shows an average client satisfaction rating, ranging from one to five stars. However, you are currently unable to read any detailed client reviews. Amwell also doesn't allow you to create a list of favorite therapists.
Booking sessions
No matter what time of day it is, you can schedule a therapy session as long as a therapist is available. I've found that there are usually therapists available for a session on the same day if you start looking in the morning.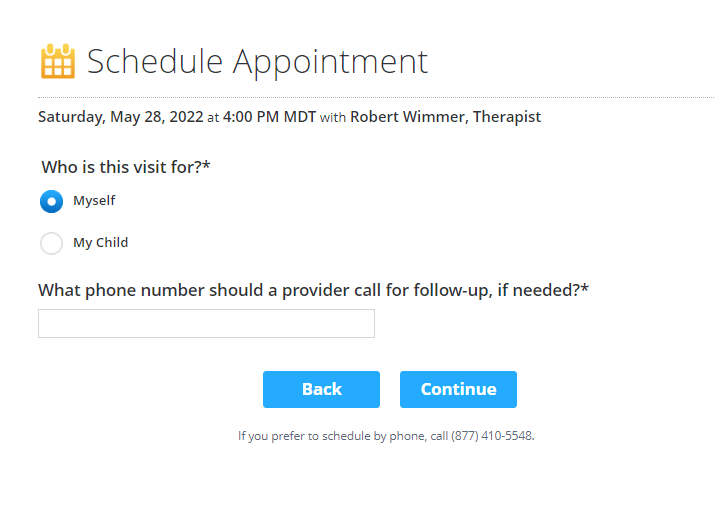 After selecting your therapist and appointment date and time, you are directed to a payment page. At the moment, you can only pay via credit card.
All the online therapy sessions on Amwell's platform are video calls. Unfortunately, Amwell doesn't give you an option to contact your therapist outside of your sessions. If you miss your appointed session, Amwell may charge a $40 cancellation fee.
Confidentiality and Privacy
While Amwell's documentation doesn't clarify whether or not video calls are encrypted, the company is HIPAA compliant, which means that your records cannot be accessed by an unauthorized party. Furthermore, online therapy sessions are never recorded or stored. This secure process ensures that your health data will never be made public in the case of a data breach or leak.
Amwell Apps
Amwell offers a free app that has all the essential functions that its website has. You can schedule and attend video sessions with a therapist all from within the app.
The app is available for Android and iOS smartphones and tablets through the Google Play Market and the App Store. Amwell was the most downloaded app in the telehealth category in 2018.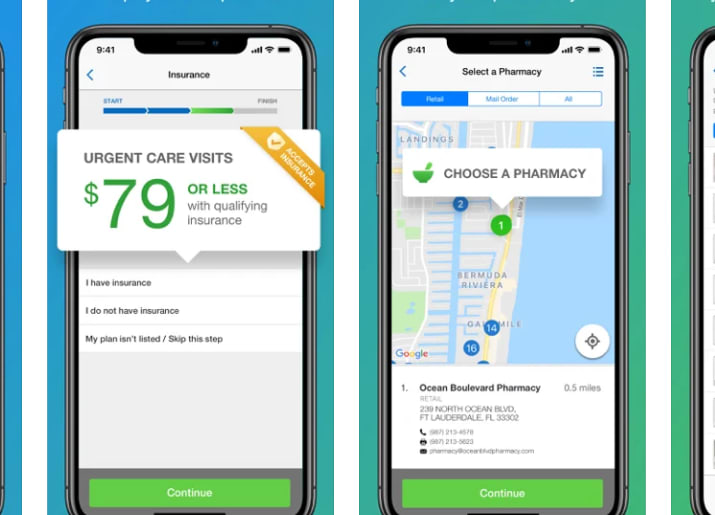 How Does the Amwell App Work?
The Amwell app works exactly as its website works. After downloading the app, you will be asked to create a (free) account. After providing your personal information and insurance data, you'll be able to schedule an appointment right away.
The app allows you to conduct online therapy sessions through a video call on your device. If you're directed to a physician or a psychiatrist, you are able to receive a prescription through the app. This can be sent to a pharmacy of your choice, all without you having to exit the app.
Prices of therapy sessions are the same on the app as they are on the Amwell website.
Reviews of the Amwell app are generally very positive. Its Android app is rated 4.3 stars, based on over 8,000 reviews on the Google Play Store. Its iOS app has a rating of 4.9 stars, based on over 33,400 reviews on the App Store.
Amwell Customer Support
Amwell offers support through email and phone. There is currently no chat support available.
Phone support is available 24/7. After a brief menu of choices, I was connected to a customer support representative within two minutes.
Amwell's website does not mention typical reply times for its email support. However, I emailed its support on a Tuesday morning and received a reply before the end of the day.
Additionally, Amwell's website contains 23 FAQ pages that cover most questions about its online therapy service. Amwell also has a blog on its website that is frequently updated with helpful articles about online therapy.
How Amwell Compares to Other Online Therapy Providers
PsyD, LMFT, LCSW/LMSW, LPC
PsyD, LMFT, LCSW/LMSW, LPC
PsyD, LMFT, LCSW/LMSW, LPC
PsyD, LMFT, LCSW/LMSW, LPC
Amwell vs. BetterHelp
Amwell provides an easier signup process and offers more flexibility in choosing a therapist. Additionally, Amwell is more widely covered by insurance providers, and professionals can prescribe medication through its platform. However, BetterHelp has a significantly larger network of over 33,000 licensed professionals and more specialties available. BetterHelp also connects you with a therapist through a chatroom, allowing for 24/7 messaging.
Amwell vs. Talkspace
Talkspace offers a free consultation to match you with a licensed therapist. You can connect through a chatroom, allowing for 24/7 messaging. Amwell, however, offers more flexibility in choosing your own therapist. Talkspace is not covered by insurance, whereas Amwell is connected with 125 insurance providers. Talkspace has a bigger network of over 5,000 licensed professionals with a wider range of specialties, but unlike Amwell, they cannot prescribe medications.
Amwell vs. Calmerry
Calmerry customers subscribe to a monthly, quarterly, or bi-annual plan, whereas Amwell maintains a pay-per-appointment pricing model. Calmerry matches you with a therapist based on a questionnaire, while Amwell offers the flexibility to pick your own therapist based on your own preferences. Calmerry is not covered by any insurance providers, and its therapists are not allowed to prescribe medications.
Amwell Pricing
How Much Does Amwell Cost?
Amwell charges between $109 and $129 per digital therapy session, depending on the experience and the credentials of the therapist. The costs remain the same regardless of the time and day of the session.
A 45-minute session with a therapist with a master's degree.
$436 (assuming 4 sessions per month)
A 45-minute session with a doctoral-level psychologist.
$516 (assuming 4 sessions per month)

Amwell Visit Site
Is Amwell Covered by Insurance?
During the sign-up process, Amwell allows you to connect your existing insurer to your account, by choosing from a list of 125 providers. This includes the biggest industry names, such as Anthem, Aetna, Blue Care, and Blue Cross.
If your healthcare plan covers Amwell's online therapy, you'll be able to collect reimbursements for your sessions depending on the level of your deductible. Some insurance plans will give you full coverage, but you should check with your provider if this is the case or not.
Bottom Line
Amwell differs from other online therapy providers, as you can connect to any professional in its network based on availability. You don't have to sign up for a subscription, and you only pay for scheduled appointments. Amwell's network of professionals can write you a prescription if necessary.
While Amwell doesn't offer any way to communicate with your therapist in between appointments, it's connected to 125 healthcare insurance providers which can lower your out-of-pocket costs. Instead of going to a doctor's office for a prescription, Amwell allows you to take care of your mental health from the comfort of your own home.