In a Nutshell
Amwell is a telemedicine management solution featuring therapist and counselor sessions via multiway video conferencing. Amwell's easy-to-use mobile app lets users schedule appointments and access live, on-demand video consultations.
pros
Accredited by the ATA
Visits anywhere/anytime
High-quality video streaming
cons
Limited payment options
No discounts offered
Payment required upfront

Amwell Visit Site
Amwell Review 2022 - Is this online therapy service worth it?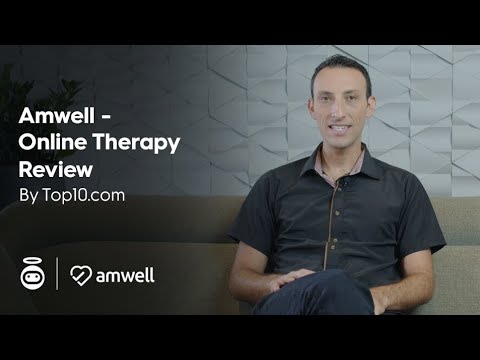 Therapist/Counselor Screening Process
Amwell's telehealth therapy services connects users with a network of licensed doctoral-level psychologists and master's level therapists. Each therapist practicing within Amwell Medical Group is licensed to practice in their state and is trained in prevention and treatment techniques via telehealth.
In addition to therapists and counselors, Amwell's network includes US board-certified clinicians who can prescribe medications directly for pharmacy pick up.
Get help with:
Anxiety
Social Anxiety
Depression
Stress Management
LGBTQ Counseling
Bereavement/Grief
OCD
PTSD/Trauma
Couples Therapy
Panic Attacks
Insomnia
Life Transitions
Types of Sessions Available:
Amwell offers video therapy and counseling visits at convenient times and for a low cost.
Pricing & Special Offers
Online therapy visits cost $99 for a master's level practitioner or $110 for a doctoral level practitioner. Compared with the average cost of $161 throughout the US, Amwell telemedicine therapy and counseling is an affordable option. This cost doesn't include the cost of any prescriptions, follow-up lab work, or follow-up visits if applicable.
Amwell also accepts a variety of insurance providers, so users may just need to cover a copay or meet a deductible. Contact your company's human resources department or health insurance company to see if your employer or insurance company offers a telehealth benefit.
A standard therapy visit on Amwell is 45 minutes. The average number of visits for most patients is 6, but your therapist may recommend more or fewer visits depending on your individualized therapy plan.
Amwell does not offer a free trial or any warranty on its offered services, but you can cancel at any time or change specialists if you are dissatisfied.
What's Unique About Amwell?
With over 350 therapists and counselors nationwide, Amwell is one of the most comprehensive telemedicine applications for mental health. Amwell is accredited by the American Telemedicine Association, indicating that the company follows best privacy practices with sensitive user data, for example, by not recording any of the specialist visits.
The wide availability of hours and practitioners means that you will likely be able to schedule a visit with the specialist of your choice at a time. The video platform is easy to use and has the unique features that make therapy on Amwell feel like an in-person visit. Amwell's pricing at either $99 or $110 per 45-minute session makes the app very attractive, and Amwell further accepts a wide variety insurance providers, which significantly lowers the cost for users.
What Our Expert Says About Amwell
Amwell offers telehealth visits that focus on mental and behavioral health. It also has medical doctors that support a variety of non emergent medical needs. It is collaborative and often covered by insurance (but if that is not the case, the price for sessions is far less than what it costs to pay out of pocket for a therapy appointment). There are more than 350 psychologists, social workers, and other mental health specialists, all with both broad and specialized knowledge in the areas in which they practice. All sessions are in real-time video and are about 45 minutes long. Scheduling is easy and so is the entire sign-up process. Give it a try today!
What Users Are Saying About Amwell
"I love this service! All of our questions were answered and the prescriptions are called in, in less than 30 minutes!! Saves me both time and gas!!"
"Amwell is the best! It's incredible and it's affordable and convenient and it's just... the best!!"
"This app is awesome! I got my prescription and consultation with the doctor in less than 20 minutes of downloading."
"This was my first experience with telemedicine and I am thoroughly impressed! I was able to set up my account, verify insurance, and have a virtual visit within ten minutes. I'm a nurse of 20 years so I can verify that the doctor was thorough and his assessment and questions were appropriate. My medication was called in promptly and ready for pick up within the hour."
Scheduling Live Chats/Video Chats
Scheduling a visit with an Amwell mental health care professional is straightforward, and with flexible hours, it is easy to find a convenient time. This is how to schedule a visit:
Sign up to Amwell for free.
Creating an account is fast and easy. Follow the clear steps to create your account, and when prompted, enter your insurance information and subscriber ID. Once you have filled in your information, it is then stored securely for all future online visits.
Payment
Once you have completed the sign-up process, you will first have to pay for the visit. The price will depend on your insurance co-pay or will be either $99 or $110, depending on your chosen practitioner's level of expertise.
Choose your therapist or counselor.
Amwell offers a list of available therapists and counselors and specifies their experience and ratings so that users can choose the best practitioner for their unique needs. You can speak to different practitioners before deciding which one is best for you.
Schedule a visit.
Amwell's web-based and mobile apps use secure, high-quality streaming video to make telehealth visits seamless and private. Therapists are available 7am - 11pm ET, 7 days a week for professional counseling and therapy visits. Once you and your therapist establish a relationship, your therapist will then schedule ongoing sessions to continue treatment.
Currently, users need to pay upfront for therapist or counselor visits, though they may be eligible for reimbursement from your insurance company. Just use the Amwell claim receipt that can be found on the app under "My Records" and then "Previous Visits."
Customer Support
Amwell offers 24/7 customer support via email and phone. The site's FAQ section is also fairly comprehensive, and many answers to common questions can be found there.
Bottom Line
One out of every 4 Americans experiences emotional distress during their lifetime, but only half of these seek care. Forty-four million Americans experience mental health challenges in any given year—from chronic disorders such as depression, anxiety, PTSD, and insomnia.
Online therapy and counseling offer reliable, private, and convenient visits with licensed and highly trained mental health practitioners, bridging the gap between mental illness and treatment. Amwell is a respected telemedicine therapy provider with over 1.5 million app downloads and 96% of clients stating that they are very or extremely satisfied with their therapist. With competitive pricing, convenient scheduling, and an easy-to-use interface, Amwell is a good option for people seeking secure, private, and affordable telemedicine therapy.

Amwell Visit Site