In a Nutshell
If you are having problems in your relationship, ReGain online counseling can provide an ideal safe space for you and your partner to discuss your issues. And best of all, you can get help at an affordable price from the comfort of your home, the privacy of your office, or anywhere with an internet connection.
pros
Simple and straightforward signup process
Very reasonable fees
User-friendly desktop and mobile platforms
cons
Lack of personalization that face-to-face counseling provides
Having to rely on an internet connection
ReGain Get Started
ReGain Review 2022 - Can marriage counselling apps save your relationship?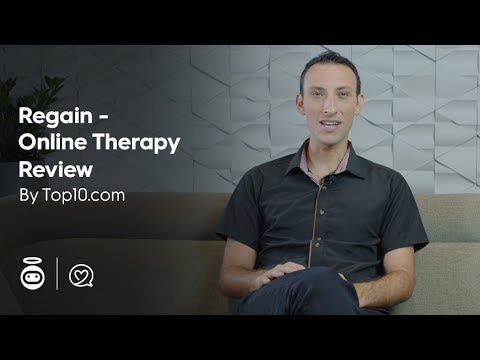 Therapist/Counselor Screening Process
Having been designed with busy individuals in mind, the ReGain signup process is simple and straightforward. A short questionnaire will help match you with the best counselor based on your needs and preferences.
The questionnaire starts by gathering information about your expectations for therapy, and your counseling inclinations. Are you looking to improve communication, regain intimacy, or perhaps resolve conflicts?
Decide whether you want to join therapy with your partner or by yourself. Inviting your partner is completely optional. If you decide to join as a couple, your partner will receive an invitation link.
Once you finish the questionnaire, the system will ask you to create your private account. Enter your name (it doesn't have to be real), email address, and password. You'll receive a verification code via email. Enter the code in the Regain website, choose your pricing plan, and voila! You are ready to be matched with a counselor and start therapy.
Get Help With
ReGain offers help with issues related to your relationships and it may be used either individually or as a couple. Whether you are looking to repair your relationship after infidelity, solve communication issues, or simply fall back in love after you've grown apart, ReGain can help. ReGain can also help deal with underlying issues that may be causing a deep strain in your relationship, such as addiction, anxiety, stress, or depression.
Types of Sessions Available
You can contact your ReGain online counseling professional 24/7 from a computer, tablet, smartphone, or any device with a web browser and internet connection. Anytime you want to discuss something going on in your relationship or ask a question, enter your dedicated 'therapy room' and write it down. You'll be notified as soon as your counselor responds.
Phone and video sessions can also be scheduled according to your availability and can be attended individually or as a couple. Regain 3-Way Video Calling feature is also a great option if you and your partner need to attend a couple's therapy session, but can't be in the same physical space at the same time.
Pricing & Special Offers
ReGain offers a flat rate for both its counseling services and the use of the platform. The cost ranges from $60 to $80 per week depending on the plan you choose. This fee includes unlimited messaging and the option for weekly phone or video sessions.
You will be billed on a monthly basis, and you can pay using either your credit card or PayPal account.
If you feel that you and your partner no longer need the services of ReGain, you can simply cancel the subscription by visiting the platform, choosing 'Billing Settings' from the drop-down menu, and selecting 'Quit Counseling.' You have successfully closed your account when you receive a message that says, "Your subscription will not be renewed."
What's Unique About Regain?
One thing that sets ReGain online counseling apart is the level of training of its counselors, all of whom are licensed, trained, experienced, and accredited psychologists (PhD / PsyD), licensed marriage and family therapists (LMFT), licensed clinical social workers (LCSW), or licensed professional counselors (LPC or LPCC). The high level of professionalism means counselors give on-point and practical advice.
Another unique aspect of this counseling program is the option to attend sessions either as couples or individually, giving clients the flexibility to deal with issues on their own or as partners.
What Our Expert Says About ReGain
Difficulty in your relationship? I recommend ReGain as the premiere online site for couples and individual relationship counseling and support. Therapists with specialized training strive to get to the core relationship issues using a wide variety of techniques. Both partners have access to the written communication, though the therapists may opt to meet with clients alone or as a couple depending on the current situation. Areas addressed in therapy sessions might include lack of intimacy, rekindling the spark, infidelity, and codependency. Each therapist is highly trained. ReGain offers phone or video sessions and clients can write to their therapists in between sessions as often as they choose. Working with a therapist from ReGain is an excellent way to navigate the trials and tribulations of your relationship in an honest and meaningful way. The feedback is extremely positive and there are many couples who can attest to their successes!
What Users Are Saying About Regain
Many users find this platform useful, and more and more people are discovering its benefits.
Here's what they have to say:
"ReGain is very convenient if you're looking for marriage counseling and you're constantly on your phone or computer. You don't even have to go to an office for therapy."
"The therapist that my wife and I got through ReGain was a lot more helpful than our 'live' therapist. I can personally attest to the quality of service provided by my ReGain counselor."
"I prefer to be anonymous, and that option is available with ReGain. It is nice to receive genuine help via chat."
"ReGain counseling has been a great benefit to my marriage. Our therapist provided effective options for solving our issues."
Scheduling Live Chats/Video Chats
Once you sign up for an account, you will have access to a "room" which is open 24/7. This is a
safe and private space in which you can communicate. If you opted to invite your partner, your partner will also have access to this room.
You can enter the room any time of the day and discuss your issues, ask questions, or write about feelings. Your counselor will respond and help you deal with your issues in a timely manner. Because conversations with your counselor are not in real time, you don't need to schedule your conversations.
ReGain Get Started
Customer Support
If you need help in any way with your account, or if you have a question or concern that is not covered in the FAQs on the site, you can contact ReGain through email or by using the online messaging application. The ReGain team will get back to you at the earliest possible time.
Bottom Line
Overall, ReGain online counseling offers a comprehensive approach to therapy. The well-trained and highly-qualified therapists are licensed and certified by the state to hold therapy sessions and provide counseling. ReGain's discreet and affordable services, pricing, customer support, privacy, and usability are top-notch. If you feel that you and your partner are falling apart and you want to save your relationship, ReGain online counseling can help you get back on the right path.