ReGain Visit Site
Overview
ReGain Online Therapy Services Video Review
Watch Top10's ReGain video review to learn everything you need to know about how their Online Therapy Services work.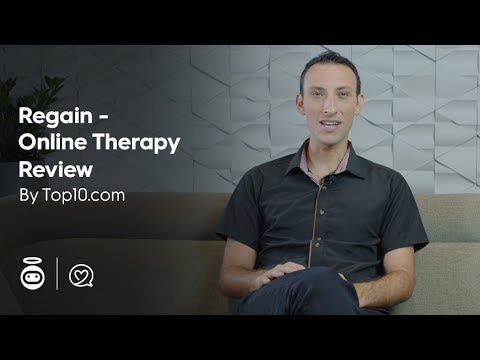 How to Get Started with ReGain
Signing up
The signup process is simple, quick, and hassle-free. On the ReGain website, click on the "Get started" button to begin. You'll be asked questions regarding your situation, your goals with therapy, and whether you would like treatment as an individual or a couple. You'll also need to enter the email address that you wish associated with your account. If you want to sign up as a couple, you can enter your partner's name and email address as well, although you will share a single ReGain account.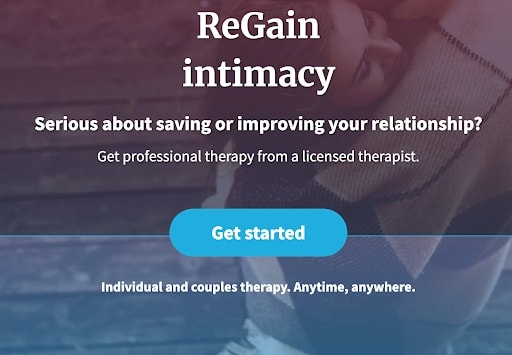 Getting matched with a counselor
After completing the screening questionnaire, ReGain will aim to match you with a therapist based on their relevant clinical specializations and your preferences, such as for an older or younger, male or female, and/or LGBT+ therapist. To ensure ReGain finds a good fit for you, the matching process period can take up to two days after signing up.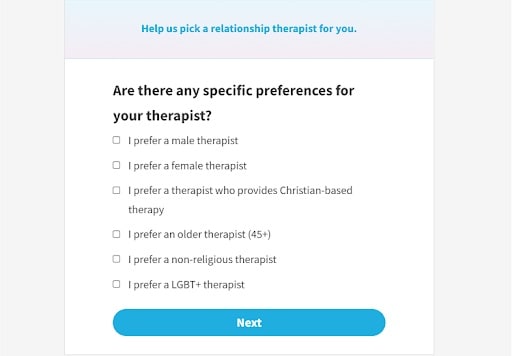 ReGain will send you an email as soon as you are matched, linking you to your new therapist and ReGain's online messaging service to start communication. All background information is available by clicking on your therapist's profile after matching.
If you ever feel things aren't working out between you and your therapist, you can request a different one at any time at no additional cost. You are free to leave a review of your therapist and to view reviews left by others.
Booking sessions
Scheduling an appointment is as easy as viewing the therapist's calendar, clicking on a date and time, and choosing either a phone or a video appointment. You may schedule one live session per week. ReGain supports three-way live sessions if your partner is joining from a different location.
You may book sessions up to four weeks in advance. If you experience any scheduling conflicts, you may contact your therapist via the ReGain messaging service—an online "room" shared with your therapist, to which you will have 24/7 access. ReGain does not state on its website what its policy is on charges for missed appointments.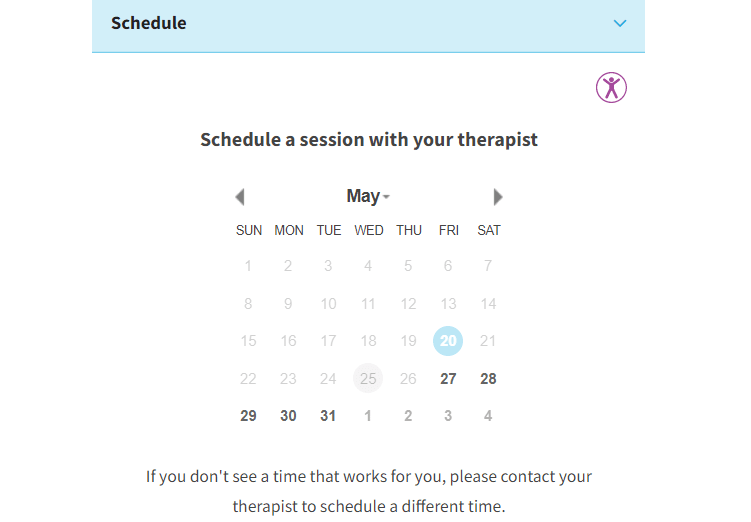 How ReGain Works
ReGain Specialties and Areas of Expertise
Therapists at ReGain have a specific interest in relationship therapy for couples or individuals. With over 12,000 therapists, ReGain offers an extensive range of clinical approaches and areas of expertise within relationship therapy. Common difficulties that ReGain therapists help to manage are relationship issues, stress, anxiety, intimacy-related issues, depression, coping with life changes, communication problems, and infidelity.
You can view your therapist's areas of specialization and their experience within their profile. Here, you can also find their clinical approaches to treatment. For example, a therapist might list:
Client-centered therapy
Solution-focused therapy
Motivational interviewing
Dialectical behavior therapy
Existential therapy
Jungian therapy
Are ReGain Counselors Licensed Professionals?
The therapists that work with ReGain are all certified and experienced professionals. They must be either a licensed psychologist (PhD/PsyD), family and marriage therapist (LMFT), professional therapist (LPC/LPCC), or a clinical social worker (LCSW/LMSW).
ReGain requires that all its therapists show proof of license. Licenses are verified by the ReGain evaluation team to ensure qualifications have been certified by their state's respective professional board. Moreover, to guarantee quality of service, all therapists must possess a minimum of three years' clinical practice and 1,000 hours of therapy experience before providing counseling through ReGain.
ReGain Apps
The ReGain Couples and Counseling Therapy app is available for both iOS (via the App Store) and Android (via Google Play Store). The app is free to download and complements the web browser version of the ReGain user interface.
How Does the ReGain App Work?
With the app, you'll be able to manage your therapy entirely through your device. It contains all of the same functions as the website, including the signup process, access to your therapist, the ReGain messaging service, and your therapist's calendar.
While the ReGain app is simple and easy to use, customer support is available for those experiencing any difficulties. Note that any live sessions will be limited by the audio and video quality of your device.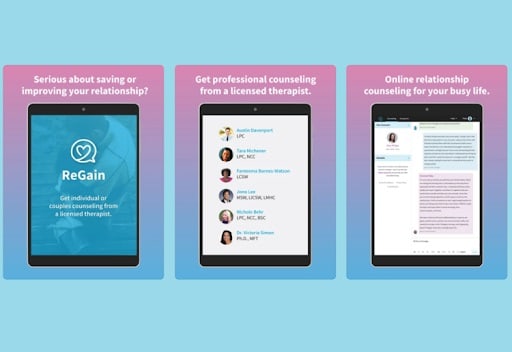 The current ratings for the ReGain app are highly positive. It scores 4.8/5 (5,500 ratings) on the App Store and 4.3/5 (1,000 ratings) on Google Play.
ReGain Customer Support
ReGain offers customer support through its website and app. A Contact option is available at the top of your screen (or via the options menu on the app) and takes you through to the customer support portal. Alternatively, you can contact ReGain directly using its support email address: contact@ReGain.us.The support team is available 9am-5pm, Monday-Friday (PT), and aims to return your message within one business day. ReGain currently does not offer telephone support or a live chat customer support function.
There is an extensive FAQs section, where you will find plenty of information on topics such as the specializations of ReGain therapists. ReGain also provides help and advice in the form of blog posts on common counseling areas, such as emotion and communication issues, divorce, and alcohol abuse.
ReGain Pricing
ReGain's fees range from $60 to $80 per week. The exact price you pay depends on your home state, disability status, income, and the number of therapists available on ReGain at the time of signup. The subscription is billed to a credit card or PayPal and is renewed every 4 weeks.
Unlimited messaging + weekly phone or video sessions
Is ReGain Covered by Insurance?
ReGain does not work directly in-network with any health insurance providers. Coverage will depend on your individual plan, the therapist you choose, and the state regulations where you live. For example, some insurance companies do not recognize ReGain's service or your coverage may not include online therapy, so you should always check with your provider.
ReGain will supply you with a receipt to submit to your insurer for partial reimbursement upon request.
ReGain Alternatives
Video, phone, message, live chat
Video, phone, message, live chat
Video, phone, message, live chat
Video, phone, message, live chat
PsyD, LMFT, LCSW/LMSW, LPC
PsyD, LMFT, LCSW/LMSW, LPC
PsyD, LMFT, LCSW/LMSW, LPC
PsyD, LMFT, LCSW/LMSW, LPC
No, but partial reimbursement available

ReGain Visit Site
ReGain vs Talkspace
Talkspace is an online therapy platform that connects you with a matched therapist. It's more comprehensive than ReGain, providing psychiatry in addition to counseling. Talkspace also offers services for individuals, couples, and teens, whereas ReGain is a dedicated couples counseling site.
Talkspace has different subscription plans for messaging and live services, the latter being more expensive. Conversely, ReGain is a dedicated couples counseling site, offering support through live video sessions and unlimited messaging within a single package.
ReGain vs BetterHelp
BetterHelp is an online therapy platform that also connects you with a matched therapist. It offers access to over 24,000 licensed therapists for individual adults, couples, children, and teens. Comparatively, ReGain only has 12,000 therapists and is focused just on adults and couples.
Both ReGain and BetterHelp offer a single, monthly subscription plan including messaging and live services. However, ReGain's therapists are all guaranteed to be qualified and experienced in relationship therapy and couples counseling.
ReGain vs Online-Therapy.com
Online-Therapy.com is another popular e-therapy platform. It focuses on the use of cognitive behavioral therapy as its primary therapeutic intervention. Online-Therapy.com offers an eight-part guided therapy program tailored to meet various mental health issues.
Compared to ReGain, Online-Therapy.com offers subscription plans, starting at $31.96/week (one weekly live session), up to its premium plan at $63.96 (two weekly live sessions plus other services).
Bottom Line
ReGain online therapy offers convenient and discrete access to over 12,000 licensed professional relationship therapists for individuals and couples. It provides great value for money and flexibility in terms of how and when you can schedule sessions and communicate with your therapist.
Its screening procedure will match you with a licensed therapist with at least three years' clinical practice and a minimum total of 1,000 hours of therapy experience. The thorough screening process will ensure your therapist's specializations are tailored to meet your specific needs.
ReGain understands everyone's situation is different, reducing fees for those experiencing financial burdens or with a disability.