Due to social stigmas, religious disapproval, and unflattering media coverage, lesbian, gay, bisexual, transgender and questioning people often have a harder time letting their guards down. These feelings of not belonging frequently lead to various emotional and psychological issues that need to be dealt with professionally. And that's where online therapy services comes in.
What is LGBTQ Therapy?
LGBTQ therapy is similar to other forms of therapy, but emphasizes accepting everyone without judgment. Studies have found that individuals in the LGBTQ community are more likely to suffer from depression, anxiety, and mental health disorders. LGBTQ therapy helps members of this community with issues that are unique to their situation, such as anxiety, losing friends over their sexuality, and worries about coming out, on top of being a safe place to work on any mental health issues.
Counselors who specialize in LGBTQ therapy often identify as a part of this community themselves, but this doesn't always have to be the case. At the very least, you can rest assured that you shouldn't experience any judgment, prejudice, or discrimination when you go in for LGBTQ therapy.
Potential Issues Addressed by Online Gender Therapists
Online gender therapists focus on the mental, emotional, social, and physical challenges of those who struggle with their gender. This includes people who are questioning their gender, are uncomfortable with aspects of their body, or don't have anyone to talk to about these issues.
Some of the issues that are often addressed in gender therapy are:
Feeling disconnected from your body

Gender-affirming interventions

Gender identification

Navigating gender issues during all phases of life

Gender dysphoria
Some online therapy platforms can also accommodate hormone readiness assessments and provide you with a letter of recommendation to bring to clinicians who need this to start treatment. These are generally referred to as hormone replacement therapy (HRT) letters.
What Is Gender Dysphoria as Seen by an LGBT Therapist?
A person suffers from gender dysphoria when their sense of gender identity doesn't match their biological sex. This can lead to anxiety, stress, and depression, especially when that person doesn't have a supportive and compassionate environment. LGBT therapists are not only more likely to recognize the symptoms of gender dysphoria, they are also able to help you navigate the challenges that come with it.
Treatment for gender dysphoria differs from case to case. LGBT therapists can help by practicing acceptance, affirmation, and confirmation of a person's identity. For others, LGBT therapists may support bigger physical and lifestyle changes, such as changes to their voice, hormone treatment, or gender-affirming surgery.
Types of Online Gender LGBT Counseling Recommended
Gender and LGBTQ therapy is not limited to a single counseling method. Instead, gender and LGBTQ therapy is more about providing a safe space to discuss any of your challenges without judgment, prejudice, or discrimation.
Depending on your challenges, the following forms of therapy can be effective for gender and LGBTQ counseling:
Dialectical Behavior Therapy (DBT)

Accelerated Experiential Dynamic Psychotherapy (AEDP)

Somatic Therapy

Emotionally Focused Couples Therapy (EFT)

Gottman Method Couples Therapy

Hypnotherapy

Psychodynamic Therapy

Sex Therapy

Mindfulness-Based Therapy

Eye Movement Desensitization and Reprocessing (EMDR)
Other practices are specific to gender therapy, such as cross-sex hormone therapy and speech and language therapy (voice therapy).
How Do I Find an Online LGTBQ-Friendly Gender Therapist?
Finding an LGTBQ-friendy gender therapist online can seem like a daunting task. Luckily, we've reviewed all the best online therapy providers and investigated each provider's network of counselors. Some online therapy providers don't offer therapy plans specifically aimed towards LGTBQ individuals, but every provider discussed in this article does.
With LGTBQ-friendly and gender therapy, the connection you have with your counselor is crucial, so you should pay attention to whether or not a platform allows you to easily change therapists, and how much control you have over the matching process. Some online services allow you to browse the therapists by filtering your preferences, reading detailed profiles, or analyzing their client reviews. This should help you to find an LGTBQ-friendly therapist that matches your needs.
Can You Stay Incognito?
Most online therapy providers for LGBTQ individuals allow you to stay unidentified. All of the providers listed in this article understand the challenges and fears that come with mental health challenges, and even more so when it comes to gender or sexual orientation issues.
For example, Pride Counseling doesn't require your full name or contact information when you sign up. You only need to provide a nickname. Over time, once you have connected with your therapist, you may introduce your identity if you so choose.
How LGBTQ Online Therapy Can Help
No one should have to live their lives feeling disrespected about who they are or want to be. Online therapy has been a great way for members of the LGBTQ community to find a safe space for counseling. It allows for those struggling to spend time working through issues related to job discrimination, housing injustices, parenting inequities, and bullying, as well as substance abuse, suicide attempts, depression, and anxiety.
Online therapy is generally much more affordable than traditional face-to-face sessions. For $40 to $70 a week, you can have any time messaging and choose from various live session options. Most sites allow sessions to be carried out over the phone or via computers and tablets. This eliminates the travel and waiting time you'd have with a one-on-one office visit.
You can choose a therapist who is professional and understanding and meets your individual needs. And if you are paired with someone who doesn't feel like a good match, you are allowed to make a change to someone more fitting. It is also discrete and HIPPA-compliant. You don't need to go in and out of an office and can do your therapy anywhere you feel comfortable. You can pick a quiet spot at home or take a walk and talk to your therapist. The point is that you choose what feels safe for you.
Here are 5 of the best options for people in the LGBTQ community who are seeking online counseling:
1. Pride Counseling
Specialized Therapy for the LGBTQIA+ Community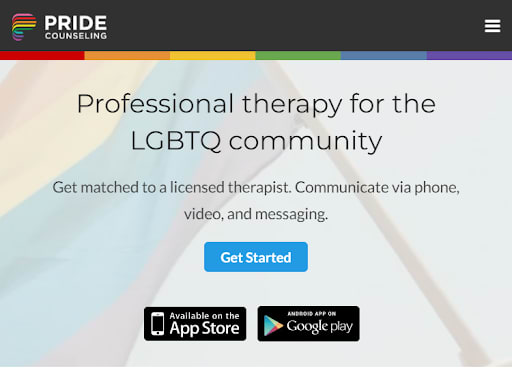 Best for:

LGBTQIA+ Counseling

Pricing: From $65-$90

per week

Ways of communication:

Text, video, audio, live sessions
With a total dedication to the LGBTQ community, Pride Counseling is made up of qualified therapists who are committed to working with every gender, orientation, and identity. The therapists are attuned to the many different problems such as substance abuse, self-harm, depression, and the impact of bullying and prejudice.
Pride Counseling is a straightforward platform that affords clients discreetness so you can chat with your therapist without worrying. It costs from $65-$90 a week, and you can message your therapist at anytime. Because those who identify as LGBTQ are often at a higher risk of depression or other significant mental health issues, Pride Counseling is a wonderful site for both adults and teens alike.
Why we chose Pride Counseling: Pride Counseling offers a vast network of licensed counselors with expertise in LGBTQ+ issues, ensuring specialized care. They provide a sliding fee scale for affordable mental health support. Their intuitive platform allows for discreet communication via messaging, phone or video sessions.
Pros:
All therapists specialize in LGBTQIA+ counseling

Affordable rate for multiple sessions

Treats an extensive list of mental health issues
Cons:
No support group options

Does not accept insurance
Read the full Pride Counseling review

Pride Counseling Connect Now
2. BetterHelp
Excellent reputation for successful counseling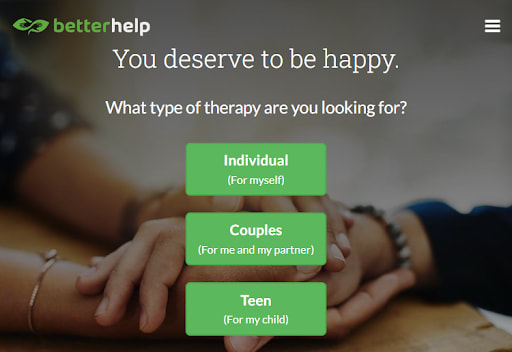 Best for:

Largest online network of therapists

Pricing:

From $65 per week

Ways of communication:

Video, phone, message, live chat
BetterHelp is a great choice for anyone seeking online counseling, including members of the LGBTQ community. Its network includes thousands of caring therapists who are fully licensed. You can request to be paired with a therapist specialized in treating members of the LGBTQ community, so you know you will be understood and respected no matter what challenges you're dealing with.
While it doesn't take insurance, its pricing is competitive and its effectiveness has been proven by studies. BetterHelp reviews are positive and the service is reasonably priced, so it's a great option for ongoing online therapy.
Why we chose BetterHelp: BetterHelp's platform offers a seamless experience, connecting clients with therapists experienced in LGBTQ+ counseling and mental health support through messaging, phone, and video sessions. Their exceptional financial assistance options make mental health services more affordable for everyone.
Pros:
Highly acclaimed in the industry

Message your therapist anytime

You don't have to give your real name
Cons:
Prescriptions not available

Does not take insurance
Read the full BetterHelp review

BetterHelp Connect Now
3. Regain
Relationship therapy with LGBTQ expertise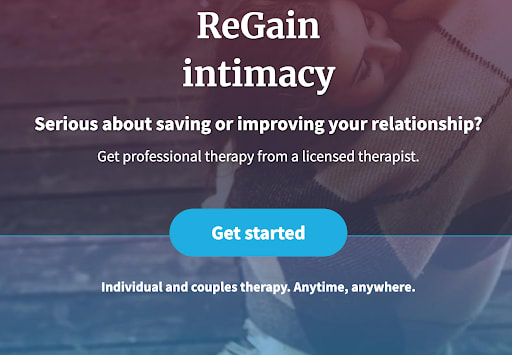 Best for:

LGBTQ couples

Pricing:

$65-$90 per week

Ways of communication:

Video, phone, message, live chat
ReGain specializes in relationship counseling online, so it's a great choice for individuals or couples alike. What's nice about this service is that, if you choose, you and your partner can both speak to your therapist online. When signing up, you can choose a counselor who specializes in LGBTQ+ therapy.
You can message your therapist at any time, and you can choose the communication method that is most comfortable for you. ReGain is straightforward and totally web-based. So, you can discuss anything you want without worrying.
Why we chose Regain: With ReGain, you can pick and choose your therapy appointments to fit your schedule. You won't have to provide any personal details beyond an emergency contact number, and everything you discuss with your therapist will be classified. There's even the option for reduced fees if you are having financial struggles or have a disability.
Pros:
Focused on couples and relationships

Choose a specialist in LGBTQ+ therapy

Good value for money
Cons:
Limited customer support options

Does not work with insurance providers

ReGain Connect Now
4. Online-Therapy.com
LGBTQ+ cognitive behavioral therapy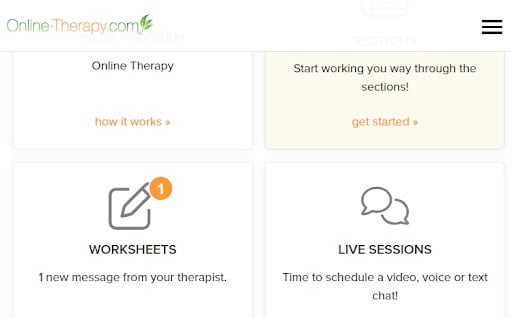 Best for:

Helpful online tools

Pricing:

$40-$88 per week

Ways of communication:

Video, audio, live chat
When you identify as part of the LGBTQ community, it can be challenging if you feel like you have no one to talk to. Online-Therapy.com's network of counselors specializes in taking away your anxiety via cognitive behavioral therapy (CBT). Besides weekly therapy sessions, Online-Therapy.com provides learning modules, assignments, quizzes, and worksheets to fill out.
You'll also have SMS and live chat sessions where you can discuss your weekly activity plan, assignments, and any difficulties you've been having. At any time, you can return to the counselor selection screen and switch to another counselor. This way, you're sure to find a therapist that understands your unique challenges.
Why we chose Online-Therapy.com: The platform offers a blend of therapy tools, including interactive worksheets, video sessions, and built-in mood-monitoring features, providing a comprehensive support system. By providing a free tier with limited features and a variety of plan options, Online-Therapy.com ensures that mental health support is both customizable and available to the LGBTQ+ community.
Pros:
Affordable

Choose your own therapist and switch anytime

Straightforward platform
Cons:
Not all plans include live sessions

Prescriptions not available
Read the full OnlineTherapy.com review

Online-Therapy.com Connect Now
5. Teen Counseling
Therapy for LGBTQ teens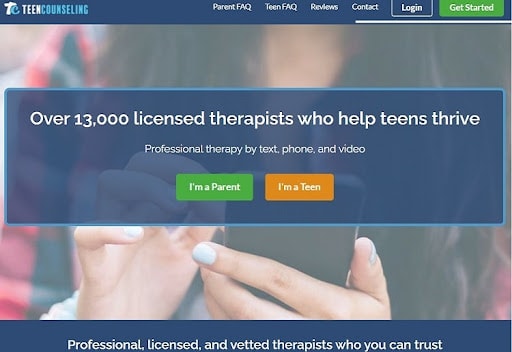 Best for:

Teens looking for LGBTQ-friendly therapy

Pricing:

$65-$90 per week

Ways of communication:

Video, phone, message, live chat
Not a lot of online therapy providers cater to the LGBTQ community, and there are even fewer options for LGBTQ teenagers. Thankfully, Teen Counseling caters specifically to the younger generation, and its network contains counselors that identify as part of the LGBTQ community.
While you need a parent to sign you up, the platform allows you to communicate with a therapist within a safe online chat room, and all information you disclose is discreet. You can book weekly live sessions based entirely on your schedule.
Teen Counseling costs between $65-$90 per week, billed every four weeks to a credit card or PayPal account. Price reductions are available depending on your income, your disability status, and therapist availability.
Why we chose Teen Counseling: With experienced, licensed, and LGBTQ-affirming therapists, teens can find a safe space for self-exploration and healing. Additionally, Teen Counseling's affordable pricing and flexible plans make it an outstanding choice for those seeking LGBTQ youth support.
Pros:
Entirely teen-focused platform

Everything works through a mobile app
Cons:
Diagnoses and prescriptions unavailable

Does not take insurance
Read the full Teen Counseling review

Teen Counseling Connect Now
6. Gay Therapy Center
Online therapy for LGBTQ+ with a personal touch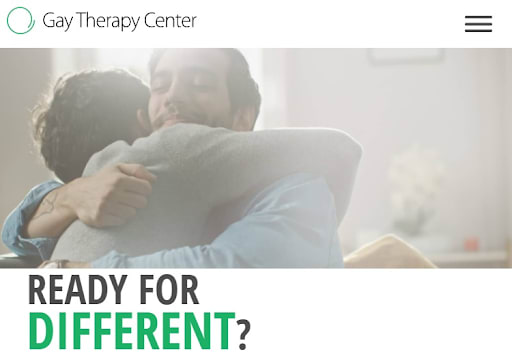 Best for:

Finding LGBTQ-identifying therapists

Pricing:

$185 per session

Ways of communication:

Video
The Gay Therapy Center has provided therapy for the LGBTQ+ community since it was founded in 2015. It offers online therapy via its website, and all its counselors are experienced in dealing with challenges that members of the LGBTQ+ often deal with. In fact, all the therapists at the Gay Therapy Center are not just fully licensed LCSW, LMFT, LMHC, LPCC, or PHD, they are also part of the LGBTQ+ community themselves.
After a 15-minute call, the Gay Therapy Center's founders will match you with a therapist who specializes in your mental health challenges. It usually takes 1 to 2 days before you can talk to your therapist, but this personal approach helps with connecting you with the right counselor. Fees start at $185 per 50-minute session and can vary depending upon who you are matched with.
Why we chose Gay Therapy Center: Their team of highly qualified and culturally competent therapists offers personalized care through individual video sessions. With a proven track record of assisting LGBTQ individuals, couples, and families, the Gay Therapy Center's commitment to providing insightful and sensitive mental health support makes it an exceptional option.
Pros:
Founders personally match you with a therapist

All therapists are fully licensed

All therapists identify as LGBTQ+
Cons:
More expensive than other options

Policies regarding data are not clear
7. Charlie Health
Therapy through community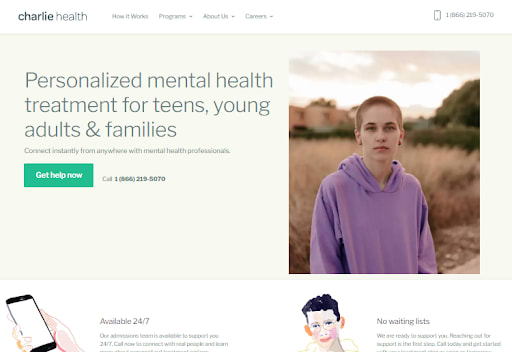 Best for:

Comprehensive treatment programs

Pricing:

Contact Charlie Health

Ways of communication:

Text and video
Charlie Health is a teen-focused treatment service that provides online and in-person therapy for individuals, families, and groups through its Intensive Outpatient (IOP) program.
This provider focuses mostly on evidence-based therapy such as CBT and DBT. Its programs can provide care for those coping with gender identity issues and help teens and young adults deal with unhealthy coping mechanisms and learn new, healthy skills.
After joining the program, you will be matched with one of Charlie Health's licensed professionals, who will guide you through the challenges that you're experiencing. In addition to individual counseling, you will be placed in a group with people who are experiencing similar issues as you, which can help provide a sense of connection.
Why we chose Charlie Health: By offering a comprehensive range of telehealth services, such as group therapy, individual therapy, and psychiatric evaluation, they ensure a well-rounded support system. Charlie Health's team of passionate and licensed professionals combined with their commitment to inclusivity make them an excellent choice for LGBTQ-focused online counseling services.
Pros:
Evidence-based therapy such as CBT

Join groups of people with similar challenges

Can prescribe medications
Cons:
Only for teens and young adults

No clear pricing plan
8. Circles
Talk to other LGBTQ individuals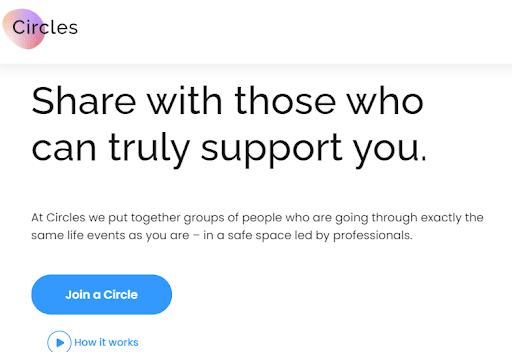 Best for:

Group therapy

Pricing:

$79/month

Ways of communication:

Video, chat
Circles is different from your average online therapy provider. Instead of being matched with a licensed counselor, you're matched with a group of 6-8 people just like you, which the platform calls a Circle. This Circle is led by a professional facilitator who ensures that all people are heard and provided with group support.
Getting started is easy. Once you sign up, you can select the type of challenge you are dealing with. Circles will match you with an available group of people, after which you'll receive an invitation to join. As of right now, it is unclear how many available support groups are focused on challenges exclusive to LGBTQ individuals. Besides the weekly group sessions, Circles allows you to chat and complete exercises at any time.
Why we chose Circles: By providing opportunities for individuals to bond, learn from each other, and develop emotional resilience, Circles' peer-based approach offers a valuable alternative to traditional therapy. Their dedication to inclusivity, showcased through their sliding-scale pricing, further cements their status as a premier choice for LGBTQ online counseling services.
Pros:
Dedicated group therapy

Automatic matching system

Groups are led by a mental health expert
Cons:
No dedicated LGBTQ groups (yet)

Quality depends on others in your group
9. HelloAlma
Directory including LGBTQ therapists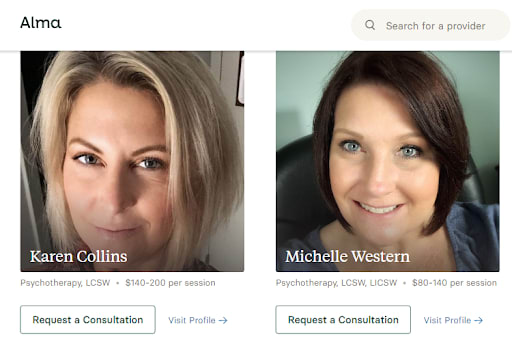 Best for:

Choosing your own therapist

Pricing:

Roughly $100-$200 per session

Ways of communication:

Video, text
HelloAlma is an online therapy provider that utilizes a do-it-yourself approach. Instead of matching you with a therapist and facilitating an ongoing relationship, HelloAlma provides you with a directory of counselors from which you choose one for a consultation.
From that moment, the involvement of HelloAlma is limited, and you and your therapist take it from there. As such, the experience you'll have with HelloAlma depends on who you choose to connect with. Although there are currently no client reviews. Its pricing differs per counselor, but HelloAlma states that the majority of them accept insurance.
Why we chose HelloAlma: HelloAlma makes our list due to its impressive network of LGBTQ and queer-affirming therapists. The platform features a detailed directory containing rich profiles and extensive backgrounds of each therapist, allowing clients to browse through and choose a counselor with experience and expertise that align with their unique requirements.
Pros:
Easy to get started

Find your therapist at your own pace

Majority of therapists accept insurance
Cons:
Therapist profiles don't show client reviews

Only available in select states of the USA
10. 7 Cups
Seek support anytime via chat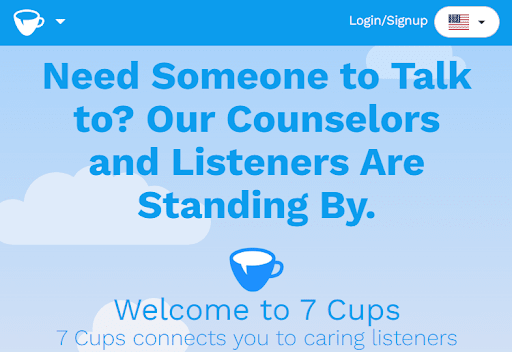 Best for:

Someone to talk to for free

Pricing:

Free-$150 per month

Ways of communication:

Chat
7 Cups provides a community where people can receive help and support for free. It has a network of "Listeners" that are trained to actively listen your problems and provide you with support. This is especially helpful if you just want someone to talk to without having to actually jump through the hoops of finding a therapist.
7 Cups also has a free community Q&A platform, where listeners and mental health professionals can answer your questions and provide support.If you want to talk to a licensed therapist, 7 Cups offers online therapy for $150 per month. This includes the availability of a trained counselor who can provide professional relationship advice in a chat room. During the signup process, you can voice your preference for LGBTQ therapists.
Why we chose 7 Cups: By prioritizing inclusivity, 7Cups stands out as a thoughtful and budget-friendly choice for those seeking online therapy and counseling in the LGBTQ community. Their unique structure combines cost-effective services like peer-to-peer chat rooms with trained volunteer listeners, ensuring tailored and inclusive support without a hefty price tag.
Pros:
You can visit the Q&A database or chat at anytime

Supportive community available for free

Talk to licensed professionals for a low price
Cons:
No live sessions with counselors

Some listeners are not professionally trained
Just a Click Away
With the help of qualified, professional, compassionate and LGBTQ-focused therapists, many different options for support are available today. Get in touch with an LGBTQ online therapy service today!