Calmerry Visit Site
Overview
Therapists registered with Calmerry have a master's or doctorate in their field and must meet the licensing, certification, training, and educational requirements in the state where they operate. To verify a therapist's credentials, Calmery conducts background checks, checks licenses, contacts referees, and reviews past employment.
Professionals offering services with Calmerry may be licensed clinical psychologists, licensed social workers, licensed and/or certified marriage and family therapists, or licensed professional counselors.
Calmerry Specialties and Areas of Expertise
Calmerry's verified therapists offer a variety of specialties and areas of expertise, and the average Calmerry therapist has at least 11 years of experience along with a post-graduate degree. All counseling approaches used in messaging or live video counseling are evidence-based. Specialties and areas of expertise are vast, but all counselors on Calmerry are licensed in their state.
Calmerry offers treatment for anger management, eating disorders, PTSD, anxiety and stress, career counseling, burnout, emotional abuse, OCD, childhood abuse, family conflict, relationships, chronic illness, grief and trauma, low self-esteem, depression, and LGBTQIA+ issues. There are specialists available to treat each and every one of these conditions.
How Calmerry Works
Signing up
The signup process is quick and easy. Enter your email address, name, and password. You'll be sent a 3-digit code to your email account, which you'll need to verify within 30 seconds. Enter demographic information including age and gender, your phone number, and answer screening questions about your current needs as well as your past experience with therapy. Immediate danger of self-harm and neuropsychiatric disorders are assessed as part of the screening process and if these are present, you'll be referred to an in-person therapist.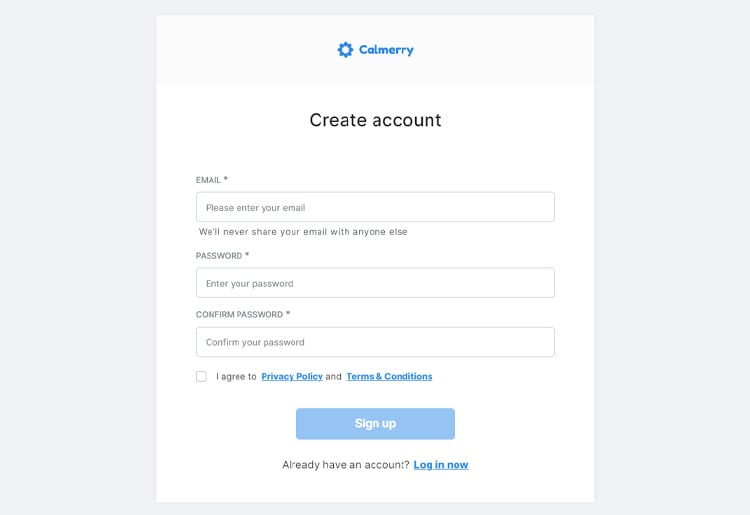 Getting matched with a counselor
Once you've completed the registration process, you'll be given an emotional well-being score and a projected progress score before a mental health assistant completes your intake through online chat.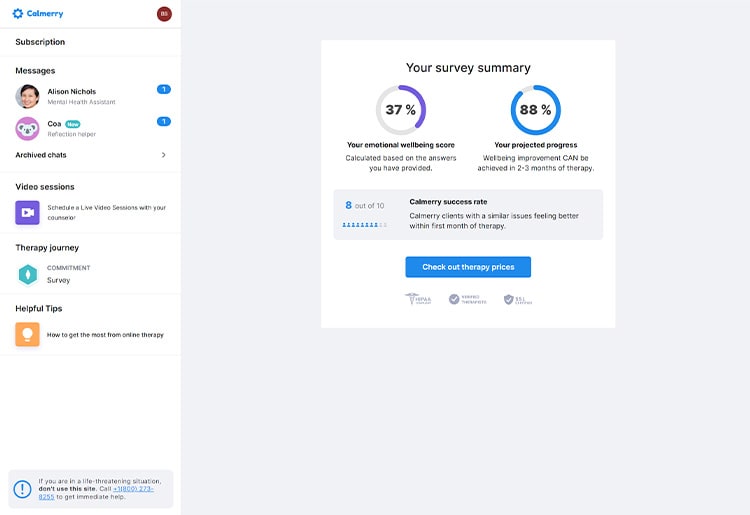 The matching agent will help you choose a subscription plan and then match you with a therapist within one hour of payment. A suitable therapist is chosen according to your answers to the screening questionnaire and the therapist's state, education, experience, and areas of expertise.
Matching agents can also show you a list of profiles so you can select an appropriate specialist based on your needs. While you won't get to peruse a full list of therapists yourself, your matching agent is trained to help you find the best possible fit based on your needs and location. Profiles will include level of education, experience, and any specialty areas of expertise.
There's no option to search for yourself, which means you can't create a list of favorites, and there's no process for blocking or unblocking a therapist. Finally, you can't leave feedback or rate counselors, but you can look up local therapists by their license number and read any applicable reviews.
Booking sessions
To book a session, just sign into your account and open a chat. The chat becomes available within an hour of being matched with a therapist, and you can use it to let your therapist know your schedule and preferences. You can ask to book a video session or messaging session within the chat. Session availability will be dependent on your therapist, but your matching agent will have asked in advance for your availability to help you find a therapist on a similar schedule. You can expect to receive a reply from your therapist within 24 hours but often sooner.
If you or your counselor need to miss a session, you'll communicate this through the chat window in your online account, and your session will be rescheduled at your convenience. While it's customary to give as much notice as possible for cancellations and reschedules, Calmerry therapists understand that sometimes emergencies come up—for them and for you. There are no firm rules for when you have to cancel or reschedule your session. Any canceled sessions will be rescheduled at the earliest possible time and at your convenience.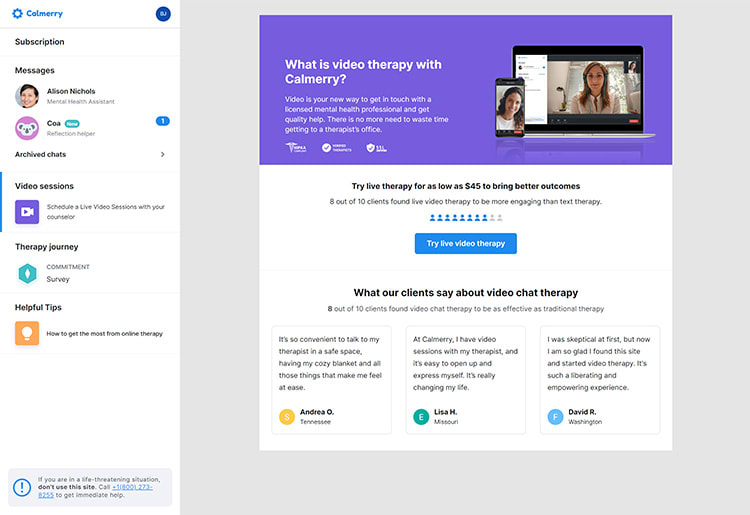 Calmerry also offers a free Reflection Helper. You don't need a subscription to access it, and it allows you to journal your daily moods, set daily reminders, see trends in your mood changes over time, and share your mood chart with your therapist. It can help you identify issues and plan for better self-care.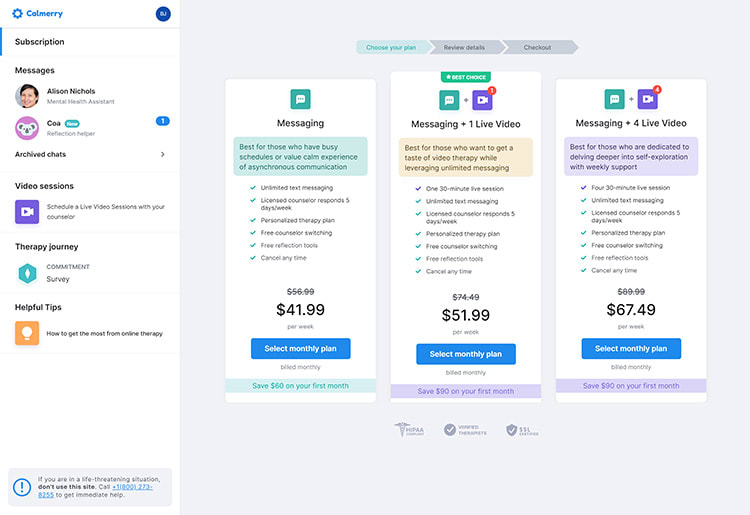 Confidentiality and Privacy
Calmerry states that it is HIPAA compliant. However, the following advisory in its Privacy Policy seems to contradict this:
Our Privacy Policy details how Mental Fuel approaches the confidentiality of its visitors and clients. We take our responsibility to protect the privacy of your information seriously. However, because this Website is not intended to transmit or store protected health information ("PHI"), Mental Fuel's activities as they relate to this Website may not comply with the Health Insurance Portability and Accountability Act ("HIPAA").
Other than as necessary to schedule an appointment or submit an inquiry through any HIPAA-compliant third-party vendor's portal, it is important that you not use, provide, transmit, store, or disclose any PHI through our Website.
When we followed up, an online chat agent assured us that the site is entirely HIPAA compliant and that all therapy sessions are encrypted, although they couldn't disclose the nature of the encryption technology.
Calmerry therapists are held to the ethics of their state licensure, which includes client confidentiality, so there is peace of mind there.
Calmerry App
The Calmerry app is available on iOS and iPadOS, but not on Android. While the app can be downloaded for free, subscription rates apply to use the video or text therapy services. Plan payments are taken securely through Stripe on the app and processed through the App store.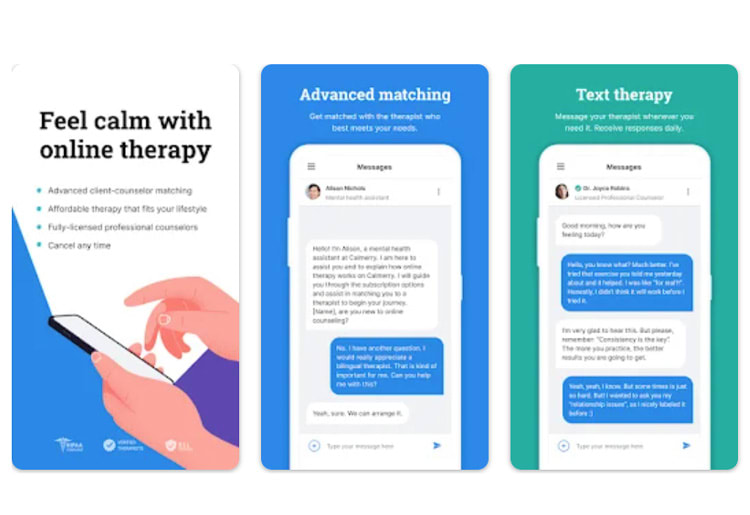 The Calmerry app is user friendly and has the same features as the website, including text and video messaging. But it improves on the website by also offering voice chat.
The app's rating on the App store in iOS is 2.7 out of 5 stars with 17 ratings, with the primary complaint related to the transparency of the billing policy and the responsiveness of therapists. The positive reviews enjoyed the 24/7 accessibility of the chat room.
Calmerry Customer Support
The matching agent was available immediately after registration to answer questions about the service, and we had to wait no more than four minutes for each reply. Customer support is available 24 hours a day in the online chat. Phone support is available on 1-855-954-5344 or via email at team@calmerry.com.
Calmerry offers an FAQ page on its website and an Interactive Calmerry Guide that is emailed to you upon account registration. The interactive guide is user friendly, and Calmerry's email support offers near-instant replies to any queries with virtually no wait time. Additionally, the mental health assistant advised that additional articles are shared on Calmerry's Facebook page and blog. You can also review these Helpful Tips.
Calmerry Pricing
How Much Does Calmerry Cost?
Calmerry e-therapy offers three counseling plans. The Messaging plan, which offers unlimited text messaging, starts at $56.99 per week, billed monthly at $227.96.
The next tier plan is Messaging Plus One-Live Video, which gives you all benefits of the Messaging plan plus a 30-minute live video session. Prices start at $74.49 per week, billed monthly at $297.96.
The last tier is the Messaging Plus Four-Live Videos plan, which includes all the benefits of the other tiers with three additional live counseling sessions. This plan starts at $89.99 per week, billed monthly for $359.96.
Get 30% off any of these plans for the first month using code CARE.
Unlimited text messaging
Licensed counselor responds 5 days/week
Personalized therapy plan,
Free counselor switching
Free reflection tools Cancel any time
One 30-minute live session
Unlimited text messaging
Licensed counselor responds 5 days/week
Personalized therapy plan
Free counselor switching
Free reflection tools Cancel any time
Messaging + 4 Live Videos
Four 30-minute live sessions
Unlimited text messaging
Licensed counselor responds 5 days/week Personalized therapy plan,
Free counselor switching
Free reflection tools Cancel any time
Is Calmerry Covered by Insurance?
Calmerry doesn't offer insurance coverage, stating that the prices of its therapy service are comparable to the copay costs of the average insurance provider. No financial aid is available either, and there's no free trial. You can, however, get a receipt from Calmerry if you'd like to request full or partial reimbursement of therapy through your insurance provider.
Calmerry Alternatives
How Calmerry Compares to Other Online Therapy Providers
Let's look at what sets Calmerry apart from one of it's e-therapy competitors, Talkspace.
Video, message, live chat, audio message (on iOS only)
Video, text, and audio message
PhD, PsyD, LMFT, LCSW/LMSW, LPC
PhD, PsyD, LMFT, LCSW/LMSW, LPC

Calmerry Visit Site
Calmerry vs. Talkspace
Calmerry and Talkspace have comparable rates, accreditation, and communication modalities. However, Talkspace accepts some insurance providers while Calmerry does not. So if you're uninsured or underinsured, Calmerry's more affordable monthly rates may make your budget the deciding factor. Both platforms offer 24/7 access, friendly customer service, and verified professional counselors who are available by video, text, and audio message.
Bottom Line
Calmerry offers an affordable, accessible online counseling service for those in need of mental health support. Its therapists are licensed, trained, and experienced, and the platform has an impressively user-friendly interface. Not only does the site take your privacy seriously, but the entire experience is customized to respond to your needs via instant chat, email, or phone, with minimal to no wait time. Mental health assistants are standing by to walk you through the intake process and get you to a counselor who is best trained to address your needs.