In a Nutshell
Devout Christians have often suffered in silence, unsure of where to turn with major life issues like depression, addiction, anxiety, and sexual orientation concerns. With traditional therapy missing a key component, religious followers were left to their pain...until now. Faithful Counseling is an online therapy service devoted to providing successful, compassionate, and affordable counseling to Christians in need. Let's see what it's all about.
pros
Christian faith-based counseling
Good variety of communication options
cons
No free trial
No phone customer support

Faithful Counseling Visit Site
Faithful Counseling Video Review - 10 Reasons to Try Faithful Counseling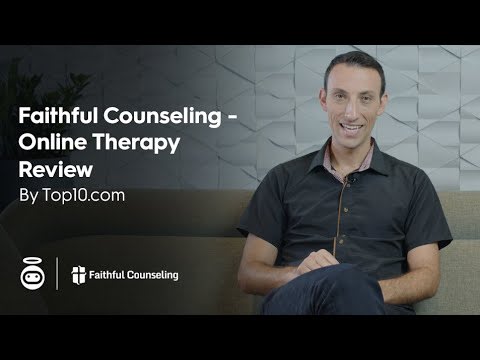 Therapist/Counselor Screening Process
Counselors who work with Faithful Counseling are all highly trained in their fields and have been selected by the service for their professionalism and expertise. All counselors are licensed and accredited in their appropriate fields from psychologists to licensed professional counselors, family therapists, and clinical social workers. They are required to have at least 3 years of experience and 1,000 hours of actual counseling under their belts.
In addition to the normal standards of screening and credentials requirements, Faithful Counseling has another prerequisite for its counselors. To work on Faithful Counseling, you must be a practicing Christian. Why and how this works itself into the therapy forum will be discussed below.
Get Help With
People struggling with emotional, psychological, or social issues can turn to Faithful Counseling for direction and professional advice on working through these difficult challenges. Some of the many areas these counselors are skilled in include:
Addictions counseling and substance abuse

Anger management

Anxiety

Career counseling

Conflict resolution

Chronic impulsivity

Depression

Eating disorders

Educational assessments

Family counseling

Grief counseling

Health management

Intimacy issues

Sleep disorders

Self-esteem issues

Social behavior issues

Spiritual strengthening and clarity

Stress counseling

Trauma and abuse counseling

Couples counseling

Teen counseling
Types of Sessions Available
As you'll see below, Faithful Counseling offers unlimited text messaging to all its members. Additionally, you can schedule video or phone sessions if you prefer to hear or see your counselor during your session. Video sessions are pretty common among online therapy services, but phone calling is less available. So, if the phone session is a more convenient option for you, you'll be happy to know that Faithful Counseling offers it.
Pricing & Special Offers
Faithful Counseling offers plans that start at $60 per week and go up to $80 per week (though you'll be billed monthly, regardless of what you opt for) depending on how many and what type of sessions you are looking for. When you sign up for a Faithful Counseling membership, you will be entitled to unlimited chat messages every month. Faithful Counseling opens a private chat room for you to share with your counselor, and nobody else has access to this area. You can send out as many messages as you want (it's literally unlimited), you will not be capped or cut off at any point.
Additionally, you will be allowed to schedule video or phone sessions with your therapist each week. This service is also included with the monthly cost of your membership. Faithful Counseling lets you cancel your plan at any point without repercussions.
What's Unique About Faithful Counseling?
Faithful Counseling definitely has a lot going for an online therapy service. There are more than 3,000 qualified therapists to work with, as well as phone, chat, and video session options, and reasonable rates that would put any traditional therapist to shame. But there are some things that make Faithful Counseling truly unique in this industry. Here are a few of those features:
Detailed questionnaire
Many online therapy services ask you a few questions to pair you up with a suitable therapist, but Faithful Counseling does this better than most. In keeping with the holistic approach used in all its therapy sessions (more on that one below), Faithful Counseling asks you pointed questions about key areas of your life to build a holistic picture of you and your current life situation. For example, one of the questions asked is whether or not you are eating properly. While this may seem irrelevant, mental health professionals will attest to the fact that an unhealthy diet can actually contribute to or exacerbate symptoms of depression. With all of these questions, Faithful Counseling is getting at the core issue by painting a full, well-rounded view of your entire situation. Many of the questions asked have to do with your religious beliefs as well, which brings us to our next feature...
Spiritual, holistic approach
The thing that really sets Faithful Counseling apart from other online therapy services is its holistic approach. As its mission statement spells out clearly, Faithful Counseling believes that healing comes from a holistic treatment of an individual. So, in addition to dealing with the psychological triggers and symptoms, Faithful Counseling focuses on spiritual wholeness as well. Employing therapists who are also devout Christians helps Faithful Counseling provide the most complete treatment for any ailment. Leaving theological differences behind, Faithful Counseling has a clear statement of faith that embraces the fundamental healing of a higher power.
In a word, Faithful Counseling attempts to invite God into the healing process by combining the expertise of professional counselors with the age-old wisdom of the Bible. If you're a Christian believer suffering, Faithful Counseling is definitely the solution for you. That being said, it's worth noting that this service does not differentiate between Christian denominations. What's more, it does not restrict its counseling services only to Christians. Any faith and even non-denominational clients are welcome to benefit from the online counseling as well.
What Our Expert Says About Faithful Counseling
Looking for a trained professional therapist from the lens of a practicing Christian? Then Faithful Counseling is the therapy site for you. The therapists hold their values and beliefs in the highest regard as they foster your growth and assist you in your daily struggles. The therapists are trained to take a holistic approach to healing from a spiritual aspect and will offer support of your mental health needs from this perspective. Faithful Counseling is a subset of BetterHelp and offers the same benefits such as a multitude of therapeutic approaches and the option to change therapists if you are not completely satisfied. There are live session options too, which include synchronous chats, and phone and video calls. It is a win-win situation for those who want the affordability of therapy with a Christian perspective and easy access right at your fingertips!
What Users are Saying About Faithful Counseling
Faithful Counseling has been extremely successful at helping its clients work through both minor and major life difficulties, traumas, and disorders. Here are a few of the real-user testimonies that show how successful this online therapy tool can be:
"I have been working with Steve for about 6 months now. He is exceptional to work with. He is extremely attentive and helps me understand and talk through issues from a biblical and unbiased, judgement free perspective. If you're thinking of working with him, you will not regret it." Member #44984
"Sharlese Jones has taken the time to listen to me and counsel me in troubling times. I value her prayers and insights." Member #44992
"She is thought-provoking, inspirational, professional, kind and compassionate. She also gives you wonderful tools and guidance." Member #45012
"He is great. Responsive, empathetic, and Godly. This is what I need." Member #44982
Scheduling Live Chats/Video Chats
You can schedule a live chat (which is basically texting in real time rather than waiting for a response) or video sessions directly with your therapist. You'll discuss what times are best for your respective schedules, and close on a session time.
At the time of the session, you'll:
Log into your Faithful Counseling account.

The therapist will ask you to initiate the call/chat.

Your session will begin.

Faithful Counseling Visit Site
Customer Support
Faithful Counseling offers 2 methods of customer service; an online contact form or an email address. You can fill out the contact form if you have basic questions about the Faithful Counseling service, billing related questions, or other technical support issues. Alternatively, you can send a more detailed email if you'd prefer to elaborate on the question or issue at hand.
Bottom Line
Faithful Counseling is a top-rated online counseling service that finally brings the all-important assistance of therapy to everyone in need. There aren't many places where you can get a qualified counselor to help you through your issues for just $60 a session, so this service is really revolutionizing therapy for the average person. Adding the Christian element to the therapy makes this even more comfortable and suitable for Christian members. For anyone who hasn't been able to get the counseling they need because of finances, time restraints, or contradictions of faith, Faithful Counseling is truly a godsend.