Faithful Counseling Visit Site
Overview
BetterHelp Online Therapy Services Video Review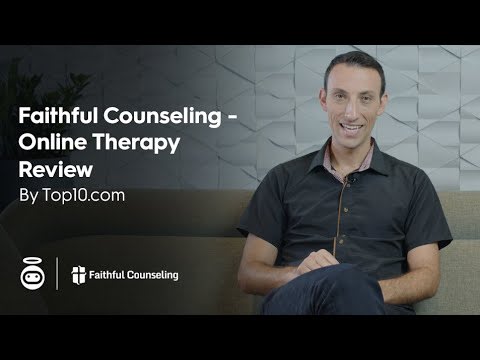 How Faithful Counseling Works
Signing up
I found the signup process for Faithful Counseling swift and straightforward. Navigate to the company website and click on "Get started" in the top-right corner of your screen. You'll be asked various questions about your current situation, such as how your financial situation and eating habits are at present. Faithful Counseling will also ask about your faith—whether you ascribe to a particular branch of Christianity, how often you pray, how important your faith is to you, and others.
Note that if you report feeling suicidal within the last two weeks and that you have made specific plans to follow through on these thoughts, Faithful Counseling will stop the signup process and instead provide you with emergency resources.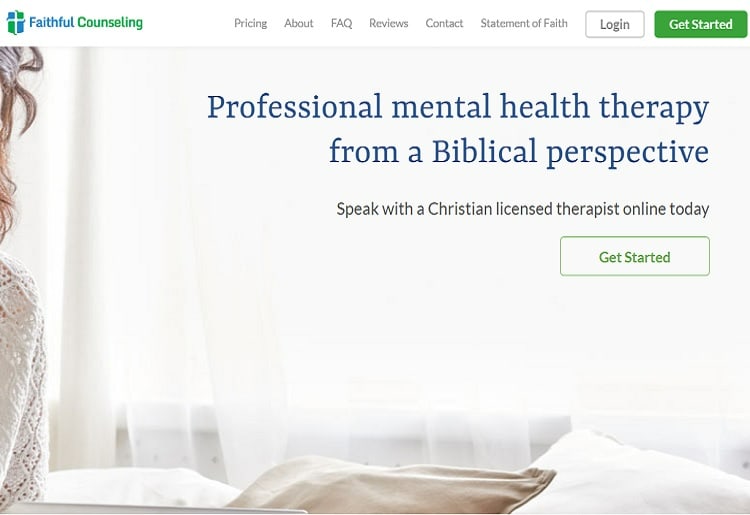 Getting matched with a counselor
Matching with a counselor starts during the signup process, during which you'll be asked questions about your circumstances, such as whether you're experiencing symptoms of depression or anxiety, and your goals for therapy. At this point you can specify the extent to which you wish your therapy to include psychological and biblical support and whether you mind your therapist belonging to a different Christian denomination.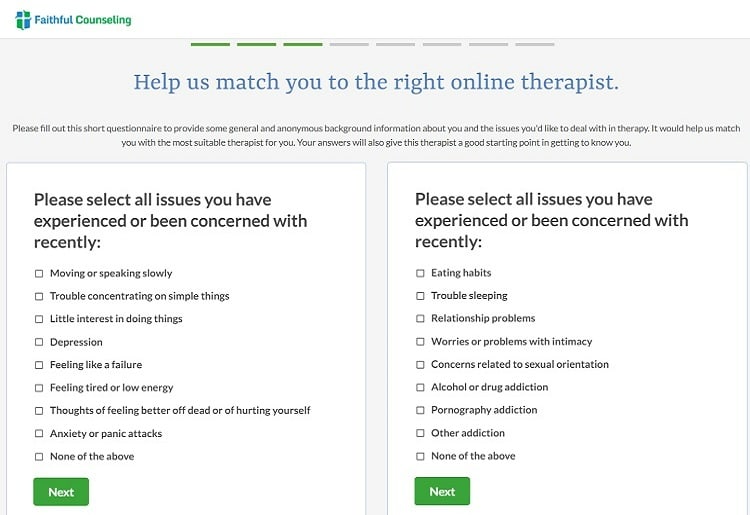 When you complete signup, the therapist-matching process begins using the information you've provided. This happens behind the scenes, so you can't browse or choose a specific therapist, and generally takes one to two days.
You'll receive an email once a counselor has been selected for you. At this point, you'll be able to see your therapist's profile, including their clinical approaches and areas of expertise, when you're logged in to Faithful Counseling.
If you're not happy with your therapist, you can request a different one free of charge at any time and without question.
Booking sessions
Like signing up, I found booking appointments incredibly easy. Simply go to the bottom-left section of your Faithful Counseling home screen, click on a date and time on the calendar, and then choose either audio or video. You can book appointments up to four weeks in advance.
Faithful Counseling also includes an online private "room" that you share with your therapist, and you can use this to rearrange appointments if needed. Faithful Counseling's website does not mention anything about charges for missed appointments.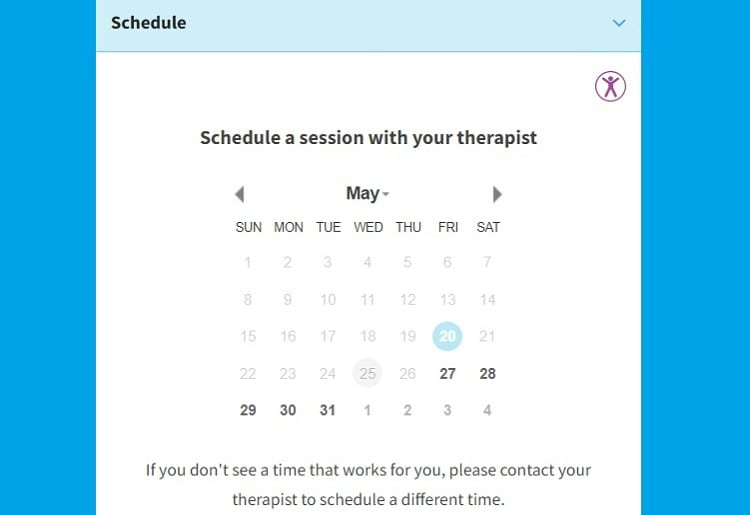 Features and Functionality of Faithful Counseling
Are Faithful Counseling Counselors Licensed Professionals?
Practitioners at Faithful Counseling are all licensed and accredited therapists within the field of clinical psychology and/or mental health. They must possess either a master's or doctoral degree within their field, including a clinical degree in psychology (Ph.D./PsyD), or qualification to be a licensed marriage and family therapist (LMFT), licensed professional therapist (LPC), or licensed clinical social worker (LCSW/LMSW).
All qualifications are certified by the therapist's state board and verified by the BetterHelp evaluation team to ensure a high standard of therapeutic care. Therapists must also possess a minimum of three years of licensure including at least 1000 hours of clinical practice.
Faithful Counseling therapists are also practicing Christians. Each counselor shares their testimony upon joining the team to ensure their beliefs align with the Faithful Counseling Statement of Faith.
Faithful Counseling Specialties and Areas of Expertise
Faithful Counseling has over 6,000 therapists that specialize in delivering clinical support in combination with biblical teachings. Areas of expertise it regularly helps users manage are depression, stress, relationships, faith-related issues, anger issues, communication issues, work management, stress, eating disorders, and more.
Specific clinical specialties will depend on your assigned therapist and are visible within therapists' profiles.
Treatment methods and specialties offered by Faithful Counseling therapists include the following.
Psychodynamic therapy
Jungian therapy
Dialectical behavior therapy
Solution-focused therapy
Person-centered therapy
Interpersonal therapy
Existential therapy
Art and music therapy
Eye movement desensitization and reprocessing (EMDR)
Faithful Counseling Apps
How Does the Faithful Counseling App Work?
The Faithful Counseling app is available for free on both iOS (via the App Store) and Android (via Google Play Store) for tablets and smartphones. It contains all the same features as the website. However, be mindful that live sessions via video will be limited by the video capabilities of your device.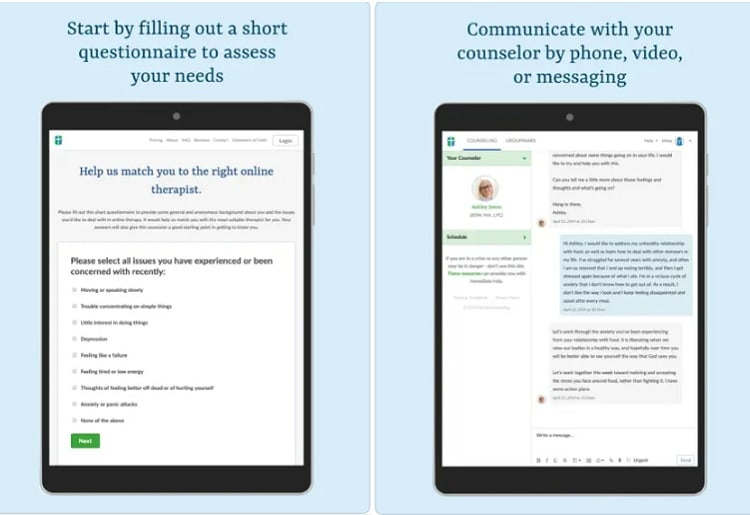 How Does the Faithful Counseling App Work?
I found the Faithful Counseling app very easy to use and visually clear. It has the same functionality as the website, so you can sign up, view your therapist's profile, book appointments, and attend live video and audio sessions. It also includes the handy online "room" you share with your therapist, to which you get 24/7 access in case you ever wish to send your therapist a message.
Currently, there are no discounts for using Faithful Counseling via the app. Its ratings are very positive, at 4.8/5 (704 ratings) on Google Play and 4.8/5 (2,350 ratings) on the App Store.
Faithful Counseling Customer Support
You can access Faithful Counseling's customer support by clicking on the Contact button at the top-right of your screen or the Options icon while using the app. Submit a support request by completing the form on the next screen or by contacting Faithful Counseling directly via email at contact@faithfulcounseling.com. The company aims to respond to all support requests within one business day and is available 9am-5pm, Monday-Friday (PT).
Currently, Faithful Counseling Counseling has no support phone number or live chat function. However, an FAQ section is available at the top of your screen near the Contact button that provides further information on queries such as how the messaging system works, what you can expect from live sessions, and whether Faithful Counseling is right for you.
Faithful Counseling Pricing
How Much Does Faithful Counseling Cost?
Faithful Counseling costs $80 per week. It offers a weekly price reduction of up to $20 depending on your circumstances, such as income and employability status, which you will be asked about during the sign-up process.
You'll be billed to a credit card or PayPal account every four weeks.
Unlimited messaging + weekly phone or video sessions
Is Faithful Counseling Covered by Insurance?
Faithful Counseling doesn't work with any insurance providers and doesn't submit bills to Medicare, Medicaid, or private insurers. Some insurance plans may offer partial or limited coverage. However, this will depend on your state's regulations and your plan, so check with your provider before signing up.
You can get receipts for reimbursement for Faithful Counseling costs. However, reimbursement requires a diagnosis of a mental health disorder or issue, and therapists at Faithful Counseling are unable to provide these.
Faithful Counseling Alternatives
How Faithful Counseling Compares to Other Online Therapy Providers
Video, phone, message, live chat
Video, phone, message, live chat
Video, phone, message, live chat
Phone, message, live chat
PsyD, LMFT, LCSW/LMSW, LPC
PsyD, LMFT, LCSW/LMSW, LPC
PsyD, LMFT, LCSW/LMSW, LPC
No, but partial reimbursement available
No, but partial reimbursement available

Faithful Counseling Visit Site
Faithful Counseling vs. BetterHelp
BetterHelp is an online therapy platform that owns Faithful Counseling. This means Faithful Counseling is a part of the overall BetterHelp platform and they share many of the same features. While BetterHelp can be used for a wide range of mental health issues, Faithful Counseling's focus on Christian counseling online might be better for you if you're religious and want biblical teachings included in your therapy.
Faithful Counseling vs. Talkspace
Talkspace and Faithful Counseling share many features, such as providing online therapy with a therapist matched to you based on your needs. However, Talkspace has several pricing plans, with live sessions only included with the more expensive plans. Talkspace also does not specialize in any particular faith or clinical approach, which might be less appealing if your faith is important to you.
Faithful Counseling vs. JustAnswer
Unlike Faithful Counseling, JustAnswer isn't an online therapy platform. Instead, it acts as an online question and answer service with experts from a variety of specialties, such as law, medicine, tech support, and psychology. As such, JustAnswer might be better suited if you simply have a few questions or need expert advice rather than wanting to commit to therapy.
Bottom Line
Faithful Counseling is an online therapy platform specializing in providing therapy with a Christianity-based approach. You're matched with a counselor based on your self-report of mental health difficulties and responses to questions about your faith. After connecting with a therapist, you get access to a 24/7 online private "room" you can use for messaging and their calendar to schedule weekly live appointments.
It could be worth it to try Faithful Counseling if your faith is important to you and receiving therapy that includes biblical teachings sounds like it could be beneficial.