In a Nutshell
If you have a nagging question about your mental health, but feel hesitant to commit to ongoing therapy, then JustAnswer might be just what you need. JustAnswer allows you to get expert answers to your questions without the fuss. Its platform can connect you with professional therapists within minutes. While it's not a substitute for actual therapy, with JustAnswer, you can get professional responses to your questions without leaving your house.
pros
Receive answers to your questions within minutes
Connect with experts in their field
24/7 access
cons
Cannot be used for ongoing mental health counseling
You must subscribe to get your questions answered

JustAnswer Visit Site
How Much Does JustAnswer Cost?
In order to get continued access to the mental health experts on JustAnswer's platform, you need an ongoing subscription that costs $46 per month. With this subscription, you'll not only have access to mental health counselors, but also dieticians, dentists, and other health specialists.
There is also a one-time $1 join fee that will be charged in addition to your first monthly subscription plan. Your subscription will automatically renew unless you cancel it.
Answers from doctors and specialists within minutes, 24/7
Is JustAnswer Covered by Insurance?
The service that JustAnswer provides is not considered to be ongoing treatment. Even though the platform can connect you with licensed professionals, they are essentially only consulting and answering your questions, not providing therapy. As such, JustAnswer's subscription plans are not covered by any insurance provider.
Nonetheless, you can always check with your insurance provider to see whether some of your costs can be reimbursed.
Are JustAnswer Counselors Licensed Professionals?
JustAnswer requires all experts to have recognized credentials in their field. As part of JustAnswer's onboarding process, every expert must pass their Eight-Step Expert Quality Process. This includes the verification of a counselor's license credentials by a third-party firm, expert tests, and performance reviews. As a result, all of the mental health experts on JustAnswer's platform are fully licensed and board-certified.
Once an expert is accepted into JustAnswer's platform, there is an ongoing review process to make sure that quality is maintained. If user feedback on an expert's profile drops below a certain level, that expert is removed from the platform.
JustAnswer Specialties and Areas of Expertise
JustAnswer's platform contains experts in pretty much any field that you can imagine, from lawyers to veterinarians. Its pool of mental health experts contains trained professionals available to help with all sorts of mental and emotional issues, including the following.
Depression

Anxiety disorder

Panic attacks

Relationship issues

Generalized anxiety disorder

Sleep disorders

Addiction

Sexual issues or traumas

Eating disorders

ADHD

Anger management
How to Get Started with JustAnswer
Signing up
Signing up for JustAnswer is relatively easy. When you enter its landing page for mental health questions, you're prompted to simply ask your question in a chat window. Based on your question, you'll have to answer some follow-up questions, after which you'll be forwarded to a payment page, where you will be subscribed to the platform.
As soon as your payment has been processed, a qualified expert will answer your question. Most queries will be answered within a few minutes.
JustAnswer's platform is currently only available to people over the age of 13.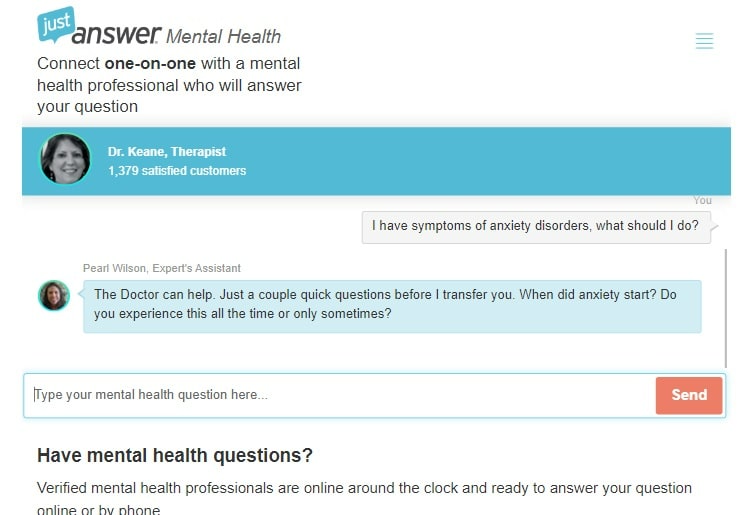 Getting matched with a counselor
JustAnswer is completely different from most online therapy platforms. In fact, comparing it to other online therapy platforms is like comparing apples to oranges. Instead of being matched with a single counselor for a long-term relationship, JustAnswer's platform connects you with any expert that can provide credible answers to your questions.
As such, you have no influence over who gets to answer your questions. If you don't like the answer that you have received, you can ask a follow-up question or provide feedback to the platform. Alternatively, you can request a new expert to answer your question at no additional cost.
You are asked to provide feedback after each answer. The platform takes these reviews into account when reviewing its experts.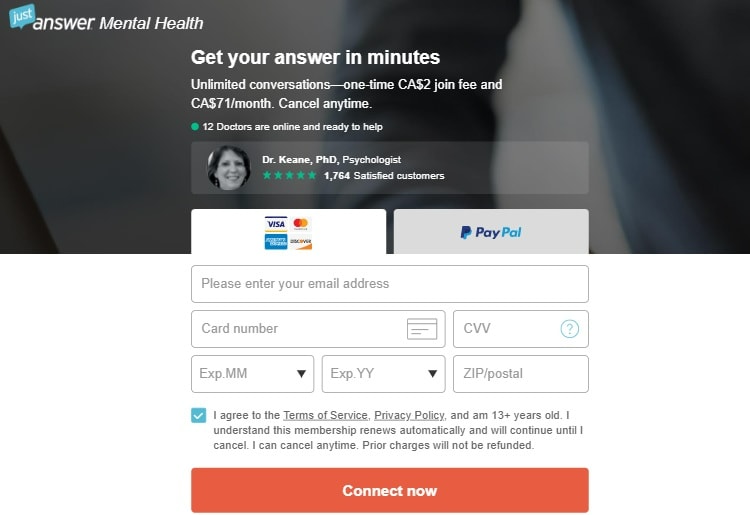 Booking sessions
JustAnswer offers you the possibility to connect to an expert via email, text, or phone. This allows you to receive additional information in addition to the answers that you've received via its platform. There is no need to schedule an appointment; simply ask your question at any time 24/7 and you are likely to get a quick answer. This makes the service useful if you have questions that might otherwise require a doctor or therapist visit that could take a long time to schedule.
However, this service shouldn't be used as a substitute for a traditional therapy session that you would book on other online therapy platforms. Where traditional therapy allows you to connect with your counselor over multiple sessions, the service that JustAnswer offers only finds an expert answer to your question.
Confidentiality and Privacy
JustAnswer doesn't encrypt communication between you and the experts you contact. By design, its platform is not as confidential as online therapy platforms. Your questions may be posted publicly on JustAnswer's website, like this one, for example. In this case, while JustAnswer will remove your name from this conversation, other visitors can read the entire conversation between you and the expert, so I would not consider it confidential.
Is There a JustAnswer App?
JustAnswer has a free app that is available for Android and iOS devices through the Google Play Market and the App Store. On the Google Play Market, the app has been downloaded over 100,000 times, with an average rating of 2.6 stars. Reviews are better on the App Store, with an average rating of 3.9 based on 9.8 thousand ratings.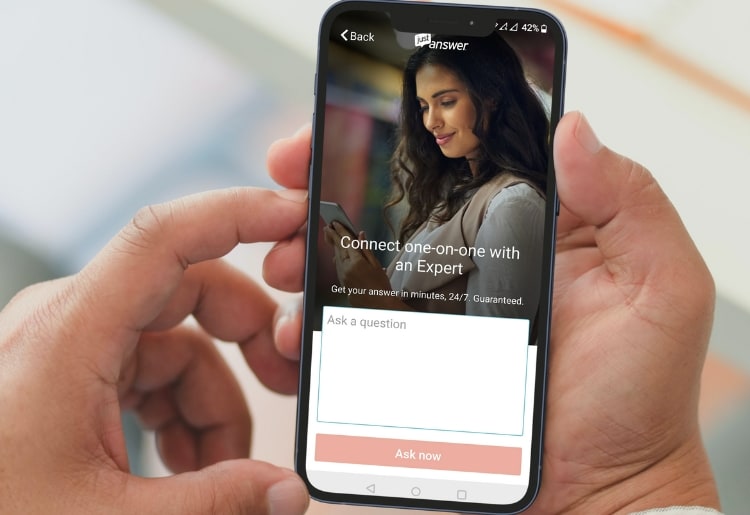 How Does the JustAnswer App Work?
The JustAnswer app works exactly as its website works. After downloading the app, you can either log in to your existing account, or create a new account by asking your first question. After providing your personal information and payment data, you'll be able to post your question right away. Within the app, you can manage your questions, leave feedback on experts' profiles, and ask follow-up questions.
Prices are the same for both the app and the web version of the platform.
Help and Support
JustAnswer provides customer support via phone, chat, and email. The easiest way to reach customer service is via chat, as it has never taken me more than a minute to get connected to an actual customer service rep. Its phone support is also available 24/7.
JustAnswer vows to reply to your email queries within 24 hours.
Moreover, JustAnswer's website hosts a comprehensive FAQ page where most of your questions will be answered.
Unlike other online therapy platforms we've reviewed, JustAnswer's platform also publishes most of its experts' answers to previous questions on its website. This allows you to browse through questions that have already been answered, which might give you the help you're looking for. You can also find the profiles of experts and view their recent answers to questions.
How JustAnswer Compares to Other Online Therapy Providers
Video, phone, message, live chat
Experts are required to have recognized credentials in their field
PsyD, LMFT, LCSW/LMSW, LPC
PsyD, LMFT, LCSW/LMSW, LPC
PsyD, LMFT, LCSW/LMSW, LPC
No, but partial reimbursement available
JustAnswer vs. BetterHelp
JustAnswer and BetterHelp are vastly different in their approach to online therapy. JustAnswer provides you with expert answers to your questions, whereas BetterHelp matches you with a counselor based on your personal situation. BetterHelp only offers therapy on its platform, whereas JustAnswer's network contains many different experts such as lawyers, mechanics, veterinarians, and accountants. If you are looking for dedicated therapy, BetterHelp is the better option.
JustAnswer vs. Faithful Counseling
JustAnswer is an online question and answer service with professional counselors in its network, whereas Faithful Counseling provides ongoing therapy that focuses on biblical aspects. JustAnswer is better suited for those who have a few questions or need expert advice rather than wanting to commit to therapy.
JustAnswer vs. Talkspace
Talkspace offers dedicated therapy by matching you with a counselor for as long as your subscription lasts. On the other hand, JustAnswer gives you an expert answer to any question you may have. If you're looking for dedicated therapy, Talkspace would be the better option. If you're looking for quick answers to your questions, JustAnswer may be better for you.
The Bottom Line
JustAnswer is perfect if you want expert answers to your questions without having to commit to a long-term counseling program. Instead of matching you with a single counselor, JustAnswer finds a credible expert to answer any question you might have.
An expert on JustAnswer's platform can typically give you a well-substantiated answer within minutes, after which you can ask follow-up questions or request a phone call to discuss things further. While JustAnswer is not a substitute for actual therapy, and it requires an ongoing $46/month subscription, it may be perfect for you if you're just looking to get answers to your urgent questions every so often.