In a Nutshell
The idea of JustAnswer is pretty smart. It is a network of professionals available to answer any type of question you might have, from legal advice to tech support and beyond. Given its unique makeup, JustAnswer is a good solution for people seeking answers to some pressing mental or emotional health issues. What's more, at just $5 a session, JustAnswer is considerably more affordable than traditional therapy and faster than online therapy.
pros
Low fixed fees for sessions/questions
Unlimited follow-ups
Reach out to a professional 24/7
cons
Pricing structure is complicated
Not a clear counseling process

JustAnswer Visit Site
JustAnswer Review 2022 - Is it good for compassionate online therapy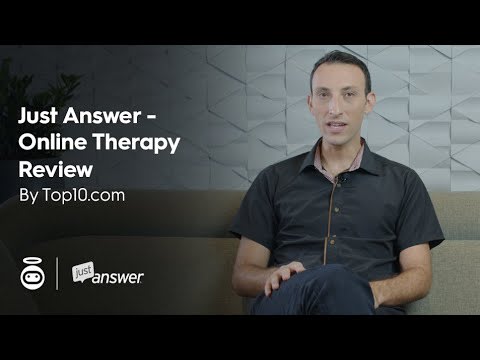 Therapist/Counselor Screening Process
JustAnswer experts are required to go through an 8-step verification process to qualify for a seat at the table. The screening process is quite intense, including:
An application and profile screening stage during which they submit their credentials for screening and verification
All documents, certifications, and credentials are sent to a third-party verification service whose job it is to confirm the identity and veracity of any applications submitted to JustAnswer
Customer reviews that are submitted by clients who have used the JustAnswer professional and are willing to rate and share their experiences with others
JustAnswer even has a secret client account that it uses to test doctors from time to time to judge their level of professionalism in real-time
JustAnswer also has a quality algorithm that requires medical professionals to maintain a certain level of professionalism and expertise. If the doctor falls below this ranking, they will be removed from the network and can no longer practice on the JustAnswer community.
Get Help With:
JustAnswer has trained professionals available to help with all sorts of mental and emotional issues, including:
Anxiety disorder
Depression
Generalized anxiety disorder
Sleep disorders
Panic attacks
Relationship issues
Sexual issues or traumas
ADHD
Eating disorders
Anger management
Addictions
Types of Sessions Available:
JustAnswer professionals are available through various forms of communication, including:
You can even upload documents or images to aid the doctor's consultation. The beauty of this is that you don't have to wait for appointments or fit anything into your schedule. It all happens right there on the spot and doesn't take up any of your time.
Pricing & Special Offers
The JustAnswer pricing structure is also completely different from other online therapy services. For one thing, you don't have to pay to browse through the huge database of previously asked questions. This is a wellspring of information and can be a valuable resource for people suffering from low-level emotional issues. To ask your own question, you'll be charged just $5. That's a bargain compared to the usual rate of an online therapy session (and don't even think about how much you'll save from the traditional therapy sessions).
Of course, that's not the whole story. While $5 is the initial fee for a question, clients can end up paying substantially more for a Q&A session. Prices range from $12-$90, depending on the type of question and urgency of answer needed.
But the good news is that you don't have to pay anything unless you are completely satisfied with the results. With the 100% satisfaction guarantee from JustAnswer, you won't have to pay if you aren't happy with the answers.
JustAnswer also has a subscription plan that you can sign up for. There are a lot of benefits to signing up for a plan, including:
Unlimited questions and answers (included in the price)
Ask questions for friends and family members
Access to the expert reviews library of detailed insights
Subscriptions start at $30 a month. Oh, and if you want to test out the service before you pay, take advantage of the 7-day free trial from JustAnswer. Here's what basic pricing looks like:
What's Unique About JustAnswer?
Everything about JustAnswer is different from other online therapy solutions and wildly different from traditional therapy sessions. For one thing, the service is available around the clock. You can ask and get answers at any time of day or night. Here are a few more reasons JustAnswer stands apart from other online therapy services:
Tremendous network of professionals
JustAnswer has a network of more than 12,000 verified experts in their field. That's not to say there are 12,000+ doctors sitting there waiting for you to call. Rather, that's experts spread across the various fields and industries that JustAnswer caters to (lawyers, mechanics, home repair, and yes doctors). But there is still a massive number of medical professionals available through this site.
What's more, the JustAnswer pros are around 24/7. So, whenever you have an issue come up, there's always someone to turn to.
As we've already discussed, the pricing for this service is unbelievably inexpensive. Once you factor in the satisfaction guarantee, there's really nothing to talk about.
Finally, JustAnswer works differently than most telehealth services. Here's how it goes:
You'll ask your question.
An expert will respond within minutes of your request.
You can ask follow-up questions, clarify, or get a 1-on-1 session to discuss the matter further.
What Our Expert Says About JustAnswer
JustAnswer therapy is one of the most innovative forms of teletherapy to recently hit the market. Clients can ask a question 24/7, and if more information is required, they can ask for more support. This could include a phone call or a video session. One of the most significant benefits of the entire process is that you don't pay until you are satisfied with the response you have received. The other cool option (which is really fun) is to sign up for the basic, plus, or premium plans which allow for limited or unlimited follow-up questions. This novel service is really appealing to many users who are curious about aspects of their mental health but might not be ready to delve right into committing to the therapy process. If you have a question about something mental health related or would rather jump right in, find your therapist today.
What Users Are Saying About JustAnswer
"Just answer has been so helpful. I would spend hours browsing my particular topic with no clear understanding of whether or not I understood the information correctly. Further more information can be given on both sides of the argument without any reliable sources... Just answer allows me to pick a professional and discuss my question without judgement. I often get an answer quickly by individuals who are experts in a particular field... I have been able to make choices in my life based on their replies which has helped me tremendously... if you are struggling to understand something pertaining to your life and you just can't make heads or tails from the enormous amount of information given on the internet, I highly suggest talking to a panel expert to help you navigate the best actions for you to take."
"I struggle with health anxiety. This app helps me out between visits to my doctor as I tend to become paranoid during stretches of time. I only allow myself to use it for this purpose during desperate times—maybe twice a year. But I have been using it for several years now, so I think I can say I've had enough experience with it to rate it. Every doctor I've encountered on this app has been thorough. I find that it's much more affordable than other "on-call" apps as well. It's very helpful when in a pinch. I've never once, ever, had a doctor be wrong about the advice given (as responses shouldn't be taken as diagnosis ever) regarding my questions. I always follow up with my primary care doctor or specialist to check on whatever issue is troubling me. But in the meantime, the help I receive from this app is very reassuring and for someone like me, reassurance is very valuable. I highly recommend this app. Just to reiterate: The medical advice given by doctors on this app is just that—advice. Please keep that in mind when using this app for medical purposes. No doctor can diagnose 100% what something may be without a hands on experience. ALWAYS remember to follow up with your primary care doctor."
Scheduling Live Chats/Video Chats
In order to schedule a live chat session with a JustAnswer therapist, you'll need to accept a Remote Support session (it's what they call 1-on-1's). From there, you'll be given a link to connect privately with your therapist. Click on the link to get started.
Alternatively, you can accept a phone call from a therapist by giving the therapist a phone number where you can be reached.

JustAnswer Visit Site
Customer Support
JustAnswer customer support is available via email, phone, or chat 24/7. You can also get a lot of answers from the Help Center on the website.
Bottom Line
The beauty of JustAnswer is its speed, efficiency, and cost-effectiveness. People suffering through real emotional struggles can reach out to a trained professional, and get advice and guidance on how to proceed, move on, or handle a pressing issue they're grappling with. The service is always open 24/7, and you can get real, detailed responses from professionals for less than the cost of a simple cup of coffee.