BetterHelp Visit Site
Overview
BetterHelp Online Therapy Services Video Review
Watch Top10's Betterhelp video review to learn everything you need to know about how their Online Therapy Services work.

How BetterHelp Online Therapy Services Work
Sign up process
To sign up for BetterHelp's online therapy, you'll first need to fill out a questionnaire with questions about your demographics, as well as your preferences. You'll also be asked to fill out which skills and expertise you prefer to have in your counselor, so BetterHelp can help with finding a therapist right for your needs.
You'll also need to choose which type of therapy you're interested in - whether it's BetterHelp's couples therapy, teen counseling, grief counseling, or other types of therapy they offer.
Getting a good match
Generally, once you've signed up for BetterHelp and it has reviewed your case, you'll be matched with a therapist in less than 24 hours. So, you could be getting the help you need by the next day or sooner.
While you don't choose your own therapist with BetterHelp, if you're unhappy with the therapist that's been assigned to you, switching counselors is easy.
Types of Sessions Available on BetterHelp
Betterhelp offers a variety of session types, so you can pick the method you feel most comfortable connecting to a counselor through. There are:
Live video sessions
Phone sessions
Live chat sessions
Unlimited messaging
The most common method of communication is messaging because this allows you to send a text message to your therapist whenever you want or feel the need. This is good since it means you can jot down a few lines about how you're feeling in the moment and don't have to wait until an official session to try and remember what you were experiencing during the difficult time.
BetterHelp messaging is also convenient because it is an ongoing record of your conversation with your therapist. So, you can look back at comments and review tools or techniques the therapist gave you in a previous session without having to remember every detail by heart. All chat rooms are totally discreet. Nobody can enter the room or the conversation except you and your counselor (not even other BetterHelp employees).
How Long Are BetterHelp Sessions?
BetterHelp sessions are 30-minute blocks, although some therapists will allow you to schedule an hour of their time. These sessions are usually scheduled once a week, or once every two weeks, depending on your needs.
If you need to contact your therapist outside of your sessions, it's recommended to use the messaging feature. The response time varies between therapists, but it's mostly within the same day.
Scheduling Live Sessions on BetterHelp
In addition to the invaluable open chat room that lets you message your therapist whenever you want, BetterHelp also provides live chats, phone calls, and video chat sessions for those who prefer this type of communication. Live chats are also texting-based, but your therapist answers you right away. So, you're getting the session in real time without having to wait for a response. This is a good option if you have a specific question that needs an immediate answer. Otherwise, the open forum method is usually enough for most things.
Live video sessions are just like a Skype call. Your therapist initiates the call, and you sit in a face to face session over a video conference channel on the BetterHelp website or app.
Regardless of which one you prefer, the scheduling method is the same. You'll arrange with your therapist a time that fits both of your schedules. At the time of the session, you'll log onto your BetterHelp account, you'll confirm, and the session will begin. Availability hours and how much in advance you can schedule a session varies based on your counselor.
BetterHelp Online Therapy Services Features
Extended Therapy: Group Sessions on BetterHelp
Aside from one-on-one/individual therapy sessions, BetterHelp also offers group sessions and support groups.
Groups are meant for people navigating through similar issues, such as addiction or eating disorders. The therapist leads the sessions, teaching participants coping skills and offering a chance to share their own experiences and get support from others. On average, there are 5 to 15 participants in BetterHelp's group therapy.
Some groups are closed, so everyone signs up at the same time, and the group closes to new participants. This allows you to get a safe and comfortable space with participants you'll get to know. There are also open groups, where people may come and go throughout the process. This type of group is easier to join, as you may have to wait until a closed group opens in order to sign up.
What's Unique About BetterHelp?
BetterHelp has so much to offer those who are looking for guidance, including convenient, affordable, and professional counseling services. In addition, we found a few more features that really set BetterHelp counseling apart from the rest. For example:
Scientific backing
Unlike many other online therapy services, BetterHelp is getting results and has the scientific proof to prove it. An independent study was done to see what effects online therapy would have on people suffering from depression.
As the study shows, individuals who participated in BetterHelp therapy sessions showed significant reduction in levels of depression symptom severity, particularly severely impaired clients.
Great client-to-therapist connection
That same study showed that BetterHelp helps create a better connection between counselors and their clients. The really impressive thing about this study is that it showed the connections were better between BetterHelp counselors and their clients than they were for traditional in person therapy sessions. Making a strong connection is of the utmost importance in therapy, and BetterHelp does this well.
Additional support materials
BetterHelp also offers over 200 digital worksheets and work template to support your therapy process. These worksheets act as "homework" for patients to do on their own, so you can be active about your treatment process. These include topics such as:
Cognitive Behavioral Therapy
Stress Management Tools
Grounding Techniques
Mindfulness Practices
Self-Esteem Journal
Relationship Conflict Resolution
Relaxation Techniques
What Our Expert Says About BetterHelp
If you are looking to find an accredited and licensed therapist who can provide online therapy in a multitude of formats, look no further because Betterhelp is the place for you. Revered as one of the best telehealth sites in the industry, BetterHelp offers video, phone, live chat, and unlimited messaging.
With thousands of therapists, BetterHelp has created a platform that is user-friendly and can be accessed via a computer or an app. The BetterHelp therapists are highly trained in a multitude of therapeutic approaches and can support you in dealing with almost any mental health condition. The initial sign-up process is straightforward, and within less than 24 hours you could be interacting with your new therapist. It is a wonderful way to begin or continue your therapy process, so give it a chance today. I highly recommend it!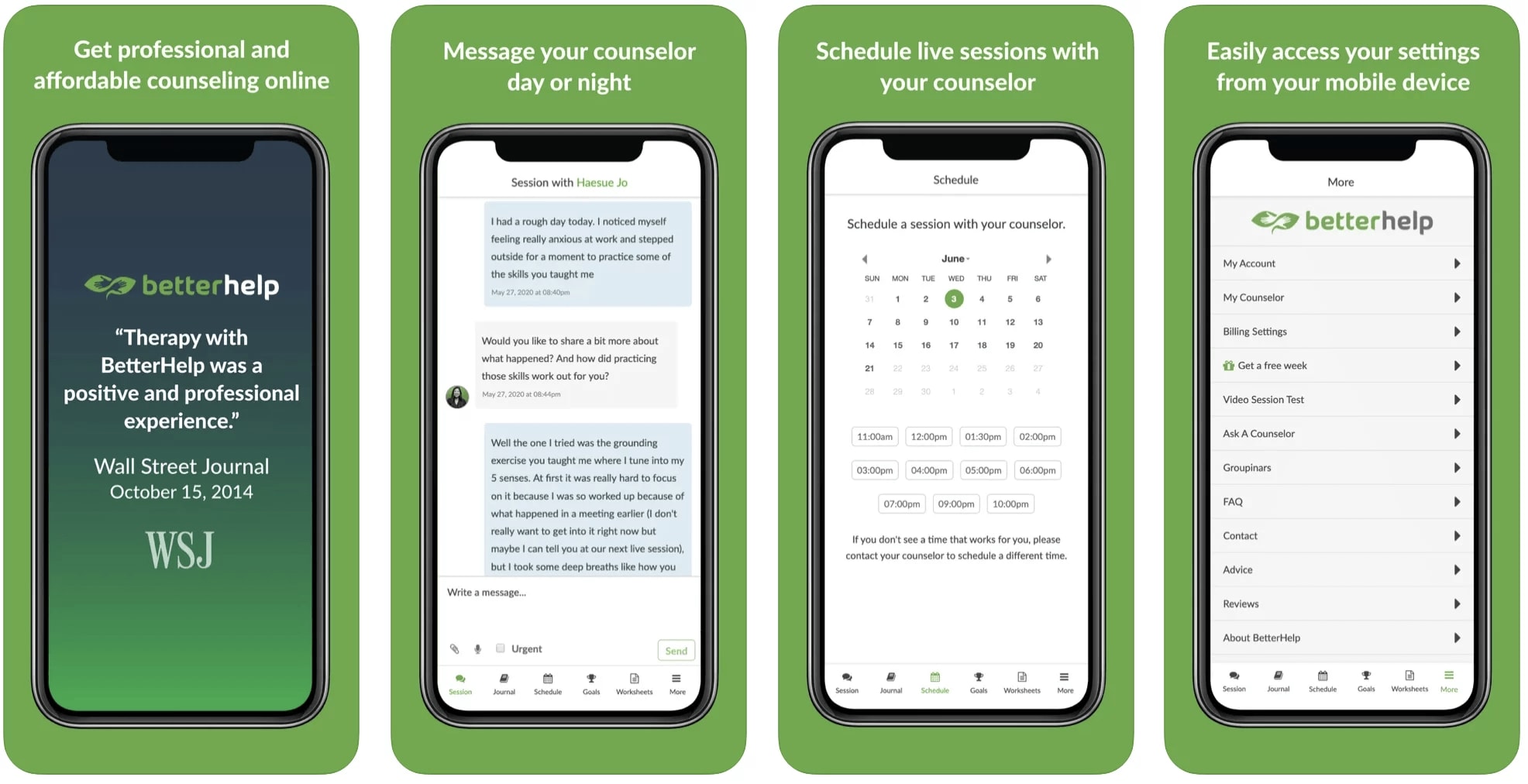 BetterHelp Online Therapy Services Customer Support
BetterHelp offers an online contact form if you have any questions about registration, BetterHelp services, or other support-related topics (but don't use the contact form for counseling questions, that's what the chat room is for). You can also send an email or browse the FAQ section on the website.
BetterHelp Online Therapy Services Pricing
Pricing & Special Offers
BetterHelp costs between $60 to $90 per session which comes out to $240 to $360 per month. The cost depends on factors like your location, preferences, and the availability of therapists.
One criticism we did have for BetterHelp was the pricing page, or rather, the lack thereof. The site does not have a dedicated page with a breakdown of the plans offered and what is included in each plan.
Regardless of the plan you choose to sign up for, you will receive unlimited chatting via the chat room BetterHelp creates for you and your therapist.
You can send messages 24/7 through this channel, and you'll be answered according to your counselor's schedule. Additional benefits like live video and live chat sessions are available according to the plan you choose.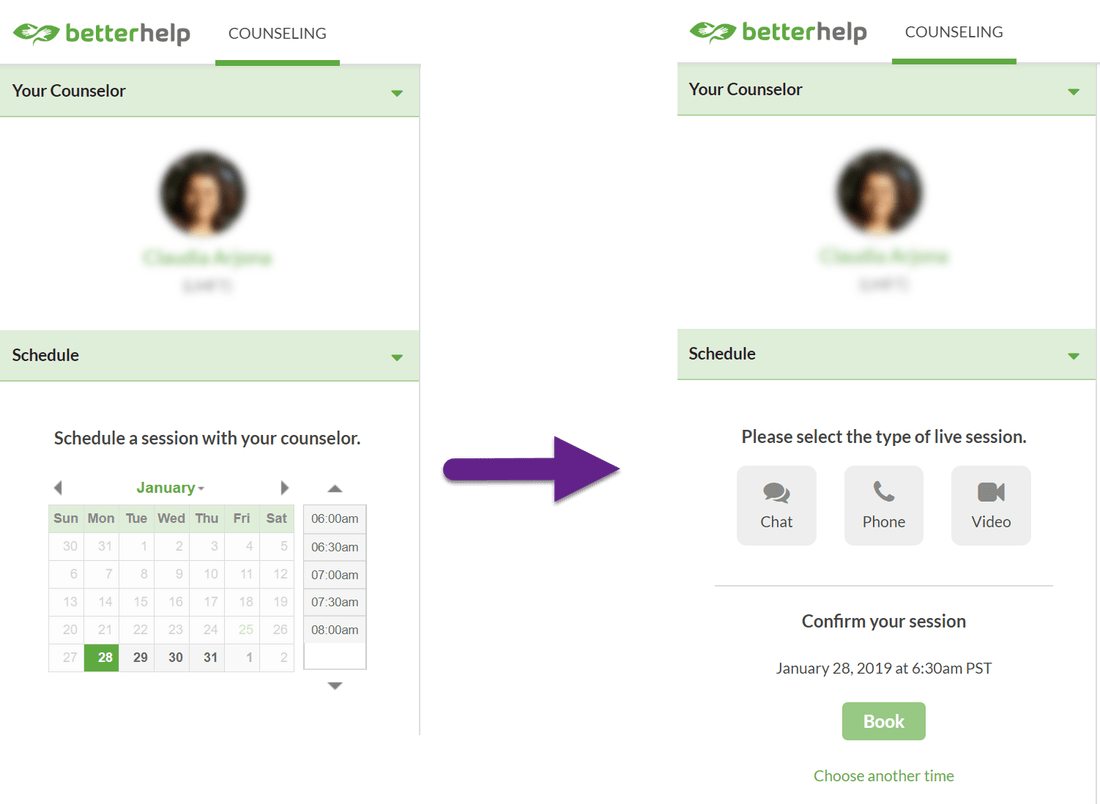 BetterHelp's Cancellation Policy
Plans are billed on a monthly basis, and you can cancel at any time without being charged.
Pause Your Membership
BetterHelp users can now pause their membership for either 2, 4, or 6 weeks. By putting your membership on hold, you'll push the next payment date further into the future based on the chosen duration. While paused, clients cannot message their therapist, book, or attend sessions. You can, though, unpause your break early.
Does BetterHelp Take Insurance or Medicaid?
BetterHelp doesn't take health insurance, nor is it generally covered by Medicare or Medicaid. However, you can apply to get reimbursed by your insurance coverage company, which may cover some of the cost.
Does BetterHelp Offer Financial Aid?
BetterHelp does offer financial assistance to people with low income and financial needs. In the initial questionnaire, you'll be asked about your employment and financial situation. If you're in financial difficulty, you may get a greater discount. There's also a way to apply for financial aid when inserting your payment details, to which you'll get an instant response. Contacting customer support is another way of applying to BetterHelp's financial aid. Keep in mind you'll have to periodically reapply in order to keep getting this discount.
BetterHelp Online Therapy Services Alternatives
How BetterHelp Online Therapy Services Compares to Other Online Therapies
BetterHelp Online Therapy
Busy professionals dealing with anxiety
Anxiety, depression, insomnia, bipolar
Video, phone, message, live chat
Phone, video calls, texting, email
Texting, audio and video messages
PsyD, LMFT, LCSW/LMSW, LPC
Board-certified psychiatrists, physicians, PAs, NPs, PsyD, PHD, LCSW, LMHC, LPC, LCPC, licensed marriage and family therapists
Licensed with 3,000+ clinical hours

BetterHelp Visit Site
BetterHelp vs. Cerebral
Though BetterHelp has made a name for itself as one of the oldest e-therapy companies on the market, Cerebral manages to match its standing even as a newcomer to the industry. Both companies are game changers for the field and can provide help with many mental health conditions. BetterHelp and Cerebral differ due to the wide range of accreditations that Cerebral therapists holds, allowing for psychiatry to be practiced and therapy + medication bundles to be offered. BetterHelp is more focused on weekly therapy for busy professionals, while Cerebral's plans are more suited towards monthly therapy sessions. Both companies are not generally covered through mainstream insurance companies though Cerebral offers financial assistance.
BetterHelp vs. Talkspace
BetterHelp and Talkspace are among the industry leaders of providing accessible mental health therapy and aid. The main difference between the two is that BetterHelp does not provide psychiatry services, unlike Talkspace. Another differentiating feature is that BetterHelp matches you with a therapist after you fill out a questionnaire. With TalkSpace, you can choose your therapist yourself.
Bottom Line
BetterHelp has been rapidly growing its services since 2013, and in that time, it has created a solid network of professional counselors, an easy-to-use online therapy platform, and a team that really cares. These and lots more reasons are why more than 3,000 people sign up for BetterHelp every single day.

BetterHelp truly stands by its mission statement to help anyone struggling with life's challenges get help "anytime, anywhere." The only thing we'd add is 'anyone.'