Over half of all people seeking mental health care want to incorporate their religion and spiritual beliefs into sessions, according to a survey conducted by Doctor David H Rosmarin. This poses a problem: most psychiatrists identify as non-religious.
Luckily, dedicated Online Christian therapy platforms can help religious clients find counselors who understand, respect, and share their faith. So, to help you find the right platform, we've researched and reviewed the best online Christian counseling and psychotherapy services in 2023.
Our Best Online Christian Counseling and Therapy Services in 2023:
What Is Christian Counseling?
Christian counseling combines psychotherapy and psychological concepts with scripture, prayer, and spiritual truth. It recognizes the connection and interplay between thoughts, feelings, and behaviors. It also emphasizes the significance of your relationship with God, and values the sanctity of life, marriage, and traditional family structures.
Forgiveness, hope, and God's unconditional love are central to this type of counseling. It addresses challenges religious individuals face, such as following the Ten Commandments, dealing with shame and guilt, and recognizing God's will. Spiritual counseling offers guidance, support, and a focus on faith to navigate these challenges and find a spiritual purpose.
Our Best Online Christian Counseling Services - Quick Reviews:
1. Faithful Counseling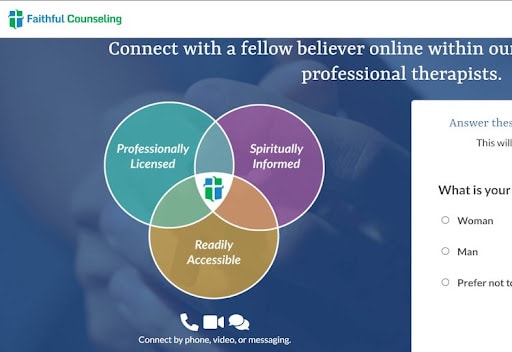 Best for: Quickly finding a spiritual counselor
Pricing: From

$60/week

Modes of communication:

Video, phone, message, live chat
"Faithful Counseling is designed exclusively for religious individuals, putting you in touch with licensed spiritual counselors who incorporate their faith into psychotherapy," says Michelle Giordano, MA, Community Counselor and Outreach Specialist for Live Another Day.
Their therapists offer guidance from a Biblical perspective, reinforcing the core tenets of the Christian faith—the Bible as God's word, the holy trinity, and Christ's love as the basis of fellowship.
A brief screening process identifies your primary concerns, religious group, and how you'd like to incorporate faith and spirituality into the session. You're then matched with a licensed therapist with at least three years and 1,000 hours of counseling experience who identifies as a practicing Christian.
Why we chose Faithful Counseling: If you can't afford their starting price, you can apply for financial aid by completing a short eligibility questionnaire. You can also change your counselor anytime and talk to them via a phone call, video, chat, or text.
Our experience: We liked the user-friendly app—it enabled us to contact therapists anytime, anywhere, with 24/7 discreet messaging. We appreciated Faithful Counseling's clear mission to connect Christian clients with Christian therapists, their thorough statement of faith, and the ease with which it matches users to counselors.
Pros:
Suitable for Christian adults, teens, and couples
24/7 discreet messaging with a therapist
Available in browser or app form
Cons:
Doesn't accept insurance
No prescription services
Read the full Faithful Counseling review

Faithful Counseling Connect Now
2. BetterHelp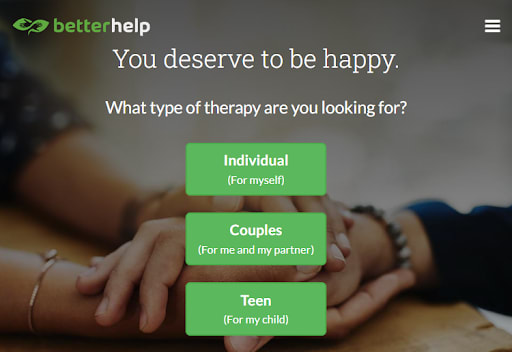 Best for: Christians looking for community support
Pricing:

From $60 per week

Ways of communication:

Text, live chat, video call, phone call
BetterHelp's scheduling provides "flexibility for busy people who lack time to attend in-person psychotherapy sessions," according to Jason Shiers, a psychotherapist at Wide World Coaching. The platform also offers financial assistance, increasing accessibility for those without insurance or alternative means of payment.
During the initial screening process, you can request a Christian counselor and specify your religious denomination. There's also a range of 23,000 providers available, increasing the likelihood of finding a therapist who aligns with your religious preferences.
Why we chose BetterHelp: BetterHelp provides financial aid, workshops, and educational content.
Our experience: We appreciated BetterHelp's thorough questionnaire. The signup process was effortless, and we received an overview of how long sessions would take, their cost, and how to request a new therapist. We also liked that they have support groups available.
Pros:
Offers support groups in addition to weekly therapy
Scientifically supported effectiveness
Offers financial assistance
Cons:
Therapists can't prescribe medication

Does not take insurance
Read the full BetterHelp Counseling review

BetterHelp Connect Now
3. ReGain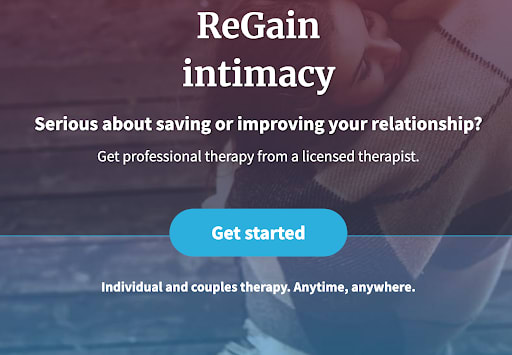 Best for:

Christian couples

Pricing: From

$60 per week

Ways of communication:

Video, phone, message, live chat
ReGain provides counseling services for individuals and couples, with the option to choose a therapist specializing in Christian-based relationships. They offer highly affordable rates with discounts for disabled individuals and those from low-income households.
Psychotherapy sessions can work with any schedule, and you can message your therapist anytime in a virtual chat room. ReGain counselors also guide couples in long-distance relationships who live or work in different states.
Why we chose ReGain: Christian individuals and couples can address specific concerns with a therapist who understands their faith. These can include infidelity, differences in faith, or disagreements about parenting and openness to children.
Our experience: The sign-up process for ReGain was quick and easy. We liked that couples could subscribe together or alone, with the option to invite each other to a session. There's also an option to select a preference for a religious therapist while completing the questionnaire. After choosing a subscription plan, we could also schedule sessions and apply for webinars on various mental health topics.
Pros:
Treats couples and individuals
Discounts for disadvantaged individuals
Offers webinars in addition to counseling
Cons:
Does not have in-network insurers

Customer support can only be reached through email
Read the full ReGain Counseling review

ReGain Connect Now
4. Online-Therapy.com
Best for: Evidence-based mental health treatment
Pricing: From

$50 per week

Ways of communication:

Video, audio, live chat
Online-Therapy.com connects you to counselors specializing in Cognitive Behavioral Therapy (CBT). CBT supports personal growth and reduces symptoms of depression, anxiety, and stress by helping you identify and challenge problematic thoughts, according to Stefan G. Hofmann, a professor of psychology at Boston University.
Furthermore, their online Christian therapy provides benefits such as access to meditation, stress reduction videos, CBT worksheets, and exercises. These services are also available round the clock in the US, the UK, and Australia.
Why we chose Online-Therapy.com: All denominations can benefit from CBT, and Christian therapists—which you can find via their search directory—can combine helpful cognitive exercises from CBT with spiritual and religious concepts relevant to the Christian faith. Most counselors should be able to integrate religious beliefs into CBT sessions and exercises, even if they aren't Christians themselves; if not, users can request to change their therapist at any time.
Our experience: We were pleased that many counselors were open to incorporating Christianity into CBT sessions and exercises. We also liked that we could access various resources, including daily self-improvement worksheets and activities, regular yoga and meditation classes, and a journaling feature.
Pros:
Most affordable option on this list
Provides evidence-based treatment
Useful worksheets and activities
Cons:
No live sessions on lowest-tier plan

No prescription services
Read the full Online-Therapy.com Counseling review

Online-Therapy.com Connect Now
5. Thriveworks
Best for: Combining in-person or online care
Pricing: From $10 per session
Ways of communication: Phone and video call
Thriveworks offers various mental health services for Christian clients, including psychotherapy for adults and children, relationship counseling, and medication management. They have a network of over 2,200 clinicians across all 50 states, and you can conveniently choose between in-person or virtual sessions, depending on your location.
You can cancel a session up to half an hour before it starts—whereas most in-person providers require 24 hours' notice—to avoid cancellation fees. Any visitor can also access free e-books on topics like coping with grief, healing from trauma, depression, marriage conflicts, and the impact of social media on mental health.
Why we chose Thriveworks: They offer 50-60 minute sessions with the flexibility of online or in-person care. Therapists also treat children, and clients pay per session instead of subscribing to a monthly rate.
Our experience: We liked that we could explore different professionals before subscribing to their service. We could also choose to see the same therapist on a regular schedule or different counselors on a preferred plan.
Pros:
50-60 minute therapy sessions
Treats children
Prescribes medication
Cons:
Service costs vary depending on insurance and location
Not available in all states
Read the full Online-Thriveworks review

Thriveworks Connect Now
6. Talkspace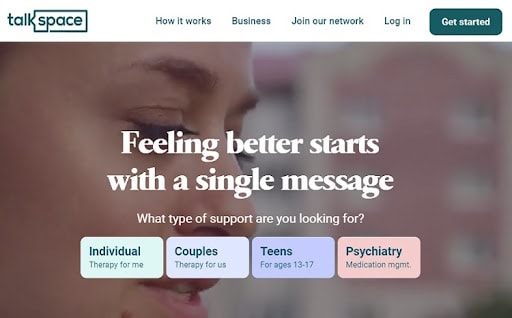 Best for: App-based counseling and medication
Pricing: From

$99 per week

Ways of communication:

Video, phone, message, live chat
Talkspace offers prescription services and psychotherapy for teenagers and adults. Though not specifically a Christian therapy platform, users can request Christian counselors during the intake process. You can request a religious counselor via virtual chat with a mental health professional who'll also explain how the platform works.
They also offer workshops for subscribers to enter anonymously and learn from licensed therapists about mental health topics—like forgiveness, building empathy, improving communication, healing from trauma, and managing stress.
Why we chose Talkspace: Talkspace's comprehensive services and network of experienced professionals make it likely that you'll find a therapist who'll respect your faith and values. They also make it easy to switch between providers at any time.
Our experience: Although we couldn't select a preference for a Christian provider, we chatted with a licensed practitioner after choosing one of the three matches the algorithm provided, where we asked for a religious therapist. And thanks to a virtual chat room, we could message our counselor 24/7.
Pros:
Specialists in many different disorders

24/7 online messaging

Get prescriptions from a psychiatrist
Cons:
Doesn't accept Medicare or Medicaid

Base plan doesn't include live sessions
Read the full Talkspace Counseling review

Talkspace Connect Now
7. Christian Therapist On Demand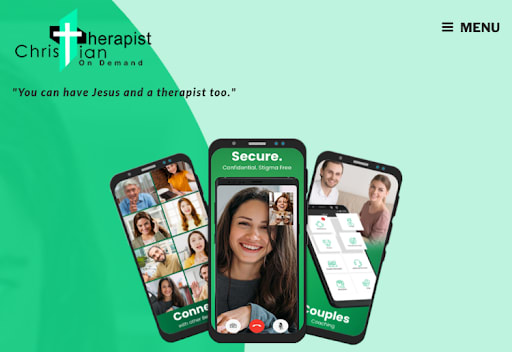 Best for: Religion-based therapy on a budget
Pricing: From $25 per month
Ways of communication: Chat, audio and video messages, live sessions
Christian Therapist On Demand offers spiritual counseling to adults and couples in the US through their Android and iOS apps, with multiple subscription plans and free trials. It provides same-day appointments, pay-as-you-go sessions, live texting, couples coaching, and unlimited messaging with weekly sessions and support groups.
Through their educational content, products, and clinical services, they aim to end the stigma some Christians feel about seeking mental health care: that seeking mental health support implies a lack of faith in God's healing power.
Why we chose Christian Therapist On Demand: They offer treatment for various mental health conditions, including PTSD, psychosis, depression, and anxiety. Sessions last approximately 50 minutes, and the app also offers a weekly support group covering multiple concerns. You can also access resources such as podcasts and relaxing musing. Non-users can even submit prayer requests on the website.
Our experience: We enjoyed the extensive worksheets on improving personal boundaries, planning activities, understanding automatic thoughts, and tracking anger triggers. During normal business hours, the online customer service was very responsive.
Pros:
Specialized in Christian counseling

Resources and worksheets available

All counselors are licensed & accredited
Cons:
Matching can take 24+ hours

Customer support might respond slowly
8. ChatNow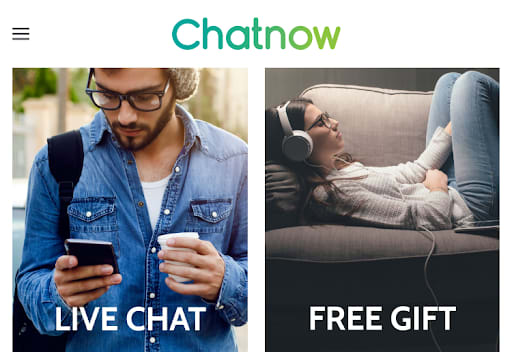 Best for: Totally free help
Pricing: Free
Ways of communication: Chat
While ChatNow isn't a traditional online therapy service, it provides 24/7 chat services to Christians needing support and guidance from a non-clinical volunteer. They offer hope and encouragement during times of doubt, a friendly ear, and assistance finding a local ministry or church.
ChatNow has an app that offers guidance to users through the Gospel of Mark to gain a fuller understanding of Jesus. It also provides free subscriptions to Dwell, an app hosting audio recordings of the Bible alongside artwork and harmonious music.
Why we chose ChatNow: ChatNow can provide you with comfort from trained Christian volunteers who strive to bring people closer to Jesus. And if you don't wish to chat, you can read articles on the website or app to learn more about the life of Christ and deepen your understanding of the Bible.
Our experience: We found the website and app easy to navigate, and it gave us free support in video and article form. We were also pleased that we could access the chat feature anonymously to message a Christian volunteer.
Pros:
Completely free

Website offers a wide variety of information

You can remain completely anonymous
Cons:
Doesn't offer traditional therapy
Not suitable for serious mental health challenges
9. Amwell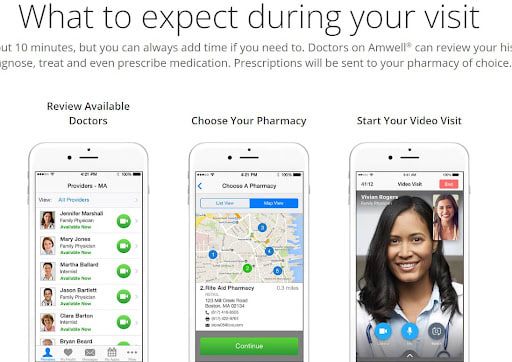 Best for: Therapy-seeking Christians who also want medical care
Pricing: From $109-$129 per session
Ways of communication: Video
Amwell allows users to create profiles and browse psychotherapy providers licensed in their states. Its collaborative care model works with your insurance company, budget, and in-person doctors to ensure you get the best and most affordable care possible.
The platform connects you to external sites that can offer care within your budget if they can't link you to providers in your insurance network. Amwell's physician network also provides prescription services, and they can coordinate with your primary care physician to help them obtain medications that online prescribers can't legally order.
Why we chose Amwell: Amwell provides flexibility in selecting a provider and a pay-per-appointment model. It also offers multiple healthcare options, including mental health and physical care, with services for children as young as ten years old.
Our experience: After subscribing to Amwell, we ended up on a page listing all provider specialties, including behavioral health, non-crisis medical care, and allergy care. The option to browse providers also offered more flexibility, and the helpline was open 24/7.
Pros:
Large number of insurance partners and providers
Offers prescription services
No subscription required
Cons:
Doesn't display detailed client reviews of its therapists
Can't contact therapists between appointments
Read the full Amwell Counseling review

Amwell Connect Now
10. JustAnswer
Best for: Fast responses to questions about faith and mental health
Pricing: From $55 per month
Ways of communication: Text, chat, phone
JustAnswer is ideal for religious individuals who want to ask experts about mental health or faith without committing to therapy. This web-based extension links you to experts across the globe, available 24/7 and responding to your inquiries about a range of topics.
For an added fee, you can also set up a phone call with an expert to dive deeper into the most pressing concerns.
Why we chose JustAnswer: JustAnswer can supplement religious therapy or independent support to clarify your questions about mental health before seeking help from a therapist. Anonymous chat is also available for personal questions, and customer support is quick, with responses coming within an hour.
Our experience: We liked that we could browse previous answers to certain questions by clicking on "Categories" at the bottom of JustAnswer's "How it Works" page. And for a flat rate of $55/month, we could ask unlimited questions to as many experts as we wanted.
Pros:
Quick expert answers to your questions

All experts are vetted professionals

24/7 access around the world
Cons:
No therapy services
Fees for premium services aren't clear
Read the full JustAnswer Counseling review

JustAnswer Connect Now
Our Methodology: How We Reviewed the Best Online Christian Counseling Services
In ranking these religious therapy services, we considered the following key factors:
Transparency of therapist's religion
Flexibility in choosing a Christian therapist
Number of available counselors
Communication methods
Accreditations and hiring requirements for therapists
Pricing structure
Diversity of therapy types
User reviews
How Does Christian Therapy Work?
Christian counseling is similar to non-religious therapy, addressing thoughts and feelings and uncovering the root causes of client's mental health concerns. Still, it distinguishes itself by including Biblical wisdom, principles, and prayer.
Some religious therapists will encourage you to pray, reflect on scriptures, and attend church services and sacraments between sessions. They'll also support you in cultivating virtue and self-giving instead of individualism or focusing on meeting your partner's needs.
How to Choose the Best Online Christian Counseling
Shared belief systems don't guarantee that you'll be compatible with a therapist. You should consider other factors influencing satisfaction, like whether you prefer to see someone who shares your gender or race and their experience with the challenges you're dealing with.
List important qualities like demographics, experience, and availability to ensure you're comfortable and informed before deciding on a therapist. Additionally, you should compare rates, check insurance coverage, ask about financing options, and contact platforms or providers to ask questions before committing to their services.
What's the Difference Between a Christian Counselor and a Christian Therapist?
The terms "Christian Counselor" and "Christian Therapist" can sometimes be used interchangeably. However, traditionally, a Christian Counselor may focus more on providing guidance and advice based on Christian principles and teachings from the Bible. Their approach is often pastoral and may involve scripture as the primary source of wisdom and direction. In contrast, a Christian Therapist, while also incorporating Christian beliefs and values, tends to use psychological principles and techniques recognized in the mental health field, integrating them with faith to help individuals work through their issues.
Both professionals aim to provide support and healing while integrating spiritual elements into their practice. The key difference lies in the balance and integration of theological and psychological knowledge and whether the Bible or psychological science serves as the primary foundation for their counseling approach.
Is Online-Based Christian Therapy for Me?
If you want support from a religious therapist from the comfort of your home, online-based Christian therapy could be right for you. Christian therapists remain a minority, and finding one alone can be challenging. That's why using a platform that links you to multiple spiritual counselors or therapists is much more convenient.
Before choosing an online service, consider the severity of your symptoms. Online therapy isn't for individuals in acute suicidal crises, severe eating disorders, homicidal tendencies, or psychosis. In such cases, immediate services like crisis lines, hospitalization programs, or specialized clinics are more appropriate.
How Much Does Christian Counseling Cost?
Spiritual counseling prices start from $10/session, depending on the platform, whether insurance covers your sessions, and if you're seeing a therapist or psychiatrist. Online Christian counseling offers you a chance to save money and time compared to in-person providers.
Other factors influencing in-person and online therapy costs are the length and medium of counseling. Therapists with more advanced degrees, such as a PhD, typically charge more, so consider applying for financial aid through Regain, Betterhelp, or Faithful Counseling or ask prospective providers whether they offer it.
How Do Sessions With Christian vs. Non-Christian Online Therapists Differ?
Christian counseling focuses more on your religion and the beliefs and values that accompany it. Non-religious counseling generally does not include spiritual beliefs and practices, such as prayers and discussions of God's will.
With religious therapy, you won't have to worry about whether your provider will make space for your practices and traditions. They also share your beliefs, which will help you find common ground and build a strong connection.
How Online Christian-Based Counseling Can Help You
Spiritual counseling combines traditional therapy with Christian principles, wisdom, and traditions. It's an ideal way to receive holistic care that also addresses your thoughts, feelings, and well-being. Although it isn't a replacement for engaging in your faith or church, it can enrich your participation in the community by helping you process, cope, and heal from past traumas.
If you're seeking counseling from a religious perspective, or answers to questions about faith and mental health, these platforms can connect you to affordable and convenient support.