Teen Counseling Visit Site
Overview
Teen Counseling Online Therapy Services Video Review
Watch Top10's Teen Counseling video review to learn everything you need to know about how their Online Therapy Services work.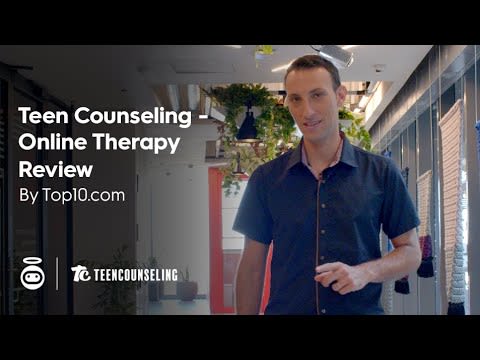 How to Get Started with Teen Counseling
Signing up
Signing up with Teen Counseling is straightforward and takes approximately five to ten minutes. To begin, go to teencounseling.com and click on "I'm a Parent" in the center of the screen. You'll be presented with several questions regarding your current situation, such as details of your living situation and the frequency of your child's school attendance. You'll also be asked for your email address to link to your account.
If your child has reported feeling suicidal within the last two weeks and has made specific plans to act on this, Teen Counseling will cancel your signup and provide emergency resources.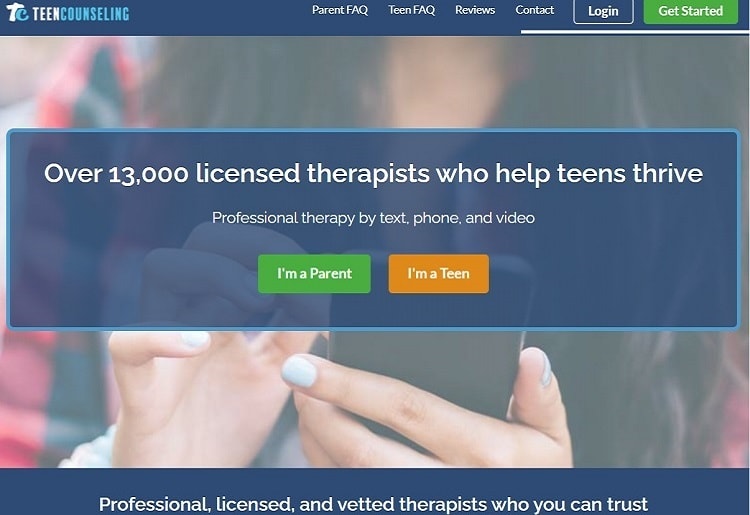 Getting matched with a counselor
The signup process also includes questions to help Teen Counseling match you with a therapist with suitable specializations and experiences for you and your teen's needs. These questions will ask, for example, about your therapist preferences, such as a male or female therapist, and your goals with therapy.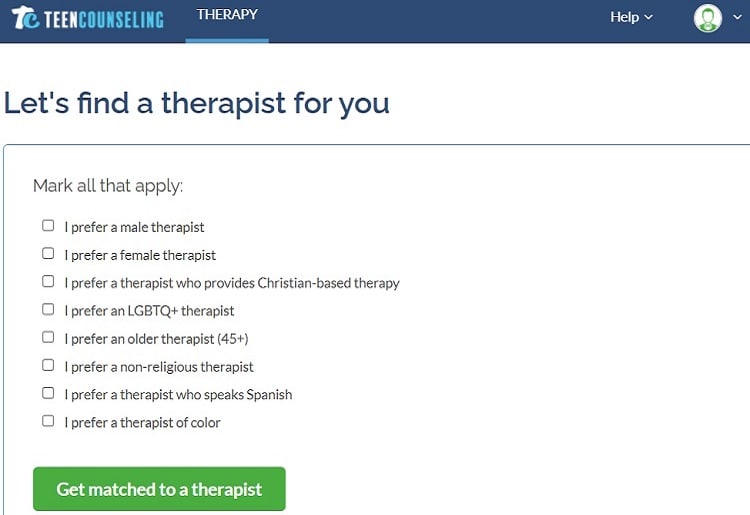 After completing the signup, the Teen Counseling matching process will begin and typically lasts 24-48 hours. It will do the matching for you, so you cannot browse or select a therapist for yourself. You'll be notified via email once Teen Counseling has selected a therapist for you. You can then invite your child by sending them an invite code via email or text message.
Your therapist's background information is visible within their profile, accessed by clicking their name at the top-left of your screen. You can also view reviews left by other users and leave your own review via the Options menu. If you're unhappy with your matched therapist, you can always request a different one free of charge.
Booking sessions
To book a live appointment, click on a date and time on your therapist's calendar and select either video or telephone. You can book appointments up to four weeks in advance. You only have one live session per week, for either yourself, your child, or both. However, Teen Counseling doesn't support three-way live sessions.
You can contact your therapist using the Teen Counseling messaging service—an online "room" shared with your therapist, in which you can rearrange appointments if necessary. Teen Counseling's website does not state its policy on charges for missed appointments.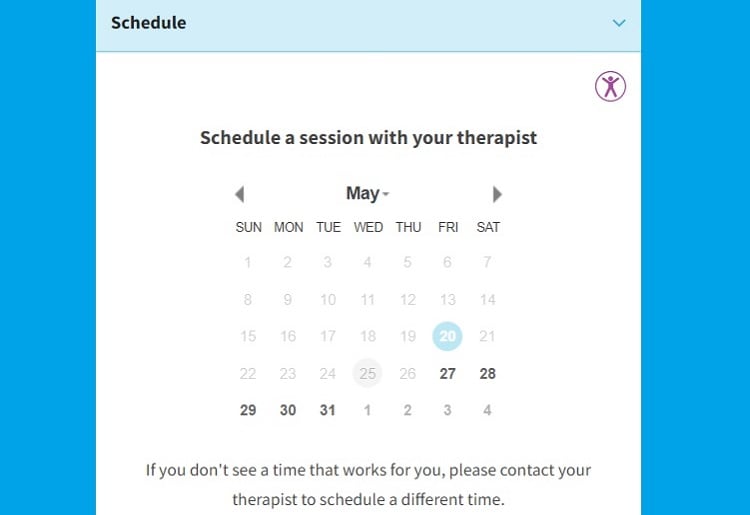 How Teen Counseling Works
Are Teen Counseling Counselors Licensed Professionals?
Therapists at Teen Counseling are all licensed and experienced professionals in mental health. Therapist licenses are certified by their state's professional board and the Teen Counseling evaluation team verifies the qualifications of all therapists before they provide therapy.
The professions accepted include accredited psychologists (PhD/PsyD), clinical social workers (LCSW/LMSW), marriage and family therapists (LMFT), and professional therapists (LPC). To ensure a high standard of therapy, Teen Counseling requires all therapists to possess a minimum of three years of clinical practice, including at least 1,000 hours of hands-on experience.
Teen Counseling Specialties and Areas of Expertise
Teen Counseling has over 13,000 therapists that specialize in child and adolescent mental health, and are able to offer therapy for a wide range of issues. Common areas of expertise include anxiety, depression, anger issues, bullying, schoolwork management, stress, relationships, eating disorders, and more.
The specific clinical approach depends on each therapist, and is visible within their profile.
These include:
Cognitive behavioral therapy
Psychodynamic therapy
Jungian therapy
Dialectical behavior therapy
Person-centered therapy
Solution-focused therapy
Existential therapy
Art and music therapy
Interpersonal therapy
Eye movement desensitization and reprocessing
Teen Counseling App
The Teen Counseling app is available for both Android (via Google Play Store) and iOS (via the App Store). It's free to download and contains all the same features as the Teen Counseling website.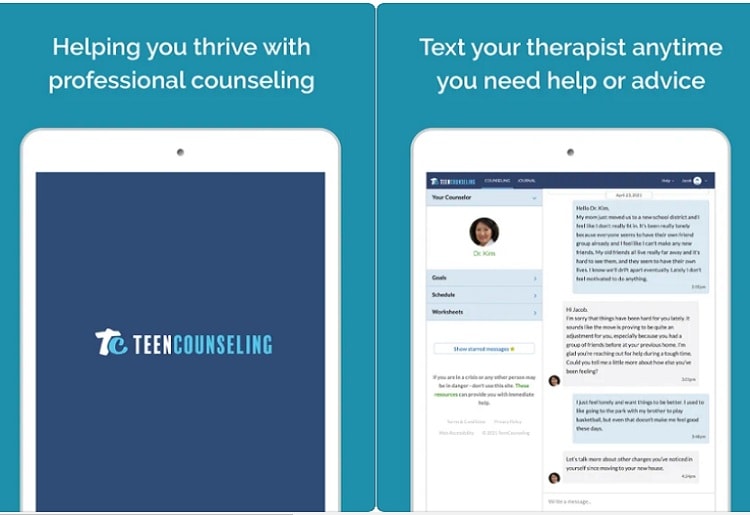 How Does the Teen Counseling App Work?
You can use Teen Counseling, including signing up, booking appointments, and attending live sessions, entirely through the app. Using the app through a mobile device is also well-suited for Teen Counseling's online messaging room. (Note, however, that you and your child will have separate rooms.) The interface is simple and intuitive, allowing you a seamless therapy experience.
The current ratings for the Teen Counseling app are very positive, at 4.6/5 (880 ratings) on Google Play and 4.7/5 (2,500 ratings) on the App Store.
Teen Counseling Customer Support
Customer support is available by clicking on the Contact button at the top-right of your screen or the Options menu when using the app. You can submit requests for support by filling in the form with your information and details regarding your issue.
Alternatively, you can contact the support team via email at contact@teencounseling.com Teen Counseling aims to return all support requests within one business day and is available 9am-5pm, Monday-Friday (PT). Currently, Teen Counseling has no support phone number or live chat function.
Two FAQ sections are available—one for parents and one for teens. These sections provide information on topics such as therapist qualification, pricing, and how communication through Teen Counseling works.
Teen Counseling Pricing
Teen Counseling charges a fixed rate of $80 per week. However, a weekly price reduction of up to $20 is available, depending on your income and disability status and therapist availability at the time of signup. Charges are billed every four weeks to a credit card or PayPal account.
Unlimited messaging + weekly phone or video sessions
Is Teen Counseling Covered by Insurance?
Teen Counseling does not work directly with any insurance providers, nor does it submit bills to Medicare, Medicaid, or private insurers. Your state's regulations and your plan will determine the coverage for online therapy. Some plans offer coverage, whereas others can be partial or very limited, so ensure you check with your provider.
Teen Counseling advises that, even if full coverage is available, the required copay may cost more than your four-week subscription. Furthermore, in many cases, reimbursement requires a diagnosis of a mental health disorder or issue, which Teen Counseling is unable to provide.
Teen Counseling Alternatives
Video, phone, message, live chat
Video, phone, message, live chat
Video, phone, message, live chat
PsyD, LMFT, LCSW/LMSW, LPC
PsyD, LMFT, LCSW/LMSW, LPC
PsyD, LMFT, LCSW/LMSW, LPC
MD, NP, PsyD, master's level therapists
No, but partial reimbursement available
No, but partial reimbursement available

Teen Counseling Visit Site
Teen Counseling vs. BetterHelp
BetterHelp is the parent company of Teen Counseling. It is another online therapy platform that matches you with a therapist. BetterHelp provides support for a wide range of mental health issues for individual adults, couples, children, and teens. Conversely, Teen Counseling focuses purely on teenagers (13-19) with specialized therapists for this age range.
Teen Counseling and BetterHelp offer a single subscription plan, billed every four weeks. Both plans include weekly live sessions and 24/7 messaging.
Teen Counseling vs. TalkSpace
Talkspace is an online therapy platform that matches you with a therapist based on your needs. Unlike Teen Counseling, however, TalkSpace provides psychiatry services in addition to counseling for individuals, couples, and teens.
Unlike Teen Counseling, TalkSpace offers a range of subscription plans. The cheaper options only grant text, audio, and video messaging, with live sessions included with the more expensive plans. TalkSpace also accepts insurance coverage.
Teen Counseling vs. Amwell
Amwell is an online telehealth platform that connects you to board-certified doctors and therapists with 24/7 access. Unlike Teen Counseling, however, you can sign up via your insurance.
Where Teen Counseling focuses specifically on therapy for teens (13-19), Amwell offers both medical and therapy access to individuals of all ages. Moreover, it can provide urgent care, therapy, psychiatry, and medical prescriptions.
Bottom Line
Teen Counseling is ideal for families who require support from specialized teen mental health therapists. Its sophisticated matching process will connect you with support based on your and your teen's needs and preferences. It offers a simple four-weekly subscription plan that provides access to live messaging, safe online spaces for both you and your teen, and a weekly live session.
Teen Counseling offers good value for money—it's cheaper than in-person therapy, while offering many of the same benefits.