In a Nutshell
TeenCounseling.com gives parents a place they can go to find a counselor for their teen, and teens an effective resource for getting help. After the parent signs up, they are assigned a counselor and the teen is invited. The sessions can be held by way of an app, by text, phone, or video. The service charges a flat monthly rate, and users can cancel at any time.
pros
Sessions are kept private between counselor and teen
Flat membership fee, unlimited counseling
Dedicated app for use with any mobile device
cons
Depending on the time of day, counselors may not reply quickly

Teen Counseling Visit Site
TeenCounseling.com Video Review - 10 Reasons to Give it a Try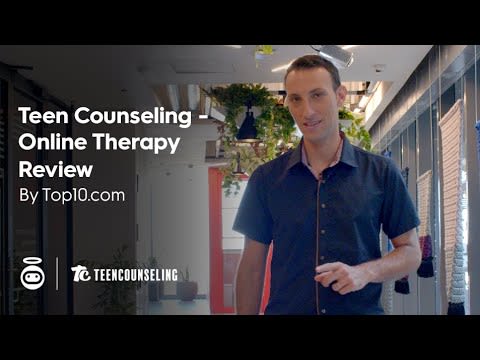 Therapist/Counselor Screening Process
All of the counselors offered on TeenCounseling.com, " are licensed, trained, experienced Psychologists (Ph.D/Psy.D), Marriage and Family Therapists (LMFT), Clinical Social Workers (LCSW), or Professional Counselors (LPC). All of the counselors have a Master's degree or Doctoral degree in their field, and have been licensed by their state's professional board after successfully completing the required education, exams, training, and supervised practice."
Prospective counselors apply through the site, where their professional credentials are checked for accuracy and then they must pass a series of further tests.
Parents will first go on the site and answer a questionnaire about their child, as well as fill out a number of preferences, such as if they'd prefer a male or female counselor. They will also be asked which specialties the counselor should have experience dealing with.
Get Help With
The counselors at TeenCounseling.com can provide help with a wide range of concerns that are common among teens, including:
Anxiety

Stress

Coping skills

Self-esteem

Depression

Bullying

Anger

Eating disorders
The service is NOT intended for people who currently have thoughts of hurting themselves, are in an urgent crisis situation, or who have been ordered by a court to undergo therapy.
Types of Sessions Available
The 3 ways of communicating with counselors are live chat, video, and phone. Live chat might be the best-suited to teens, who tend to communicate mainly by text. All of these designated sessions are set up between you and your counselor directly. You can also message your counselor in between sessions from the app as often as you would like, from any internet connected device.
All you need to do for a video or phone chat is schedule a time when your counselor is free.
The chat sessions take place in the user's individual "room," which is private and can be used 24/7 for counseling.
Pricing & Special Offers
There is a flat rate but it depends on what you choose so it ranges from $60-$80 per week (billed monthly).
Depending on your plan, you have unlimited messaging with your therapist and a certain amount of sessions per month. Users can also apply for financial aid.
What's Unique About TeenCounseling?
Part of what sets TeenCounseling.com apart is the simple fact that the service is focused on helping teens and realizes the ways in which their problems and concerns can differ from those of adults. The service also requires parents to give consent for their teen before allowing the sessions to go forward. TeenCounseling also ensures the privacy of users and does not allow parents to be privy to any information from the sessions.
What Our Expert Says About Teen Counseling
TeenCounseling.com is an incredible resource for parents to find an online therapist to work with their teenager. Teenagers have the opportunity to attend counseling on their terms, when they are most comfortable. It is easy to access and allows the flexibility that teens desire most in terms of types of sessions and ability to reach out to their therapists. Teenagers are faced with so many stressors in their lives and the therapists are trained in areas such as addiction, bullying, family issues, low self-esteem, and anxiety. These are just a few of the many possible areas of focus that a teen might address with their licensed and trained therapist. Therapy for most teens is critical in this day and age and I highly recommend teen-counseling.com as an excellent option. It is reliable, easy, and most of all effective!
What Users Are Saying About TeenCounseling
TeenCounseling.com doesn't feature any teen user reviews, but it's easy to find a large amount of reviews on the site of BetterHelp, the parent company of TeenCounseling.com. For instance:
"Shiann has made a tremendous difference in my mental heath. If you are looking for a kind, compassionate, insightful and skilled therapist, Shiann is for you."
Written by M.I. following two weeks counseling with Shiann Metheny, LPC, LPCC, LCPC.
"I've only had a few sessions with her but she has made a great impact in my life help me to realize some things help me to put some things in perspective"
Written by M.I. after counseling with Jeannie Burdick-Cummings, MA, LMHC, CCPT
"Jeff was interested in me and my concerns. He connected without judgement."
Written by E.L. after three months counseling with Jeff Moffitt, LMFT
Scheduling Live Chats/Video Chats
The hours that your counselor is available can vary depending on their schedule and workload. The user "room" is private and open 24/7, though your counselor may not be available 24/7. When signing up with a counselor, make sure that they maintain counseling hours that fit your schedule. You can also ask for a different counselor, and the Teen Counseling recommendations are by no means binding.

Teen Counseling Visit Site
Customer Support
You can reach customer service by way of an online form on the website or by sending an email. There is no live chat window on the site.
Bottom Line
Going through adolescence can be one of the toughest, most confusing times in life, and at the time, it's hard to realize that eventually it ends. If you're the parent of a teenager dealing with the slings and arrows of growing up, you may be able to find someone who can help them through TeenCounseling.