Pride Counseling Visit Site
Overview
Pride Counseling Online Therapy Services Video Review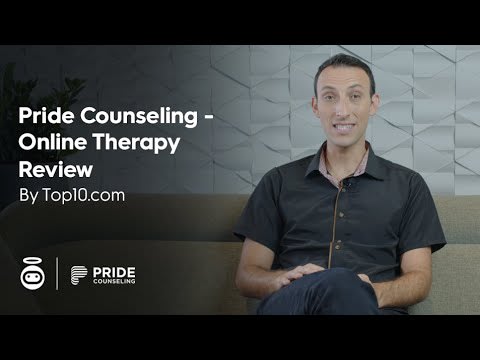 How Pride Counseling Works
Signing up
The Pride Counseling signup process is quick and easy. You'll have to provide your gender, preferred pronouns, sexual orientation, age, relationship status, and information about your past experience with therapy, if applicable.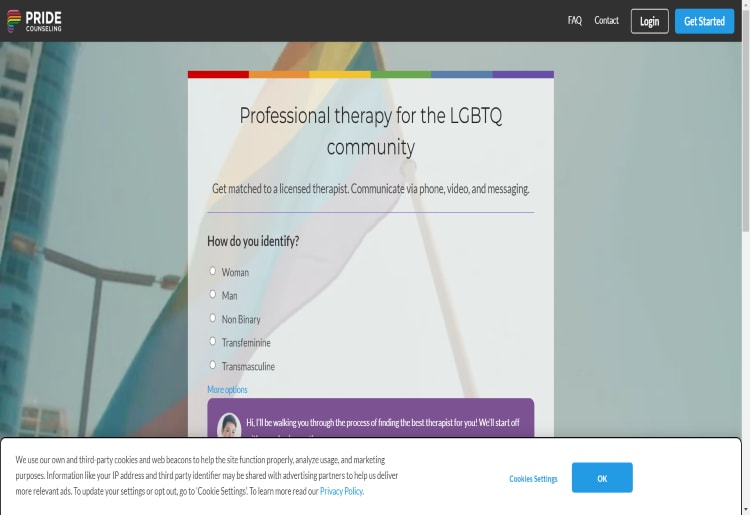 Screening questions check for self-harm and refer you to resources for immediate assistance. The website also specifies that it will not treat minors or those in the care of a legal guardian, those in crisis, those with court-ordered therapy, and those who don't have internet access or a reliable internet connection.
Furthermore, in the Frequently Asked Questions, you'll find that many therapists on the platform will not provide letters of recommendation for Hormone Replacement Therapy due to the online nature of the service. Ask your individual therapist if they are willing/able to provide HRT letters if needed.
Getting matched with a counselor
Once you've signed up, you'll be matched with a counselor within a few hours to a few days, depending on availability. You are not able to choose your therapist, but you can elect to be rematched if the one chosen for you is not a good fit. All prices are the same, and any counselor on Pride Counseling has a background in LGTBQ+ counseling.
There are no reviews of specific counselors online, and you aren't able to rate individual counselors. Additionally, there is no information on the site regarding blocking a therapist or adding them as a favorite.
Booking sessions
Speak to your therapist to schedule a therapy session. You can review your therapist's availability at the bottom of the "therapy room" screen and click to schedule an appointment. You can also message the therapist and request a particular time.
Messaging, live chat, live phone, or live video sessions are available, and you will use the therapy room to communicate with your therapist during a session. The therapy room is also where you can cancel or reschedule appointments as needed.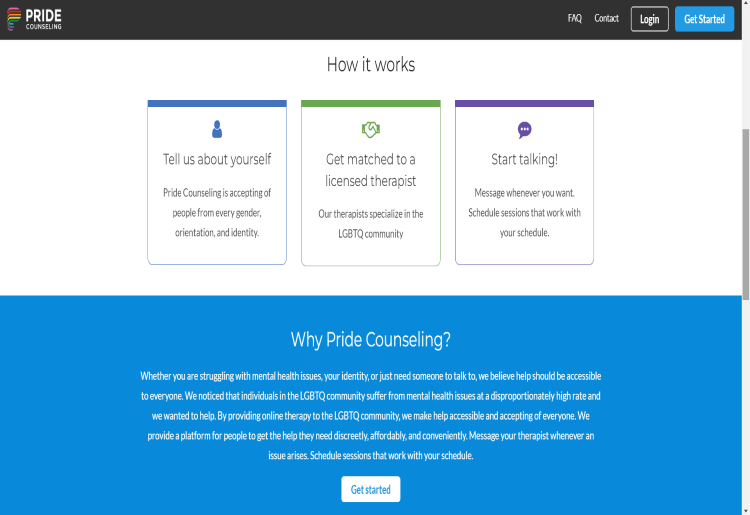 Features and Functionality of Pride Counseling
Are Pride Counseling Counselors Licensed Professionals?
Pride Counseling counselors are licensed, trained, qualified, and experienced. They include licensed and accredited professional therapists, licensed clinical social workers, licensed marriage and family therapists, and accredited psychologists. There is a minimum requirement of a Master's degree in a relevant mental health field with three years and 1,000 hours of experience. All specialize in LGBTQIA+ therapy.
Pride Counseling is a part of the BetterHelp community. Counselors can apply for Pride Counseling on BetterHelp's website. The therapists hired are independent contractors who work for BetterHelp or one of its sister companies such as Pride Counseling. All credentials are verified in the hiring process.
Pride Counseling Specialties and Areas of Expertise
All Pride Counseling therapists specialize in counseling the LGBTQIA+ community. On top of this, they must meet state standards for licensure, including education, experience, and training. Profiles for Pride Counseling therapists will include their name, a personal statement, their specialties, relevant licensure, and reviews from past clients.
The areas of expertise offered include the following.
Stress
Anxiety
Issues with coming out
Relationships
Parenting
Depression
Addictions
Eating
Sleeping
Trauma
Anger
Family Conflicts
Grief
Self-Esteem
Communication Problems
Life Purpose
Isolation/Loneliness
Self-Love
Social Anxiety and Phobia
Guilt and Shame
Post-traumatic Stress
Panic Disorder and Panic Attacks
Control Issues
Forgiveness
Caregiver Issues and Stress
Pregnancy and Childbirth
Divorce and Separation
Attachment Issues
Abandonment
Body Image
Mood Disorders
Impulsivity
Workplace Issues
Money and Financial Issues
Chronic Pain Illness and Disability
Women's Issues
Men's Issues
Sexuality
Midlife Crisis
Narcissism
Pride Counseling Apps
Pride Counseling is available as a mobile app. You can download it on either iOS or Android. This makes therapy more convenient than ever. The app offers all the same features as the website with the benefit of on-the-go mental health assistance.
The app itself is free, but therapy services will cost the same as the online monthly subscription fee. Whether you choose a therapist on the website or on the app, all the licensed professionals are trained to provide accessible, affordable, inclusive counseling for the LGBTQIA+ community.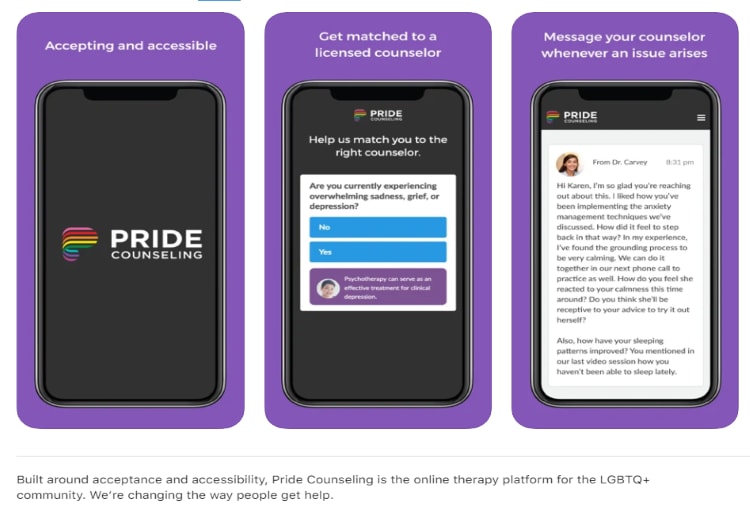 How Does the Pride Counseling App Work?
You'll find that the Pride Counseling app offers video chat, text chat, phone chat, and live therapy. You'll be able to communicate directly with your therapist in the privacy of the app's therapy room. The user-friendly interface has all the benefits of the website with all the convenience of an app.
Apple users rate Pride Counseling with 4.6 stars out of 5, while the app is rated 4.5 out of 5 stars on GooglePlay for Android and is rated E for Everyone.
Pride Counseling Customer Support
Help and support are available on Pride Counseling's website as well as in the mobile app. You can read through a list of thorough Frequently Asked Questions, email customer support with your questions, or simply fill out a contact form for more assistance.
Upon receiving an inquiry from you, PrideCounseling will send an automated message acknowledging receipt. The email further states that you'll receive an individual response within one business day of your message. Business hours are listed as 9am-5pm PST Monday through Friday, and out-of-hours messages could result in a delay.
A crisis number is also listed for emergency response, and a 24-hour hotline is included for those who need an immediate response to their mental health issue or site inquiry.
Phone and instant chat options are not available. You can read through the website's Terms and Conditions for answers to any questions you may have about the site's functionality, privacy policy, or other concerns. You can also review the Accessibility page to see how Pride Counseling accommodates members with disabilities.
Pride Counseling Pricing
How Much Does Pride Counseling Cost?
Pride Counseling offers a straightforward payment plan. Therapy services are available for $80 per week, charged every four weeks at $320. This service includes text, video, and audio sessions in addition to live weekly therapy.
Text, video, audio, and weekly live sessions
Is Pride Counseling Covered by Insurance?
Pride Counseling is not covered by insurance. In fact, in the Frequently Asked Questions, the site specifies that while some insurance companies offer full or partial reimbursement, their copays could be higher than the fee for Pride Counseling. Additionally, a diagnosis, which would be added to your medical record, may be required for insurance to cover counseling.
Some financial aid is available for those who qualify.
Pride Counseling Alternatives
There are many e-therapy providers on the market. Pride Counseling's competitors include BetterHelp, Teen Counseling, and TalkSpace.
Text, video, audio, and weekly live sessions
Video, message, live chat, and support group
Video, text, and audio message
PhD, PsyD, LMFT, LCSW/LMSW, LPC
PhD, PsyD, LMFT, LCSW/LMSW, LPC
PhD, PsyD, LMFT, LCSW/LMSW, LPC
PhD, PsyD, LMFT, LCSW/LMSW, LPC

Pride Counseling Visit Site
Pride Counseling vs. BetterHelp
When comparing Pride Counseling to BetterHelp, it's important to know that Pride Counseling is the sister company of BetterHelp. What sets Pride apart is its specialty in serving the LGBTQIA+ community. The one advantage BetterHelp has over Pride Counseling is that it offers group therapy support. Otherwise, Pride Counseling is likely to be a better fit if you're part of the LGBTQIA+ community.
Pride Counseling vs. Teen Counseling
Pride Counseling and Teen Counseling have comparable rates, services, therapists, and access, but they differ in terms of specialties. Both Pride Counseling and Teen Counseling have therapists who've been trained for LGBTQ+ issues, but Teen Counseling's target demographic is youth. They are comparable services otherwise, so age will be the primary determining factor in your choice.
Pride Counseling vs. TalkSpace
Pride Counseling and TalkSpace both offer 24-hour access and licensed professional counselors, but TalkSpace has two primary advantages over Pride Counseling. The rates are lower for weekly sessions, making it the more affordable choice, and TalkSpace also takes some insurance. Budget could be the determining factor when choosing between these two e-therapy options.
Bottom Line
Pride Counseling's online therapy service is fully-inclusive and accessible for the LGBTQIA+ community. This e-therapy provider offers text, video, audio, and weekly live sessions at an affordable weekly price. It's available on mobile for both iOS and Android devices.
Pride Counseling's one missed opportunity may be its lack of support group options. While it does not offer insurance billing, Pride Counseling does have a low weekly rate that can cover multiple counseling sessions, making it a budget-friendly online therapy option for the LGBTQIA+ community.