In a Nutshell
Pride Counseling provides therapy for people of all types, but has a special emphasis on helping members of the LGBTQ+ community. You can easily book live chat, phone, and video sessions that meet your schedule and are 100% discrete. When you sign up, the service will ask you a series of questions in order to determine which counselor to link you with. The service charges a flat rate per week and you can cancel anytime.
pros
Discrete—no need to identify yourself, all messages encrypted
No commitment, cancel anytime
Counselors specialize in the LGBTQ+ community
cons
Not covered by health insurance
No live customer service chat
Sign up questionnaire is fairly lengthy

Pride Counseling Get Started
Pride Counseling Review 2022 🏳️‍🌈 Discrete online therapy for the LGBTQ+ community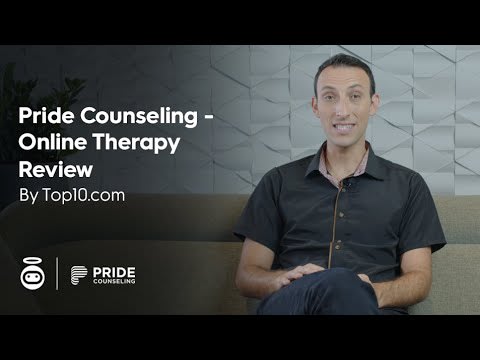 Therapist/Counselor Screening Process
According to Pride Counseling, all counselors "are licensed, trained, experienced, and accredited psychologists (PhD / PsyD), marriage and family therapists (LMFT), clinical social workers (LCSW / LMSW), or licensed professional counselors (LPC)." Furthermore, all of them have a Masters or Doctorate degree and have been qualified and certified by their state's professional board. They all need to have at least 3 years and 1,000 hours of experience.
Get Help With
Stress

Anxiety

Issues coming out

Relationships

Parenting

Depression

Addictions

Eating

Sleeping

Trauma

Anger

Family Conflicts

Grief

Self esteem
Pride Counseling advises that you should seek immediate help elsewhere if you have the following issues: you have thoughts of hurting yourself or others, you are a minor, you are in an emergency situation, you have been diagnosed with severe mental illness, you have a court order to undergo counseling, or you do not have internet access.
Types of Sessions Available
Phone chat

Video chat

Live chat

Text messages
Pricing & Special Offers
Pride Counseling does not offer a free trial or money-back guarantee. What it does offer is a commitment free, transparent pricing plan that charges each month based on a weekly rate of $60 - $80. You are also free to cancel the membership at any time.
The site adds that some users may also qualify for financial assistance.
What's Unique About Pride Counseling?
A unique feature at the very heart of the Pride Counseling service is that its counselors specialize in dealing with issues facing the LGBT community. The site understands the privacy that this often requires, and you at no point are required to use your real name or identity yourself. In addition, all communication between you and your counselor is encrypted and you can "shred" any message that has been sent or received. You also pay only a set monthly fee so everything is very transparent. In addition, you don't have to make a commitment, and can quit any time.
What Our Expert Says About Pride Counseling
Pride Counseling offers its clients to be matched with licensed therapists who specialize in working with people from the LGBTQ+ community. The secure and confidential site offers live chats, phone sessions, and video options, and it also allows each member to write to their therapist as often as they choose. Clients are also able to remain anonymous if they decide they want to keep their identity to themselves. The strength of Pride Counseling also rests in the fact that the therapists are extremely conscientious about focusing on issues related to emotional struggles as a result of bullying, anxiety, and depression in people who might be questioning their sexuality or are being targeted for choosing to be themselves. It really is such a wonderful option for so many people to explore and the focus on strength-based counseling and emphasis on empowerment makes me thrilled to recommend it to everyone.
What Users Are Saying About Pride Counseling
"Mark-Jeremy is exactly what I needed! He is wise and clever. When i am in doubt, he is the loud voice in my head that's giving me strength and the power to live my life as i should be."
Written by G.A. for Mark-Jeremy Trybulski (LMF)
"Nicole is a great counselor and I felt she answered my questions very well and and this helped me to jump into the next step of my journey. I definitely recommend Nicole."
Written by A.N. for Nicole Craig (MA, LPC, CADCI)
"She cares for people and has patience in working to find the best solutions."
Written by D.A. for Catherine Wilson (LPC)
She is knowledgeable about a lot of topics and retains a clear head even during complex or difficult topics."
Written by D.A. for Natasha Johnson (MA, LPC)
Scheduling Live Chats/Video Chats
If you want to set up a live chat or video chat, you simply need to schedule a time with your counselor when both of you are free. If you're doing a video session, make sure that you will be in a location with a reliable internet connection. As long as your counselor is free during the set time, you should be able to schedule an appointment on short notice.

Pride Counseling Get Started
Customer Support
Pride Counseling has an online form you can fill out to receive a prompt response. You can also try the company contact email.
Bottom Line
Pride Counseling has staked out a unique calling card in the world of therapy. The company has put the LGBT community front and center, with therapists that have special experience dealing with some of the issues the community faces. The company also makes a point of determining which counselors are best suited to help you, and you can sign up without any commitment, with an easy, flat monthly fee.