The 5 Best Home Security Cameras
There's a lot of competition in the home security field. While that's good for consumers, what it also means is that it can get hard to figure out which company is really worth your money. If you're looking for a home security camera that outperforms and out-features all the rest, check out these top 5 brands that are doing it right.
Motion-triggered live streaming

Auto backup recording for later viewing

Can be controlled and viewed by your smart device
Frontpoint's home security cameras are solid pieces of equipment that are as technologically advanced as they are durable. Cameras are available in several models including outdoor, indoor, and doorbell, and have several features that put them on our Best list. For one thing, Frontpoint offers CCTV and pan and tilt cameras for the ultimate in security and convenience. Plus, these cameras let you save video records so that you can review or watch them later.
Frontpoint cameras are all fully connected, so you get notified (via email or SMS) when the motion sensor is triggered. As soon as the sensor is triggered, the camera automatically starts streaming, recording videos for later.
Frontpoint's Ultimate Plan ($49.99/month) comes with the security camera included along with motion-activated alerts, live streaming, HD and night vision, and more. Depending on the model you choose, additional cameras will cost you between $99-$199.
Frontpoint Get Started
HD wireless cameras

2-way audio

Secure, encrypted video recordings
If you're looking for a state-of-the-art piece of equipment, look no further than Protect America. It delivers a super clear picture with 720p HD resolution, 30-frames per second streaming, and a 60-degree screen view. This camera comes with amobile app for iOS and Android devicesto control your camera with ease.
Protect America also has impressive night vision built into its cameras using 4 bright infrared LED lights to illuminate up to 16 in front of the camera. Cameras come with 2-way audio using a built-in speaker and mic, so you can hear and communicate with your home. Best of all, Protect America cameras record all of the footage and save it on the cloud, encrypting everything for maximum security.
The Protect America indoor camera is available for $99 and the outdoor one for $169.
Protect America Get Started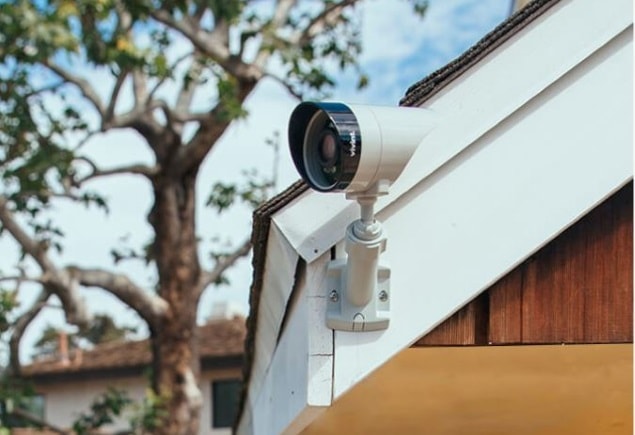 Smart Detection

Huge storage capacity

180-degree view
Vivint cameras have night vision, 2-way communication, and notifications plus a few more bells and whistles. For example, Vivint cameras all come with Smart Clips, easy to stream, watch, and access 30-second clips. What's also great about the Vivint outdoor camera is its wide-angle range. Unlike the majority of outdoor security cameras for home use, Vivint's camera has a huge 180-degree view for a clear, landscape perspective.
Vivint cameras can record up to 4 streams simultaneously, 24/7 and will store the footage for up to 30 days. The feature that sets it apart from the competition though is the Smart Visitor Detection feature. Vivint cameras are programmed to differentiate between people and objects, so you're not notified every time a car drives by or a squirrel gets frisky.
Doorbell camera is included in the Vivint Smart Home Video plan (a $50 installation fee and $50/monthly monitoring fee). The indoor and outdoor Vivint cameras both go for $199.
Vivint Get Started
4. LifeShield
Set triggers for snapshots

Well-priced

Outstanding hardware quality
LifeShield has 2 great things going for it. The first one is its technology. Everything about LifeShield cameras makes you happy you went with them. The resolution is clear, the hardware is top of the line, and the app is magnificent. You can take pics straight from your phone or tablet as you watch the video feed. But one of the coolest features of LifeShield cameras is the customization. You can set up all sorts of personalization. For example, you can have recording start automatically at a specific time, date, or event. You can also have the system automatically take a snapshot for you if the specified event is triggered (the door being opened after 10pm for example).
What LifeShield also has going for it is the price. The WiFi-enabled camera is included in the Security Advantage plan (though you'll pay $140 for an additional indoor camera). You get this pricey piece of equipment thrown in for free when you opt for this plan. Good deal.
Farthest vision field available

350-degree rotation with pan and tilt camera

Auto-record feature
Guardian does the video doorbell extremely well. When the doorbell is pressed, you'll get a notification through the app. What's really neat is that you can talk through the doorbell cam. This is a great safety precaution if you aren't home but want the person at the door to think you are. You can connect it to your smart lock as well, so you can let in friends and family if you're running late or not around.
Guardian also has stellar outdoor and indoor cameras. Indoor cameras come with high-definition, full-color image, night vision, auto-recorded video clips, and alert notifications. This camera has an impressive range, recording up to 20 feet in front of it. Outdoor cameras have the same impressive specs, but these can see up to 40 feet! The Edge Premium plan includes live video streaming.
Guardian Protection Services Get Started
How Do I See What My Camera Records?
There are different ways to connect to your camera, but the most common options are WiFi, Bluetooth, home network, and wired. If you have a smart home system, it's simple to connect your streaming to the system to get automatic access to your video feed. You'll just use the app to connect to the camera and view the live or recorded streaming directly on the device of your choice. WiFi and Bluetooth cameras are easy and convenient, letting you connect and view your stream instantly with any smart device.
While a bit more work is required for wired cameras, this option delivers a wonderful service on all levels. These cameras are wired into your home's electricity (either through direct wiring or a plug). The benefit of wiring is that the resolution is generally the best.
Features to Look For
While there are hundreds of home security cameras on the market, not all of them have got what it takes to deliver the best service to you. If you're in the market, make sure your new camera has:
Showing you a fuzzy video of a vague person won't help you much when trying to ID someone. Make sure the home security cameras you look at have high definition videos.
Recording your streaming is an invaluable tool in the event that your home is broken into. Good video cameras have helped the police identify the culprits in many home intrusion cases. It's also convenient if you want to know what's been happening around your home but don't have time to view it on the spot. Only look at cameras that record the footage being streamed.
How the camera is triggered is also important. Good quality motion detection cameras will start streaming and send you a message when any movement is noted. This is crucial if you want to capture the important movements of an intruder, a stranger, or a visitor. You don't want to be notified of every leaf that falls by your door, though. That's why the best brands have some form of smart motion detection, enabling the camera to differentiate between human movement and things like cars and branches in the wind.
This actually covers two important features: field of view and night vision. Along with HD resolution, it's really important to have a wide field of view; otherwise, you can miss out on the most important activity going on just outside your camera's lens. Night vision also improves your visibility, enabling you to see images as clearly at night as you would during the day.
While it's not essential, WiFi connectivity ensures that your camera will be online and available at all times, regardless of the weather. It's also more secure, since there aren't any wires to cut.
Secure Your Home With Smart Security Cameras Today
They say seeing is believing, and in security, nothing could be truer. There is a wonderful comfort that comes with being able to see your home from wherever you are, knowing you are in control and on top of things 24/7. A quality home security camera will give you that confidence, so make the right choice and protect your home today.