Two of the more popular methods of online therapy communication methods are text and video chat.* Just like there are different types of learning styles, there are different ways that people choose to communicate. Some people are more verbal and need to hear their thoughts out loud, while others are more visual and prefer to spend time writing out their feelings and enjoy reading the responses.
Which one is best? That depends on a lot of things, including your personality, availability, and communication style. Here's a head-to-head comparison of video therapy and text therapy, so you can make the decision for yourself.
Breaking Down Our Top 10 Choices: Which Is Best For You?
Best Overall: BetterHelp
Best Runner Up: Calmerry
Best for Couples: ReGain
Best for Affordability: Amwell
Best for Flexible Scheduling: PrestoExperts
Best for LGBTQ+: Pride Counseling
Best for Christians: Faithful Counseling
Best for Availability: HealthSapiens
Best Chat Features: Teen Counseling
Best for CBT: Online-Therapy.com
Video Versus Text Therapy: What's the Difference?
Let's start with some definitions for clarity's sake. Video therapy is a one-on-one session with a trained therapist conducted over a video feed. This is like a Skype therapy call, only more discreet. Text therapy or chat therapy is a discreet chat room dedicated to your therapy sessions. Only you and your therapist can view the chat feed, and the chat resides on your device. Thus, you can review it whenever you wish.
Video therapy engages your auditory and verbal sensors while text therapy engages you on a visual platform. Let's see if there are more areas of divergence to give you a clearer picture of these two successful online therapy tools.
Text Counseling Versus Video Therapy: The Battle Begins
Now that you know what each one is, let's see what other variants exist. We should remind you, though, that both text therapy and video chats are excellent methods for gaining professional guidance and assistance to some minor and major life issues. This comparison is merely meant highlight the strengths and weaknesses of each one to give you a better understanding and the ability to make a more informed decision.
What Is Online Therapy Chatting?
Online therapy chatting is a convenient way to get professional counseling regardless of age, financial status, and location. This is possible because everything is done on a computer, device, or mobile phone. While this is not like any other form of therapy you're accustomed to, online therapy is gaining popularity quickly for several reasons.
Online Therapy by the Numbers
When it comes to something as important as your choice of therapists, people want concrete evidence of success.
There are several studies that show that text-based therapy can yield positive results. In fact, BetterHelp, one of the foremost online therapy services, was highlighted in a study by the Berkeley Well-Being Institute. It showed that a significant number of clients made progress using this method of therapy to address their issues. This included a reduction in depressive symptoms in those who participated in the study.
What's more is that a large proportion of the participants actually preferred BetterHelp to traditional face-to-face therapy. While this is just one study and more research is needed, it is refreshing to see how many people are pleased with online therapy overall.
What about video therapy? In a study conducted over the course of 4 years involving 100,000 participants, the U.S. Department of Veterans Affairs found some interesting results. When people opted for video therapy versus traditional face-to-face therapy, there was actually a decrease in the need for mental-health-related hospitalizations. This was true for both men and women and held up across several age groups.
While both methods reflect how effective online therapy can be, video therapy seems to show some very strong evidence in how effective it can be.
Pros:
Conveniently available from home

Online therapy is as effective as in-person therapy

Video therapy may decrease hospitalizations
Cons:
Few studies focus on specific therapy methods

Difficult to attend sessions for those without internet
Helped By Text
While video therapy is invaluable for anyone who needs to hear their own or someone else's voice, it simply cannot compare to text-based therapy when it comes to reviewing.
With text therapy, you are given a chat forum exclusively for your therapy sessions. Each time you have something to say, you just send a quick text to your therapist. You can write anytime day or night and can write as often as you would like. Additionally, in almost all cases you can review everything that you and your therapist has previously written.
Pros:
Text discussions are saved in chats

Easy to review discussions
Cons:
Therapists may not respond right away

May be difficult to discuss hard topics through text
Readily Available Advice
Being in frequent contact with your therapist can lead to a more favorable outcome. Naturally, having multiple sessions a week to address your issues, discuss strategies, and receive feedback can expedite positive results. Although many therapists, whether online or offline, might not offer such frequent sessions, text therapy often serves as an excellent alternative.
Text therapy allows you to reach out to your therapist at any time. While the counselor might not reply to every message immediately, the opportunity to communicate remains constant. Sending messages at your convenience lets you discuss your thoughts and feelings as they arise, and it's also an effective method to record your emotions for future reflection, including insights from your therapist.
Pros:
Therapy available at anytime
Convenient method to integrate therapy into daily life
Effortless approach to explore various therapists.
Cons:
Difficult to build close relationship with therapist

Typing speed is slower than speaking
Rapid Response Time
Video therapy has another clear advantage over the text version. If you want the most interactive therapy experience, there's nothing that beats video chat therapy (other than an in-person session, of course.)
While either choice matches you with a professional, licensed, and qualified therapist, video sessions offer continuous interactions with your therapist which many people prefer. The response is immediate during the time of your session, and many sites allow you to schedule once per week.
Pros:
Immediate response time during session

Flexible to your schedule

Tailored therapy sessions through matching
Cons:
Some therapists may get booked fast

Limited sessions per week
Online Therapy: Your Therapy, Your Way
If you want to get professional help that will really do the trick, check out some of the best services for online therapy:
1. BetterHelp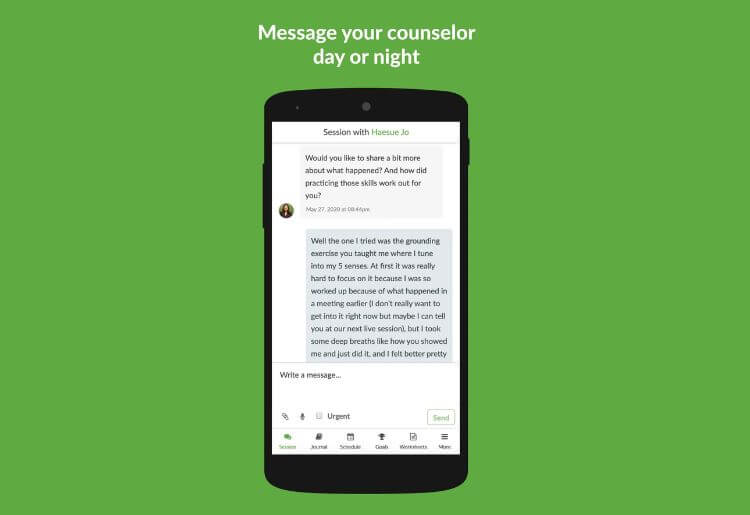 Communication methods: Messaging, live chat, voice or video call
Compatible with: Android and iOS
Pros:
Excellent reputation for successful therapy

Thousands of professional counselors

Straightforward system for chatting
Cons:
Not all therapists are good for specialty needs
No psychiatry service available
From $65-$90 a week, you can message your therapist at anytime. Considering the cost of traditional therapy, it is a fantastic price for what they offer.
BetterHelp has an excellent reputation among the therapy community and an even better success rate. In fact, some studies showed that a majority of their clients saw major improvements after using the platform. And with over 30,000 licensed professionals ready to help you, it's not surprising.
Read the full BetterHelp review
2. ReGain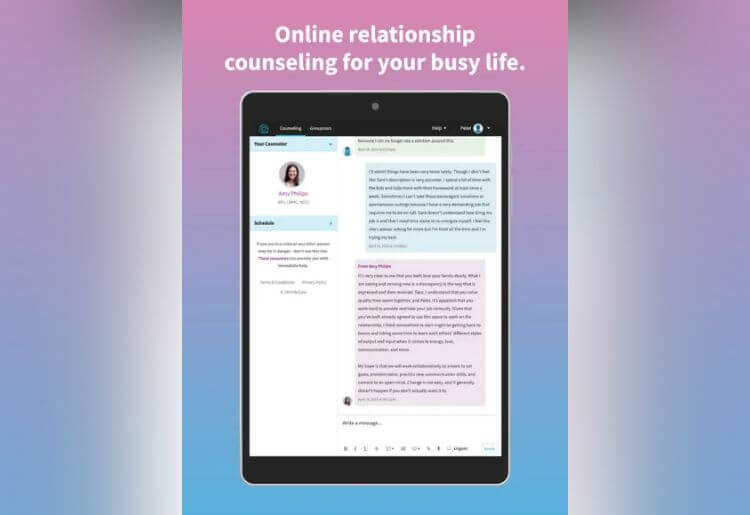 Communication methods: Live chat and video chat
Compatible with: Android and iOS
Pros:
Works with couples and individuals

Message your therapist at anytime

Discreet sessions for couples together or separately if requested
Cons:
Relies solely on internet connection
Three-way live sessions not supported
ReGain is another great choice if you're looking for an online therapy option. ReGain's strength is that it focuses specifically on couples counseling and relationship issues. If there are struggles in your relationship, the rest of your life will be affected too. ReGain gives couples the tools, insights, and understanding to work out differences and break through barriers in important areas such as intimacy, unfaithfulness, and other potential imbalances. You can send messages to your therapist any time of day or night and review previous messages at will.
With ReGain, you get complete chat discretion: nobody sees what is written but you and your therapist.

Get Started
3. Online-Therapy.com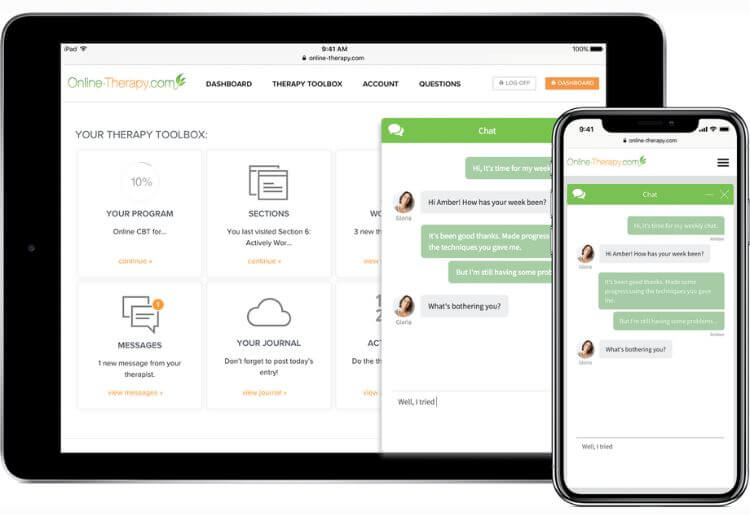 Communication methods: Live chats and video, text and email
Compatible with: Web browsers on all platforms
Pros:
Cognitive behavioral therapy (CBT) based platform

Text messaging available anytime

Only certified therapists
Cons:
Therapists only work on weekdays
Limited live sessions per week
Online-Therapy.com is so much more than your typical online therapy chat service. It's a CBT based service with various tools, activities, and features available via the platform. For one thing, your therapist will assign you journal entries to help you plan your sessions. You will gain tremendously from the thorough and clear action plans that lay out your goals, next steps, and any potential issues.
Bonus: You'll really enjoy the free yoga videos that Online-Therapy.com offers its clients.
Read the full Online-Therapy.com review
Enjoy therapy and more (Journaling exercises, worksheets, and yoga videos) with Online-Therapy.com.

Get Started
4. Pride Counseling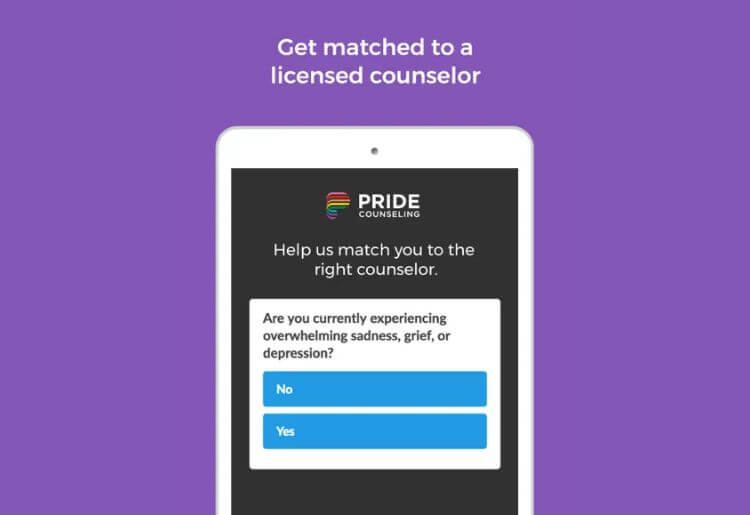 Communication methods: Messaging, live chat, phone call, video call
Compatible with: Android and iOS
Pros:
Counselors specialize in LGBTQ-related issues

Full discretion available for every chat session

No long-term contracts
Cons:
Narrow scope of practice
Not covered by health insurance
Pride Counseling is an excellent option for anyone in the LGBTQ community. Because they face unique struggles, members of the LGBTQ community need counselors that provide them with custom care. With Pride counselors you can speak earnestly and openly about questions, concerns, and struggles in a comfortable setting. Pride counseling is also straightforward, offers a choice of chat, phone, and video sessions, and is incredibly wallet friendly.
Read the full Pride Counseling review
Pride Counseling therapists specialize in LGBTQ-related issues discreetly.

Get Started
5. Teen Counseling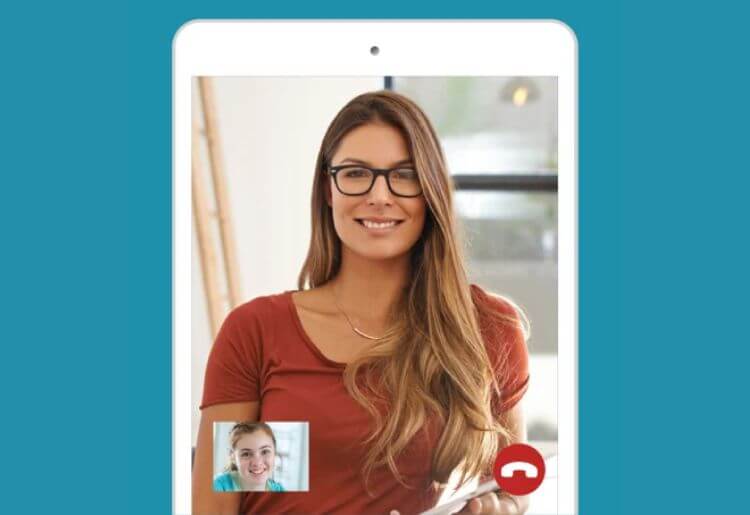 Communication methods: Video, phone, message, live chat
Compatible with: Android and iOS
Pros:
Exclusively for teens

Chat discretion guaranteed

Safety features built-in for chat
Cons:
Slow response times
Parent fills out questionnaire
Teen Counseling is one of the top picks for teenagers who are struggling with different challenges. From social anxiety to addiction and heartbreak, this site allows teens to chat about whatever is on their mind.
Teens need a parent or guardian to sign them up for the service. Before engaging, teens should be made aware that their therapists have a legal duty to report if the child is considering harm to themselves or others.
Read the full Teen Counseling review
Teen Counseling provides a discreet chat room for teens, run on their own smartphone and dedicated to just themselves and their therapists.

Get Started
6. Faithful Counseling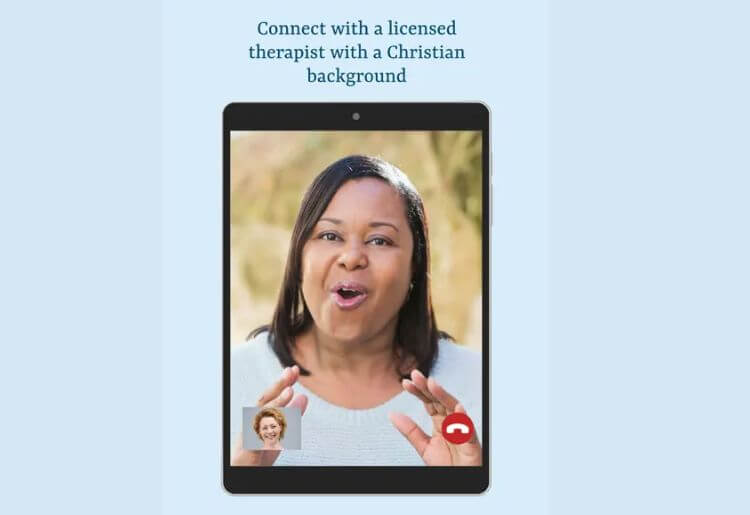 Communication methods: Messaging, live chat, phone call, video call
Compatible with: Android and iOS
Pros:
Questionnaire asks pointed questions for best counselor matching

Professional therapists to work with

Counselors are practicing Christians
Cons:
Not so suitable for other religions
No medication management services
Faithful Counseling is an excellent chat service for Christians. With a God-focused platform, Faithful Counseling provides a holistic approach to healing with a serious emphasis on the spiritual aspects. The therapists are all practicing Christians who are also trained and experienced to meet your needs. As a subscriber, you can send messages to your therapist whenever you want. Whatever issues you're facing, Faithful Counseling therapists can help you work through them in a professional and compassionate way.
Read the full Faithful Counseling review
Faithful Counseling is perfect for those seeking faith-based chat counseling.

Get Started
7. Amwell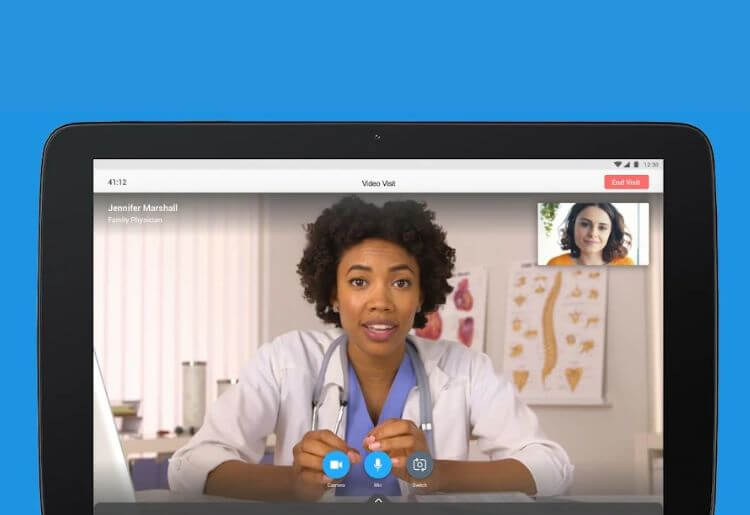 Communication methods: Video only
Compatible with: Android and iOS
Pros:
Select a therapist and make an appointment straight away

Covered by most insurance providers

Pay as you go
Cons:
Limited payment options
No discounts offered
Payment required upfront
Amwell offers flexible online therapy through its website and app, without the fuss. It doesn't require you to sign up for a subscription, and you only pay for scheduled appointments. Unlike most online therapy providers, you don't have to wait to be matched to a therapist. You can find available therapists by using the filters on the platform, and easily schedule an appointment once you find one.
Amwell allows you to take care of your health all from the comfort of your own home.

Get Started
8. Calmerry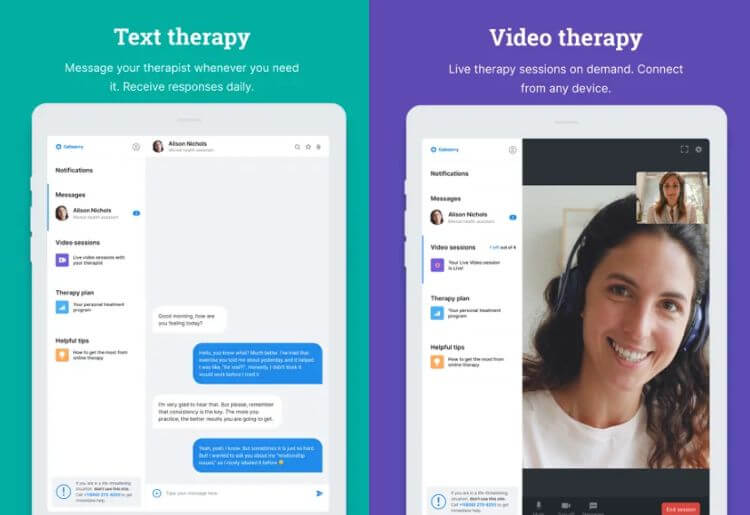 Communication methods: Texting and video sessions
Compatible with: Android and iOS
Pros:
Convenient app for on-the-go therapy

Mental health assistants readily available

Chat at anytime
Cons:
No phone sessions available
Short video sessions
Calmerry's e-therapy may be relatively new to the market, but it already stands out from the crowd with affordable mental health counseling by verified, licensed counselors.
Of the many benefits, one of the most impressive is how quickly Calmerry's trained mental health assistants respond to inquiries by phone, instant message, and email. 30-minute video sessions are offered if you prefer face-to-face communications.
With Calmerry, you'll get mental help with a licensed therapist within an hour of signing up for its services.

Get Started
9. HealthSapiens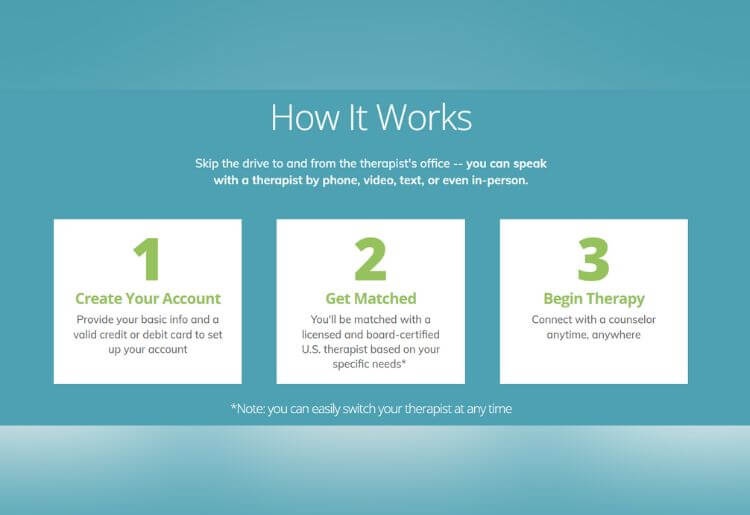 Communication methods: Video, phone, chat, email
Compatible with: Web browser
Pros:
Therapeutic services available anytime

24/7 mental health services

Online and in-person services offered
Cons:
No mobile app
No group counseling
HealthSapiens successfully meets the growing need for online home therapy. It is available 24 hours a day, seven days a week, and offers treatments for a variety of mental health issues. Signing up is easy with a friendly interface and support online - just a phone call away. While you cannot bill your insurance for these sessions, HealthSapiens cuts out the intermediary to provide direct care and make services as affordable as possible.
Read the full HealthSapiens review
HealthSapiens provides affordable mental care - including no cancelation penalties.

Get Started
10. PrestoExperts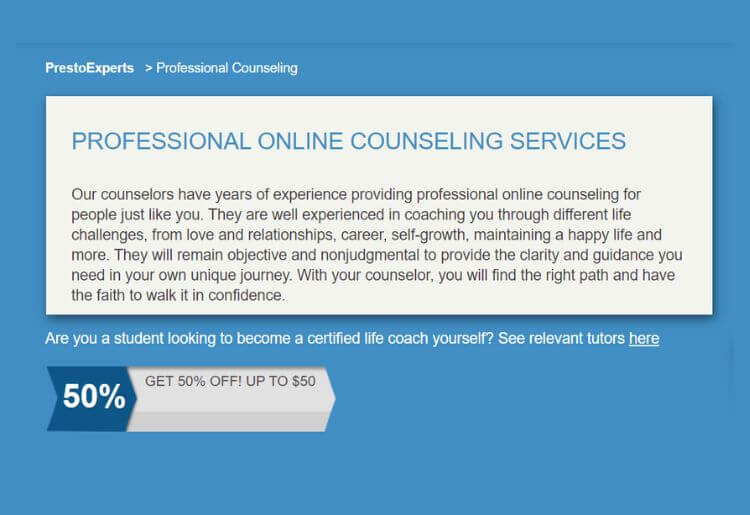 Communication methods: Phone or email sessions available 24/7
Compatible with: Web browsers on all platforms
Pros:
$1/minute minimum sessions

No subscription needed

You can switch counselors at any time
Cons:
No mobile app
Customer support is not easy to reach
PrestoExperts is an e-therapy service that offers live counseling without monthly subscriptions. The website's interface is easy to navigate but lacks the convenience of a mobile app. PrestoExperts' on-demand therapy style could help provide mental health support in times of emergency. It could also appeal to you if your therapy needs are minimal, such as if you're a busy professional who only needs a short check-in every so often via phone, chat, or email therapy sessions.
Read the full PrestoExperts review
PrestoExperts works best for busy professionals who are looking for support once in a while.

Get Started
Bottom Line
As you can see, both video sessions and text sessions have their benefits. Video therapy is ideal for someone who needs auditory feedback, likes to talk out their issues, or prefers having a face-to-face interaction. Conversely, text-based therapy is the preferred method of communication for someone who likes to take their time crafting what they have to say, wants to be able to speak with their therapist whenever they want, or likes reviewing their therapy sessions at will.
Get to know yourself a little better, and then make a decision. Of course, there is also a hybrid, a video chat therapy where you can explore both methods. If you just can't decide, opt for this method. Most online therapy services offer the hybrid version as a default. So, you can get the visual feedback you need and text in between sessions. Either way, online therapy is a great way for you to deal with the challenges that you have been facing!
*If these different modes of therapy interest you, try to find a site that offers you a combination of both for an even better online therapy experience.