In a Nutshell
Online therapy is a revolutionary way for people struggling with life issues to get the help they need at reasonable rates. HealthSapiens takes that one step further by offering an affordable, subscription-based virtual mental health service that's accessible anytime, anywhere. Network availability, unbreakable privacy, and immediate service make Health Sapiens stand out from other online therapy networks.
pros
Available 24/7 from anywhere
Large network of licensed professionals in every state
Most affordable behavioral health plan in the United States
cons
Need good internet connection for video sessions
No mobile app
Virtual therapy is a revolutionary way for people struggling with life issues to get the help they need at reasonable rates. HealthSapiens Counseling offers affordable therapy to anyone in the United States. Anytime access for pre-clinical sessions and multiple scheduled monthly consultations make HealthSapiens Counseling stand out from other virtual therapy options.

HealthSapiens Visit Site
HealthSapiens Review 2022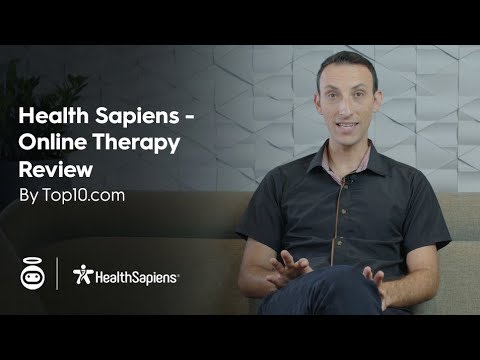 How Does HealthSapiens Work?
For less than the cost of a single "traditional" therapy session (which can range from $75-300 or more per hour), for just $49/week a HealthSapiens Counseling subscription provides you multiple sessions with compassionate professionals who can help you get relief from conditions like anxiety, depression, stress, relationship issues, and more. And, everything can be done by phone, video or text -- no office visit required. However, if you would prefer an in-person visit, that's also offered as well.
Therapist/Counselor Screening Process
HealthSapiens has a rigorous screening process for all counselors and therapists within their network. Each counselor has been screened, passed a background check, and is required to meet professional standards such as:
Minimum of 3 years of hands-on counseling
Licensed in their respective states (highest clinical license in the area)
Professional malpractice liability insurance
Applicants must then go through a process of interviews with network doctors to assess health professionals in person. After that, HealthSapiens counselors must undergo a training course to review best treatment practices and technical skills applicable to the online platform. So, by the time they reach the network, HealthSapiens therapists and counselors have been thoroughly vetted. HealthSapiens has more than 3,000 licensed therapists with an average of 10 years of experience for you to choose from.
Conditions Treated
Since HealthSapiens has a large network of competent behavioral health specialists, there isn't much that can't be treated. Some of the common mental health conditions treated with a HealthSapiens Counseling subscription include:
Anxiety
Depression
Addictions
Weight disorders
Grief
Relationship issues
Substance abuse
Major illness
Financial stress
Types of sessions available
HealthSapiens Counseling offers phone, email, and live video therapy sessions. So, you can speak to your therapist in the way you are most comfortable.
Pricing & Special Offers
Members pay for a monthly subscription, and then you can get started with your first pre-clinical therapy session within 24 hours of signup. You'll be matched with a therapist who specializes in your condition. If you sign up today, as a Top10 visitor you can save 24% off the retail price and pay only $149/mo, which is an incredible price for therapy.
What Do People Say About HealthSapiens?
"I called HealthSapiens and got the most professional and competent consultation ..." - Antonia K
"Excellent and valuable service to have especially when the doctor is not available." - Nancy Z
"Quickly scheduled an appointment ... Great product for busy people without the downtime to wait for traditional treatment." - Rene H
Scheduling live chats/video chats
The beauty of this system is how fast and available the therapists are. Since HealthSapiens works with a wide network of professionals, patients don't wait around weeks for an appointment. You can request your first preclinical session right away. Here's how it works:
Call the special HealthSapiens Counseling triage line
A care coordinator will triage your symptoms or issues
You'll be connected with a qualified counselor licensed in your area. You can speak directly with the therapist over the phone, via live video, or via email.
It's a fast and simple method for getting assistance. If you like the therapist you get connected with, you can ask to have that same therapist again for follow-up sessions.
Customer Support
HealthSapiens provides customer support via telephone, email, and an online contact form.

HealthSapiens Visit Site
Bottom Line
With a network of more than 1,000 therapists readily available, HealthSapiens Counseling is an affordable therapy option for anyone. For less than $35 per week, you can get the help you need to work through major and minor mental health issues, including anxiety, depression, phobias, and other common conditions. HealthSapiens therapists are carefully selected for their professionalism, compassion, and understanding, which is why this virtual therapy provider comes highly recommended.