HealthSapiens Visit Site
Overview
HealthSapiens counselors are professionally licensed by state boards and possess a minimum of a master's degree in mental health. The rigorous application process requires that applicants be US residents, licensed in good standing, with a minimum of one year of experience working with adults or teenagers.
Mental health counselors of all backgrounds are accepted, but HealthSapiens does not accept school counselors, addiction counselors, registered nurses, religious counselors, or life coaches. State licensure may include LCSW, LCMFT, LCPC, LMHC, and others depending on state requirements. An interview process is required, and further training completes the process for HealthSapiens counselors.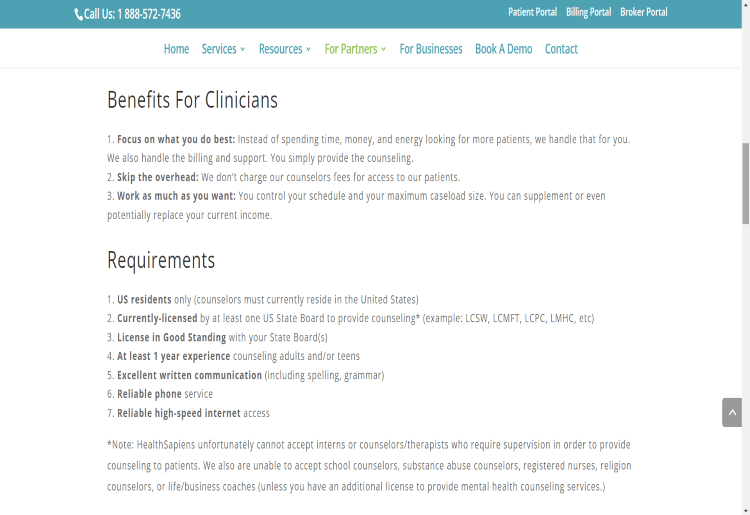 HealthSapiens Specialties and Areas of Expertise
HealthSapiens therapy offers individual counseling to fit a wide variety of mental health concerns including, but not limited to, the following.
Anxiety
Bulimia
Depression
Grief/Loss
Insomnia/Trouble Sleeping
Mood Disorders
Obsessive-Compulsive Disorder
Post Traumatic Stress Disorder
Relationship Issues
Stress
Substance Abuse
Teen/Parenting Issues
How to Get Started with HealthSapiens
Signing up
Signing up for an account is quick and easy. Provide your email address, first and last name, and a credit card number to complete your registration. Once you've paid your monthly fee, you can be connected with a counselor on the same day. No screening questions were asked to preclude participation in the program.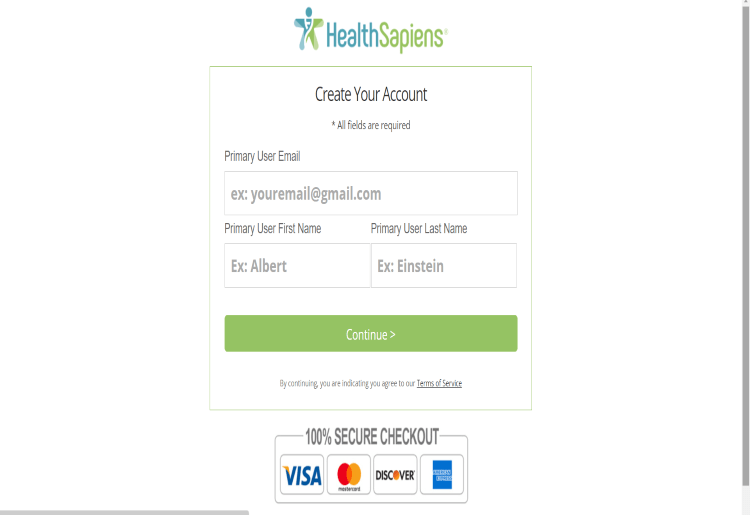 Getting matched with a counselor
To get matched with a therapist, you can call the HealthSapiens counseling line and speak to a care coordinator about your needs. You'll be connected to a qualified counselor in your area by phone, video, or email. If you develop a rapport with the therapist that was selected for you, you can request that same therapist in the future as a favorite. Otherwise, each time you call in, you'll be directed to a different available therapist.
You're not able to select your therapist using filters for specialty, pricing, or rating, but you can ask for therapists trained to meet your specific needs. There is no information available indicating how a client could block or unblock a therapist, and there are no rating systems for individual counselors. However, there are customer reviews on the website detailing client experiences with HealthSapiens.
Booking sessions
You can book a session by calling the counseling line, which is available 24 hours a day, seven days a week. You can choose the type of session you prefer, whether it's a video call, phone call, text, online chat, or an in-person session, and you can cancel at any time. Simply reschedule your appointment. There are no fees or penalties for canceling a session. You will be billed monthly regardless of your weekly attendance in sessions.
HealthSapiens doesn't have a per-session or per-hour fee. You pay your flat rate for as many sessions as you need. If the therapist you've booked isn't a good match, you'll be able to start with another therapist without an additional fee or penalty.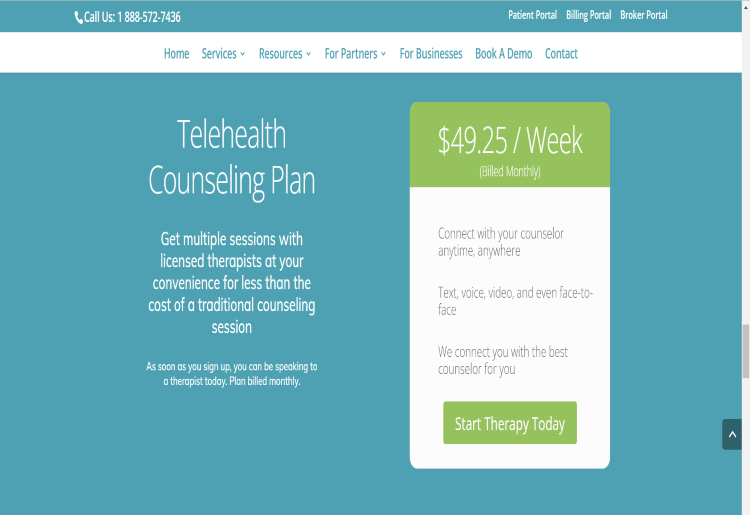 Confidentiality and Privacy
HealthSapiens requires that their counseling and medical professionals be HIPAA compliant. All records are kept on an encrypted database, and both encryption and passwords are used to safeguard your e-therapy sessions. Usage of site cookies is not linked to personally identifying information, per the Terms of Service.
HealthSapiens App
HealthSapiens therapy is not available by mobile app.
HealthSapiens Customer Support
Support is available through the Health Sapiens corporate office from 9am-6pm (EST) Monday through Friday. Health consultations are available 24/7 by calling 1-888-572-7436. Wait times to speak to a representative are minimal to none. Representatives are friendly, efficient, and happy to guide you through the process of navigating counseling services.
You can also utilize the provider's online Contact Form for assistance. You'll receive a response no later than the following business day.
HealthSapiens mental health services are available 24/7 by email, phone, chat, and video services. The Terms and Services on the site provides detailed information regarding company policies, and the FAQ page addresses many of the most common concerns.
HealthSapiens Pricing
Health Sapiens therapy costs $49.25 each week, billed monthly at $197. This includes video, phone, text, online chat, email, and in-office sessions. This amount is per week, not per session. This allows clients to take advantage of multiple sessions at an affordable rate.
Telehealth Counseling Plan
Video sessions, phone sessions, text, email, online chat, in-office sessions, 24/7 access to master's-level mental health clinicians
Is HealthSapiens Covered by Insurance?
HealthSapiens is not covered by insurance. However, check with your provider to see if you qualify for full or partial reimbursement for sessions.
HealthSapiens Alternatives
HealthSapiens is one of many online mental health providers catering to a market that is demanding more accessibility for healthcare services. Amwell and Online-therapy.com are also comparable online therapy providers.
$49.25 (per week, regardless of number of sessions)
Video, phone, message, live chat, in-office
Master's-level practitioners
Master's- and doctoral-level practitioners
Master's-level practitioners

HealthSapiens Visit Site
HealthSapiens vs. Amwell
Amwell offers doctoral level-trained therapists in addition to master's-level professionals, but it's also twice the cost of HealthSapien's services. While Amwell has the advantage of accepting insurance, HealthSapiens offers more modes of communication to make mental health both affordable and accessible.
HealthSapiens vs. Online-therapy.com
Online-therapy.com seems to have an advantage over HealthSapiens in terms of affordability until you take a closer look. The starting plan for Online-therapy.com only includes messaging and does not offer video, phone, or text options at the lowest rate. While both provide 24/7 access, HealthSapiens offers more contact options at a better price.
Bottom Line
HealthSapiens' online therapy options are both more affordable and accessible than many of its competitors. It offers multiple communication modalities and 24/7 access to services for a weekly fee. Although it doesn't offer group, counseling, or family therapy, it is a strong contender for individual therapy in the e-therapy market. To fully take advantage of these services, you can schedule multiple sessions per week for less than $50 a session. Plus, you can switch therapists or cancel at any time without penalty.