PrestoExperts Visit Site
Overview
PrestoExperts at a Glance
Are PrestoExperts Counselors Licensed Professionals?
All PrestoExperts therapists are licensed counselors, social workers, psychologists, or psychiatrists. They must have a minimum Master's-level education in addition to an active and valid professional license. PrestoExperts' quality assurance team will take at least a week to verify applicant qualifications to ensure they meet the PrestoExpert professional counseling Expert qualifications.
You'll also have the opportunity to talk to your counselor for three minutes for free to make sure they are a good fit for your needs. Counselor profiles contain their price per minute, profile photo, user reviews, degree, experience, and qualifications as well as information about their services, so you'll be able to get an idea of who you'll be talking to and choose the best therapist for you.
PrestoExperts Specialties and Areas of Expertise
PrestoExperts offers a variety of specialties and areas of expertise. You can search by ranking, price, availability, newest, and oldest expert.
You can review individual profiles to find a counselor best suited to treat your mental health issue. Individual counseling profiles include the therapist's area of expertise, a personal statement about their qualifications, relevant education, years of experience, languages spoken, counseling experience, fee per minute, fee for mail therapy, their reviews, and a star symbol that will allow you to add them to your favorites.
PrestoExperts offers the following areas of expertise.
Addictions
Coping with crisis and physical conditions
Counseling for students
Eating disorders
Parenting
Pastoral and religious counseling
Personal development
Personality and emotional disorders
Relationship issues
How to Get Started with PrestoExperts
How PrestoExperts Works
Features and Functionality of PrestoExperts
Signing up
The signup process is quick and easy. Simply register with your email address or Facebook account. You'll be asked to create a password and an optional screen name. Then, select the service you would like to utilize.
Please note that the site specifies that it cannot assist with suicidal thoughts and recommends you call 1-800-784-2433 or 911 in the US for help. It also provides this link for support outside the United States.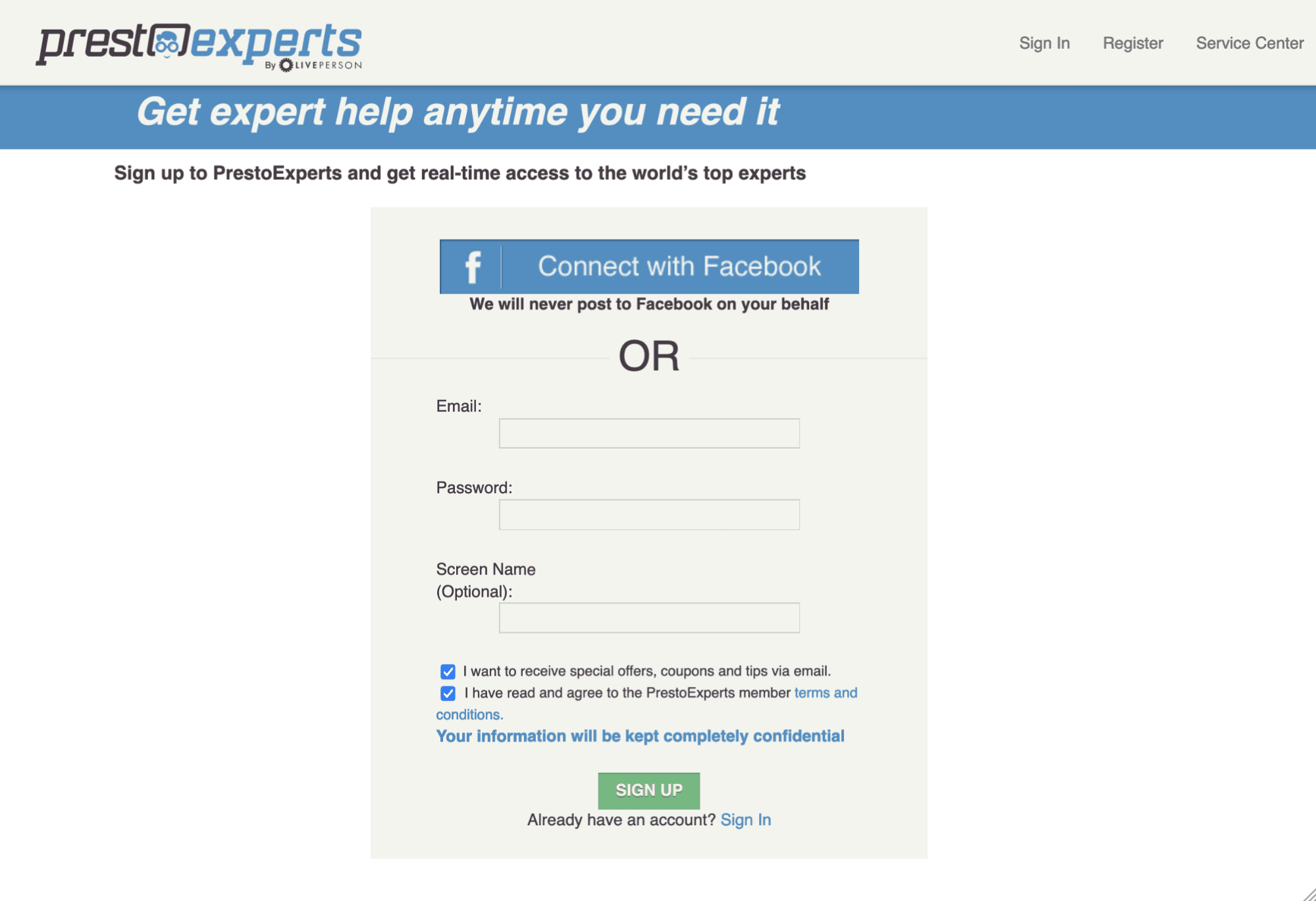 Getting matched with a counselor
Rather than matching you with a counselor, PrestoExperts gives you a choice of experts. You can filter by New Experts, Lowest Price, Highest Rank, Live Online, Available on Phone, or Price Range. You can see a profile for each counselor, with their price, education, experience, and qualifications.
Unfortunately, our first attempt at reaching a counselor ended with a 404 error. However, the second counselor connected in less than a minute and began the session. The first three minutes of the session are free.
You are able to switch counselors at any time. You can also block a counselor with one click if necessary, while therapists can also block clients who present a safety threat. On the other hand, you can save your favorite therapists by clicking Add To Favorites, and you'll be able to rate them after each interaction.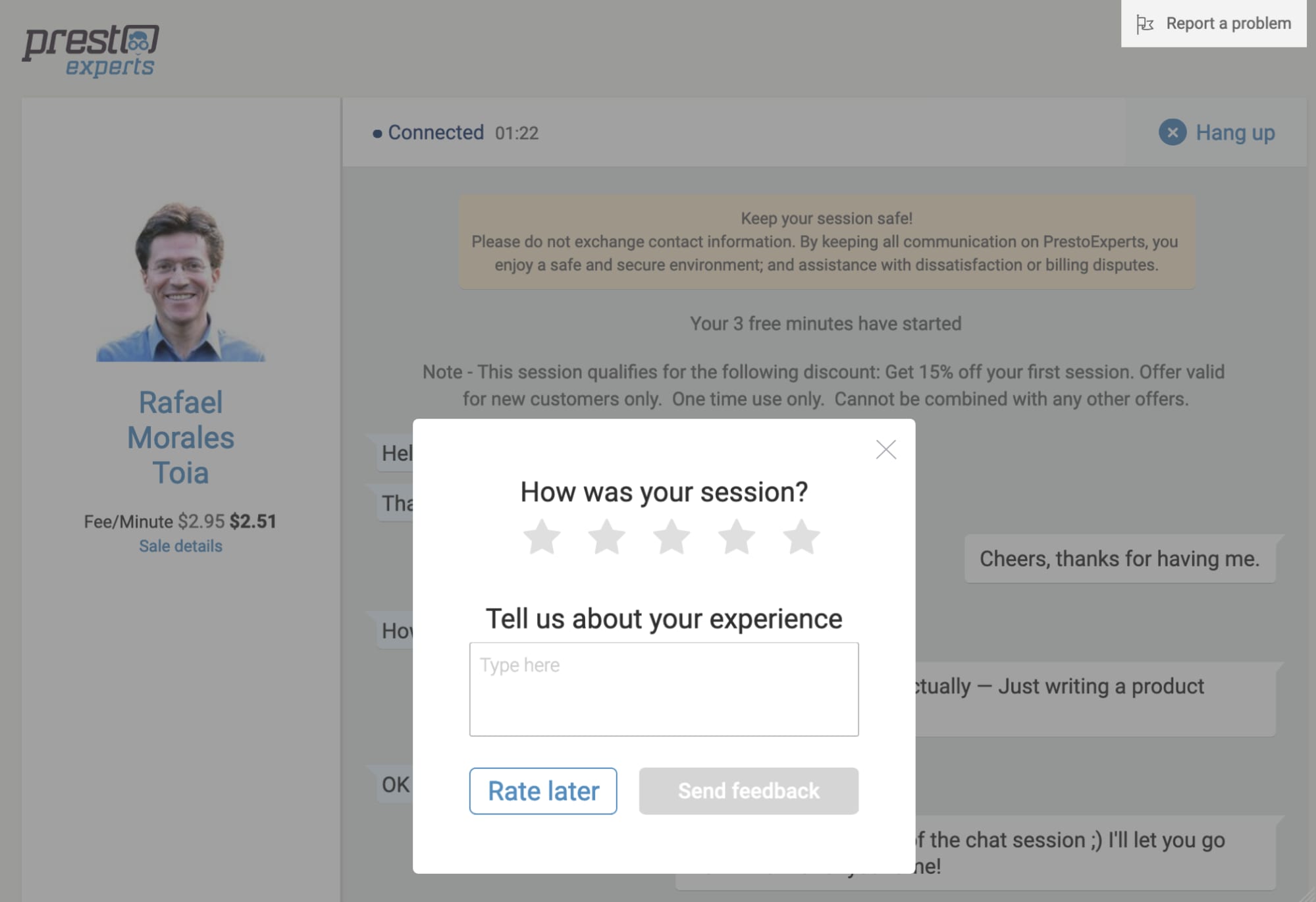 Booking sessions
With PrestoExperts, you don't have to book sessions in advance. Instead, log on to your account at any time and choose to begin a session. Wait times for instant chat are minimal.
You can choose between phone, email, or instant chat sessions. Sessions are at your convenience, and you can cancel or end them at any time.
As an example, to book a session by email, choose the Email icon, and an expert will respond within 24 hours with information about their fees.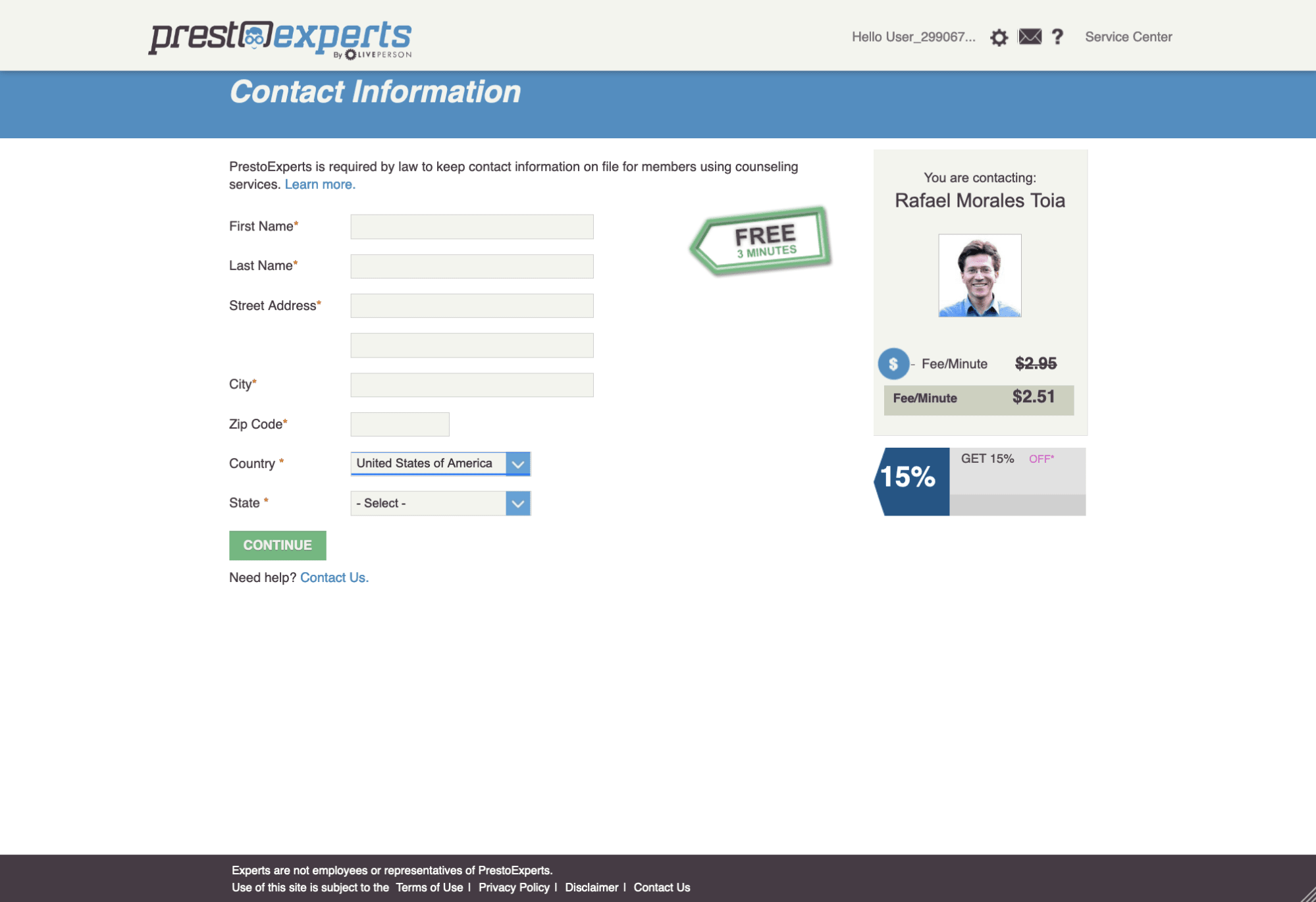 Confidentiality and Privacy
PrestoExperts guarantees client privacy, security, and confidentiality. Experts only have access to your screen name. Per their license, they are required to be HIPAA compliant. Chat and calls are encrypted, and your data is not shared with third parties. Additionally, phone and email addresses are not shared with your counselor.
PrestoExperts Apps
PrestoExperts does not offer a mobile app.
PrestoExperts Customer Support
Help and support is available by visiting the Service Center at the top right-hand corner of the PrestoExperts page. You'll find answers to frequently asked questions for both clients and experts as well as technical assistance.
To obtain additional assistance, you can submit a support ticket. As you type in your concern, additional suggested articles will be provided at the right-hand side of the screen. Tickets are reviewed and receive responses within five business days.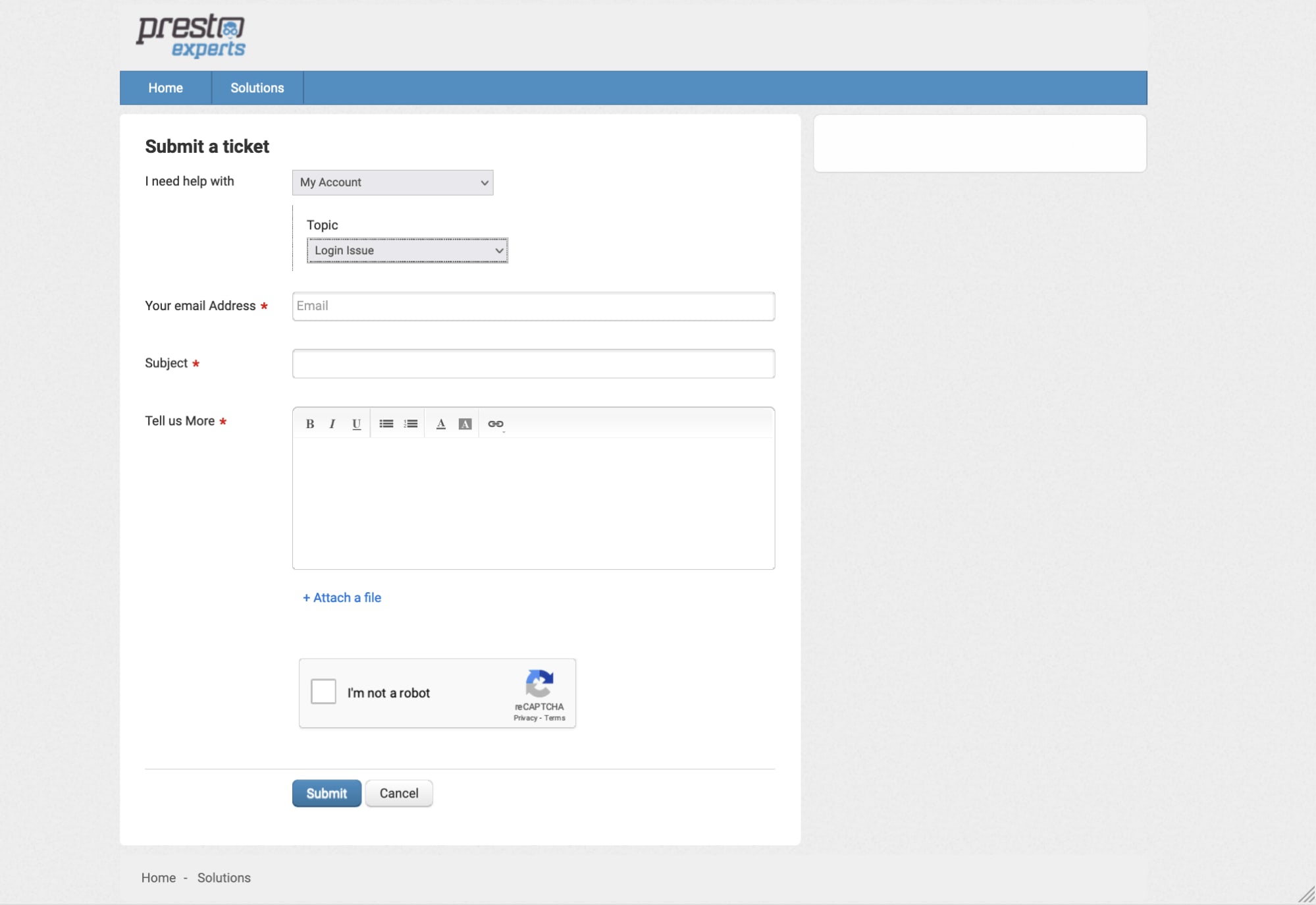 PrestoExperts Pricing
How Much Does PrestoExperts Cost?
There is no monthly fee or subscription for this PrestoExperts; instead, you'll be billed by the minute. The cost varies depending on which therapist you choose. You can find licensed professional counselors for as little as $1 per minute for a phone or email session.
You can also save on future therapy sessions by referring your friends. Each friend referred will give you $10 off a session.
Phone or email sessions available 24/7
Is PrestoExperts Covered by Insurance?
PrestoExperts is not covered by insurance. However, check with your insurance provider to see if you qualify for full or partial reimbursement for your mental health treatment.
PrestoExperts Alternatives
PrestoExperts is one of many online therapy providers. Let's see how it compares.
Text, video, audio messaging
Minimum Master's with State Licensure
Minimum Master's with State Licensure
Minimum Master's with State Licensure
Minimum Master's with State Licensure

PrestoExperts Visit Site
PrestoExperts vs Talkspace
Although PrestoExperts' $1 per minute starting rate seems less expensive than Talkspace's $65 per week plan, it could be comparable or even more expensive. Talkspace has an all-inclusive format that allows unlimited text, video, and audio messaging, while PrestoExperts charges per session, so standard-length sessions could be more affordable with Talkspace.
PrestoExperts vs Teen Counseling
While PrestoExperts and Teen Counseling are comparable services, Teen Counseling offers specialized services for teens and includes video chat options for e-therapy. PrestoExpert's variable per-session charges could actually make it the more expensive of the two if used regularly for standard therapy session times.
PrestoExperts vs Online-Therapy.com
PrestoExperts therapy and Online-Therapy.com both offer base rates for instant messaging services. However, Online-Therapy.com offers live sessions each week with an upgraded membership. In this case, PrestoExperts has the advantage, with immediate availability for online therapy even at the lowest session price. Online-Therapy.com may specialize in counseling, but PrestoExperts offers both phone and chat counseling.
Bottom Line
For the busy professional looking for quick mental health support, PrestoExperts could be an affordable and accessible option. If you need short sessions available 24/7, this could be the service for you–particularly if you don't mind speaking to different counselors each time.
For clients looking for regular therapy with longer sessions, PrestoExperts may lose its appeal. A 50-minute therapy session starts at $47 with the first three minutes free, but you'll need to make sure the therapist you build rapport with can accommodate your schedule. Still, this on-demand-style therapy could appeal to busy consumers looking for mental health support on the go.