While cooking at home can save money and be a healthy, at times even therapeutic exercise, it's not without its hassles. Creating wonderful organic meals for your family can involve multiple trips to the store and can get pricey - especially if you go to the farmer's market on an empty stomach. And, unless you're wired with some sort of innate recipe planner, it can be hard to come up with new meal ideas and after a while, things might not feel so fresh.
This is where healthy meal kit companies have your back. If you're trying to build a diet of organic, homemade food, signing up with one of these companies can make it easier than ever. You'll be sent a revolving set of fresh ingredients and recipes that you can make on your own.
Making brilliant organic meals at home has never been easier.
If you're looking for fresh, organic and healthy food shipped directly to your doorstep, take a look at these top companies:
1. Sun Basket
Pros
Certified USDA organic
Healthy recipes developed by award-winning chefs and nutritionists
Mix and match from 18 weekly recipes
100% recyclable and compostable packaging
Cons
No delivery to New Mexico or Alaska
Shipping not included
Get $35 off your first order with Sun Basket.
Sun Basket is committed to organic food and sustainability - in a big way. The company is USDA certified organic and "strives to source 100% organic produce." Sun Basket serves meat that is antibiotic and hormone free, wild-caught seafood recommended by the Monterey Bay Aquarium Seafood Watch, and pastured eggs.
The company also uses 100% recycled and compostable boxes, which is no small thing considering the amount of waste that is produced by some home kit delivery companies.
Sun Basket also puts a premium on flavor, with recipes developed by in-house chef, Justine Kelly, and dietitian approved meal plans for people who are eating Paleo, Lean and Clean, Gluten Free, Vegan, Vegetarian, and more.
With the classic menu you can choose from 18 recipes per week, while on the family menu there is a rotation of 6 family friendly recipes per week.
Favorite Meal
Tempeh Tikka Masala with Green Beans and Basmati Rice
Prep time: 25-40 minutes
700calories/serving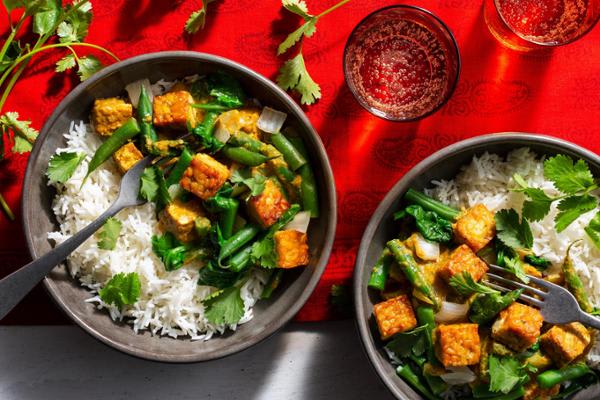 Read the full Sun Basket review
Sun Basket Order Now
2. HelloFresh
Pros
Many organic ingredients provided
Healthy, easy-to-make recipes
Flexible plans, easy to cancel or pause
Cons
Limited to only 8 menu options per week
No desserts
Save $20 on your first HelloFresh order.
HelloFresh is devoted to providing high-quality ingredients and healthy meals that can be easily made at home.
The company is not 100% organic, but it does offer many ingredients that are organic. As it says on the website, the company mission isn't to be entirely organic, rather, to help customers "make those first steps towards cooking well-balanced meals at home."
HelloFresh maintains professional relationships with sustainable partners in order to ensure high quality, seasonal, and farm-sourced produce. HelloFresh staff personally meet onsite every week with its meat suppliers and all poultry is antibiotic and hormone free. All pork is hormone free and domestically sourced,all of the seafood the company uses is wild caught and farm raised, and all of it meets the standards of the Monterey Bay Seafood Watch program.
The packaging is 100% recyclable, as are the ice packs, so you don't have to worry too much about the waste you produce.
Favorite Meal
Pineapple Poblano Beef Tacos with Lime Crema, Cilantro, and Warm Spices
Prep time: 30 minutes
760 calories/serving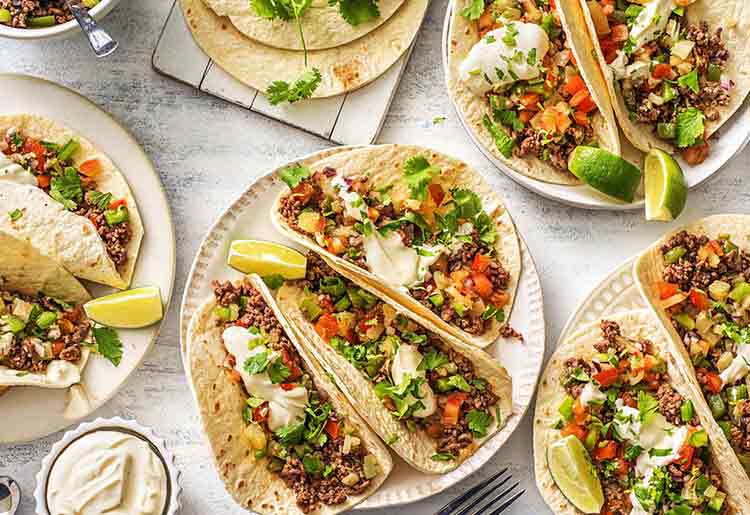 Read the full HelloFresh review
HelloFresh Order Now
3. Plated
Pros
Healthy recipes with premium ingredients
Wide variety of menu options - 6,175 possible combinations per week
Flexible plans, easy to cancel or pause
Cons
Not 100% organic
Doesn't deliver to Alaska, Hawaii, and some cities in Texas
Take 40% off your first week with Plated.
"For food lovers, by food lovers," Plated offers great variety and the type of premium ingredients and inspired recipes that really push the envelope for home meal kit delivery.
Each week you can pick from 20 recipes that are inspired from a variety of regions and culinary approaches. The recipes are easily searched according to a number of filters, including: under 600 calories, to no gluten, spicy, low carb, and quick prep.
While Plated isn't a certified 100% organic company, the company only serves pork and poultry raised without antibiotics, sustainably caught seafood, no hormone beef, and fresh and seasonal produce. The company also supplements its offerings with organically sourced produce and makes a point of working with artisan and locally sourced distributors.
Take a stroll around the Plated website and look at some of the beautifully rendered menus. Just don't do it on an empty stomach.
Favorite Meal
Brown Butter Orecchiette with Spicy Sausage and Peas
Prep time: 20-30 minutes
840 calories/serving

Plated Order Now
4. Martha and Marley Spoon
Pros
10 recipes options per week

Uses fresh, organic ingredients when possible

Flexible plans, easy to cancel or pause
Cons
2-person plan, 2 meals/week
2-person plan, 3 meals/week
4-person plan, 2 meals/week
4-person plan, 3-4 meals/week
Martha and Marley Spoon gives you front row, kitchen-side access to the know how and recipes of lifestyle icon Martha Stewart, to take your home cooking to new heights.
While the company isn't certified organic, it puts a big premium on healthy, top flight ingredients. According to the company "cooking with Martha & Marley Spoon means eating sustainably, supporting small food businesses, and saving time to make time—for everything else you want to do. We're proud to offer the best of the best in our boxes, including grass-fed beef, Berkshire pork, American-caught shrimp, artisanal cheeses, and much more."
In other words, the company may not have the official organic certification, but it uses the type of ingredients that people who care about healthy, sustainable and organic food can appreciate.
Martha and Marley Spoon also uses paper boxes that are SFI (Sustainable Forestry Initiative) certified and can be set out with your curbside recycling, as can the ice packs, box liners, and the rest of the packaging.
Favorite Meal
Cheddar Croque Monsieur with Mushrooms & Roasted Broccoli
Prep time: 20-30 minutes
>668 calories/serving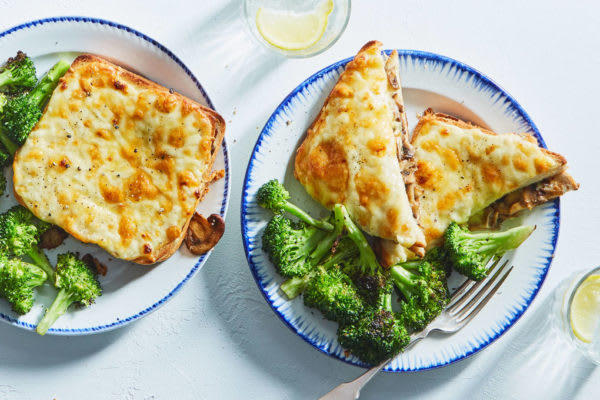 Read the full Martha & Marley Spoon Review
Martha & Marley Spoon Order Now
5. Green Chef
Pros
USDA certified organic

All meals take about 30 minutes

No minimum commitment
Cons
Shipping is extra—about $9/order

You have to pick meal plans, not specific recipes
Starts at $10.99 per meal
Get $40 off your first Green Chef order.
Green Chef is USDA certified organic, and offers a wide range of healthy, high-quality, and delicious recipes week after week.
Green Chef has a rather novel way of operating. You pick from 7 different meal plans - paleo, vegan, gluten-free, omnivore, carnivore, keto, and vegetarian, and are presented with 5 meals to choose from each week. All of the recipes are "chef-inspired" and are designed to be prepared within 30 minutes.
You can also opt for a family plan, which includes 2 dinners for a family of 4 per week. On this plan, the selection is a bit more limited, with only 2 omnivore and 2 carnivore selections per week.
With Green Chef there is never any minimum commitment and you can skip orders or cancel your membership at any time.
Favorite Meal
Mole Chicken with Arepas, Sautéd Kale, Bell Pepper & Cremini Mushrooms
Prep time: 35 minutes
530 calories/serving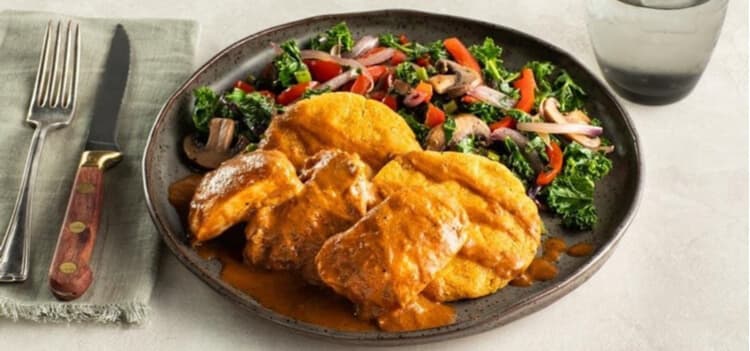 Read the full Green Chef Review
Green Chef Order Now
Why Eat Organic Food?
Organic food has gotten so popular that it's almost hard to imagine that just a few years ago it was seen as something of a niche market. These days you can hardly walk down a supermarket aisle without finding an organic version of something, be it avocados, floor cleaner, or even dog food.
Eating organic food is a great way to cut out potentially harmful pesticides and herbicides that are used on commercial agriculture, and to avoid food from animals that have been given growth hormones and antibiotics. These chemical additives make their way to consumers through the food we eat, and with organic food you can steer clear.
Genetically modified organisms (GMOs) are plants and animals that have been put through genetic engineering in order to make them more resistant to pests and weather, and more productive. Research has found that GMOs have the potential to harm us when we consume them, and by cutting them out you can avoid any health risks they may pose. In addition, studies have found that organic foods are healthier and more nutritious - and most of us can agree, more flavorful.
Also, if you're concerned about conservation, the farming methods used for organic crops are more earth friendly and responsible.
Nonetheless, even with the wide acceptance and mainstream popularity, buying organic produce can still be costly, and not every grocery store really delivers the goods.
Eating Organic with Meal Kit Delivery
The meal kit delivery industry realizes how important organic food is to consumers, and most companies put their organic food front and center as a main selling point. Sun Basket has taken this principle all the way, and is a USDA-certified organic handler with over 99% organic produce.
While few companies have purely organic ingredients, most offer a wide range of USDA certified organic food and GMO-free ingredients. Companies also put a big emphasis on conservation, with Blue Apron, for instance, touting their support of sustainable fishing through their partnership with Monterey Bay Aquarium's Seafood Watch.
With Freshly, the company's logo - "all natural, all the time" - speaks to their emphasis on quality ingredients that don't contain artificial preservatives or ingredients, or anything from a list of 85 banned ingredients, including corn syrup, artificial smoke flavor, and a long list of chemicals. HelloFresh says that while the company isn't entirely organic, it is committed to selecting high-quality ingredients and "helping our customers make those first steps towards cooking well-balanced meals at home," and leading healthier lives through adding more fruits and veggies to their everyday lives.
With Plated, the company provides meat raised without antibiotics or added hormones, sustainably caught fish, fresh and seasonal produce and supplements "premium quality produce with organic when possible."
And if you love to start your day with a tall, delicious smoothie - you'll be happy to know that Green Blender serves nothing but organic and non-GMO ingredients.
Why Use Meal Kit Delivery for Organic Food?
Save money
Buying organic produce can be pricey at times, but partly that's because it's hard to know how much to buy and the fresh fruit and veggies can go bad before you figure out what you want to make. With meal kit delivery, all of the ingredients are shipped according to precise portions so you don't have to worry about waste or overspending.
Spare yourself the headache
There's no shame in admitting it - it's hard to think of recipes or new dinner ideas every night. You may have no clue which extra ingredient can really take a dish to the next level, or which root vegetable you've never heard of goes perfect with that wine you like. With home meal kit delivery services, you don't have to take a refresher course on organic ingredients or wait for a sudden stroke of inspiration. The company provides the recipes and the ingredients, you just have to put it together.
Home meal kits also save you the hassle of having to go out and shop for the ingredients, which in the case of organic foods can be more difficult than just popping down to the convenience store.
Live Your Organic Life
Organic food is more mainstream than ever and the benefits to the organic lifestyle have never been clearer.
The home meal kit delivery industry has taken note, and if you'd like to incorporate more organic food into your healthy diet, there's a clear way. So take some time to look at the options and what your household needs, and trust us - you'll never look back.
Top Organic & Healthy Meal Kits