Put it this way, if you've made it this far in your life, you know what you like and what you don't want to waste your time on. Whether you're looking for your soulmate, companionship or just a bit of fun, we're here to help.
Here are the best online dating apps for people over 50:
1. Zoosk Seniors
Best for: singles 50+ looking for personalized matchmaking
Daily matches based on your unique preferences

Over 35 million members

Filter search criteria by age, interests and hobbies
First things first, if this is your first time testing out online dating and you're a bit worried about what's on the other side of the computer, Zoosk is a good place to start. The site only lets you see other members' profiles after you've set up a profile, so you know the other people are serious about being there.

One of Zoosk's standout features is its "behavioral matchmaking" algorithm that learns what you like and what you don't like. In time, the system gets to know you, and sends you matches that you are more likely to be interested in. This makes the process less daunting, as you know that the system has put some thought—and data—into the matches it's sending you.
Not only that, but you can also filter your search criteria based on parameters like age, religion, distance from where you live, hobbies, and interests. If you're in your 50s and ready to meet the person you've been looking for, Zoosk can help you get there.
You can get a 6-month membership for $12.49 per month, 3 months for $19.98 per month, or 1 month for $29.95. You can sign up to Zoosk for free today.
Read the full Zoosk Seniors review

Zoosk Seniors Visit Site
2. EliteSingles
Best for: people over 50 looking for like-minded connections
Matches based on a personality test

All profiles are manually verified for added security

82% of members are university graduates

EliteSingles is the rare dating site that focuses on people who are maturely aged, so you're already in good hands.
A big draw of the site is that the vast majority of the user-base is educated, and the site verifies each and every profile to make sure its genuine.
If you're a bit worried about how to find somebody in your age range with your interests, EliteSingles should be able to put some of your fears to rest. The site requires every user to go through an extensive personality test in order to match users with people like them.
Once you're up and running, the site will send you 3-7 matches per day, which have been selected based on your answers to the personality test.
The bottom line? EliteSingles is tailor-made for people who are old enough to want to cut through the games and find someone they click with on a real level.
You can start using the site for free, but to communicate with other members you'll need a paid subscription. A 1-month membership costs $99.95, while a 3-month plan is $59.95 a month, and 6-month plans cost $39.95 a month.
Read the full EliteSingles review

EliteSingles Visit Site
3. Eharmony
Best for: singles over 50 looking for commitment
Best-in-class safety features
In-depth Compatibility Quiz
High quality singles of all ages
eharmony really goes the distance when it comes to putting compatibility first, and it shows. For 50+ daters, who already have busy lives, this focus is something that is very unique and desirable for a dating app.
eharmony uses a scientific approach that, unlike any other sites/apps, creates highly compatible relationships based on key dimensions of personality that can predict the most successful, meaningful relationships. So, if you're looking for real love then signing up for eharmony is a step in the right direction.

Over 20% of eharmony's subscriber base is over 55, so you've got a nice mix of compatibility features and a vast client base.
If you're someone who is hesitant about giving too much information through apps, you're not alone. But eharmony has a skilled and dedicated in-house Trust and Safety team that is constantly monitoring the platform to help ensure its members safety. eharmony also has secure in-product communication tools so you can chat and video date without providing any contact information until you're ready. In addition, you can see which users viewed your photos and profile, which adds both an extra level of security along with a little added fun.
You can sign up to eharmony for free, but to enjoy all of the site's features and communication tools, you'll need a paid membership. Join today and find the plan that fits your lifestyle.

eharmony Visit Site
4. OurTime
Best for: people 50+ looking for a dedicated dating site
Specifically geared toward people over 50

Daily matches based on your preferences

Upload audio and video to your profile
With OurTime, singles over 50 aren't just part of the community, they're the whole community. The site is geared specifically toward people your age, and specifically ones who might not have much experience with dating sites.
OurTime keeps things simple, with an interface that's quite simple to navigate, and customer service that is helpful and responsive. Additionally, since the site is dedicated to mature men and women, you won't have to spend your time sifting through completely incompatible profiles of younger members who aren't on the same page as you.
This is one of the best dating apps for women that allows you filter your search results based on your preferences, and the site has also incorporated the swipe action made famous by Tinder (why should the young folk have all the fun?). It also lets you know when others visit your profile and shows you who they are.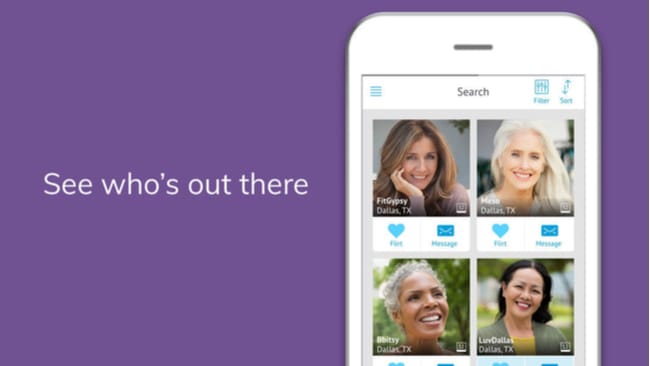 OurTime provides you with extensive tips on dating safety and has invested a great deal in securing customer data. Also, it puts an emphasis on real-world interactions and facilitating offline meetups. Since you didn't grow up with the internet, this should be right down your alley.
Signup to OurTime is free, though you'll need to pick a paid subscription to communicate with other members. Choose a 1-month plan for $29.95 or a 6-month plan for $17.96 per month.

OurTime Visit Site
5. Match
Best for: people over 50 looking for a large dating pool and real-life meetups
Highly compatible matches
5 daily matches based on your preferences
Find a partner in 6 months or get another 6 months free
Match is one of the most trusted and successful dating sites out there, with tens of millions of members across the globe. For the over 50 set, the site has more potential matches than any other, simply due to the sheer size of the Match user-base.
If you're looking for true compatibility, Match lets you narrow down your searches to people who match your specific preferences, and you can plug this into your daily set of 5 matches sent to you by Match.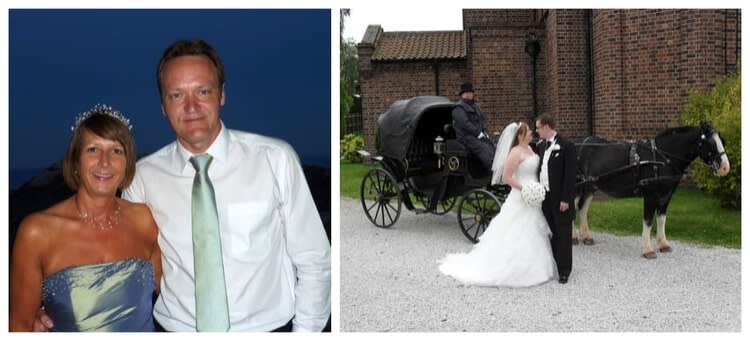 If you really want to nail down deep compatibility, you can set up a quiz of up to 20 questions which you can put on your profile for other users to answer. Match also organizes meetups in cities across the country, for when you're ready to mingle in person.
Match offers a free 7-day trial so you can try out the site before commiting to a paid membership. Paid memberships costs $12.99 a month for 12 months, $21.99 a month for 6 months, or $23.99 a month for 3 months.
The best part? Match has a 6-month guarantee. If you don't meet a suitable partner within 6 months, you'll receive another 6-month membership for free.
Match Visit Site
6. SilverSingles
Best for: serious 50+ dating
Only for people looking for a relationship

Highly compatible matches

Serious security measures in place
For people over 50 who are looking for a relationship or a serious connection, SilverSingles is definitely worth a shot.
When you sign up for SilverSingles, you're taken through a lengthy questionnaire that takes a long hard look at who you are, in order to help the site determine which users could be good matches for you.

With your "personality profile" squared away, you'll receive 7-10 highly compatible matches every day. SilverSingles uses a handy system to help you find matches, putting a little heart on users' profiles where there appears to be a shared interest.
And when it comes to security, there are safeguards in place that filter out harmful messages, and every profile is checked by the site's security team before approval.
Sign up, build a profile and start using SilverSingles for free. Commit to a paid subscription when you're ready to communicate with other members. Try a 1-month plan for $119.95, a 3-month plan for $57.95 per month, a 6-month plan for $44.95 per month, or a 12-month plan for $31.95 per month.
Read the full SilverSingles review

SilverSingles Visit Site
Dating over 50: Important Tips to Consider
You might be wondering what happened to the days of the blind date, of the cousin-who-knows-someone, of serendipity, slow-dances, neighborhood socials.
Don't worry.
Yes, things have changed. And yes, dating technology might be a bit less personal than what you remember. But there are many upsides to online dating, and for the 50-and-up club in particular, it can be a safer, more efficient, and more nuanced means of meeting Mr. or Ms. Right.
Of course, online dating can seem intimidating at first. So here are 5 hacks for setting up a good profile, finding the right photos, and getting back out there.
1. Trouble with your profile? Have your loved ones write it for you
Writing a dating profile can be overwhelming. How can you possibly sum yourself up in so little space? Especially such a rich, well-lived life? What should you include? What should you leave out?
It's easy to get stuck in your own head. A good solution is to ask those closest to you for their impressions. Sometimes our friends and family know us better than we know ourselves, and the answers they give us can not only help, but surprise us (and let's be honest, the compliments wouldn't hurt).
2. Embrace your age
Embracing your age doesn't have to mean resigning to it. In fact, quite the opposite. Chances are you have a long list of life experiences to draw from, and they can serve as a launching pad to express your current attitudes, life's philosophy, and even your sense of humor.
Use your experiences to your advantage. With age comes more experience. With loss comes gratitude for life. By no means feel pressured to put a happy spin on your hardships. But to whatever extent you're comfortable with, remind yourself of the things you've learned from the experiences in your life and think about how they have informed the person you are today.
3. Say cheese....and queso...and formaggio
When it comes to choosing photos for your profile, of course it's important to look good: make sure you're smiling, well-groomed, etc etc. But pay attention to what's going on behind you, too.
The backgrounds of your photos will tell a story even your smile can't. Think of them as telling a story without words: where you like to eat, where you like to travel, where you like to relax.
Try to diversify your photos so that they capture a wide spectrum of experiences. Whether you're strolling the beaches of Costa Rica, heading into the symphony for the new Dvorak performance, or grilling in the backyard, try to portray yourself in a variety of settings.
4. Use your smile—but don't forget about your ears
It's an unfortunate truth that with age comes stories of loss, health problems, and other hardships. At some point or another, a date will likely share difficult stories with you, so it's important to be attentive to them so that you can move forward with thoughtfulness and sensitivity.
If your date confided in you about a past heart issue, for example, that's information you'll want to consider when choosing a restaurant, or brainstorming an outdoor date activity. Or take somebody who was recently divorced; maybe they're not ready for that new Oscar-winning drama about a failed marriage everyone else is talking about. Or perhaps a widow/widower has painful associations with certain date spots, foods, or music. Being attentive and sensitive to the stories your date shares can help you be more thoughtful to their needs and keep you both from uncomfortable situations.
5. Avoid online dating scams
Seniors are often chosen as targets by scammers due to their stage of life, where they may have built up a secure financial base, and may also be lonely and looking for someone who understands them. Some seniors might be less experienced with online safety etiquette and therefore less suspicious of certain warning signs, however 'smart' they are in other aspects of their lives.
Here's how you can remain alert and on the lookout for online dating scams:
1. What Sort of Picture(s) Are on Their Profile? Take a careful look at profile pictures before getting drawn into a conversation with any member of a dating site.
2. Where Are They Really Based? A trick often used by scammers is to pretend that they are on military deployment in another country. Alternatively, they might always seem to be 'away on business.' If they are looking for a partner in a certain location, but never actually seem to be in that location, then that should be a major warning sign.
3. Are They Avoiding Meeting in Person? Once you have met somebody online and exchanged the first few messages, you really should be gearing up for a first meeting. Try to avoid long phone conversations that might lead you to share too much personal information, and set-up that first real-life meeting as soon as possible, in a neutral location like a coffee shop.
4. Money, Money, Money. Every online dater knows they shouldn't be sending money to strangers they meet on the internet. But human nature is susceptible to exceptional circumstances that make you override your natural instinct. Scammers are always coming up with new and inventive ways to get you to part with your money.
5. Keep Your Personal Data Personal. Some scammers might be after information rather than straightforward cash. If your online suitor (who has gained your trust in a short amount of time, loves you deeply but can't meet up) sends you a link to a mobile app, game, or service that they want you to 'try out', this is often a trick to get you to give out financial information, or download malware that will steal your personal data.
Why You're Never Not Too Old to Try Online Dating
1. Nothing is out Of reach
Assuming you've taken reasonably good care of yourself, there's little that's out of your reach, and that includes falling in love with someone you meet online. Your activity level typically reflects your energy and verve for life. If you're incredibly active then you're on a good path, and if you're not, it's never too late to get on that path. There are lots of activities you probably enjoy, but you'll enjoy them more with someone you met and fell in love with. Sharing activities with a lover is one definition of joy.
2. There's no expiration date for sex
While television is filled with commercials for Viagra and Cialis that typically portray younger couples, their products do in fact work for seniors. Sex takes many forms, from cuddling to intercourse, and everything in between. Sex is the glue that holds relationships together on a physical level, and no matter how old a couple, it still brings lots of physical and emotional benefits. And since very few seniors are interested in casual sex, it's likely that dating online is your best chance to meet a life partner with whom you can enjoy sex. For many seniors sex is reason enough to date.
3. Online dating puts the ball in your court
The older seniors become the fewer their chances to be introduced to someone special by friends. Seniors have to assume the responsibility for meeting a life partner, and online dating is the fastest, easiest, most direct method for accomplishing this. There are men and women dating online that are 80 plus, and many are meeting new love interests. It doesn't happen every day, but it happens often enough to make it a real possibility. What's certain is that if you don't try, you won't find love.
4. No special skills required
If you're spending much of your time at home alone you might want to consider building up the courage to put yourself online to date. In a recent survey, 60 percent of seniors over fifty reported they're lonely, but this can be remedied with a little effort. Few over-50s are still uncomfortable going online, and most have at least basic computer skills, which is all that's needed to date online successfully.
5. There are alternatives to dinner alone
It's emotionally unhealthy to sit at your kitchen table eating dinner alone every night. If you join a dating site, your chances of dining out at a restaurant or at your date's home increase exponentially. No one is too old to share a dinner with a sweetheart.
Find Your Happiness
50+ dating sites can vary in different niches. Some include dating for golf enthusiasts, dating for Jewish singles over 50, and dating for singles 50+ interested in fitness. Pay options vary between dating sites, but most offer subscriptions in monthly, quarterly, or annual payments.
Look at your new dating venture as an investment in your love life. You're a responsible, mature adult, who has experienced and seen so much in your life. Don't you deserve to be happy?
Interested in finding mature, professional singles to date? Check out EliteSingles and get connected today!