Grindr is one of the most popular gay dating apps and has plenty of features that keep gay daters coming back for more. You can find out all about what it has to offer in our comprehensive Grindr review.
Now you know all there is to know about Grindr and it's still not for you, these gay dating sites and apps may just be more your style, which will make you feel more at ease when searching for the right guy.
1. Zoosk
Zoosk is one of the most popular online dating sites in the world, with 40 million global users and 3.8 million visits a month. The site is gay-friendly and allows you to indicate your choice of "man interested in men" immediately upon signing up.
Zoosk has one up on Grindr, because while you can only use Grindr on your mobile, you can use Zoosk on both your mobile and desktop, easily accessing your account from any device. And because of its large membership base, it's easy to find potential partners.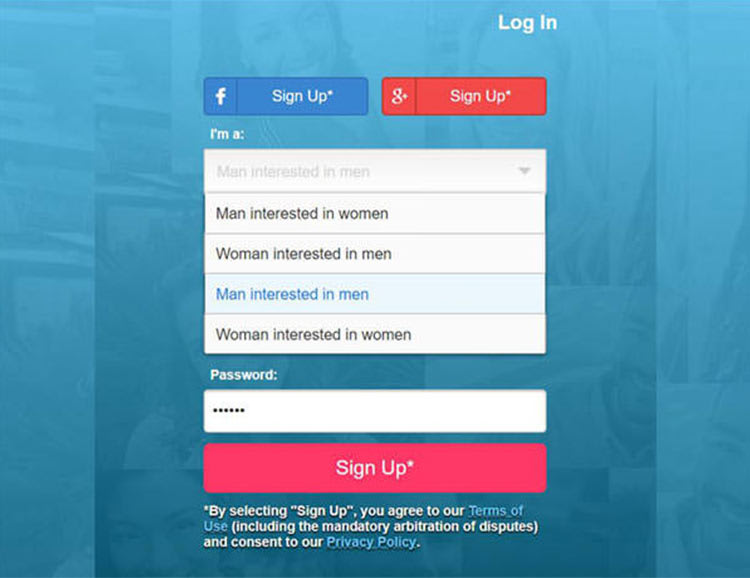 Zoosk's features include:
Different types of matchmaking including the Carousel, which lets you quickly swipe through matches until you find someone that piques your interest, and behavioral matchmaking, which finds suitable matches based on your preferences and profile. You can also search manually for matches.
Competitive pricing plans: 1 month for $29.95, 3 months for 19.98/month, and 6 months for $12.49/month. Like Grindr, you can register for free, but you won't have access to all the features unless you sign up for a subscription.
Advanced search filters similar to Grindr, letting you specify what type of men you're looking for; height, physical appearance, smoker/non-smoker, ethnicity, lifestyle choices, etc. You can also say whether you're looking for a long-term relationship, casual fling, or other.
Communication tools: Whereas Grindr's communication tools are very direct, including direct messaging and photo sending, Zoosk's communication tools are softer. The site does offer direct messaging, but you can also communicate more subtly by sending a smile, like, or gift.

Zoosk Get Started
2. Match
Match is one of the world's most successful online dating sites, with 30 million members worldwide and a large gay, bi, and trans membership base. In 2016 Match released a study on LGBTQ singles in America, and found that "56% of LGBTQ singles have dated someone they met online, with transgender singles dating the most online (65%)." These are good numbers if you're not just looking to swipe, but want to actually date.
Match has an app similar to Grindr—it mainly differs in that most of its members are seeking serious relationships, as opposed to flings. In fact, 33% of Match users reported having relationships that lasted longer than 6 months.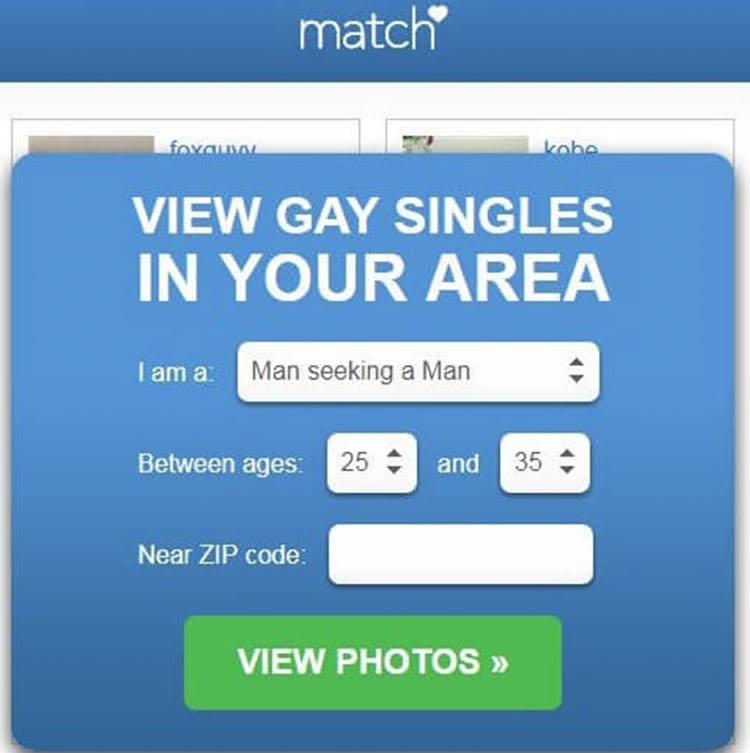 Match's features include:
Easy to fill out profile: When you sign up to Match you'll be asked to fill out your basic information, and then you'll have to answer questions about yourself and your ideal match. The more honest you are, the more suitable your suggested matches will be.
Extensive search filters: It's a given that you're searching for guys - now you need to refine what kind of guy you're looking for. Fortunately, Match lets you search by physical appearance, ethnicity, education, lifestyle and habits. Like Grindr, you can also search for matches who are located near you.
Free and paid membership plans: Match offers free basic membership, and of course the option to upgrade. While Match is more expensive than Grindr, bear in mind that most of the members here are looking for serious relationships. One month on Match costs $40.99, 3 months costs $25.99/month, 6 months costs $22.99/month and 12 months costs $19.99/month.
Various communication tools: Tools include sending winks, favorites, email, instant messaging, photo messaging, MatchPhone, and more.
Live events: Match holds live events all over the country so you can meet gay, bi, and trans men in a relaxed and non-threatening environment.

Match Get Started
3. OurTime
If you're gay, bi, or trans and over 50, OurTime is a fitting alternative to Grindr. OurTime has over 1.4 million visitors a month; not as much as Grindr's 2.4 million a day, but that's to be expected when you're looking exclusively for mature relationships. When you sign up to OurTime, it's easy to specify what kind of relationship you're looking for, and the signup process itself takes just a few minutes.

OurTime's features include:
Search by location feature similar to Grindr which shows you local men in your area. You can also fill in other search criteria to narrow down your choices, or search Today's Matches, Who's Viewed Me, Online Now, and other options.
A user-friendly site and mobile app.
Quick profile set-up so you can be up and running in no time.
Various subscription plans and in-app purchases which tend to be more costly than Grindr. One month at OurTime costs $29.96 and 6 months costs about $18/month.
Communication tools include virtual gifts, flirts, likes, messaging, and instant messaging.

OurTime Get Started
4. EliteSingles
With 82% of its members holding at least a bachelor's degree, EliteSingles is a site fit for educated guys. Additionally, the site's members are usually looking for serious, long-term relationships, which is precisely why they chose EliteSingles.
EliteSingles is not like Grindr, or like most gay dating sites for that matter. It's a site that uses patented matchmaking technology based on the Big 5 Model of Personality, which means that you're getting matches based on very particular aspects of your personality and preferences. It also means that you don't get to search for matches on your own, rather, the site searches for you.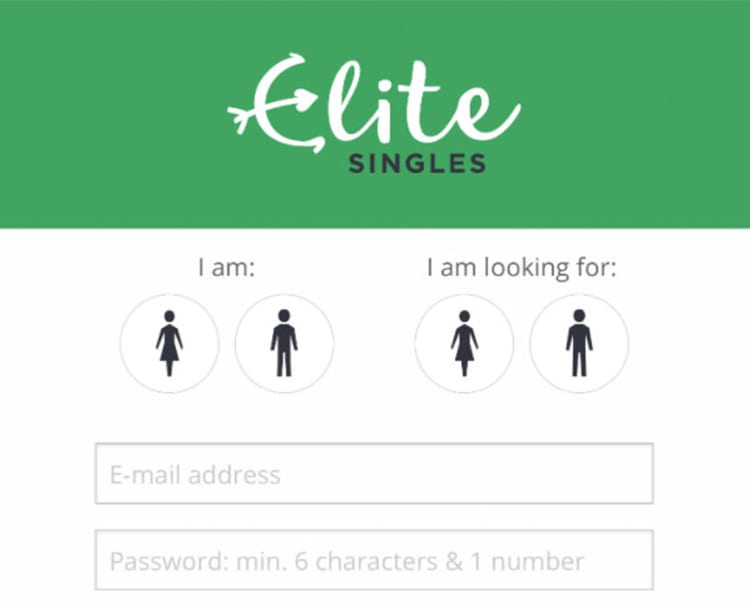 EliteSingles' features include:
Detailed sign-up process including a personality test with 200+ questions.
3-7 potential matches sent to your email daily, which are culled based on the Big 5 Model of Personality.
165,000 new registrations in the US every month.
Communication tools include smiles, ice-breaker questions, and inbox messaging.
Pricier membership plans than Grindr and other sites that don't use patented matchmaking algorithms.

EliteSingles Get Started
5. SilverSingles
If you feel like Grindr is too hip or fast-paced, SilverSingles could be a good alternative. It's like Grindr in that gay, bi, and trans men can look for other guys, but it's different because it caters exclusively to the 50+ population.
Members of SilverSingles are looking for real connections and mature relationships. You won't have to wade through hundreds of profiles that aren't relevant for you. Instead, you can explore 10 profiles every day and make clear, stress-free decisions.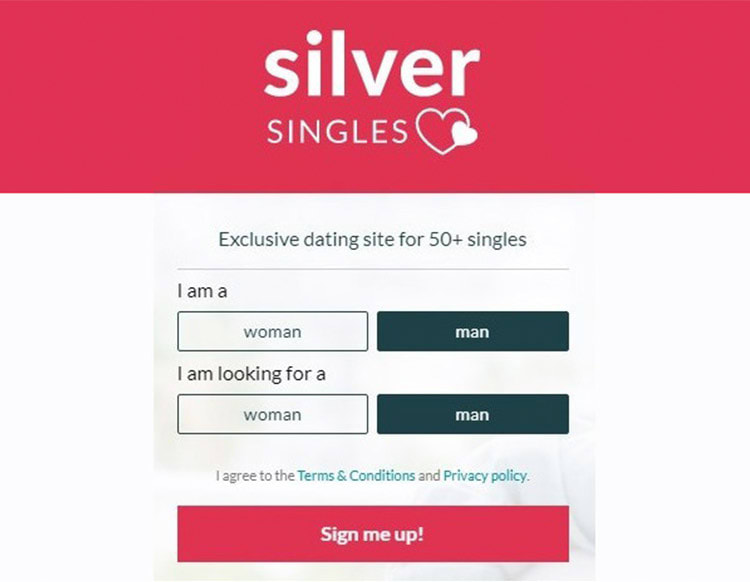 SilverSingles' features include:
Detailed signup process with over 100 questions, so the site can find the best matches for you. During signup, you'll answer questions about your personality and preferences, so be prepared to set aside about 20 minutes.
Swiping and matching: SilverSingles sends you between 7-10 highly compatible matches a day, but you can also search for other members through the swiping method, which makes this app the best of both worlds.
Communication tools include icebreakers, flirts, smiles, messages, and email.
Pricey membership plans: 1 month for $119.95, 3 months for $57.95/month, 6 months for $44.95/month, and 12 months for $31.95/month. While these plans are certainly more expensive than Grindr's $14.99 for 1 month, the whole premise of the app is different. It's up to you to decide if the price is worth it for you.

SilverSingles Get Started
There Are Plenty of Grindr Alternatives Out There
Just because you're gay, doesn't mean Grindr is for you. In fact, if you're not interested in Grindr, chances are your potential partner, wherever he is, isn't either. Top gay dating sites like Gay Cupid review, Scruff or any other app from the above, provide alternatives to Grindr that are just as suitable for the gay, bi, and trans population.
So give yourself a chance at forging a real connection and check out the top dating sites—you may be surprised at how many potential partners you find.