In a Nutshell
DateMyAge is a global online dating platform for middle-aged singles who are looking for love and friendship. While it's geared toward people 40+, there are a lot of younger people on the site as well. DateMyAge could be great for people who classify themselves as being part of the mature dating scene. Create a profile in minutes, search through the international network of singles, and communicate with potential matches online.
pros
Live stream video chatting
Geared towards older, more serious singles
Global network of singles
cons
No matching algorithm
Only straight dating options

DateMyAge Visit Site
DateMyAge at a Glance
Best For
Mature dating
Number of Members
1 million (600,000 in the USA)
Favorite Features
Video messages

Live-stream videos

Presents

Let's Mingle
Video Chat
Yes
How Much Does DateMyAge Cost?
DateMyAge works with a credit system, and the various actions you take on the site cost you a certain number of credits. This means pricing can be a bit tricky to understand. But basically, on DateMyAge, you'll have to pay for a lot of the actions you take.
For example, basic chat costs one credit per minute, while a two-way video chat is six credits a minute, emailing takes ten credits, and sending or viewing/receiving photos or videos costs fifteen credits.
To start out, you have the option of buying 150, 600, or 1500 credits, and the rates for these can decrease if you demonstrate loyalty as a customer over time. You might want to consider starting off with a smaller number of credits and increasing this once you get used to the site—though the more credits you purchase in one go, the cheaper they become.
$19.99, increasing to $49.99 after first month
This pricing structure can feel costly if you intend to use the site heavily—even with 150 credits a month, it's likely you'll need to upgrade and spend more money to keep conversations going and chat with more people. For heavy users, the costs will add up to well above the average for a dating site.
However, you can trial your first month with 150 credits for just $19.99 before deciding if you'd like to pay for the service long-term at a rolling $49.99 monthly charge.
What Can You Do with DateMyAge for Free?
While DateMyAge does have a free sign-up process that lets you create your profile and browse the site free of charge, you'll need to upgrade to a paid account to get anything meaningful out of the site. For instance, you can send a single message to a few different matches, but you'll need to purchase credits before you can see their response or reply.
This means that the free plan isn't really useful for finding a match, and it sets DateMyAge apart from other dating sites that provide more with their free plans.
Premium Features and Upgrades on DateMyAge
Once you upgrade your account, there are a variety of ways to reach out to other singles in the DateMyAge network. Here are some of the best ones.
Instant in-page chat windows with fun emojis

Email functionality to send longer messages and add a background image of your choice

Photo-sharing and real-time video sharing from within chat windows
You can also use the Let's Mingle feature to message numerous matches at once, and utilize the Advanced Search function to help you find that special someone.
Another cool feature is that you can send a love interest both virtual and IRL presents—the latter of which will actually be delivered directly to their doorstep! These can be purchased via the app or website, and there are plenty to choose from, like flowers, gift cards, or even UGG boots. These range in the amount of credits required. Sending a real-life orchid will set you back 319 credits, as an example.
Best of all is the live-stream video feature—this allows you to live stream with other singles in the network. It's like a group chat, with several singles chatting at the same time, all on live stream, making the entire experience feel a lot more authentic.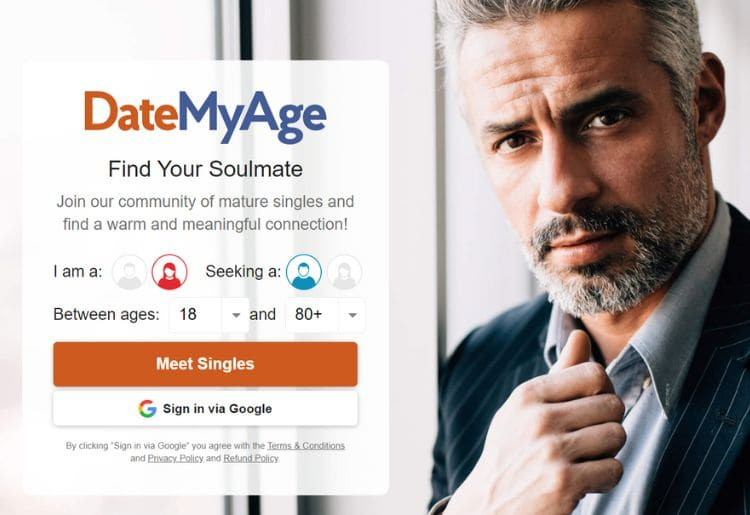 How DateMyAge Works
DateMyAge provides mature singles with an international network of middle-aged potential dates. This is good for two reasons. Firstly, you're getting a more serious group of singles and not a bunch of youngsters looking to fool around and bounce.
Secondly, DateMyAge introduces you to a wide spectrum of singles from all different corners of the globe, so you get a much broader dating pool to interact with. This makes for more interesting conversations as it allows you to meet people from all walks of life.
How to Sign Up for DateMyAge
It's really simple to sign up for a DateMyAge account. Head to the website to sign up instantly—you can do this with your Google account, or by adding an email address and password. Once you've verified your account by clicking the link in the email sent to you, you can get started straight away.
Unlike other online dating apps, you won't have to fill out a lengthy profile questionnaire before you are allowed to access the network. Instead, you'll just answer a few basic questions about yourself, like your name, age, and the age range you're looking for, and the rest can come later.
Setting Up Your Profile on DateMyAge
We like that DateMyAge makes the profile easy to use, with pop-ups and clickable options for your interests. You can begin filling this in straight away after signing up, or browse the site for inspiration before you get started.
When you're ready, navigate to your profile by clicking the three lines symbol on the top site toolbar. Underneath here, click on "My Profile" to begin. Click the cover photo or blank profile photo to begin uploading images.
You can only add one cover photo, and it's unclear how many photos you're able to upload, though up to five seems usual for most members. It doesn't seem like you can import these from social media either, as you're only given the option to upload from your device or to take photos on a webcam.
Next, you can type a short intro under the "A Few Words About Myself" box at the top, choose from a variety of clickable interests like cooking or travel, and add further basic details like your location, height, body type, job, and hair color.
It's worth taking time to fill out these details—nobody wants to chat with a blank page, after all. Plus, the more information you provide, the more matches you are likely to get.
How to Find Matches on DateMyAge
DateMyAge is a freestyle dating site that does not suggest matches, but lets you search the network and make contact based on your level of attraction. It's also worth noting that the site seems catered for heterosexual matches only—once you select your gender when signing up, you're only able to select those of the other gender, which could be very limiting.
New matches will appear within your chat window, and you can choose whether to continue communicating with them here. You can also send out message blasts to multiple profiles simultaneously with the Let's Mingle function.
In terms of search functionality, DateMyAge lets you scan through profile snapshots to see if you're interested in someone. If you are, you can click on the picture to get a closer look at their detailed profile page or to send them a message. You can also choose to send virtual or real gifts, video chat, or send lengthier emails—though, of course, these require payment.
DateMyAge also has several filters that you can use to narrow down search results. You can select specific interests and filter based on education level, relationship status, physical features (eye color, hair color, body type, height), and other preferences like smoking and drinking.
Safety & Security
In an effort to curtail catfishing, DateMyAge provides a member verification process. "Confirmed Status" will display on verified profile pages. To get this status, members need to verify their identity by sending a selfie of them doing one of two required poses to moderation@datemyage.com. Once this has been received and checked against profile photos, members will then receive the Confirmed Status on their profile.
DateMyAge boasts that safety, privacy protection, and member verification are the keystones of the site. But while there's an AI-powered screening and moderation system that periodically scans conversations to help keep the network safe, a quick glance on the site clearly reveals some profiles that look less genuine than others.
However, DateMyAge recommends that you adhere to safe internet practices, as it doesn't take responsibility for misuse—though you can report abusive or inappropriate behavior to the moderator. Profiles charged with misconduct will be removed from the system.
DateMyAge App
The DateMyAge app is available for free on both Android and iOS devices, though in-app purchases will be required if you're looking to spend credits.
Both versions of the app include all the same features of the website, and are very straightforward and simple to use. You can turn on push notifications to receive alerts when new messages arrive. The App Store also claims app users have access to the DateMyAge customer care team 24/7—though we couldn't see where to access it.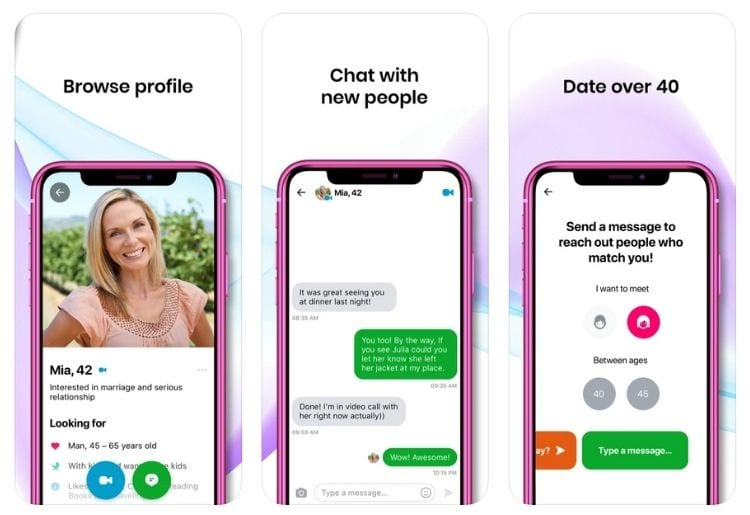 DateMyAge Customer Service
As a first point of call, DateMyAge has a small online help center with some basic FAQs and answers. While this is good for getting answers quickly, the amount of information available is fairly small.
You can also ask any questions or share concerns via the online contact form, by emailing support@datemyage.com, or by calling DateMyAge at 1 (800) 291-5025. However, there is no mention of how long replies will take, or the hours of operation the telephone service provides.
DateMyAge may refund credits to you under certain circumstances, such as accidental purchases or if a member you've been speaking with turns out to be a scammer, although most requests for refunds are subject to review from the company's administration.
How to Cancel or Pause a DateMyAge Subscription
Deleting an account is pretty easy on DateMyAge. Once logged into the site, head to the menu along the top toolbar and click "Settings." Then, under "Manage Account," click "Go here" to either log out, delete or hide your profile so other members can't search you, or turn off email notifications.
Once you click "Delete profile" and "Confirm," you will then need to enter your password. After this, you will need to select a reason for deleting your account, such as "It's expensive for me," or "Not enough free options." When you've selected this and pressed "Confirm," your account will be deleted.
How DateMyAge Compares to Other Dating Sites and Apps
Singles aged 50+ looking for love
Getting into the dating scene
Senior singles looking for lust or love
25,000 new members every month
From $19.99 (150 credits, first month only)
From $24.95 (12-month membership)
From $12.49 (six-month membership)
From $4.49 a week (Six-month membership)
DateMyAge vs SilverSingles
SilverSingles is the place to go for serious daters aged 50+, boasting an easy-to-use website and a matchmaking algorithm that suggests profiles based on personality. This feels miles apart from DateMyAge, which is lacking in matchmaking technology. However, SilverSingles does have a limited free plan and a rather lengthy signup process, which may put people off.
DateMyAge vs Zoosk Seniors
With advanced matchmaking features and strong privacy guidelines, Zoosk Seniors is both a more affordable and more popular dating platform than DateMyAge. However, like the majority of online dating sites, Zoosk Seniors does also have a very limited free plan, so it might not be a strong option for those looking to try before they buy.
DateMyAge vs OurTime
Similar to DateMyAge, OurTime provides a free plan, and neither can be used effectively without upgrading. OurTime offers a lower fee of $4.49 a week (roughly $18 a month) for a six-month membership, which is certainly more affordable than DateMyAge's credit system. It also seems to have better user reviews than DateMyAge, with fewer complaints of fake users or scammers.
Is DateMyAge worth it?
All in all, DateMyAge provides an enjoyable dating experience on both the app and website. The network of mature singles available to chat and date is vast, and the international aspect definitely adds more zest to the experience. Plus, live video streams and the ability to give and receive presents definitely make for a more exciting online dating experience.
On the other hand, DateMyAge doesn't provide much assistance with matchmaking, and the lack of sexual orientation options means the site is only suitable for straight people. Additionally, the service can get pricey if you aren't careful—using credits rather than a set monthly fee can start to cost for heavy users.
However, if you're looking for a straight-up network of singles (and can stay away from the enchanting virtual gifts), DateMyAge is certainly a strong choice.