eharmony Visit Site
Overview
With a Top10 rating of 9.5 out of 10 points based on 128 user reviews, eharmony breaks the online dating site mold with features like personality-based matchmaking. Users have given it a score of 4.5 out of 5, citing brand reputation and excellent customer engagement as significant selling points. Overall, if you're in the market for a user-friendly dating site with an excellent track record, eharmony is worth checking out.
eharmony at a Glance
Best for: Anyone who's tired of swiping and ready to find real love
Number of members: Over 10 million users
Favorite features: Personality-based matchmaking
Recommended Age: 30-44
Video Chat: No
eharmony Video Review: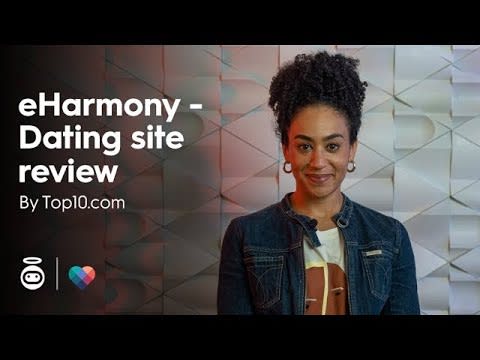 How Does eharmony Dating Work
Initially skeptical about personality quizzes, I was pleasantly surprised by eharmony's process. However, much to my surprise, it felt more like a conversation to get to know me rather than a quiz about what dessert I would I am. Unlike other sites, eharmony doesn't solely rely on age and proximity for matching, which is refreshing.
The Compatibility Quiz consists of different types of questions, some requiring more thought. It covers various scenarios and allows you to choose from preset options regarding your education, employment, religion, and physical attributes. The quiz also includes more probing questions and free text sections where you can express yourself. The results form your insightful eharmony Personality Profile, providing insights into your character, lifestyle, relationship behavior, and communication style. The ability to compare your profile with others is crucial for determining compatibility.
Is the signup process lengthy? Yes, but it's worth it, especially if you're searching for genuine love.
eharmony Dating Features
eharmony uses a smart algorithm for matching instead of relying on time-consuming profile swiping. The platform focuses on connecting individuals with similar values and personality types to build happy relationships.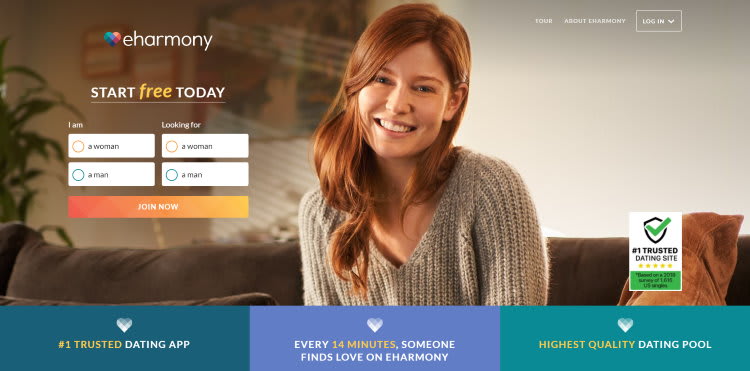 Setting Up Your eharmony Profile
Setting up your profile on eharmony is straightforward after completing the quiz. You can upload your profile photos from your device. Write a short introduction based on how others would describe you and what you're seeking. Add details about your passions, what people notice about you, and your interests and hobbies, which are extracted from the quiz. Keep your fact file up to date to reflect your current situation. After creating your profile, it's time to find matches.
How To Find Matches On eharmony
eharmony's unique matching system is one of the things that distinguishes it from similar services. After completing the Compatibility Quiz, members are matched based on personality and compatibility, thanks to clever algorithms. Once you match with someone, you can check out their profile and decide whether to get in touch. From this point, you need a paid subscription package to continue.
Using the results of the Compatibility Quiz and your Personality Profile, a Match List is generated that constantly updates and brings all the most compatible matches to your fingertips. Each match is ranked based on how compatible you are. If you want to dig deeper, you can even compare your Personality Profiles.
Several search filters enable you to take more control over your Match List, such as location and preferred age, among other things. From there, you're shown matches that fit your criteria, though leaving room for spontaneity is always good. New matches are added as new members join the site.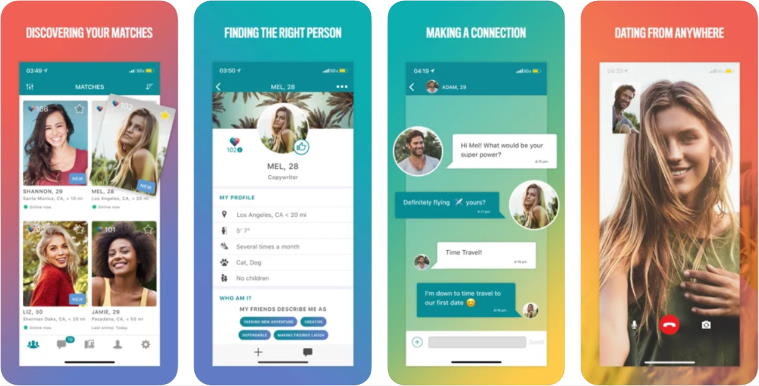 Another great feature are guided communication features like icebreakers and and "smiles," which help to start a conversation without awkward small talk. But once you proceed to actual messaging, you should guarantee getting to know someone on a deeper level is safe.
Safety and Security
eharmony provides security protocols such as a comprehensive safety document directly accessible from the website to keep users secure. The document describes how to keep personal information safe online, spot anything suspicious and report it immediately, and keep a safety-first mindset when meeting someone for the first time. Additionally, the ID verification system aims to cut the number of bots on the platform.
eharmony Dating App
The eharmony app is available for Android and iOS. The app is useful if you want to match on the go and respond to messages quickly.
With a clean interface, the mobile versions are user-friendly. Bear in mind that the app is subject to the same restrictions when you have a free account, such as being unable to send messages or view photos.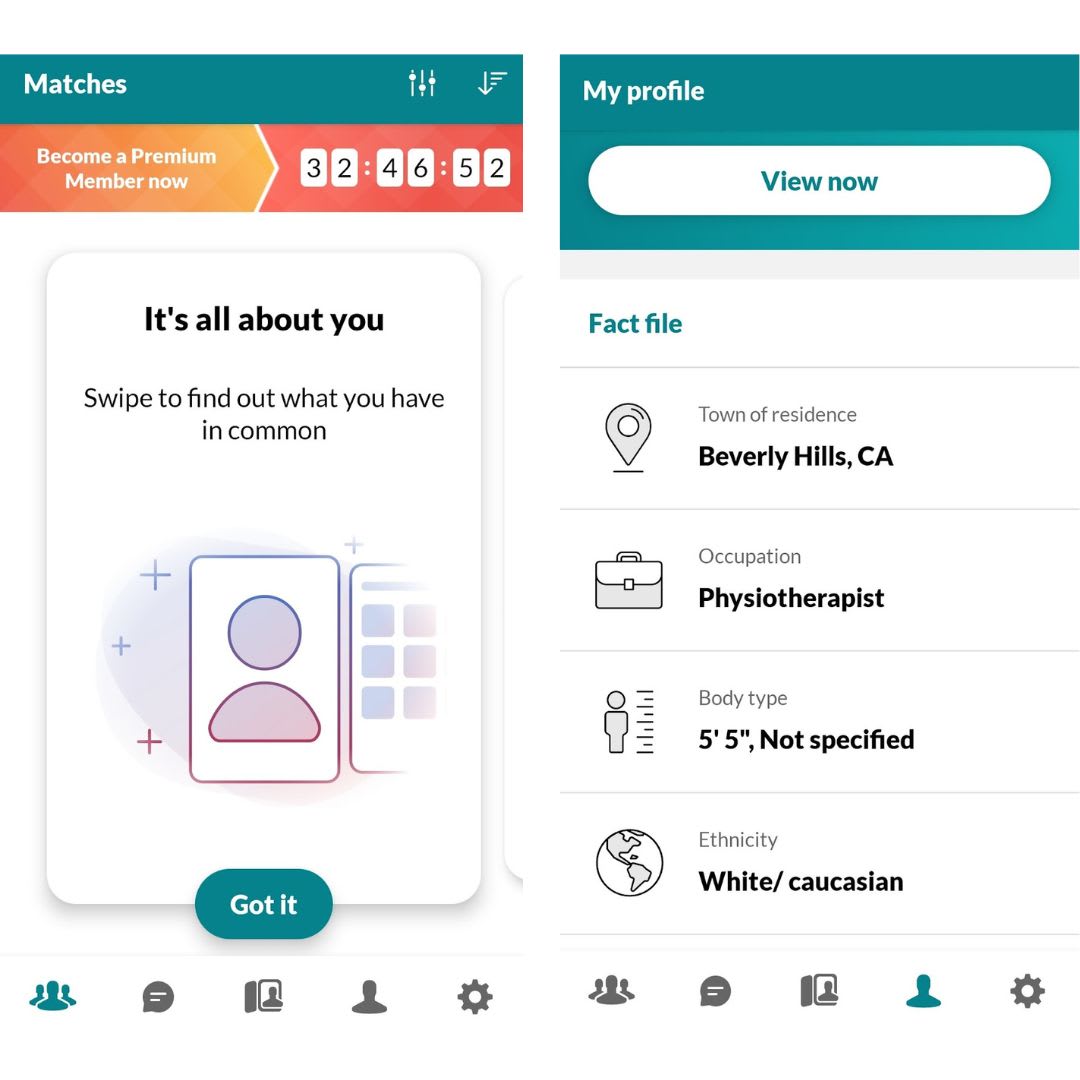 eharmony Customer Support
Compared to other online dating websites, eharmony does a lot better when it comes to support. The extensive FAQ section is suitable for troubleshooting. Plus, eharmony's customer care team is available by email to answer questions 24/7 and will respond within a day.
You can get in touch with the customer care team via an online form. There is currently no live chat feature. You can also phone them (8:30-5:00 PM PST). You can also contact the customer service team to discuss cancellation requests.
eharmony doesn't clarify how to get a refund on their site, and some customer reviews suggest it may be tricky to get refunded.
How to Cancel or Pause an eharmony Subscription
You can amend your subscription through your profile to cancel a Premium account. If you subscribed through the eharmony app, you must manage your subscriptions via iTunes or Google Play.
It's important to note that simply uninstalling the app doesn't cancel the subscription.
eharmony Pricing
How Much Does eharmony Cost?
Though signing up for eharmony is free, membership costs between $25.90 and $55.90 monthly. You can use your account without paying for premium features, but you will be severely limited in what you can do on the site. You'll have to subscribe to a premium membership to use all the features that eharmony offers and actually find a date.
There are three membership tiers, all based on plan length. eharmony is currently offering new subscribers 50% off their first month (You will need to claim your discount within 34 hours of creating your free account).
Detailed personality profile
eharmony is more expensive than many competitors. Given that it prides itself on detailed profile matching and a high-quality pool of prospects for serious relationships, it makes sense that it has a higher price point than some other services.
What Can You Do with eharmony for Free?
You can open a free account if you want to try out the site's features but aren't yet ready to commit. All you need to do is sign up and complete your profile by filling out the detailed personality questionnaire.
With a free account, you can:
Complete the compatibility questionnaire to take advantage of the patented matching algorithm.

Set up your complete profile with pictures and detailed information about yourself.

Browse profiles anonymously.

See the profiles of all your matches, with their basic fact file included (but photo blurred).

See your compatibility score compared to a specific match.

Send a smile or icebreaker question to someone.

See how many current members have sent you messages.
You won't be able to see further details of who you've matched with, and won't be able to send or read your messages.
Based on these points, it's unrealistic to think you'll have a good chance of securing dates with only a basic account, given that you won't be able to message anyone! However, it could be an uncomplicated way to look at a few matches and assess if eharmony has the right profiles for you.
Premium Features and Upgrades on eharmony
eharmony's three plans contain the same features and differ only in subscription length. Arguably, the most important feature is sending and receiving unlimited messages. The unlimited messaging feature will enable you to build a rapport with your match, hopefully leading to a date. You'll also be able to view all their photos to get a better sense of physical attraction.
Searching eharmony is also more accessible with a Premium account, as you can adjust your search by distance, filtering matches to make sure you're looking at the right profiles for you. You can also see their detailed personality profile for an in-depth insight into their character.
Plus, you'll see who's viewed your profile, so it's easier to narrow down the choices. You can get a review of your profile emailed to you, too, so you can tweak it to ensure it shows you in your best light.
eharmony Dating Alternatives
How eharmony Compares to Other Dating Sites and Apps
Finding love through personality matching
Dating for either a relationship or something more than casual dating
Finding an educated match
Finding a relationship through behavioral matching and virtual dates

eharmony Visit Site
eharmony vs. Match
Match certainly beats eharmony on price, as it starts from only $17.49 a month. Match also includes a geolocation feature called Missed Connections, which lets you know when matches are nearby, something eharmony has yet to implement.
eharmony vs. EliteSingles
The clue is in the name. If you're looking for an educated match, EliteSingles attracts those with higher qualifications who are looking for a serious relationship. However, for a wider and more mainstream dating pool, eharmony may be a better choice for you, especially given that its personality test is more streamlined than EliteSingles' lengthy quiz.
eharmony vs. Zoosk
Zoosk has a bigger membership pool than eharmony, yet its members are not guaranteed to be in your area. Zoosk includes some nifty digital features such as virtual gifts, and an interesting virtual date concept featuring city tours. It also uses behavioral profiling to find matches, but you may prefer eharmony's tried and tested approach.
Bottom Line
The focus of eharmony's services is building long-term relationships by finding compatible matches for each member. With tons of impressive features and compatibility analyses, it's understandable why many regard it as the #1 trusted dating app for singles.
Although eharmony is pricey compared to some competitors, given the detail of its matching, it could be worth the money, even if you try the 1-month plan first to see how it suits you.