In a Nutshell
eHarmony uses a scientific approach to matchmaking to connect compatible singles and cultivate long-term relationships. With a series of questions to new members, eHarmony collects data to make matches that are statistically likely to succeed in a long-term relationship. It's hands down one of my top 3 favorite online dating apps I've tried, for so many reasons.
pros
In-depth Compatibility Quiz & Personality Profile
Intuitive and well-designed
Best in industry safety features
cons
Not good for those looking for casual hookups
More comprehensive signup process requires time
eharmony Visit Site
Video Review: 10 Reasons Why People Love eHarmony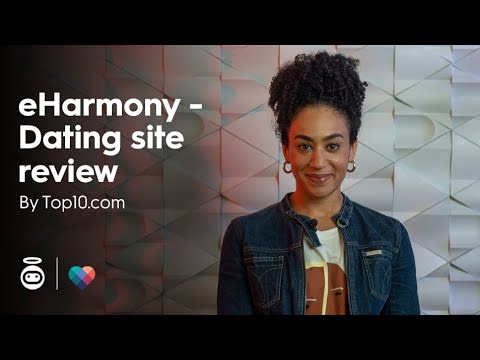 eHarmony at a Glance
Best for: Anyone who is tired of swiping and ready to find real love
Number of members: Over 6 million users
Recommended age: 25+
Favorite features: Personality-based matchmaking & video date feature
How Much Does eharmony Cost?
If you want to sign up to eHarmony, you won't need to dig into your pockets. Signing up is free and all you need is a little time on your hands. You can sign up and create a personal profile before taking the compatibility test. The test is made up of a thorough questionnaire, which will take approximately 35-45 minutes to complete and will be relevant whether you continue with the free membership or decide to pay for a montly subscription.
eHarmony membership options
If you've signed up for the basic free membership, you can use the site but with some limited functionality. If you really want full access to eHarmony, you'll need to pay for one of the 3 basic membership options:
3-day free trial
If you want to to try out the site's features but aren't yet ready to commit, you can find deals for free trial memberships. All you need to do is sign up and complete your profile. You must then choose a subscription plan and pay for it. Do not fear, if you try out the site for 3 days and don't love what you see, you can cancel your account and will be refunded the full price.
eHarmony ultimate guarantee
If you sign up to the Premier Plan, you'll be offered the ultimate guarantee – if you don't find your special someone by the end of your subscription, your membership will be automatically extended for free, for an additional 12 months.
Payment options
There are a few ways to pay your eHarmony subscription, including credit and debit cards like Visa, Mastercard, and Paypal. Like many dating sites, if you don't turn off the automatic renewal, you'll continue to be charged at the end of your membership term. If you have found love on the site or just want to end your subscription, make sure to turn off the automatic subscription renewal.
eharmony Try Now
Signup Process
I'll be honest with you; I was a little nervous to start this process on eHarmony because I've always been a little skeptical about taking personality quizzes. However, much to my surprise, this felt less like a quiz where I was just going to be fed into some fake algorithm that tells me what type of dessert I'd be, but more as if I was talking to someone who was really trying to get to know me and understand what I'm looking for in a relationship. It was oddly refreshing to know that I wasn't going to be matched with someone simply because we're the same age and live near each other.
You'll notice throughout the Compatibility Quiz there are a few different types of questions. Most take only seconds to answer, while others deserve a little more thought. The quiz is innovatively designed to uncover the different layers of your personality. There are some scenario questions trying to gauge how you react to different situations. There's also a section where you can choose from preset options about your education, employment, religion, and physical attributes, and then go on from there to some more probing questions. By the end, it turns more into free text sections with questions that let other members get to know you in your own words.
Once the quiz is complete all your results are compiled into a Personality Profile, which is pretty cool and surprisingly insightful. The profile shows your character, lifestyle, relationship behavior and communication style. Sometimes learning about yourself is kind of eye opening, especially when you can also directly compare it to other people. The ability to compare is key when it comes to compatibility. It lets you know how you and all your matches stack up in certain situations and whether or not you should take the time to get to know each other.
So is the signup process lengthy…maybe a little bit, but it's worth it – especially for real love.
Matchmaking & Search Functions
Most people know that eHarmony's unique matching system is one of the things that distinguishes it from similar services. After completing the Compatibility Quiz, eHarmony matches members based on key dimensions of personality and compatibility due to its own scientific and mathematical algorithms. Once matched, you can look at a photo and profile and then decide whether to get in touch. At this point a paid subscription package is needed.
Using the results of the Compatibility Quiz and your Personality Profile, a Match List is created that constantly updates and brings all the most compatible matches right to your fingertips. Each match has a ranking to let you know just how compatible you two are together, and if you want to go deeper then you can compare your Personality Profiles.
Want some more control? There are several search filters that allow you to take some control over who your Match List. Determine the distance you're comfortable with or preferred age, among other things. From there you're shown matches that fit your criteria. But, some advice, don't get too specific within your filters as its always important to leave room open for spontaneity.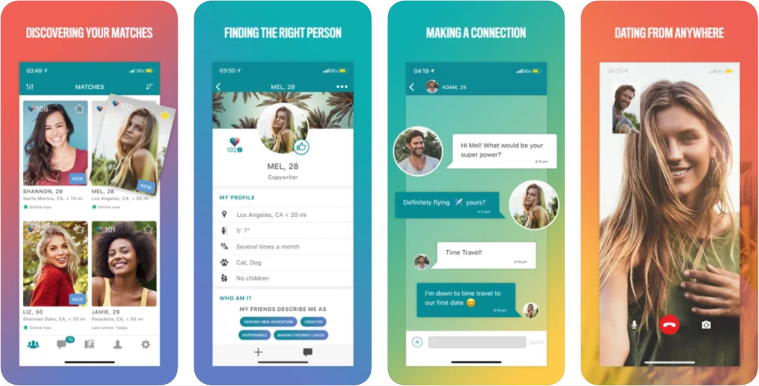 Features & Communication Tools
After completing the Compatibility Quiz and receiving the Personality Profile, members can enhance their own profile by adding interests and hobbies, so that people can get to know you a little better. The profiles are laid out in a beautiful way, kind of like a social media account, except it's a popular dating app and not just another social network. With its sleek design, the profile can be an excellent first impression.
A paid subscription membership unlocks additional communication tools, such as regular inbox messages and the Video Date feature, which is a secure video call that lets users chat safely without disclosing their phone number.
Paid memberships also include the ability to see who viewed your photos or profile and gives users the ability to send and receive unlimited messages.
Another great feature is the guided communication in the form of icebreakers and smiles, which help to get a conversation started without the sometimes-awkward small talk.
eharmony Love Stories
"I had met one person on eHarmony and knew it wasn't the right match. I was going to let my membership expire and not do anything else with it when Noel initiated our first contact. I knew from the first e-mail that I had met someone amazing…From the moment I saw Noel, I knew she was the one. Now, a year and a half later, we're planning our wedding. We are immensely happy and so grateful that eHarmony brought us together." - Noel and Mark
"Bill and I are very deeply in love with other. We turned out to be more than we ever expected for each other. Not that we had low expectations because I'm very picky and he had a clear idea of what he was looking for too, just that we're so compatible it's uncanny. We fit together naturally, and it feels like we've known each other forever." - Sarah and Bill
Safety & Security
Safety is definitely a top priority for eHarmony, and its unique design does not leave much opportunity for those who signed up for the wrong reasons.
eHarmony wants to ensure that all users feel safe and secure, providing tools such as a comprehensive safety document directly accessible from the website. This document details how to keep personal information safe online, how to spot anything suspicious and report it immediately, and how to keep a safety-first mindset when meeting someone for the first time.
Additionally, the ID verification system can cut down on the number of imposters in the system, helping to ensure profiles belong to real singles. In order to receive eHarmony emails from one another, users have to mutually agree which gives users complete control of communication with each other.
eharmony Visit Site
Help & Support
In comparison to other online dating websites, eHarmony does a lot better when it comes to support. Its customer care team is there to answer any questions you may have at any time. The FAQ section is extensive and a great option for autonomous troubleshooting.
Find Love on eHarmony
The focus of eHarmony's services is building long-term relationships by finding compatible matches for each member. It's definitely one of my favorite apps I've tried. With tons of amazing features and compatibility analyses, I understand why it's known as the #1 trusted dating app for singles.