EliteSingles Visit Site
Overview
EliteSingles has a rating of 9.1 out of 10 points on the Top10 scale. This rating is based on 88 user reviews, who rated EliteSingles 4.5 out of 5 and found its platform to be unique. It is also based on its brand reputation (as determined by web analytics), customer engagement, and its features and benefits, as discussed in this product review, such as elaborate dating insights and security measures.
EliteSingles at a Glance
Best For: Educated professionals interested in a long term relationship
User Base: University graduates
Number of Members: 13 million, with 165,000 new members every week
Recommended Age: 35-55
Favorite Features: Five-factor personality assessment test and the ability to like specific sections of a profile
Video Chat: No
EliteSingles Dating Site and App Video Review: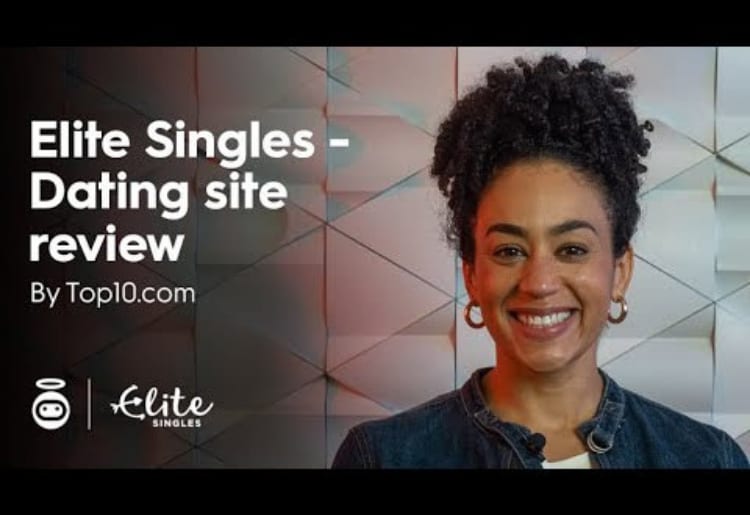 EliteSingles Features & Communication Tools
Premium Features and Upgrades on EliteSingles
An EliteSingles premium membership offers you the ability to send and receive unlimited messages, see all your matches' photos, and see who's recently visited your profile. You can also leave comments on profiles and photos and get additional insight into your personality test results.
The premium subscription also gives you unlimited access to features like the Get Acquainted tool, which enables you to choose five multiple choice questions to send to another member. In response, you'll receive the five questions they're most interested in hearing your answers to. This is a great way to break the ice and start chatting with people.
EliteSingles' most impressive feature is its matching algorithm, which relies on a detailed personality profile to identify over 29 personality traits and match you with users who would value these traits. Careful matchmaking ensures an efficient online dating experience that's ideal for busy professionals.
Another interesting feature is the ability to like specific parts of someone's profile to show interest and start an interaction. This enables you to ease into a conversation on a specific topic. All interactions are recorded in the message area. Other communication tools include inbox messaging, sending smiles, and five ice-breaker questions.
Safety & Security
EliteSingles is concerned with users' online safety and the protection of personal information. The site uses an online verification feature to ensure profiles and photos belong to real people. In addition, it employs software that ensures no photos can be copied or downloaded from the site.
Other security features include an SSL-secured website for protection against credit card fraud. EliteSingles also employs methods to prevent harmful or offensive messages by alerting the site of the use of certain keywords. Users can report abuse and delete matches they deem inappropriate. All sensitive data is encrypted and will not be shared with third-party sources or other Elite Singles members.
EliteSingles Customer Service
The only way to speak with the EliteSingles customer care team is to fill out the online contact form, and it can take one-two days to get a reply. There are no instant contact options like live chat or phone, which is a little concerning. There is also no way for you to email the customer care team.
Luckily, there's a decent selection of self-help and informational resources. These are designed to help you build your profile and get started on the dating game. To request a refund for any reason, simply reach out to the customer care team.
How Does EliteSingles Works
EliteSingles' personality test forms the foundation of your dating profile. You have to complete it as part of the signup process. Based on your answers, you will be provided with a number of potential matches per day who you can then choose to interact with.
How to Sign Up for EliteSingles
Signing up to EliteSingles will take around 30 minutes. After filling out basic information, you'll be asked to complete a personality test.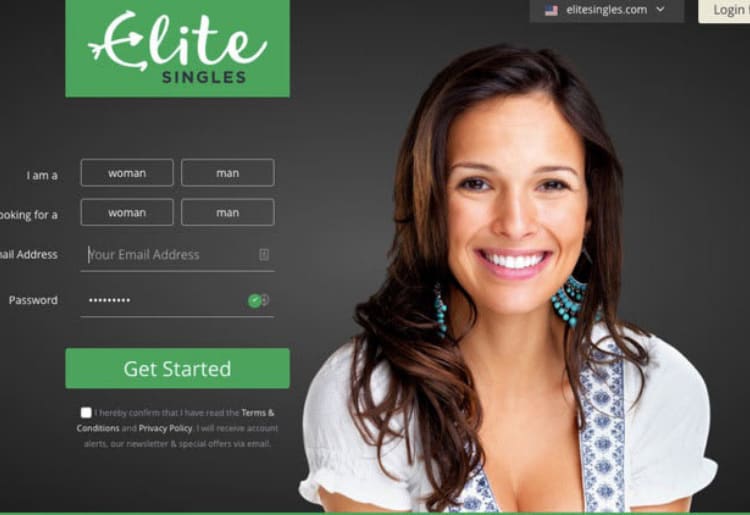 The personality test is based on contemporary psychology, which asserts that there are five basic personality dimensions. These dimensions are called the Big Five personality traits and include:
Openness: Are you open to new challenges and thinking about abstract concepts?
Conscientiousness: Do you prefer a set schedule and to finish important tasks right away?
Extraversion: Do you like being the center of attention? Do you have a wide social circle of friends and acquaintances?
Agreeableness: Are you concerned for others? Do you enjoy helping others and contributing to their happiness?
Neuroticism: Do you get upset easily? Do you feel anxious a lot and worry about a lot of different things?
The test has 115 questions, so the signup process is relatively time-consuming. However, EliteSingles needs this information to suggest highly suitable matches, and the results are well worth it.
Your curated matches are closely paired with your answers to each question, so your odds of finding the perfect partner who meets your relationship and intelligence needs are high.
As you proceed through the questionnaire, you'll get more detailed statements so the system can gain an understanding of your personality. Examples of these statements include how often you leave clutter in your room, if you're good at analyzing problems, and whether or not you seek adventure.
Applicants are asked to rate their answers according to three sliding-scale measurements: doesn't apply at all, slightly applies, or completely applicable.
Some applicants may be deterred by the complexity of the forms and rush through them without taking the time to make sure the information is accurate. This can affect the suitability of the matches you are offered.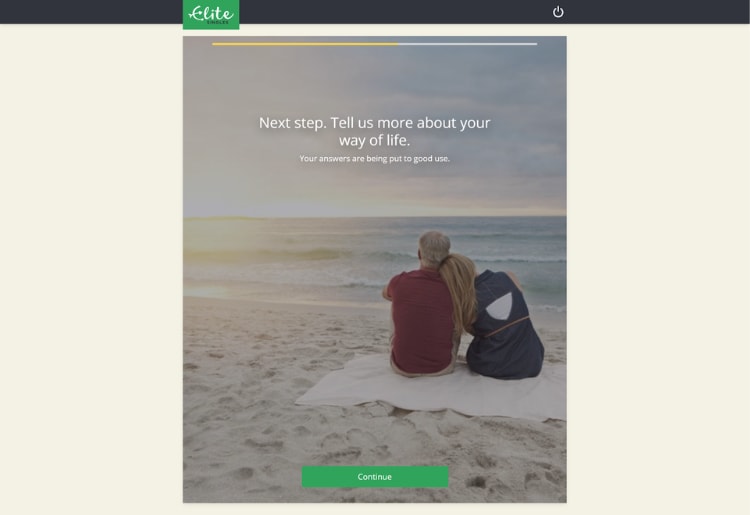 Setting Up Your Profile on EliteSingles
On your dating profile, you'll find the results of your personality test. You will be given a basic profile based on your answers during the signup process, but you can edit this as required. You can include as much or as little information about yourself, your interests, and your hobbies as you'd like.
EliteSingles even has expert profile advice available if you need support standing out from the crowd or crafting a high-quality profile.
You can add up to 24 photos to your profile, which is much more than you can with most dating sites. While you don't have to add any photos, EliteSingles recommends that you do, as profiles with at least one quality image are eight times more likely to be contacted. You can upload images from your computer, import them from Facebook, or snap a new selfie with your device's camera.
The EliteSingles website also includes insights and tips from relationship experts and psychologists to help guide you through the dating process and craft the perfect profile.
Once you're satisfied with your profile, you can start reviewing your matches.
How to Find Matches on EliteSingles
EliteSingles' matchmaking tool brings you highly suitable matches based on the results of the five-factor personality test. As mentioned, the test identifies your key personality traits along with chances for long-term compatibility with other members.
For instance, in addition to identifying whether you prefer tidiness, you're also asked how important this trait is in a future partner. Once the site finds demographic and personality traits to be a match, it suggests members to one another with a daily curated selection. You will receive a daily email with your selected matches.
The matches you're given are all smart and successful and include individuals who work in industries such as scientific research, molecular technology, and engineering.
In addition, paid members can browse additional profiles through the Have You Met feature. This feature introduces members who may not have appeared in the usual daily matches. However, you won't be able to search with specific filters such as age or job title.
Finally, wildcard matches, which are similar to the swipe function on other popular dating apps, present you with blurred photos as well as the name, age, location, and full profiles of other members. Shared traits are highlighted to help you make a decision on whether to accept or pass on the match.
But as you browse your matches every day, how can you keep yourself and all of your personal information safe?
EliteSingles App
The EliteSingles app is available for both Android and iOS mobile devices. It has a decent rating, and most users report a positive experience. You will have access to the same features you would with the web client, which effectively enables a mobile-only dating experience.
For example, you can view and interact with all of your matches. You can update your profile, upload new images, and ensure you have the best chance possible of finding the one. And best of all, it's super intuitive and easy to use.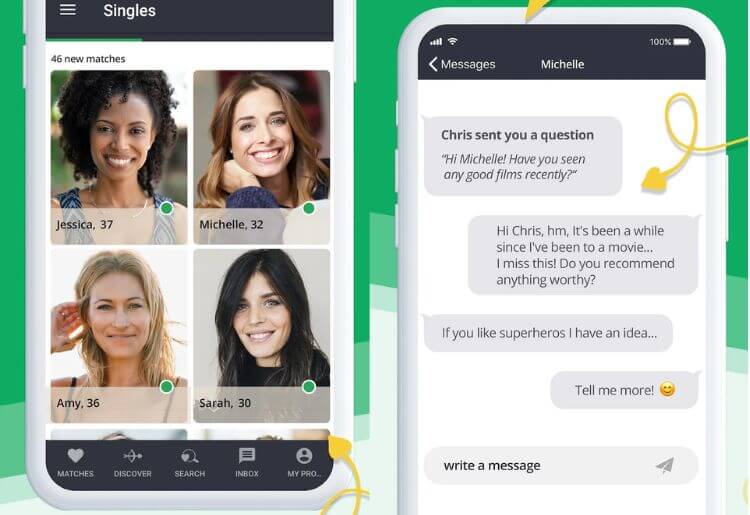 EliteSingles Pricing
How Much Does EliteSingles Cost?
The cost of using EliteSingles can range between $0-$37.95 a month depending on the plan you choose.
EliteSingles offers a free, basic membership plan. However, if you want to take full advantage of the site and communicate with other members, you'll need to upgrade to a premium membership.
Three-, six-, and 12-month subscription options are available, and you will access significant discounts with longer commitments.
The three-month Premium Light plan costs $37.95 per month for unlimited communication and intelligent matchmaking.
The six-month Premium Classic package costs $27.95 per month and adds the ability to view all member photos, see profile visitors, and receive read receipts for messages.
The Premium Comfort package comes with the same features but costs $19.95 per month for 12 months.
When lined up against some of the leading alternatives, EliteSingles is a rather expensive dating platform. However, you get what you pay for, including advanced personality testing and AI matchmaking features.
What Can You Do with EliteSingles for Free?
EliteSingles offers free accounts that enable you to get to know the site before committing to a paid membership. With an EliteSingles free trial, you can build a profile, upload photos, complete the personality test, and receive partner suggestions. You can also send smiles and likes to a potential match. However, you can't send messages to other users.
The free plan enables you to receive three-seven matches a day. It also includes the option to send ready-made questions to users. While it's possible for you to get a date with a free account, you will have to work hard, and it will be significantly more difficult than with a premium subscription.
EliteSingles Alternatives
How EliteSingles Compares to Other Dating Sites and Apps
Still don't know what dating site is best for you? Here's a quick comparison chart that sets EliteSingles against its competitors.
Finding a serious partner
Long-term relationship seekers

EliteSingles Visit Site
EliteSingles vs Match
Match is one of the world's oldest and most popular online dating sites. While EliteSingles delivers hand-picked matches based on your personality test, Match has sophisticated search tools to help you find the perfect partner. The two platforms are similarly priced, and we'd suggest Match if you like the idea of browsing user profiles rather than having the platform match you with other users.
EliteSingles vs Zoosk
While EliteSingles directly targets busy professionals, Zoosk is a more versatile dating platform designed for users from all walks of life. Zoosk is a lower-priced option, and we'd recommend it if you'd like to be able to search for and browse your own matches.
EliteSingles vs eharmony
Like Zoosk and Match, eharmony enables you to browse other users' profiles and search for your perfect date. However, it's quite expensive, and those with limited time will be better off with EliteSingles' clever matchmaking technology.
Bottom Line
EliteSingles is a dating app for highly educated people who aren't interested in casual hookups. Instead of requiring you to browse users' profiles, it provides matches for you based on a detailed personality test.
EliteSingles has more than 13 million users. You'll receive new matches daily, boosting your chances of finding the perfect partner. If you don't have time to sift through hundreds of profiles, EliteSingles can help you find the one.