In a Nutshell
My mom has been telling me to find love on Match for years now. Thanks to Top10.com, now the time has finally come — and she's beyond grateful. People from every walk of life have found lasting relationships with Match. Using an algorithm that keeps your needs in mind, the site connects you based on true compatibility.
pros
Highly compatible matches
High percentage of second dates and follow-up dates
Large user base
cons
Not as diverse for the younger audience
No direct phone number for customer service

Match Visit Site
Match Video Review - Reasons to Give It a Try

Match at a Glance:
Best for: Serious relationship seekers
Number of members: 21.5 million
Recommended age: 18+
Favorite features: Missed Connections, and live events
How Much Does Match Cost?
Match doesn't charge you a penny to sign up, so you can delve into the world of online dating without pulling out your credit card. However, its free plan is a little limited and, for the best chance of finding a date, you will benefit from a premium subscription.
The Match pricing model offers numerous plans and subscription tiers: you can choose from 3-month, 6-month, and 12-month subscription options on either a Standard or Premium plan. The longer the membership, the larger the savings on the per month cost. The 12-month trial is a commitment but it works out best for your buck.
Prices range from $17.49 to $21.42 per month for a Standard subscription and from $18.30 to $24.67 per month for a Premium plan. The Premium packages come with message read alerts, unlimited rewinds (the ability to see a profile again if you accidentally dismiss it), a weekly super like (the ability to signal strong interest), and the ability to see who's upgraded. For only a few dollars more per month, it seems like a better investment.
Match certainly isn't the most expensive dating platform we've seen, but it's far from the cheapest. But we do like the large number of features on offer, and the value for money is excellent.
What Can You Do with Match for Free?
You can create a profile, upload some photos of yourself and browse potential singles according to your specified filters—all for free. You can also send and receive "winks," a special online dating flirt.
A free account also includes limited messaging, although it can be hard to get to know a potential date without a premium account. Because of this, we'd suggest that you will need a premium subscription to have a realistic chance of getting a date.
Premium Features and Upgrades on Match
Though anyone can sign up for a free Match membership, only subscribers are privy to certain features. Some of the most notable features included with a premium subscription include unlimited messaging, priority access to exclusive Match events, email and instant messaging (IM) capabilities, and the ability to see who's viewed your profile.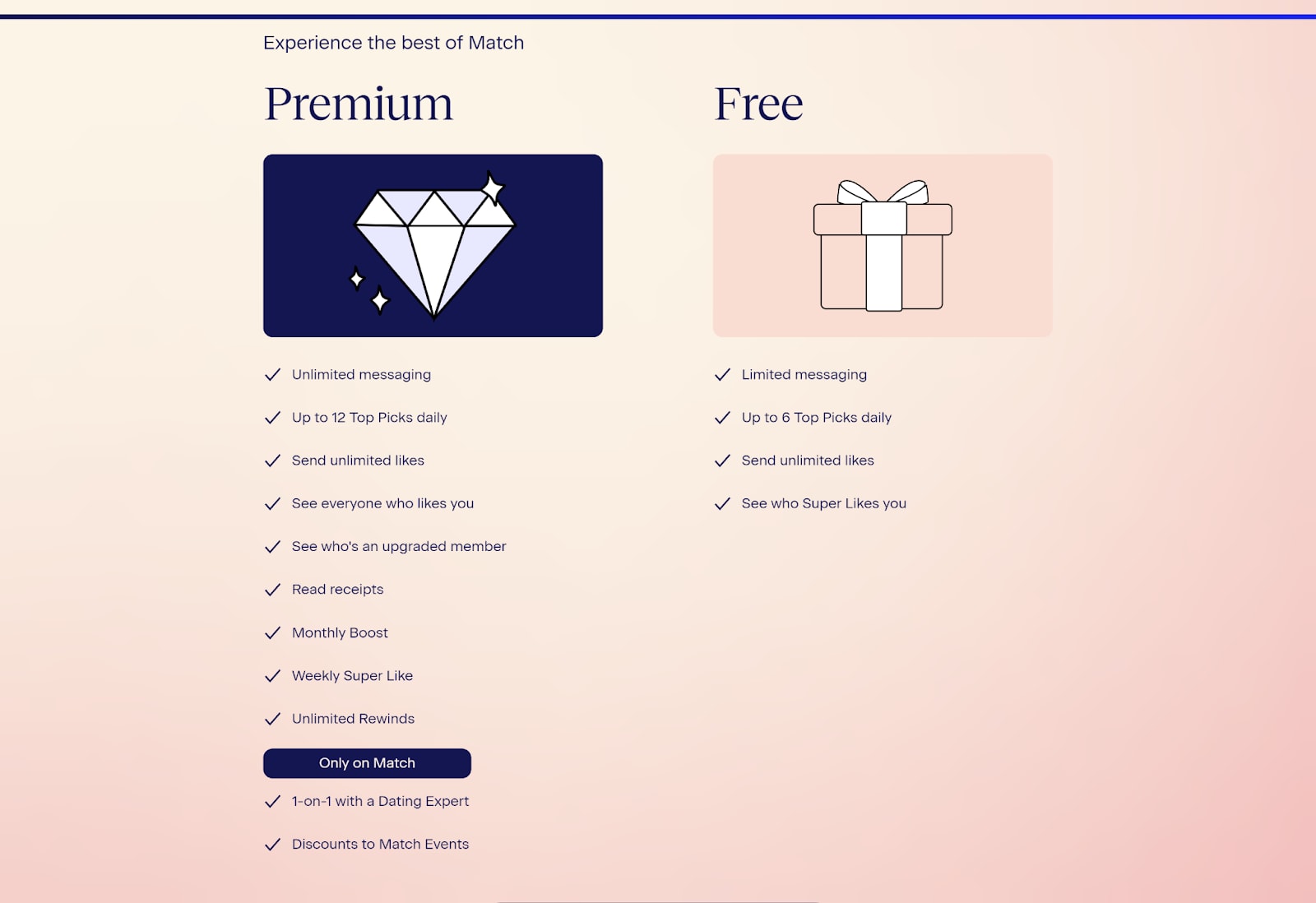 There are several communication options on Match, though you have to pay for them (you can wink for free, though!). Subscribers can opt to wink, email, or IM other singles that they're interested in. As mentioned, you'll get email read notifications when an email you've sent has been read by the other member.
You can also send out VIP emails that will be highlighted in the other person's inbox (1 per week). Match also has a What's New newsfeed with all of the latest activity on your account including emails, winks, likes, call requests, and more.
Match's Missed Connections feature lets you know when a possible match was recently somewhere in your vicinity. The feature uses geolocation to find your location and pairs it with that of another Match user who has opted for the feature and fits your dating criteria.
Members will get notified of the match and can choose whether or not to connect. But not to worry, only an approximate location within a one-block radius will be shown, and not until a few hours after your paths crossed.
If you want to turn off Missed Connections on Match, you can do so in the app's settings. Alternatively, you can also block specific users if they make you uncomfortable. According to Match, those users are then removed from the system until their case is reviewed by a Match employee.
For singles looking to meet their potential lover in real life, Match's Events tab offers a ton of really incredible experiences to do just that, including, but not limited to, speed dating parties, food tours, and even cruises to Cabo. (I want to go to Cabo!)
How Match Works
Match is definitely one of the best dating sites for people who know exactly what they want in a partner. This website is for someone who's ready to settle down and get married within the next year or so.
How to Sign Up for Match
As a woman looking for a man, I entered that information into the homepage popup along with my age and zip code.
I was then prompted to enter my email address, password, and name followed by a bunch of questions about my ethnicity, weight, height, and dating preferences.
The entire signup process should take between 20 and 30 minutes—not a huge commitment in the grand scheme of things. To make the process more manageable, you can also save your progress and come back to it later.
Here's a basic breakdown of the signup process:
Give Match your date of birth, zip code, and email address to kick things off.

Define the nature of the relationship you are interested in.

Add details such as marital status, height, level of education, smoking preferences, religion, ethnicity, and more.

Then, the in-depth questions begin. You'll be asked about all sorts of things such as hobbies and drinking penchants. The whole application can be divided into 3 major categories including the About Me, About My Match, and In My Own Words sections. Each section can be as long and as detailed as you'd like, but the more information you give, the more likely you are to find suitable matches (and more quickly).
Once the signup process is complete, and you've verified your account (you can also skip sections and come back to them later), you can start viewing profiles.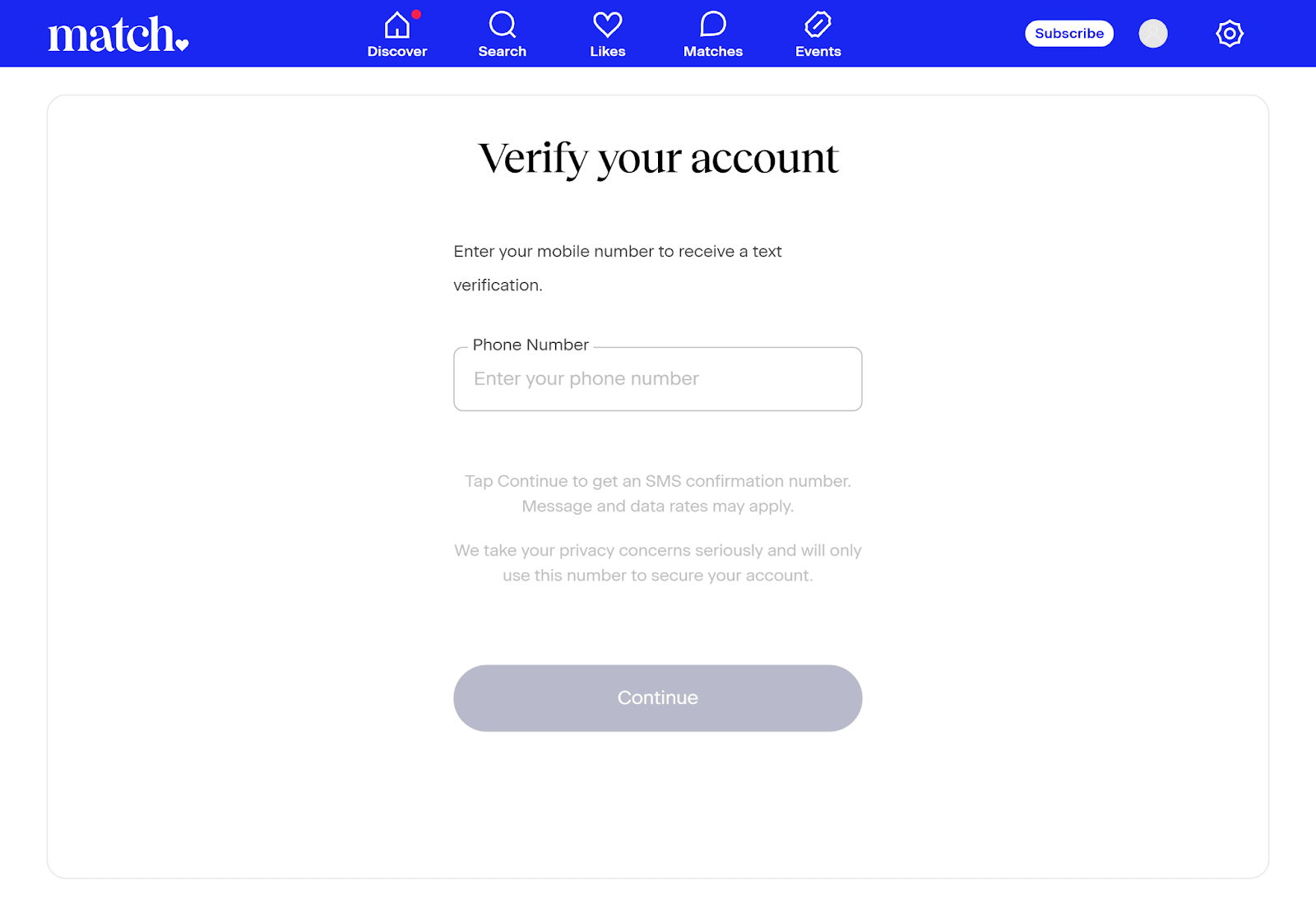 Setting Up Your Profile on Match
Match makes it super easy to set up your dating profile. During the account creation process, you will be asked for some information about yourself and your ideal date. This information will be used to build out your default profile.
Once you've created and verified your account, you can add up to 26 images and more information about yourself to customize your profile a little. Photos can be uploaded from your computer or imported from Facebook.
Now your account is set up, it's time to start looking for your first date.
How to Find Matches on Match
The statistics seem to be in favor of Match. In fact, almost 40% of members have stayed in a Match dating relationship for months. This is, in part, because the user base is more serious than on more casual dating sites, but it also speaks to the efficacy and efficiency of Match's matchmaking abilities.
Match is super easy to navigate and offers a bunch of specific search features to help people find that perfect match ASAP. You can browse profiles on your own or have Match do the work for you. With a paid membership you can view profiles and pictures, email or IM other members, and get read notifications.
Match has an incredibly sophisticated search function, so you can get exactly the kind of profiles you want. The search capabilities allowed me to find someone who perfectly fit my requirements, which was really amazing. As well as filtering by a range of things, including religion, eye color, sexual orientation, and more, you can search via:
match words for specific tags (soccer, bubbly, etc.)

reverse search to see who's looking at you

daily mutual match for matches with shared interests

location-based searches
When you want to connect with someone, you will be able to send an email or an instant message within the app. With a premium subscription, you will have access to message read notifications that let you know when someone has opened your message.
The Daily Five is one of the most useful matchmaking options. This feature uses behavioral learning to identify your preferences, based on your interactions and activity on the site, and then delivers 5 suitable matches every day. The idea behind this is that people sometimes have preferences of which they aren't even aware and may not be listed on their dating profiles.
Match also has a quiz that lets you add up to 20 questions to your profile for other members to answer. It can help with compatibility and getting to know one another.
Safety & Security
Match makes safety a priority for all of its members and promotes safe dating practices on every front, including messaging, connecting, and meeting in person. It has a full section on the site with pointers on how to stay safe while dating in the digital era.
This includes videos and tips on protecting your finances, spotting suspicious behavior, and in-person meeting safety. It also promotes the National Cybersecurity Alliance (NCSA) standards of Stop Think Connect, an initiative that is striving to make cyber security stronger and safer for everyone.
Additionally, Match has a feature called MatchPhone that lets you speak to other members directly without showing your phone number. You can also rest assured that all images are legitimate, as they are checked by Match's moderators before being published.
Match App
Like most dating sites, Match has a mobile app that makes dating on the go easier for everyone. It's available for both iOS and Android users, offers essentially the same functionality as the website, and is used by millions of people across the world.
You can browse profiles, send messages, or respond to emails from the comfort of your mobile device via Match's smooth and clean mobile interface. When you download the app, you'll also be able to get an SMS notification when activity is happening on your account. You'll even get location-based services with the app.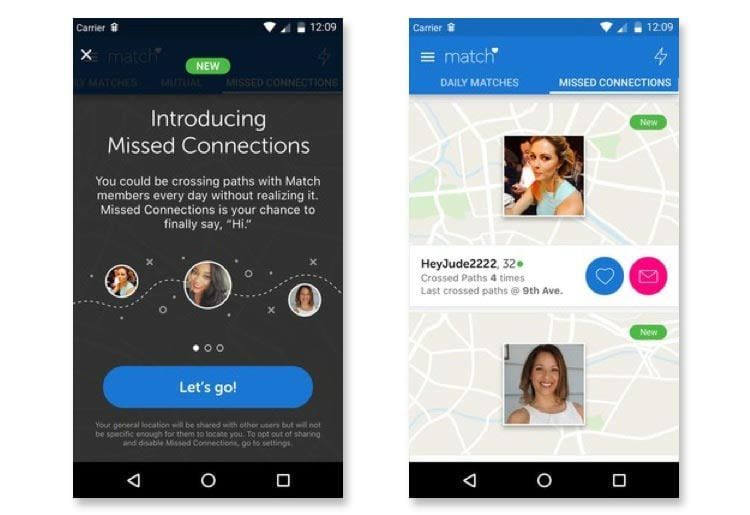 Match Love Stories
"Match nailed my perfect match on the first try and we haven't looked back since. We fell in love, got married, and had a beautiful daughter, Jayde. So if it wasn't for Match, Jayde wouldn't be here, so all of the good things she does in life will be a direct result of this site… Thanks Match!" - Joshua of Augusta, GA
"I am absolutely in love with my husband, who I met in March, 2010. After talking for two weeks we met, moved in about a month later, and started a family shortly after. We are expecting our fourth child together and have been married for almost 5 years. I am sooo happy with Match." - Kayla of Moorhead, MN
Match Customer Service
Match has a customer support team that you can get in touch with via an online contact form. Support hours are Monday-Friday, 8am-5pm CST. It also has an extensive help center with loads of FAQs and a number of searchable categories. However, in-depth tutorials and how-to guides are lacking.
On the downside, all Match subscriptions are non-refundable. This is the case even if Match suspends or cancels your account, which it can do without providing you with any reason or justification.
How to Cancel or Pause a Match Subscription
To cancel your Match subscription, you will need to turn off auto-renewal. You will retain access to your premium account until your current term expires, and then you will be downgraded to a free account.
The good thing is that you can re-activate your premium account at any time. You can also hide or permanently delete your profile by following the instructions in the Match help center.
How Match Compares to Other Dating Sites and Apps
Finding a serious partner
Long-term relationship seekers
Match vs Zoosk
Match and Zoosk are two similar platforms focusing on connecting singles of all ages and walks of life. Both offer a suite of digital tools to help you interact with matches and make new connections, and are similarly priced. If you're looking for a serious relationship, Match and Zoosk are both worth considering.
Match vs EliteSingles
EliteSingles is an interesting dating platform that places a strong emphasis on people's intelligence. It's sold as the perfect option for sapiosexuals and lonely professionals, and we'd have to agree. While Match is excellent for everyday online dating, EliteSingles is worth considering if you're looking for something different.
Match vs eharmony
While Match's signup process is super easy and the platform offers features that genuinely make it easy to find a suitable match, eharmony also boasts a number of excellent features. It offers various options to find a compatible partner with ease, such as answering the fun questionnaire and browsing local singles. With both platforms offering what most serious-relationship seekers are really looking for, they are both winners in my book.
Does Match Work?
As one of the best places to find love online, Match proudly boasts more dates, relationships, and marriages than any other dating site. You can start meeting new people with a free account. For someone like me who's looking for something less serious at the moment, I prefer a more casual app.
But if, or when, the time comes that I'm ready for a long-term partner, I'll definitely consider hopping back on this app because I can tell it's extremely effective for those who want a serious relationship.