It's just a fact of life these days—there is a wealth of information, personal and private, about each and every one of us readily available online, and it only takes a second to look it up.
As dating apps and sites become increasingly popular, more and more people are falling in love with people they meet online, and the majority of these connections— about 75 percent—are between two people who had no prior connection before they met online.
This is an exciting time to be dating, as the options for a potential match are seemingly endless. With that excitement, though, comes a responsibility to make sure that the people you let into your life don't pose a risk. In the age of the Tinder Swindler, you can't be too careful about dating scams.
And while Google is just about everybody's go-to source of information, it doesn't provide nearly as much information—as quickly—as you can get with an online background check company. We've put together a list of some of the top companies and how they work, so you can find the one you want watching your back.
Our Top Picks for Background Checks for Dating: Which Is Best For Your Needs?
TruthFinder - Best for searching the deep web for different types of info
BeenVerified - Best for social media information
CheckPeople - Best for simple and easy-to-read report
Instant CheckMate - Best for customizing your reports
iD True - Best for quick results
Intelius - Best for flexible background check reports
Persopo - Best for unlimited database searches
SearchQuarry - Best for one-off background checks
PeopleWhiz - Best for highly confidential background checks
Spokeo - Affordably priced background checks
Here Are Our Best Background Checks for Dating:
1. TruthFinder
We all take to the internet for answers, but what if we told you there was a whole other online world full of answers? TruthFinder's main selling point is that it looks for information across the so-called "deep web," scouring in the online depths where a simple Google search won't find any daylight. This means that with TruthFinder you can potentially find more information before the first date than you could with other sites.
On Truthfinder you can get background searches, criminal records, and social network searches, as well as find out a wealth of other information, including if someone has any known aliases, bankruptcies, tax liens, and more.
Why it's good for dating:
Searches the "deep web" for information
Aggregates social media information
Helpful blog with tips about online safety
Get the most thorough background check on your next date with TruthFinder now

Visit Site
2. BeenVerified
BeenVerified is a people search tool used in the MTV television series Catfish: The TV Show. An initial search on BeenVerified takes several minutes to perform before you are asked to pay for the service.
If you click the back button in your browser or attempt to leave the site, you are presented with increasingly better offers on the service. First, you will be offered 25% off the monthly membership pricing, but if you attempt to leave the site again, you'll be offered a $1 trial for seven days.
During this seven-day trial membership, you can run up to 100 reports. After the seven days expire, you'll be billed $26.89 per month plus tax if you don't cancel the service.
Background reports can include details on age, location, relatives, phone numbers, emails, and criminal records. They can also include photos and links to social media, making BeenVerified a reasonably good choice for dating searches.
Why it's good for dating:
Seven-day trial membership

100 reports for $1

Searches a wide range of databases
Perform 100 background checks with a $1 BeenVerified trial membership.

Visit Site
3. CheckPeople
CheckPeople keeps things simple for users, offering comprehensive background checks that are provided in a single, easy-to-read report. The company makes use of "deep web" searches that can dig up significantly more than you could find on your own in a simple Google search.
With CheckPeople you have access to records compiled through the company's access to billions of public records, ranging from court documents to marriage certificates, arrest records, and more. It can also dig up long-lost websites, blog posts, and social media accounts, and if you ever have any problems navigating the site, you can count on 24/7 online customer service to sort you out.
Why it's good for dating:
Everything laid-out in a single, comprehensive report
Deep web searches
24/7 online help
Get started easily with CheckPeople and get 24/7 online help

Visit Site
4. Instant CheckMate
Sometimes you'd like to know a little more about somebody that you're planning on getting a cup of coffee with, but you don't want to take a deep dive down some personal rabbit hole to get there. With Instant Checkmate you get to carry out unlimited searches and pick from either a standard report or premium reports, depending on how much you want to know.
A standard report will tell you about address history, related persons, arrest records, social media accounts and more, while a premium report includes things as far-reaching as civil judgments, corporate affiliations, watercraft owned, tax liens, and if the person owns an aircraft, just to name a few.
In addition, the company offers a federal inmate locator service and can draw information from sex offender databases. You can also access the site's "crimewire" blog for information about staying safe online and offline.
Why it's good for dating:
Two helpful blogs with information on relationships and also crime
Easy to follow reports that you can customize
24/7 customer service
Get an instant check or a deep dive on someone before dating them with Instant CheckMate

Visit Site
5. iD True
With iD True you can find a wide range of personal information about people including where they live and their address history, criminal records and arrest history, sex offender status, relatives and business associates, social media accounts, and more.
The company also hosts a variety of blog posts with helpful information about subjects ranging from "how to catch a cheater with a web search" to "neighborhood watch—keeping your neighborhood safe."
And while it makes use of millions of public records for its searches, iD True provides results in a flash, so it's quite handy for running a quick check on someone you just met through a friend.
Why it's good for dating:
Unlimited background checks
Helpful, resourceful blog posts
Satisfaction guarantee
iD True will give you results in a flash so you can make sure you stay safe on your next date

Visit Site
6. Intelius
Intelius is a people search solution with several options. You can perform a people search, a reverse phone lookup, a criminal records search, a background check, a public records search, and a reverse address lookup, all through the same site.
All these different report types are particularly useful in the early stages of online dating. They make it possible to find extensive records of a person, even if you only know one or two pieces of information about them.
Intelius offers quite a range of pricing options. These start with a $0.95 six-day trial that includes unlimited reports. Monthly and bi-monthly memberships are also available.
An additional bonus Intelius offers is an app for iOS and Android. You can use it to perform people searches on the go. You can even search known addresses to display a map of the homes of registered sex offenders and criminals in the area.
Why it's good for dating:
Several report options

Apps for both iOS and Android

Flexible pricing options
Get your powerful and flexible background check reports from Intelius.

Visit Site
7. Persopo
Persopo performs background checks and criminal background searches across a range of databases. These databases span 50 states in the United States and include federal databases and registries. You can search for a person for free to see whether any data is found before committing to purchase a full background check report.
Persopo is particularly easy to use, but when you perform a search, you must wait for around two minutes while a performative search animation completes.
Persopo allows you to keep your dating safer, as you can use its criminal background checks to scan for prior sexual offenses. I found that Persopo was better than most background search services at finding people from their name and hometown alone.
Costing you as little as $9.93 per month for unlimited searches, Persopo is available on a one-month, three-month, or six-month membership basis.
Why it's good for dating:
Thorough databases

Good customer service

Comprehensive checks
Find out everything you need to know about someone with Persopo.

Visit Site
8. SearchQuarry
SearchQuarry is a US record search service that includes data drawn from records freely available to the public. These include civil and criminal records, court records, and incarceration details.
SearchQuarry goes further than many information search providers by offering details on driving records, prior bankruptcies, and liens records. It also includes information on social media interactions, making it a useful search tool when dating.
Your SearchQuarry membership allows you to search for license plates or vehicle identification numbers (VINs). It also offers several free tools for finding county jails, state prisons, police departments, federal courts, DMVs, and county courts. All these features make SearchQuarry an all-around useful tool for amateur detectives.
SearchQuarry offers a seven-day trial for $5.05, or you can purchase a single report for a one-off fee of $14.95. Unlimited access to reports costs $35.40 for an entire year.
Why it's good for dating:
Seven-day trial

Includes extra reports like license plate searches

Several free tools
Sign up for a low-price trial membership at SearchQuarry.

Visit Site
9. PeopleWhiz
PeopleWhiz is a public records search tool that boasts of having access to over 67 billion searchable records. These include federal, state, and county records. PeopleWhiz can find judgments, criminal records, felonies, sexual offenses, and court records. It can even find traffic tickets, DUIs, and gun permits.
Besides a criminal background check, PeopleWhiz can provide details from the social media profiles of the person you search for. This can be useful for getting a better picture of a person you're considering dating after meeting them through an online dating app.
PeopleWhiz's initial search takes several minutes to complete. A subscription costs $27.99 per month, though you can get a discount of nearly 50% if you purchase a six-month subscription up front.
All searches on PeopleWhiz are completely confidential. Customer service representatives are available 24/7 via phone or email, and canceling the service can be performed over the phone or by email.
Why it's good for dating:
Highly confidential

24/7 customer support

Transparent pricing
Screen a potential date safely and in privacy with PeopleWhiz.

Visit Site
10. Spokeo
You can use Spokeo to search billions of records for details of anyone in the US. Even if you only know the person's first and last name, you should be able to find them on the Spokeo website.
The free listing shows you where the person lives, where they have lived in the past, and the names of their close relatives, so you can be sure you've found the right person. The free report also lists whether Spokeo has details of the addresses, phone numbers, and email addresses of the person before you pay for a report.
Reports include details on social media profiles and often include photos and videos, making them excellent for investigating someone you're considering dating. Spokeo searches through 620 million court records to expose anyone with a hidden past.
Beyond this, Spokeo reports may contain personal details such as previous marriages, employment history, and information related to income and investments.
Spokeo starts at just $0.95 for a seven-day trial membership. If you continue to use the service after seven days, you'll be billed $24.95 per month. Spokeo makes it easy to cancel your membership online during the seven-day trial period.
Why it's good for dating:
Affordable pricing

Includes lots of details relevant to dating

Easy to cancel the trial
Make use of Spokeo's comprehensive social media reporting with a low-price membership.

Visit Site
Do Any Dating Sites Do Background Checks?
Finding a partner through online dating sites is fun and effective. However, with limited information available on a dating profile, it makes sense to check for dating red flags with a background check service.
A few dating sites offer background checks as part of the service. For instance, Match Group, the company behind popular dating sites Tinder, OkCupid, and Match, began partnering with background check service Garbo in 2021. This partnership allows you to run a background check on an individual, checking their criminal history for domestic abuse and gender-based violence.
However, most dating sites don't automatically perform a criminal background check. Zoosk, for example, states that users must have no sexual criminal offenses on their records when they sign up, but it doesn't conduct any form of background check or attempt to verify the information users post.
Therefore, running a background check yourself using one of the background check services listed above is highly recommended.
How Do Background Checks Work With Online Dating?
Online dating background checks should be considered before you meet anyone in person.
Often, dating websites don't publish many personal details about individuals. If they allowed people to include their social media profile or phone number, this would allow direct contact between users to be possible.
Background check services usually don't need a lot of information about a person to find them in the thousands of databases they monitor. A full name, a phone number, and a date of birth are usually enough to find a wealth of information about a person. Sometimes, even less information is needed.
From there, you can use the background check service's search engine to find the person and perform an online dating check. Depending on the service, this will show you their social media accounts, criminal and financial background, and a wealth of other personal details.
With your background check report in hand, you can use it to perform further investigation yourself, such as verifying if the person is really who they say they are and checking on the posts they make on social media.
Tips for Staying Safe on a First Date
Make sure to tell someone you trust
Before you head out to meet somebody new, make sure to tell someone—a friend, roommate, sibling, you get the idea—about your plans for that night and when you expect to be home. You can even arrange for that person to text or call you at a specific time, just to make sure all is ok.
Don't leave your drink unattended
If you're sitting with someone you don't know well—or just at a bar at all—never leave your drink unattended. If you have to go to the bathroom, take your drink, phone, and purse with you, just to be on the safe side. Also, and this isn't quite the same thing, but it's a good idea not to drink too much on your first date. You're meeting someone for the first time and it's best to have full control of your senses.
Don't meet at home or at your work
Sure, you've hit it off with this person, but until you know them a little better, it'd be better not to have them know where you live or where you work. Suggest a neutral location like a cafe or restaurant.
How to Stay Safe on Dating Sites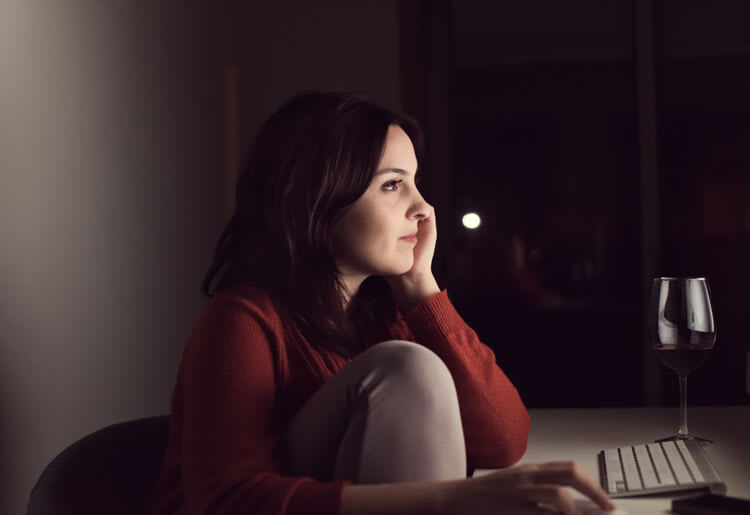 Be a bit apprehensive
If someone on a dating site comes on too strong or sounds too good to be true, you'd be well-advised to proceed slowly. If the person asks for money or a favor, or anything that may seem to be a scam, trust your gut and walk away.
Don't reveal personal information
Dating sites make a big point of letting you build a profile that really reflects your personality, and we agree you should do so—to a certain extent. Don't put anything that could give away where you live or your email, or too much about yourself or your family. You can save that for when you get to know the person a little bit.
Look them up
If you have the person's real name, you should take a few minutes at least to look them up online and see what you can find. You can see if their profile pic is real (try a Google images reverse images search), if they have any skeletons in the closet, if they are named in news reports about unsavory things, and if they've written anything troubling online that you'd rather avoid.
Find Love—but Also Stay Safe
Dating today is a far cry from what you may remember from your high school days. There is a world of apps and websites that can help you link up with countless strangers who in the past you probably never would have met. With great options though, also comes great responsibility.
The good news is that since we are so connected today, it's easier than ever to find information online that you can use to your advantage. A simple Google search can only go so far though. If you'd really like to go deep, you should consider signing up for a background search company, which can provide you all types of insight to keep you safe while you look for love.