In a Nutshell
OkCupid is a good option for singles who want accurate matches, mostly for free. Its algorithm suggests highly compatible matches based on a personality questionnaire, and useful features like Cupid's Picks will give you daily recommendations. This inclusive site has over 50 million users worldwide of various gender identities and sexual orientations, many of whom are looking for more than just quick hookups.
pros
Inclusive range of gender identities and sexual orientations
Most of the platform is free to use
Uses extensive profile questions to find best matches
cons
A lot of ads when you use the platform for free
No video chat option

OkCupid.com Visit Site
OkCupid at a Glance
Best For
Compatible personality matchmaking
Number of Members
50,000,000
Favorite Features
Daily Cupid's picks

"Boost Me" option to get you shown to more people

"Recommended just for you" feature with a matching percentage
Video Chat
No
How Much Does OkCupid Cost?
Like other popular dating sites, OkCupid is free to sign up for. OkCupid also offers two paid membership levels, which are available in three durations. The basic plan comes in at $44.99 for one month, $23.33 for three months, and $14.99 for six months. The premium plan costs $54.99 for one month, $28.33 for three months, and $22.49 for six months.
OkCupid's membership options and prices are very competitive. Compared to Match.com, OkCupid's basic and premium 3-month memberships are, on average, more than $10 cheaper.
What Can You Do with OkCupid for Free?
OkCupid's free version lets you like a limited number of profiles every day, but you won't be able to see who has liked you. You can, however, see who has SuperLiked you in a separate stack, and you'll be allowed to use one SuperLike per week yourself.
As a free member, you can also send and receive Intros. These are a way of piquing someone's attention by introducing them to your profile. Once likes have been exchanged, it becomes a message thread. However, as a free user, you may only view one Intro at a time.
You will also receive a daily selection of algorithm-generated matches called Cupid's Picks, and will be able to view profiles and find out how closely you match them. In addition, the Match% feature displays your top percentage matches.
You'll be able to browse suggested matches who have recently been online or are in your local area, and use the Passport option to connect with users overseas.
Using OkCupid's Questions feature, you can browse over 5,000 questions to identify people who are interested in the same topics you are. You'll also be able to signal your support for reproductive rights by adding a Pro-choice badge to your profile.
While free members are restricted to one Intro at a time, it is still possible to find a date, and OkCupid claims that the SuperLike function enhances your chances of connecting fourfold.
Premium Features and Upgrades on OkCupid
With the OkCupid basic plan, you can send unlimited likes and filter out matches that aren't exactly what you're looking for. It also enables you to read all Intros sent by other users at once, rather than one at a time. Ads are also removed from the basic plan.
OkCupid premium subscribers receive all of the benefits provided to basic members, plus a few extras, including access to a comprehensive list of people who like you, and three free SuperLikes per week, rather than just one. You may also see how your matches have responded to their public questions, even if you haven't yet answered them.
The premium plan also has a "Boost Me" option, which allows you to purchase one, five, or ten profile boosts for $8.99, $7.79, and $6.49, respectively. This makes your account a top profile for 30 minutes. You might also want to try "Superboost," which provides a prolonged boost of three, six, or twelve hours, for $39.99, $59.99, or $89.99.
Incognito mode allows you to maintain an active OkCupid profile while remaining fully invisible to anyone on the site who you have not already messaged or liked. This costs $9.99 for six months, $14.99 for three months, and $19.99 for one month.
Other optional features include New People and Popular. For $1.99 for seven days, you may see who is new to OkCupid, and for the same amount, you can see and connect with some of OkCupid's most popular users.
How OkCupid Works
OkCupid is all about helping people find meaningful connections with others, no matter where they are in the world. As the first dating app to offer 22 gender and 13 orientation options, it is a highly inclusive platform.
How to Sign Up for OkCupid
It's easy to sign up. Click on "Join OkCupid," and you'll be asked to enter your email address and pick a password before setting up your profile.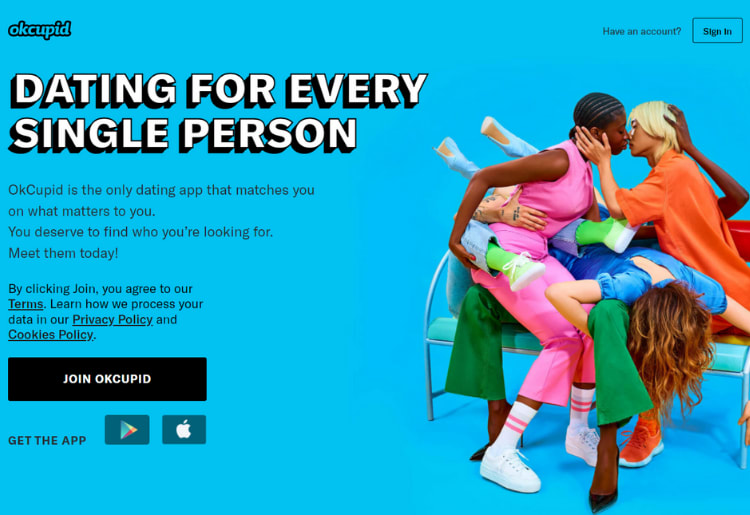 Setting Up Your Profile on OkCupid
First, enter your first name, date of birth, and location. Next, you'll be asked to choose up to five answers from a list of options about your gender identity. You must also choose your ideal partner, for example, men, women, agender, transgender, or open to anyone.
Then, you choose the type of relationship you want, which could be anything from making new friends to hooking up. There's also the option to choose the level of monogamy you prefer. Next, you'll pick your preferred age range.
You'll then be asked to upload up to six photos from your computer, Facebook, or Instagram, and to write a one-paragraph summary of yourself.
Following that, you'll take a 15-question personality test. Topics include your favorite romantic activity, how intense or carefree you are, and what you think about politics.
Next, you must verify your phone number, as you'll need to receive SMS messages to use OkCupid's platform. Once you enter your verification code, you're all set to start using the platform and connecting with people.
How to Find Matches on OkCupid
OkCupid's algorithm performs the legwork for you by suggesting potential partners based on your responses to the 15-question personality test. It displays these on the homepage as percentage-based matches.
Via the Discover tab, you can search using filters such as Recommended, SuperLikes, Cupid's Picks, Match%, Pro-choice users, Passport, New People, Online, Popular, and Nearby. Your search results will be displayed in a carousel, allowing you to cycle through your matches' profiles accompanied by their compatibility percentage.
To communicate with your matches, click on the Intro button on their photograph. This allows you to leave a comment, as well as introduce them to your profile. When the person likes you back, you can begin sending text messages to them. These appear under the Messages tab. You can also pass on any match.
Safety & Security
OkCupid provides detailed advice on its website to ensure a safe user experience. To ensure profiles are genuine, email addresses and phone numbers are used to verify accounts, and you must enter a new code when signing in from a new device. Photos, however, are not verified.
OkCupid also tracks your account activity, device usage, and location (including IP address), in order to manage your account, connect you with others, and ensure compliance with the law. OkCupid monitors your profile and your communications with other users, to ensure that community standards are adhered to. The company also recommends reporting any profiles, messages, or photos that violate its terms of service.
OkCupid App
The OkCupid app is available for iOS and Android devices and has all the same features as the website version. However, the user experience is better because you can access its functions through quick and easy one-handed swiping—swipe right if you're interested, and left if you're not.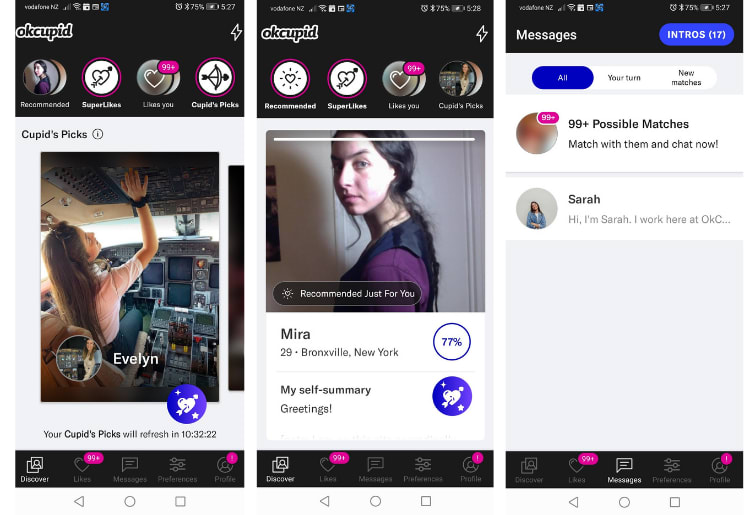 OkCupid Customer Service
OkCupid does not provide phone support. You can contact Customer Services at any time by filling out a form on their support page, but the team doesn't work on weekends or holidays.
Alternatively, you can browse a selection of carefully written help pages. These include categories such as Messaging and Communication, Troubleshooting, and Rules and Reporting. You can also visit the OkCupid blog for further reading and resources.
Customer Services do not provide refunds, and you will instead be directed to your account settings to make any desired changes to your subscription.
How to Cancel or Pause an OkCupid Subscription
You can cancel your OkCupid subscription at any time without contacting support. On your account's Settings page, click on the Subscriptions tab. Next, click on the link, "Turn off automatic billing." Because OkCupid does not issue refunds, your subscription will continue until the end of the current paying cycle, at which point your membership will be downgraded to free.
If you paid through Google Play or iTunes, you must cancel through those apps instead.
To disable or delete your account completely, go to Settings and click the link at the bottom of the My Account page. The system will ask you for your reasons before prompting you to confirm by entering your login password.
How OkCupid Compares to Other Dating Sites and Apps
Dating/serious relationships
No. of members (worldwide)
$14.99/month for 6 months
$12.49/month for 6 months
$21.99/month for 6 months
$69.90/month for 6 months
OkCupid vs Zoosk
Both sites have a large and engaged membership and are suitable for both casual dating and serious long-term relationships. Both also offer free memberships to help users find matches as soon as possible. OkCupid is slightly more expensive than Zoosk, but Zoosk's free version has fewer free core features than OkCupid.
OkCupid vs Match
Both OkCupid and Match have a wide user base. However, OkCupid is better for people above the age of 20, whilst Match is better for those aged 35-50. OkCupid is less expensive than Match, but it allows you to message people who have liked you back as a free member, whereas with Match you can only contact other members if you pay.
OkCupid vs eHarmony
OkCupid and eHarmony both use personality compatibility questions or quizzes in their signup processes. They have a similarly large number of users, but eHarmony's free services are far more limited than OkCupid's. Its paid version is also far more expensive than OkCupid's, and it is not as suitable for casual hookups.
Does OkCupid Work?
OkCupid is an ideal choice for singles looking for a casual or serious relationship. It's an inclusive platform where people of all gender identities and sexual orientations can meet someone compatible. It uses an algorithm to match users, and it provides good value for money with its various free and low-cost paid features.
Compared to its competitors, OkCupid offers good value for money. Furthermore, its dating blog is filled with success stories selected from the millions of matches made each week.