Intelius Visit Site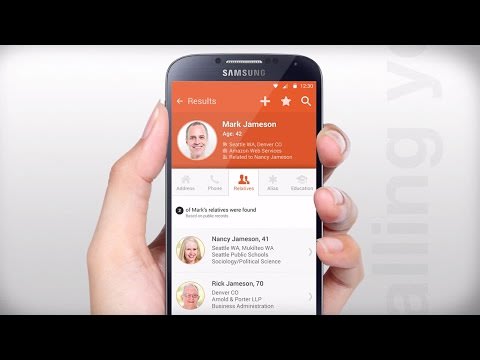 Intelius at a Glance
Intelius was founded back in 2003 by Naveen Jain, John Arnold, Ed Petersen, Kevin Marcus, Niraj Shah, and Chandan Chauhan. As one of the very first background check websites on the market, it broke new ground in people search engine technology, developing an algorithm that can quickly make connections between data and the specific person it pertains to. Over the years, the company has also amassed an impressive collection of data. Indeed, it still collects over 20 billion new records every year. Today, the company remains a market leader. Ranked amongst Inc 500's fastest growing companies in the US, its database handles a staggering 300 million requests for information every month.
Why Go With Intelius
If a high degree of flexibility and the ability to make tailored searches are important to you, there's no better choice than using Intelius.
Flexibility
Unlike some other background check websites, which can only compile one single type of report, Intelius has several different kinds of reports you can choose from. Reports range from basic people search reports and reverse phone checks to incredibly comprehensive full background checks. Choosing the right report allows you to quickly get to the information you really need, instead of having to wade through endless pages of unnecessary data you might not even understand.
Tailored Searches
Intelius has one of the largest selections of search options on the market, great if you want your report to contain a very specific data set. People search, background check, criminal check and reverse lookup are further subdivided into even more specific types of search, from criminal court records checks to social media checks and everything in between.
Reports Offered
People search

Background search

Criminal records

Social media network search

Reverse phone lookup

Reverse email lookup

Reverse property search
More Reasons to Choose Intelius
It's not just Intelius' search options that offer a high degree of flexibility, but its pricing structure too. Admittedly, the pricing can be a bit confusing to someone new to the company. Once you get to grips with it, however, you'll love how much leeway it offers.
Rather than going for a one-size-fits-all approach, one-off reports are priced differently depending on the level of detail they include. And if a one-off report just won't cut it but a monthly subscription is a bit too much, you have the option of paying for a 24-hour pass instead.
Customize Search
Intelius can turn up an incredibly broad range of valuable data on the subject of your search - from basic stats like known aliases and date of birth to criminal judgements, civil judgements and much more.
Because the service has so many different options and can compile a very wide range of reports, search results will vary. However, broadly speaking, every type of report will turn up the following basic information:
Name

Known aliases

Address history

Age and date of birth

Known phone numbers

Known relatives
What further information turns up really depends on the type of search you run. Reverse lookups will turn up the carrier's name and even the phone type (whether it's a cell or a landline), which will allow you to get in touch with the carrier and report an annoying caller. Social network lookups will turn up comprehensive information on your subject's online presence.
Of course, a full background check is the most comprehensive and all-encompassing report you can possibly obtain from Intelius. In addition to the information contained in standard reports, It will include the following:
Information about neighbors

Property records

Criminal records, including arrests and traffic violations

Sex offender information

Marriage and divorce records

Civil judgements

Bankruptcies

Tax liens
Is Intelius Legitimate?
Legitimacy questions on the web about Intelius stem from whether this site has access to records that you can't access on your own, and Intelius never claims to offer such information. It does claim to scour the web in a way that is faster, more thorough, and more organized than how a consumer might search for this information. So in this respect Intelius is completely legitimate.
In terms of FCRA compliance, Intelius is not compliant, which it states directly on its home page. And this too is not controversial, as non-compliance only means that the consumer is only able to use the service to search people and their connections to others, but not as a consumer reporting agency. As long as this is understood there should be no question as to the legitimacy of Intelius.
How Intelius Works
Intelius sets itself apart from the competition by offering one of the widest selections of search options available anywhere. The service is also incredibly easy to use, never feeling cluttered or overwhelming despite the huge number of options you can choose from.
Search Options
While some background check websites feel safer adopting a "less is more" approach, Intelius is the exact opposite. Having started operations in 2003, way before many other background check websites were even conceived, Intelius has amassed significant expertise that allows it to provide a wide array of search options without negatively affecting your user experience.
Search options are divided into 4 main categories: people search, background check, criminal records check and phone lookup. These are then further subdivided into more specific categories, which provides you with an incredible level of flexibility. While you can get an all-encompassing, comprehensive background check report, you can also choose to get a report that contains only the information you need.
People searches are the best way to reconnect with someone from your past. The option allows you to run the following types of searches:
By name
By email address
Social network search
Property records search
Criminal records searches hone in on your subject's past. You can focus your search on a particular state or even run one nationwide. Your options include a general search, public records search, criminal court search or civil court search.
Reverse lookups allow you to track down unknown callers. You can run a general search or else zone in on cell phones by running a tailored reverse cell phone search. Of course, a background check will turn up the most comprehensive report possible.
User-friendliness
While, admittedly, Intelius doesn't have the most beautiful design around, the interface is surprisingly fluid and intuitive. More to the point, it's really easy to find your way around the site, choose the right type of search to carry out and—this is especially important—to understand and digest the reports.
The different search options are well-laid out; and clicking on an option will turn up an explanation of what the search does and what information it could turn up, great for helping you decide whether it's the right one for you.
The reports are extremely easy to navigate; and the information is neatly organized so that it's easy to digest. You'll get a high-level overview at the top of the report, and even a visual address history of your subject with pins on a map. A menu on the right hand side, with available sections checked green, makes navigating your way around even easier.
Ease of Use
Intelius gathers more than 20 billion new records each year.
Unlike some other background check websites, it doesn't track your searches and notify you when updates are available. However, the database is updated on a daily basis, which means that the information in your reports should always be the most up to date currently available.
The information in Intelius' database comes from various data sets sourced from federal, state, county and local records. The system is unable to turn up information about people outside of the US. However, if someone did spend time in the US at some point - even for a short period - and there's a record of it, Intelius should be able to find at least some information for you. What's more, it can also turn up unlisted numbers, as these may still form part of public records even though they're not on the phone directory.
Help & Support
Intelius is one of the most user-friendly background check websites around. Unsurprisingly, it enjoys an A+ rating from the Better Business Bureau.
The company goes out of its way to help you out before you even run into issues by providing clear and concise explanations of every type of search it can do. This is great if you're not sure how to go about finding the information you need, as it helps you decide which type of search is best for you.
Live customer support is available 7 days a week - 5am to 6pm Mondays to Fridays and 6am to 4pm PST on weekends - via a toll free number. Alternatively, you can get in touch by email or by opening a support ticket.
The company is also very active on social media. It regularly shares interesting articles about staying safe both online and offline as well as the latest news and updates about its background checking services via Facebook and Twitter.
Intelius Pricing
Intelius offers several pricing options. The main 2 options are a monthly membership and a discounted monthly membership (so the discounted package is the way to go).

Intelius Visit Site
Bottom Line
You may not necessarily need a background check website as powerful and flexible as Intelius. If you do need as many options as possible to tailor your searches, however, Intelius is truly hard to beat.
What's more, Intelius has gone out of its way to ensure that the service as intuitive as possible to use. This combination of power and top notch user experience make Intelius one of the best background check websites out there.