In a Nutshell
Tinder edges out the competition with its many millions of users and affordable membership options. The app has stayed relevant by adding many new features—it has integrated with social media, partnered with Lyft and Garbo, introduced games, and offered safety quizzes. Tinder is fully LGBTQ+ inclusive and is particularly popular among people aged 18-44.
pros
'Explore Your Vibe' with personality-based matching
Gift a Lyft to your match
Screen profiles with Garbo
cons
Personality quizzes are very limited
Lacks advanced filter options

Tinder Visit Site
Tinder at a Glance
Best For
Casual hookups and serious relationships
Number of Members
75 million
Favorite Features
Explore matches

Swipe Night

Theme Song

Link to Instagram
Video Chat
Yes
How Much Does Tinder Cost?
Tinder offers free and upgraded memberships. Upgraded tiers comprise Plus, Gold, and Platinum levels that start at $7.99/month and peak at $29.99/month. You'll save 50% when paying for a 6-month subscription and 67% when opting for an annual subscription.
Tinder Plus is competitively priced, sitting significantly lower than the industry average. Tinder's Gold and Platinum plans each offer similar pricing to competitors.
What Can You Do with Tinder for Free?
Tinder has a user-friendly interface offering 50 free likes every 12 hours and unlimited free messages. With its simple swipe feature, you can easily swipe right to like a potential match or swipe left to reject them. Alternatively, tap the green heart to like someone or tap the red X to move on. Selecting the blue star emoji will 'super like' that person, notifying them that they are a favorite match.
Visit the Explore mode to discover profiles in the Spotlight, find a date who's Free Tonight, or make new friends with the Let's Be Friends option. You can also search for coffee dates, find matches at festivals, and even play games to unlock new matches. Tinder's free version is extensive and makes it likely that you'll find a match without paying for a membership. You can even participate in Swipe Night, a feature that allows you to play a game to meet new users.
Premium Features and Upgrades on Tinder
Tinder offers three membership upgrades: Plus, Gold, and Platinum. Plus gives you unlimited likes, unlimited rewinds, a passport for global matches, no ads, and full control of your profile. Tinder Plus starts at $7.99/month with discounts for a six- or twelve-month plan.
Tinder Gold includes all the features of Plus and lets you see who has liked your profile. Gold also comes with a free profile boost each month, five free super likes each week, and new top picks each day. The Gold subscription starts at $24.99/month.
Tinder Platinum offers all the features of Plus and Gold, with the addition of 'priority likes' to ensure people see you first. You can also message someone before matching and review all likes you've sent in the past week. The Platinum membership starts at $29.99/month.
Did you accidentally swipe left instead of right? Tinder Plus allows unlimited rewinds, which let you go back and see profiles you've rejected. You can also select the purple lightning emoji to 'Skip the Line' and boost your profile for 30 minutes. Boosts cost $7.99 each, or you can get five boosts for $7.00 each or ten boosts for $6.00 each.
How Tinder Works
While Tinder has a reputation as a hookup site, it's still good for serious relationships. It's simple to swipe through profiles, and with a reported 75 million users, there are plenty of potential matches out there.
How to Sign Up for Tinder
Signing up for Tinder is easy! On the home page, choose Create Account.
You'll have the option of signing up with Google, Facebook, or your phone number. You'll need to verify your phone number during the setup process even if you choose another method to create your account.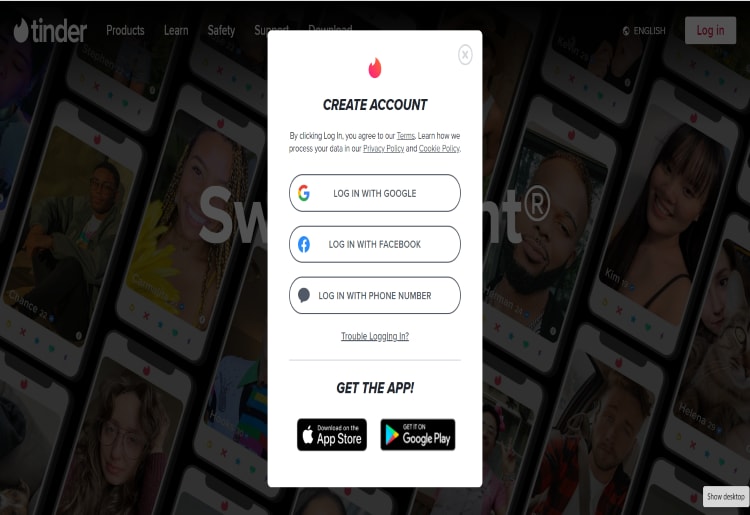 Signing up in the app is just as simple. Just download the Tinder app, tap Create Account, then enter and verify your phone number. Next, enter your email address and connect to Facebook or Apple (for iOS) for an easier sign-in experience. You're now ready to set up your profile.
Setting Up Your Profile on Tinder
During setup, you'll add between one and nine photos to your profile. You can upload photos from your computer or phone, take a picture with your camera, or upload a video (in select markets) using your computer, Facebook, or Instagram. Activate the Smart Photo option and Tinder will set your best photo first, based on which photo has received the most likes.
Your profile will include key information such as gender and sexual orientation. Enter up to 500 characters in the About Me section to show some character. You can also include up to five passions, your Zodiac sign, if you have pets, and whether you smoke. For a bit more personality, add your job title, company, school, and location.
For a more social connection, you can display Swipe Night decisions in your profile, and even link to your Instagram and Spotify accounts. With Tinder paid membership, you also have the option to conceal your age and distance from others.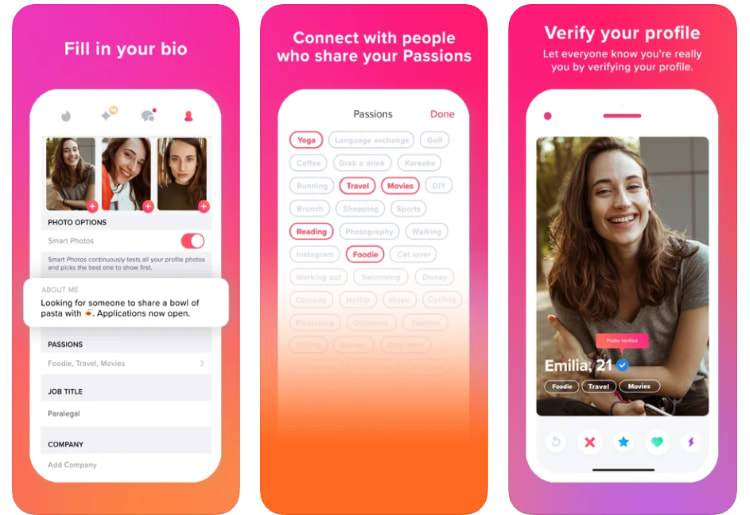 Once your profile is all set up, you're ready to start swiping for matches.
How to Find Matches on Tinder
Tinder's matching process is easy. Set your distance and age preferences under your profile Settings, then start swiping. You can't filter results, but you can opt into a Global search, block people in your phone contacts, display your vaccination status, and more. Once your preferences are set, you can start swiping through potential matches by tapping the Tinder flame logo.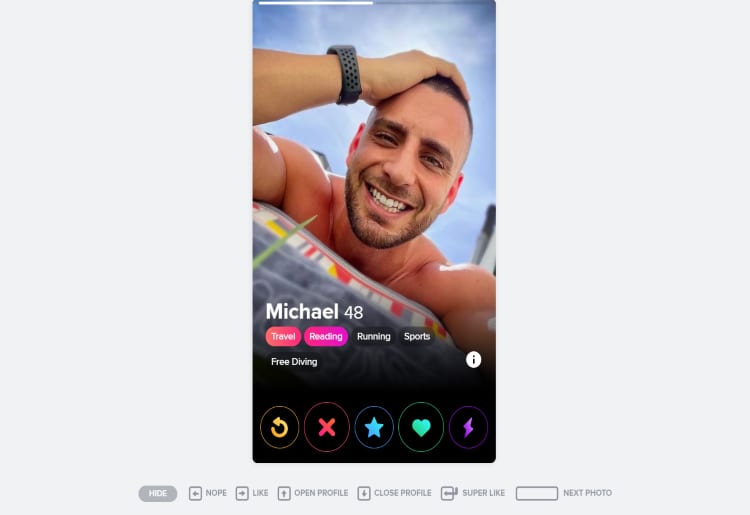 Your algorithm-provided matches will display here. From left to right, options include rewind (for paid members), X to reject, star to super like, heart to like, and lightning to boost your profile. Click on any profile to view more details on that individual. If you like someone and they like you too, Tinder will send each of you a notification of the match.
Another way to find matches is to visit the Explore tab. Find potential dates at festivals or search for a vibe. Vibes include Looking for Love, top profiles in the Spotlight, Let's Be Friends, Coffee Date, and Free Tonight. To connect with ease, you can gift your match a Lyft ride through the app. You'll even receive a refund for any unused rides.
To communicate with your matches, use the dialogue symbol to select a profile and send them a message. If a match is online, you can chat to them instantly or even set up a video call. If they're offline, they'll see your message when they're next active on Tinder.
Safety & Security
Tinder's Safety Center, represented by a shield in the app, addresses your primary safety and security concerns. You'll learn which behaviors need to be reported, how to report them, and what happens after a report. There are also instructions for reporting harassment, when it's acceptable to ghost someone for your safety, and how to be safe in real life (IRL).
Some of Tinder's best safety features take the form of quizzes. For example, the Online Dating Safety Quiz, the Tinder Community Guidelines Quiz, and the IRL Safety 101 Quiz are available to test your safe dating knowledge. For further information, it's also worth reviewing Consent 101 and the Do's and Don'ts of dating to double check your dating acumen.
Tinder's partnership with Garbo offers background checks for users. The Noonlight feature ensures someone knows who you're meeting and where. Photo verification is available, and there are clear instructions for customizing privacy settings. The Resources tab also includes crisis text lines and hotlines for a variety of safety concerns.
Tinder's Privacy Policy states that information collected is used only to provide the dating service. Information is retained for 10 years for legal and tax purposes. By visiting the Privacy Policy at any time, you can request a copy of your records or ask for them to be deleted.
Tinder App
The Tinder app is easy to use and offers all the features of the website. It's available on both iOS and Android. The app has a much more user-friendly interface than the website. Instead of clicking on matches, the app will allow you to swipe left and right as you review matches.
You could even consider the Tinder app too easy to use. One common error users report is accidentally 'super liking' when they simply meant to swipe left or right. While you may want to take care with the touch screen, you'll likely still find the app easy to navigate and intuitive to use.
The app also has a location tracking feature to help you match with users while you travel, allowing you to date on-the-go. If you're open to meeting people outside of your home area, this could be a convenient way to expand your potential matches.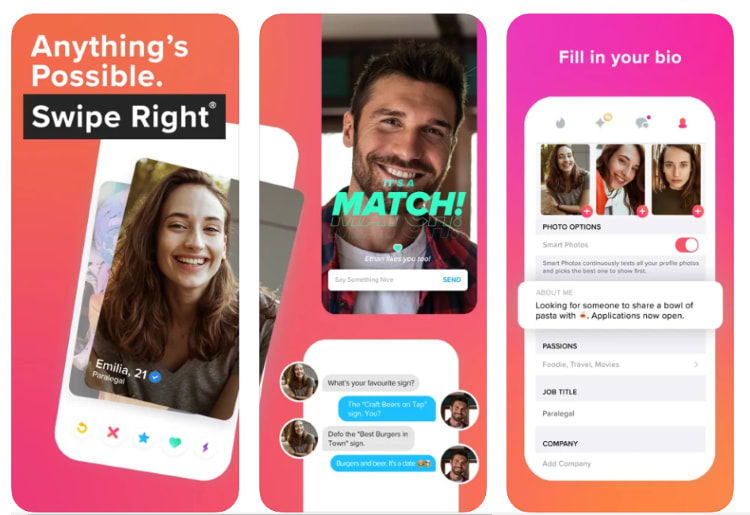 Tinder Customer Service
You can find Tinder Customer Service by clicking the shield symbol at the top right of the app's home page, then Safety Tips, then Contact Us. Phone contact and online chat options are not available, but you can send Tinder an email or fax at 214-853-4309. Sending an email will result in a reply within one business day, though Tinder does not specify an average response time or hours of operation.
The refund policy is that all purchases are non-refundable except on a case-by-case basis within 14 days of purchase. Visit the Safety Tips online or the Safety Center on the app for more information about dating online or in real life.
How to Cancel or Pause a Tinder Subscription
To pause your activity on Tinder, visit your Settings and switch off the option Show Me on Tinder. This will hide your profile from others for as long as you need. To delete your profile, go to Settings and select Delete My Account. You can cancel subscriptions online or through the app, though you must cancel app purchases through Apple or Google Play.
How Tinder Compares to Other Dating Sites and Apps
Tinder's competitors include Zoosk, Match, and eHarmony. Let's see how they measure up.
Casual or serious relationships
Casual or serious relationships
Casual or serious relationships
Casual or serious relationships
Tinder vs Zoosk
While Zoosk is pricier than Tinder, it does offer additional features to justify this. Zoosk has The Carousel, which is a quick way to swipe yes or no on matches. The SmartPick settings help to track your choices and customize your matches. Each feature offers more ways for dates to connect online and in real life.
Tinder vs Match
Tinder and Match have both been around for years, but Tinder's 75 million users outstrips the 21.5 million of Match. You can have 26 photos on Match versus Tinder's nine, plus Match has more settings to narrow your search. When comparing the two, Tinder is more affordable, but Match offers more benefits.
Tinder vs eHarmony
Tinder may be the winner when it comes to a standoff with eHarmony. eHarmony has compatibility scoring to help narrow matches, but Tinder has more users, an engaging interface, and far lower monthly pricing.
Does Tinder Work?
Don't rule out Tinder just because of its hookup reputation. You'll still find dates from swiping with millions of members. You can even skip the monthly fee and enjoy many benefits of a free account.
The app could use personality profiles to help it shake the hookup reputation and widen its appeal to those seeking long-term love. However, Tinder is easily one of the most LGBTQ+ inclusive dating options and it remains a competitive choice for online dating.