You can find out a surprising amount about a person from their 10-digit phone number. At its most basic level, a reverse phone lookup can quickly reveal the identity of a scam or spam caller who's been harassing you. Going deeper, a phone number search is an effective way of running a background check on a potential business partner or employee.
Breaking Down our Top 10 Best Reverse Phone Lookup Choices : Which is Best for Your Needs:
CheckPeople: Best for unlimited phone number searches
Spokeo: Best for affordability
BeenVerified: Best single report
TruthFinder: Reverse phone lookups on mobile
Instant CheckMate: Best for big batch searches
Intelius: Social network results
PeopleFinders: Secure searching
US Search: Diverse reporting
White Pages: Best for easy access
Truecaller: Best free service
How Reverse Phone Lookup Sites Works
Doing reverse phone numbers lookup is quicker and easier than you might expect. You just type in a phone number (landline or mobile) and wait a few seconds for information about the owner to pop up on your screen.
We tried some of the best reverse phone lookup services, assessing the breadth and depth of their records and reports, reputation, and price. Take a look at our recommendations below:
1. CheckPeople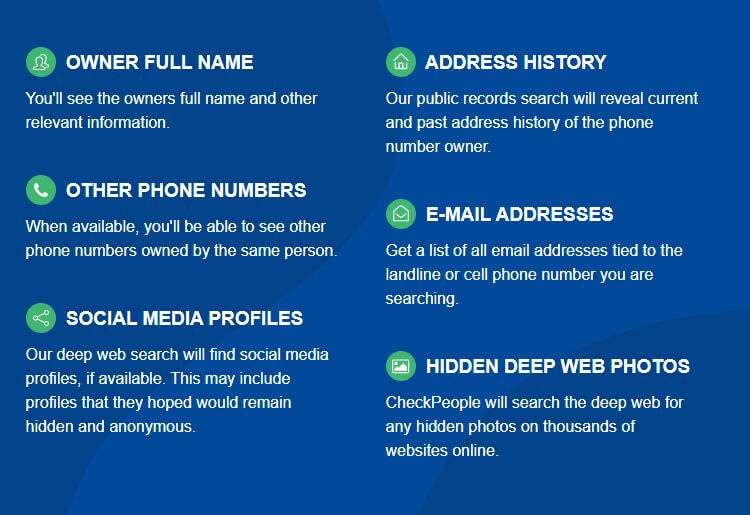 Pros:
Unlimited checks per month
Both text and images can be searched
Single, easy-to-read report
Cons:
Unclear security measures
No 24/7 support chat
CheckPeople quickly conducts deep web searches on a wide range of public records, including phone book listings, marriage and divorce records, criminal records, sexual offender databases. CheckPeople also searches for hidden social media accounts, websites, and online posts that you may have assumed were lost in cyberspace. All of this information is presented in one thorough report. With the low monthly charge you'll receive limitless searches that simply require the person's name, followed by a quick scroll through the returned results.
Anyone can search; all that is required to read the report is registration. When it comes to reverse phone lookup, CheckPeople uses their technology to help you uncover the names behind cell phone numbers and landlines and what are the social media accounts connected to them.
Reports offered: Background checks, instant "deep web" search, reverse phone lookup, social media search
Pricing: From $17.16/month
Smartphone apps: No
CheckPeople scans public records and the deep web to help you uncover harassing spam calls.

Visit Site
2. Spokeo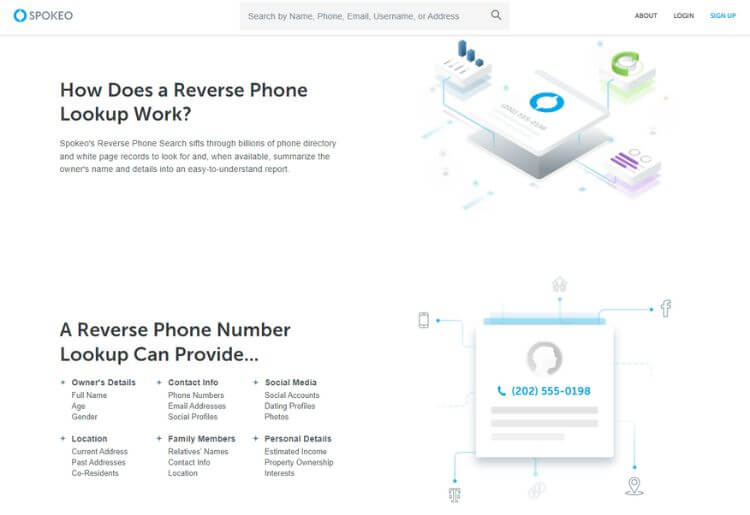 Pros:
Free reverse phone number lookup
Helpful advanced filtering tools
Notifies you of any profile changes
Cons:
Only scans in the USA
Possibly auto-bills after free trial
Spokeo is one of the cheapest reverse phone search platforms around. You can try it for 7 days at the astoundingly cheap price of $0.95. It's a quick service and the membership charge is just as reasonable as the trial. When it comes to search results, no matter which subscription you choose, Spokeo will provide you with the same amount of capability and customization. Basic information including name, address, city and state, phone number, age, marital status and education level will be found in all reports.
A reverse phone lookup is your best bet if you want to learn more about an unknown number. It should yield information on the individual behind the number, if the line is a mobile one, landline, or VoIP, as well as information about the network carrier. You can even search through directories with just zip codes. Spokeo also collects feedback from other people on numbers so you can figure out the trustworthiness of a caller from the comments.
Reports offered: People search, background search, criminal records, reverse phone lookup, reverse email search, social media search
Pricing: Starts at $17.95/month
Smartphone apps: Yes, Android
Spokeo scans a vast array of public records—including phone book listings.

Visit Site
3. BeenVerified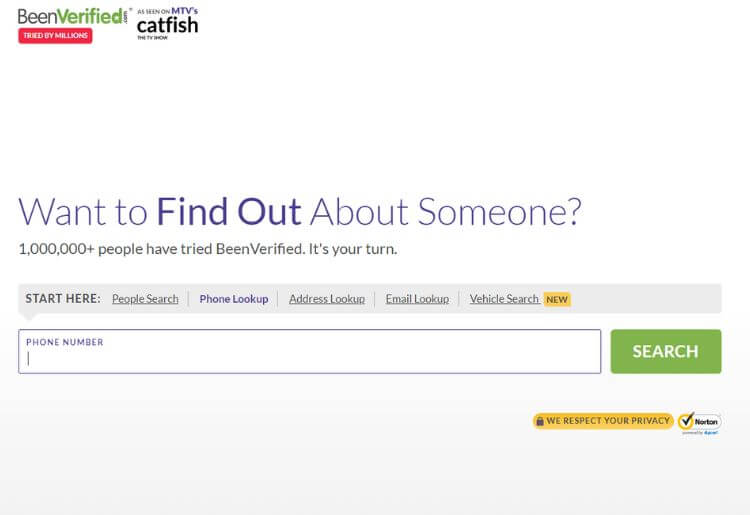 Pros:
Affordable pricing plans
Set up alerts for profile changes
Mobile app available
Cons:
Uses existing, public information
Limited hours for customer support
BeenVerified provides a multitude of services, like background checks and reverse phone lookups. You can cover all your bases with a few more features like self-monitoring and expertly monitored data services are also available from BeenVerified. Additionally, it's a terrific way to cheaply obtain public records. The service takes care of all the work so you can receive a single, thorough report about the individual you're looking for.
BeenVerified's phone lookup tool is easy to use. All you have to do is type in the number and enter your email address to register. The site scans cross-country, detecting carrier and number type to pinpoint the individual.
Reports offered: Reverse phone search, reverse email search, people search
Pricing: Starts at $14.86/mo
Smartphone apps: Yes, Android and iOS
BeenVerified offers both self-monitoring and professionally monitored identity services.

Visit Site
4. TruthFinder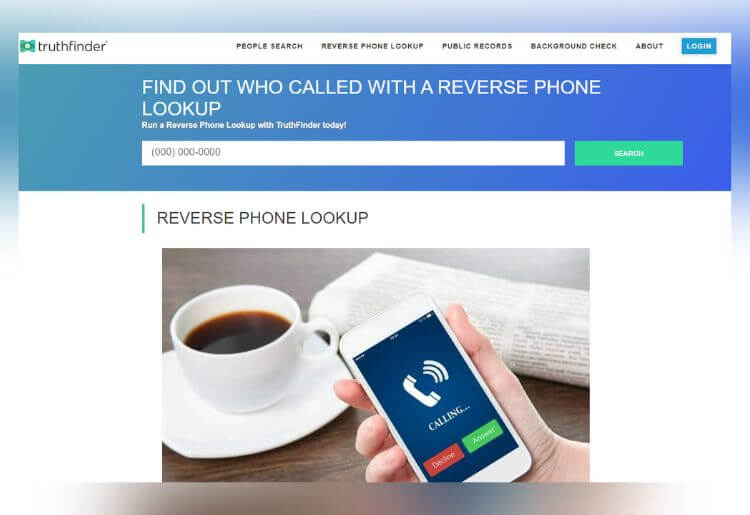 Pros:
Unlimited lookups
Mobile apps available
Quality knowledge base
Cons:
No free trial
Not FCRA compliant
TruthFinder is ideal for deep web scanning and conducting thorough social media searches. One of the cheapest background check websites available is this one. There are also no search restrictions. The search engine was created by TruthFinder's developers work to bring you the information some people might not want you to know.
Both listed and unlisted phones can be used for reverse phone lookups. The report will include information about the network provider and even the phone's current latitude and longitude, allowing you to determine the precise position of the device.
Reports offered: People search, background search, criminal records, social network search, reverse phone lookup
Pricing: Starts at $23.28/mo
Smartphone apps: Yes, Android and iOS
TruthFinder is a solid reverse phone search solution for getting the answers you need quickly.

Visit Site
5. Instant CheckMate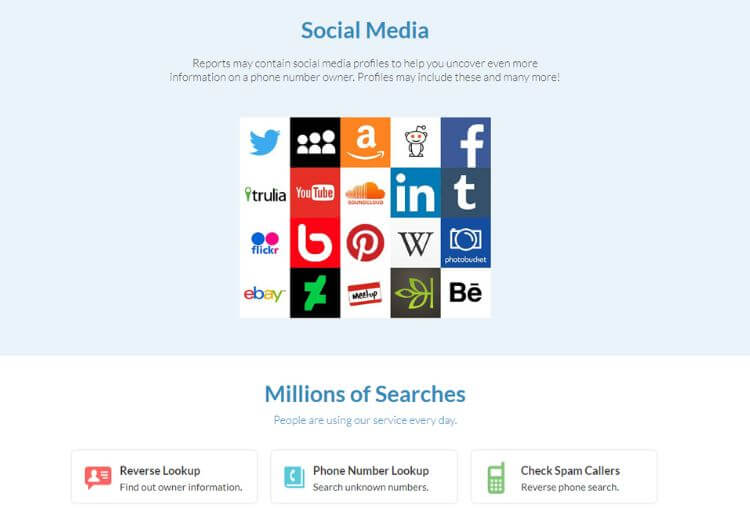 Pros:
A+ rating from BBB
Customizable reports
Databases updated every 24 hours
Cons:
Slow report generation
Limited customer care hours
One of the simplest public record searches and reverse phone lookup tools available is called Instant Checkmate. The website offers a variety of search possibilities, such as a people directory, a criminal record database, and a database of sexual offenders. It's perfect if you need to conduct a lot of searches each month.
Even though Instant Checkmate has a robust search engine, sometimes manually searching is just more convenient. Instant Checkmate offers a wide range of manual directories that you can use to find in-depth results. The service doesn't just let you find more information behind phone numbers. The company runs two informational blogs: The Luminary and Crimewire.
Reports offered: People search, background search, criminal records, reverse phone lookup, reverse email search
Pricing: Starts at $27.82/mo
Smartphone apps: Yes, Android
Instant CheckMate updates its databases every 24 hours, providing fresh information for every search.

Visit Site
6. Intelius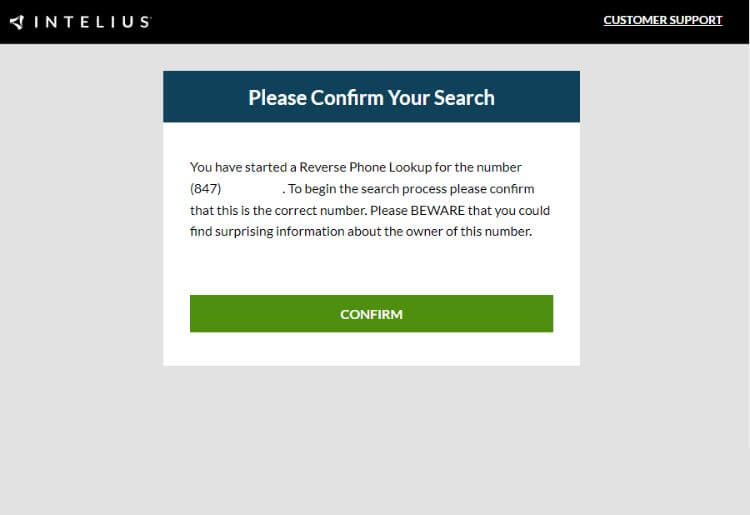 Pros:
Simple to use
Tailored searches
Many different reports offered
Cons:
On the pricier side
No free trial
Intelius is great for getting detailed background information from the whole internet. Despite its numerous functions, it never feels overwhelming or difficult to use. The search choices are properly labeled, making navigating simple and straightforward. Each search type is defined in plain terms. What additional information is discovered depends on the sort of search you conduct. Reverse lookups will reveal the carrier's name and even the types of phones (cell or landline), allowing you to contact the provider and report an irritating caller. Lookups on social networks will yield detailed information on your subject's online presence.
Reports offered: People search, background search, criminal records, social media network search, reverse phone, email and property lookup
Pricing: Starts at $39.95/mo
Smartphone apps: Yes, Android and iOS
If you're looking for a wide variety of search options, Intelius has you covered with flexible reporting.

Visit Site
7. PeopleFinders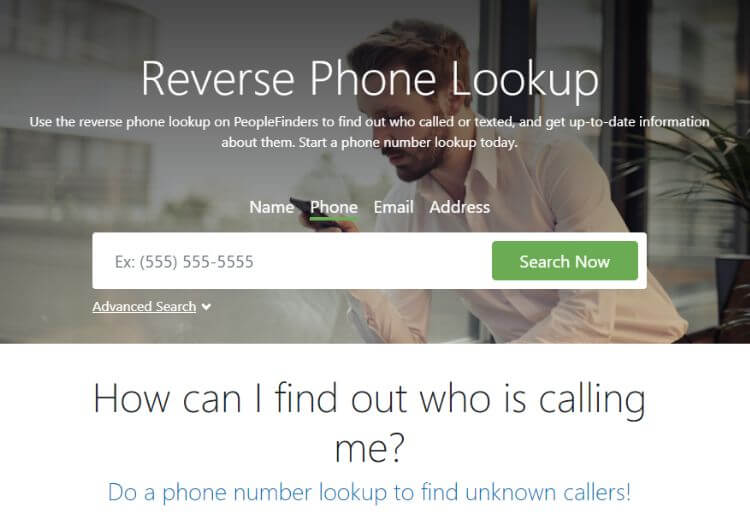 Pros:
Unique search features
Secure searching
One-time report available
Cons:
No social media search results
No free trial available
PeopleFinders provides online information obtained from a search of over 10 billion public data. They provide address history and phone number lookups in addition to background checks and simple persons searches. Phone searches include possible relatives, aliases, and past contact info. PeopleFinders' data is entirely derived from public records. Though you may use PeopleFinders to search for others, you can choose not to have your information shared for your own protection.
Reports offered: Background search, people search, criminal background search, reverse phone and email search
Pricing: Starts at $9.95/mo
Smartphone apps: Yes, Android and iOS
PeopleFinders searches through their database of over 10 billion records to uncover your caller's identity.

Visit Site
8. US Search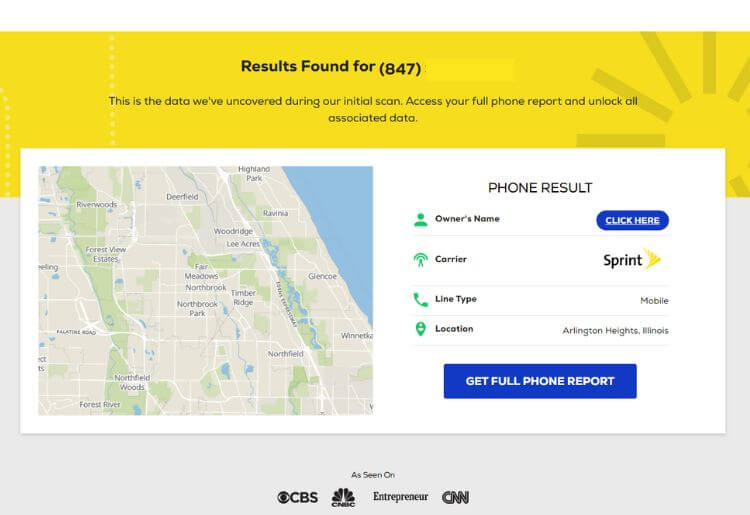 Pros:
Over 25 years in the business
Access private & public records
256-bit encrypted connection
Cons:
Slow report loading
Register to view results
US Search is exceptionally fast and simple to use for background and reverse phone searches, giving a first-rate user experience at every step of the process. The company may have the most options on the market when it comes to searches, with over 7 different types available. You can customize your reports to your needs and even refine using aliases.
Just enter the phone number to the reverse phone lookup, US Search will scan carefully chosen data points and include the most updated information possible. What makes US Search stand out is that they scan not only public records, but also obtain information from private data sources (like phone books, magazine subscriptions, marketing data, and more).
Reports offered: People search, background search, criminal records, social network search, reverse phone lookup, reverse email lookup, reverse property search
Pricing: Starts at $14.95/mo
Smartphone apps: No
US Search provides a solid money-back guarantee for all their services.

Visit Site
9. Whitepages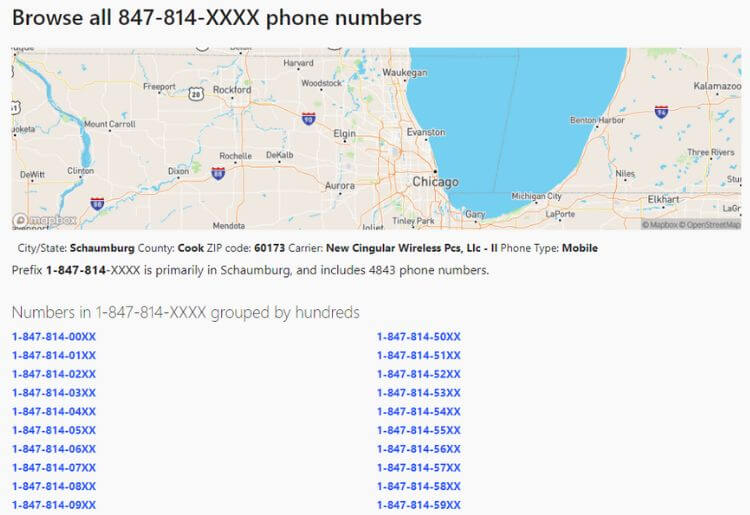 Pros:
FCRA-compliant background reports
Free reverse phone lookup
Money-back guarantee
Cons:
Expensive one-time report download
Only available in the US
Whitepages is known for providing a simple phone book for many. What many don't know is that you can use Whitepages' free reverse phone lookup tool to instantly find out who phoned you by entering a phone number. Discover the phone owner's full name, address, and other information. No sign up's needed to get simple results back on the profile you're looking for.
Your search results will differ based on the type of phone you're looking up (cell phones, home, or business). Landlines usually have more information available in free public records. You'll need to sign up for paid services like Whitepages Premium to access more difficult-to-reach data like mobile users.
Reports offered: Reverse phone search, reverse lookup businesses, background check, tenant screening
Pricing: Starts at $4.99/mo
Smartphone apps: Yes, Android and iOS
10. Truecaller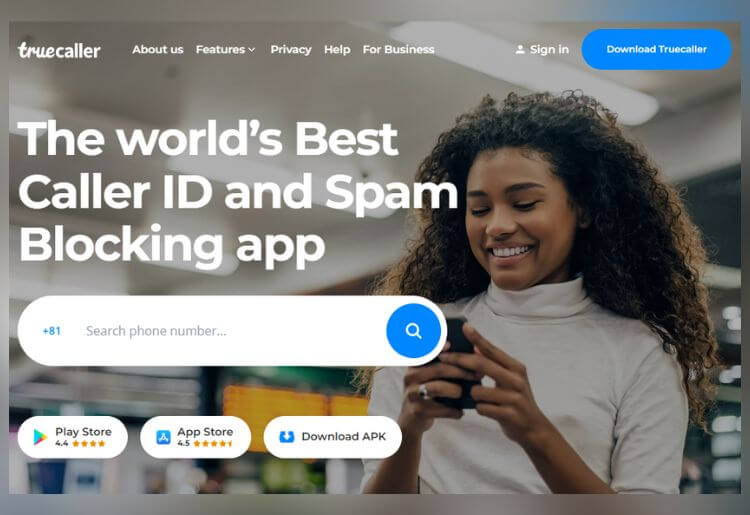 Pros:
Premium features available
Effortless service
Spam blocking available
Cons:
No other searches available
Possible privacy issues
Truecaller is one of the most used reverse phone lookup services out there, with over 320 million people worldwide searching on the site or app. This absolutely free reverse phone lookup service allows you to simply search for the number and find out who contacted you in seconds. The site may ask you to sign up with your email, but otherwise you can easily access tons of information without paying.
Truecaller also tells you whether or not the phone number belongs to a spammer using tips from other users. You can even search foreign numbers and see who they belong to, taking reverse searches to another level.
Reports offered: Reverse phone search
Pricing: Free
Smartphone apps: Yes, Android and iOS
What is reverse phone lookup?
When getting a phone call from an unknown number, most people today head right to the internet to look up the line instead of answering.
Reverse phone lookups can solve mysteries and let you uncover the information hiding behind a number. This includes the caller's name, location, help determine whether it's a landline or mobile phone and even see how scammy this line is. Reverse phone lookups scan quickly and often use public records to retrieve necessary information.
Is there a free reverse lookup for phone numbers?
There are tons of reverse lookup sites and apps for phone numbers, but it's questionable whether all of them are actually free. Free tools include White Pages, Truecaller, TruthFinder and Intelius.
The "free" aspect of reverse phone lookup really varies. Sometimes, all you have to do is just type in the phone number and get detailed information without doing much work. In most cases after putting in the phone number you'll need to register. Most of these services take a small fee (About $1) for downloading more detailed reports.
Is reverse phone lookup safe?
Yes, reverse phone searches are safe to use. All background check sites reviewed here follow clear rules defined by the Fair Credit Reporting Act (FCRA). Many of them are also very transparent when it comes to your privacy and security, and provide tips on how to protect your data. The personal information that you can view when doing a reverse phone lookup is based on public records, so you shouldn't worry about getting into dangerous parts of the web to find out who called.
Reasons to Use a Phone Number Lookup
The most common reason people use reverse phone lookup services is to find out the identity of someone who called. There are actually a lot of other good reasons to use a phone number search. The best phone number lookup service for you depends on how much information you need and how often you need to use the service.
Here are a few reasons to use a phone number lookup:
Find out a caller's identity. As mentioned, if you receive a call or message from a number you're not familiar with, you can run a reverse phone lookup to find out the caller's identity.
Run a background check on someone. There are many people you might reasonably want to run a background check on, such as a new business partner, employee, or neighbor. A phone number search is the simplest way of scanning through a person's financial and criminal records to verify they are clean.
Discover an affair. If you're suspicious about calls and messages your partner has been receiving or if someone keeps calling your home and disconnecting when you pick up, this could be a sign your partner is cheating (or getting up to some other kind of trouble). A quick phone number lookup will tell you if it's anything you should be worried about.
Locate relatives of a person. There are countless reasons you might need to reach out to someone's relatives. You might be looking for a next of kin to deliver bad news, want to organize a surprise party without tipping off the person, or perhaps a person you urgently need to speak with isn't available so you want to try their partner or kids. Whatever your reason, the best reverse phone lookup services reveal phone numbers and other contact information for close relatives.
Find the address of a business. Sometimes you know a business or person only by their phone number. If you need to visit or send mail to that business/person, then a phone number search may be the quickest way of finding their physical address.
Choosing a Reverse Phone Lookup Service
Like most online services, phone number lookup services come in a range of price points–from free to premium.
Free services cap the number of times you can make a search and offer only basic information about a person. They're useful for occasionally looking up the identity of spam callers but aren't good for much more. Some free services let you conduct your first phone number search without registering, which is useful if you just need to make one quick search in order to find out the name of a caller who's been harassing you.
Paid reverse phone lookup services let you make unlimited searches and reveal as much information about a person as they can possibly find. Of course, some services are better at digging up information than others, so it pays to do a comparison shop before choosing your preferred service. The best phone number lookup services cost around $15 to $30 per month.
As an example of what a paid phone number lookup service can do for you, here's what CheckPeople promises:
Unlimited searches with one monthly fee
All your searches are private, confidential and secure–so nobody will know you've conducted a background check on them
Information is drawn from the most recent records available from governments, corporations, social networks, and more
You'll Have the Power to Discover Anyone's Identity in a Few Clicks
The internet contains so much information about each and every one of us. While this might cause privacy concerns where our own information is concerned, it also means you can find out anything about anybody with just a few clicks.

Our phone numbers have become extensions of ourselves, and as a result knowing someone's phone number gives you the power to know a whole lot more about that person.
If you need to find out someone's identity or run a quick background check on a person, then a phone number lookup is undoubtedly the best course of action.