Stir Visit Site
Overview
Best For: Single parents looking for casual or serious relationships.
Number of Members: Currently unknown
Favorite Features: Question prompts, ability to align schedules with potential dates
Video Chat: Yes
How Stir Works
Stir is an online dating app available for Android, iOS, and desktop made by Match.com with parents in mind.
Although it's pricier than other apps, the dating pool is very specific, so your chances of finding love on Stir are higher than if you were to use another app.
How to Sign Up for Stir
Stir's signup process is fast, easy, and fun. You can complete it on the website or through the app.
The gender choices are extremely inclusive. It's not just "man" or "woman" — there's an entire selection to choose from, including transgender, non-binary, gender non-conforming, two-spirit, and "other" if none of their options match your identity.
You're also asked your age, the gender you'd like to meet, and for basic information like your name and email address. Once you've confirmed your email address, you can then move on to the more exciting step of setting up your profile.
Setting Up Your Profile on Stir
After signing up, it's time to personalize your profile.
Stir allows you to upload up to six photos and prompts you to fill out all main sections of your profile, with questions about your height, if you have kids, and if you drink or smoke.
You're also encouraged to answer parent- and dating-related questions that will end up on your profile, similar to the dating app Hinge. These prompts include questions like what your perfect night without kids is, what you do on Sunday mornings, your favorite guilty pleasure, and your overall life goals. This really lets you showcase your personality and individual quirks to potential matches, and helps you get down some information if you're not sure what to write about.
The last page features an option to sign up for a paid membership, which you can skip if preferred. After this, it's time to explore the matchmaking part of the app.
How to Find Matches on Stir
Stir's interface is similar to other dating apps, so it's simple to navigate. Some of the main features include browsing in both public and private mode, messaging, video chat, the ability to Like or SuperLike. All of these features are straightforward and easy to use—but most, if not all, require paid upgrades, which is a big disadvantage.
The homepage is named the Discover page, and this is where you can "Skip" or "Like" singles. Profiles show the person's information, including their photo, age, location, height, bio, and if they have kids.
You can't actually search through multiple profiles. You browse one person at a time, and the results are only based on age, distance, and gender filters. If you like someone on the Discover page and have messaging capabilities, you can get their attention by sending them a message. From there, you can initiate a video chat or phone call.
Safety & Security
Stir is very transparent about how to stay safe while using their service and how it uses cookies and processes your data. Something we like is that you can choose which cookies you enable (when using the desktop version). Plus, the company reminds you about its policies before you officially sign up.
When you go to your Matches tab for the first time, there's a pop-up that says "Let's commit to staying safe" where you agree to prevent fraud, be respectful, and immediately report inappropriate behavior.
Stir has a zero-tolerance policy when it comes to nudity and sexual content, harassment, hate speech, and any illegal activities. It also has a safety tips page with a list of considerations and ways to stay safe in terms of online and offline safety, sexual health and consent, and resources for help, support, or advice. Refunds may also be available on request for those who decide to cancel their subscription.
Stir App
Stir has a dedicated mobile app available on both Android and iOS devices, which is free to download. However, while the app boasts all of the features available on the website, you will need to upgrade or pay for in-app purchases to use these.
The app is very easy to use and works similarly to Tinder and Hinge, focusing on photo-centric profiles which you can browse before determining who's a potential match. Instead of swiping, tap the X icon to pass or the heart icon to like. The center button allows you to buy packs of Super Likes, starting from $1.60 for a pack of five.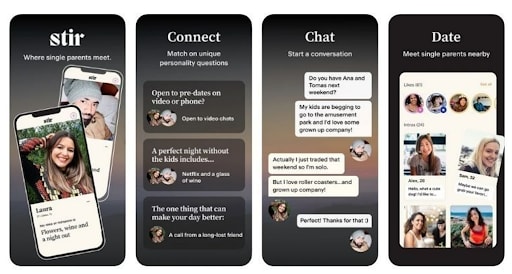 Stir Customer Support
There's plenty of help on hand should you run into any issues when using Stir, which is definitely a plus point when looking for a dating app.
Stir's extensive FAQ page is complete with guides and answers to questions about canceling memberships, messaging, billing, paid features, and more. If you can't find the information you're seeking, you can contact Stir by clicking the "Email Us" button on their contact page and filling out the attached question form.
The Stir customer service team is available via email Monday-Friday between 8AM and 5PM CST, so it's likely you'll get a speedy response to your query.
How to Cancel or Pause a Stir Subscription
There are many different ways to cancel your Stir subscription, depending on whether you use an Apple or Android device. The easiest way, however, is to head directly to the Stir website on a desktop computer.
If you don't have a paid subscription, or if you've already turned off your auto-renewal, you can cancel your subscription by heading to the "Account Settings" page and then clicking "Manage Subscription." Here, you'll be guided through the process of removing your account. Once your membership has been canceled, Stir immediately hides your profile and photos from other members.
If you've paid for your subscription but it's not yet come to an end, or if you want a refund, your best bet is to reach out to Stir directly via the contactme@match.com email address.
Stir Pricing
Stir has a number of different payment plans and upgrades to suit a variety of budgets.
While there is a free plan, to get the most from the platform, it's certainly worth considering one of the paid memberships—the cheapest of which is the Standard 12-month plan at $16.99 a month.
If you're just looking to trial a month, this will cost you $39.99—though this will only enable messaging and profile control features. To get the full set of upgraded features, you'll need to upgrade to the Premium membership, which starts from $17.99/month for a year's membership.
Stir's free plan is rather limited, and upgrades will incur quite a cost if you're looking to use the site for a longer duration. However, due to the specific dating pool on offer, Stir is an attractive option for single parents looking to meet and chat with other single parents.
What Can You Do with Stir for Free?
Stir has a free membership option, and the good news is that you don't have to pay for anything straight away to enjoy the site. You can create a profile and search immediately, receive "Top Picks," and send likes for free. After a while of browsing profiles as an unpaid member, you might even earn a free message—though be careful to use it as soon as possible, as it's only valid during the same session.
A key feature of note is StirTime, which allows users to coordinate their free time away from their children with potential matches. It's not clear if this is available for all members or just for paid plans, so it's worth searching for it when initially setting up your profile.
Overall, free features feel extremely limited without a membership, and if you're serious about using this app to find a relationship, costs could rise quickly.
Premium Features and Upgrades on Stir
Upgrading to a monthly subscription on Stir is certainly recommended. There are a few different options, depending on the duration of time you're planning to spend on the site and which features you'd like access to.
For instance, Standard memberships offer the ability to send and receive messages, see who's viewed you, and see who's liked you, but they don't offer message-read alerts, monthly boosts, or weekly SuperLikes like the Premium memberships do.
However, you can purchase "power-ups" to receive email read notifications, browse in private mode, and reply for free, though there's no mention of how much these cost. If you're just looking to Boost your profile, however, you can purchase 1 Boost for $2.99, 5 for $9.99, and 10 for $14.99.
By upgrading to one of the more expensive Premium memberships, you gain the ability to see your instant matches, message before matching, boost your profile, and upgrade your Like to the top of someone's list of Likes. You can also set your profile to only be visible to those you like and review any profiles you may have accidentally passed on. Premium subscriptions are pricey, however, so they're certainly not ideal for those on a budget.
Stir Alternatives
Single parents looking for love
Single parents looking to connect
Stir vs SingleParentMeet
Both Stir and SingleParentMeet offer competitive options for single parents looking to date.
One feature that stands out about SingleParentMeet is their partnership with Care.com, which allows members to book a babysitter through the site. Similarly, Stir allows single parent daters to display and then coordinate their free "Stir Time" with other daters—both of which undoubtedly make the dating process easier for single parents.
SingleParentMeet seems the more cost-effective of the two options, so it may be worth exploring this in more detail before signing up for Stir, although its lack of an app may make it harder to browse.
Stir vs Tinder
While Tinder has a similar photo-centric interface to Stir, the key difference is the dating pool—Tinder caters for everyone, while Stir is designed with single parents in mind.
Though Tinder might boast more users because of this, it does mean that there are users on there who might not have children or want to date those with children. This means that Stir feels like a better choice for single parents.
Stir vs Zoosk
Zoosk has an extremely competitive premium plan—it'll only cost you $12.49 a month for a 12-month membership. This may entice those on a budget, although—like Tinder—Zoosk isn't designed specifically for single parents, which means you may run into some compatibility problems.
However, Zoosk offers a lot in its free plan, including features like its algorithm-based Behavioral Matchmaking tools, so it might be a good place to start on your quest for love.

Stir Visit Site
Bottom Line
If you're a single parent or someone who is open to having children and looking for a relationship, it's worth considering Stir.
Finding matches is super simple once you create your profile, and it's highly likely you'll meet other like-minded parents looking for that special connection. However, due to the costly premium subscription plans, it's not an app that everyone will have the privilege to afford, which might be why some would prefer other free dating apps like Tinder or Hinge.
With that being said, it's a good idea to utilize Stir's free plan first to browse and see if anyone takes your fancy—you never know, you might just find your next special someone.