In a Nutshell
SingleParentMeet is a dating website that keeps it simple. The format is user-friendly and best suited for single parents aged 35 and older. SingleParentMeet can help single parents make new friends or find partners, but it isn't available in app form on iOS or Android, making it a less convenient choice than other online dating options.
pros
Exclusively for the single parent dating market
Provides a link to Care.com for childcare
Friendly, fast telephone customer service
cons
Does not have an iOS or Android app
Fewer users compared to other dating platforms

Single Parent Meet Visit Site
SingleParentMeet at a Glance
Best For
Single parents, especially aged 35+
Number of Members
77,000 members, paid and free
Favorite Features
Links to Care.com to help you source babysitters for date night

Provides possible icebreakers to help you get the conversation started

Helps you connect to other online members with the NotifyMe option
Video Chat
No
Recommended Age
35+
How Much Does SingleParentMeet Cost?
SingleParentMeet offers a free membership option, whereas premium features are available for a monthly fee that is based on the duration of your membership. 1-, 3-, and 6-month options are available.
The overall price range is slightly lower than the industry average, particularly with the 6-month membership option.
What Can You Do With SingleParentMeet for Free?
With the free option, you'll receive a daily selection of profiles and be able to send unlimited email messages to matches. It will also allow you to view all the dating profiles on the site as long as both you and the other member have uploaded a photo to your profile. You'll even be able to chat online with paid members. However, while it may be possible to find a date, it will likely take longer than it would with access to the premium features.
Premium Features and Upgrades on SingleParentMeet
There are many premium features available on SingleParentMeet. When you purchase the monthly membership, you're able to chat with hundreds of members who are online, see any members who have added your profile to their favorites, and read and reply to any messages received—not just from the algorithm-generated matches!
SingleParentMeet also offers the option to purchase tokens to promote your profile, send gifts, or to be notified when particular users are online. The NotifyMe option is also available to help members connect. With this option, you'll receive notifications when a preferred member is online and you'll have the opportunity to connect via the chat or email feature.
These features cost 20 tokens each. You can buy 25 tokens for $0.99, 100 tokens for $3.99, and 280 tokens for $9.99.
How SingleParentMeet Works
SingleParentMeet is designed for single parents in the United States and Canada to meet and get to know other single parents. The website's features are designed to help busy parents more easily navigate the challenges of dating. It even includes a link to a reputable childcare website, Care.com, to help parents source childcare for their dates.
How to Sign Up for SingleParentMeet
Signing up for SingleParentMeet is simple! First, you'll visit the home page of Singleparentmeet.com. Then, select your search preference. Heterosexual and homosexual preferences are available, but bisexual, pansexual, and non-binary options are not included.
Next, select whether you're based in the United States or Canada. Then, type in your zip code to see matches in your area. Enter your date of birth on the next screen. At this point in the signup process, you'll enter your name and devise a secure password for the site. Then, select Keep Going.
The final step in the process is to upload a photo. If you haven't yet chosen a photo, there is an option to skip this step and complete it later. Without a photo, your profile will not appear on the site. You will, however, be able to search existing profiles.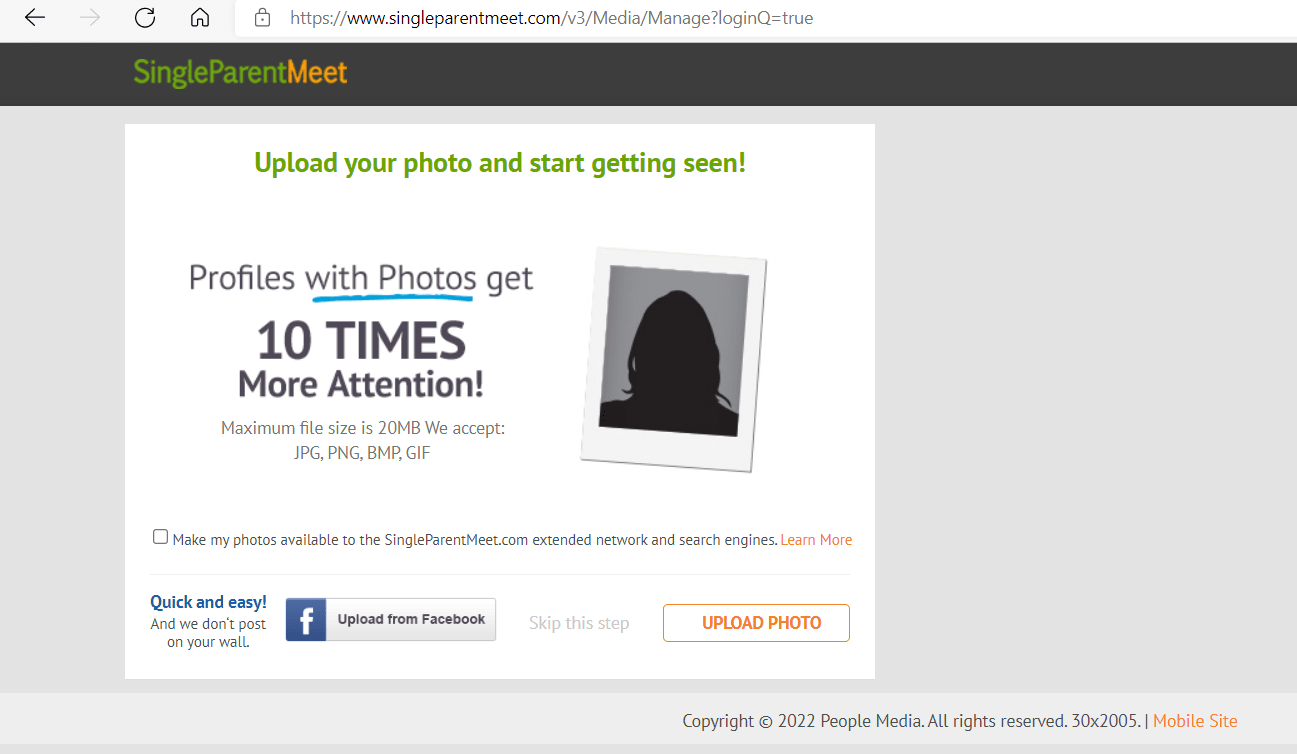 Setting Up Your Profile on SingleParentMeet
Setting up your profile on SingleParentMeet is easy! Look to the right-hand corner of your screen to see My Profile and select Edit.
Your name, age, and location will already appear from the registration process to join the site, and you'll be able to add your height. You'll also want to click on Upload a Photo to add your main profile picture if you skipped that step during signup.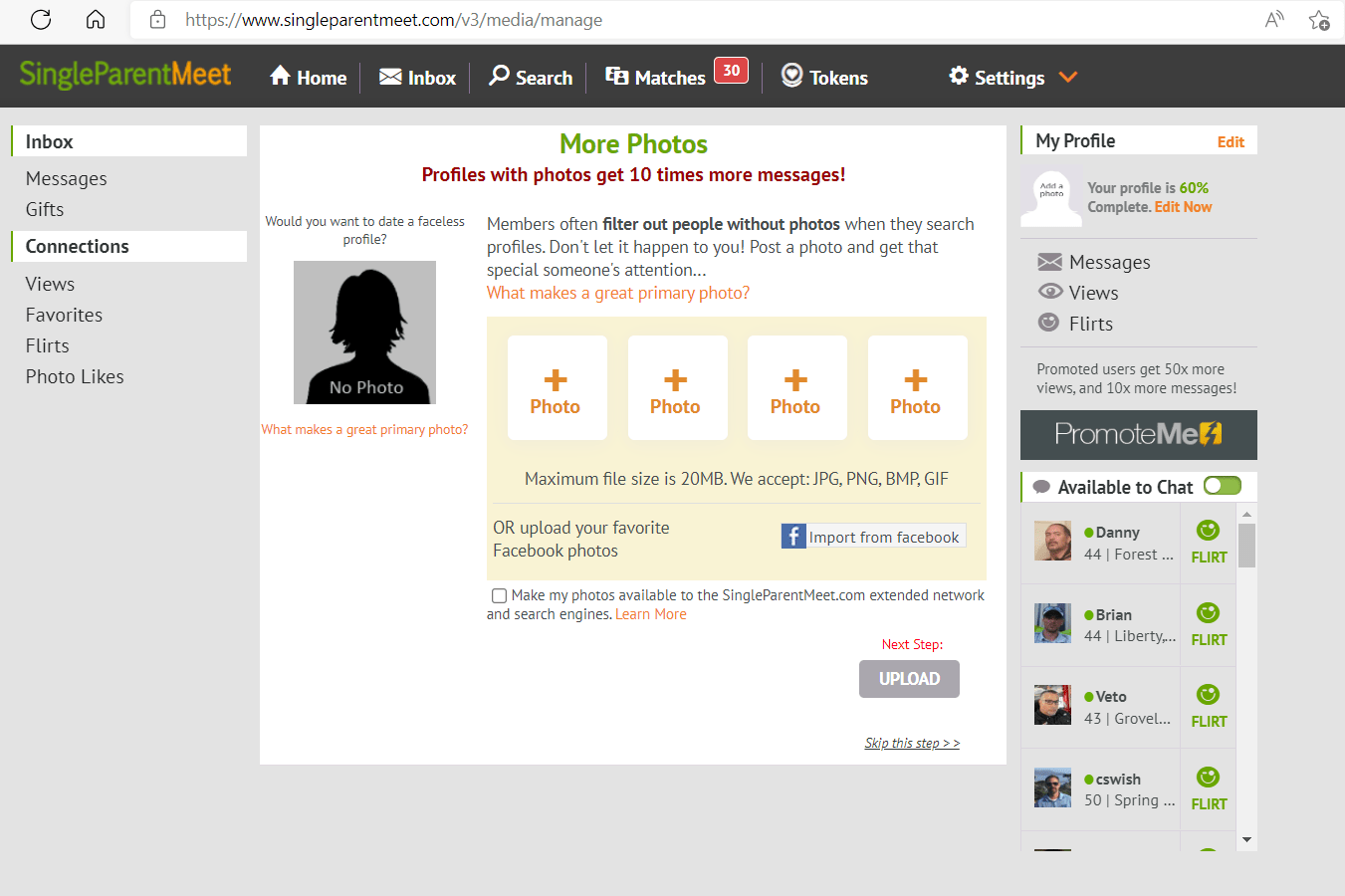 To upload photos from your computer or mobile device, click Settings, My Photos, and Browse. Add photos and then choose Upload. You may choose 1 photo for your primary photo, but you can upload 30 more when customizing your profile.
To upload photos from Facebook, click Settings, My Photos, and Import From Facebook. You'll need to grant the site permission to access your photos.
In the "About" section, you'll be able to answer questions about what you're looking for, your level of education, your income, and some basic stats like height, hair color, and body type. You'll also be able to indicate the number of children you have and if you have any pets. You can also specify your religion, smoking preferences, politics, and if you've ever been divorced.
Other sections of your profile include "In a Nutshell", where you have the opportunity to introduce yourself. This is the place where you'll want to show off your personality and interests to potential prospects. "The One I am Looking for" allows you to describe the kind of person you'd like to meet. And finally, "I'd Just Like to Add" is where you can add anything else you feel a potential date should know about you.
You'll also answer personality questions to indicate how much you like to cook, how patient you consider yourself, whether or not you're romantic, if you prefer movies or live theater, if you consider yourself punctual, and if you like reading.
You can then select up to three top interests. You'll also be able to select your preferred icebreakers to start conversations with your matches. Options include "Do you like to travel?" and "Is family important to you?"
Once your profile is complete, you'll be ready to match with other single parents.
How to Find Matches on SingleParentMeet
Once your profile picture is approved, you'll appear to members and be able to start matching. You'll receive 30 matches each day to review and you'll be able to select "I'm Interested" to see individual profiles.
You can sort your matches by distance, activity, "New Members", and "Members Online". Then, filter your matches by age, zip code, and whether or not they have photos, as well as categories such as height, looking for, status, ethnicity, smoking, build, children, religion, and zodiac sign.
Under Search, you'll be able to see who's viewed your profile and vice versa. You'll only be able to access inbox messages and certain other functions if you have a paid subscription. "Likes" will include profiles you've approved to match, whereas "Flirts" allow a potential match to know you'd like to connect without having to be the one to start the conversation. "Faves" will allow you to save your preferred matches and will also notify them that they're one of your favorites.
Communication on the site is simple. You can send your match an email through the site, or you can use the online chat feature to communicate with any members who have paid for this premium membership upgrade. Video chat is not available at this time.
Safety & Security
SingleParentMeet has community standards for the photos it allow on its site. Photos can be rejected for inappropriate sexual or offensive content, copyright issues, depiction of illegal or violent acts, references to membership affiliations, military elements that jeopardize security (such as a tag number or unit identification), or identifying information such as a visible address.
SingleParentMeet also states on its site that it is passionate about protecting members from phishing scams, suspicious activity, and inappropriate behavior. It's possible to block any member or report a concern simply by clicking the relevant option on any member profile. Additionally, the site offers a section on Dating and Safety Tips.
SingleParentMeet App
SingleParentMeet doesn't offer an app for iOS or Android, but the website is responsive, which means it displays well on mobile devices.
SingleParentMeet Customer Service
You can select Contact Customer Care on the website if you need assistance. You'll simply select a category, ask a question with a length of no more than 3,500 characters, and click Submit Question. When I sent an email, I received an automated email reply on the same day with links to FAQs on the site. It also stated that if this did not answer the question to reply to the email for individualized assistance. The email did not state a timeframe for replies to inquiries.
Phone support is available on 866-727-8920, Monday-Friday, 7am-7pm CT. You'll reach a friendly customer service representative who will be happy to assist you with any requests, including deleting your profile from the site if necessary.
Changes in the system are processed within 24-48 hours, and wait time to speak to a representative was negligible. Purchases on the site are non-refundable, and there is no chat option for Customer Care.
How to Cancel or Pause a SingleParentMeet Subscription
Canceling your membership is easy. Simply go to Settings, My Account, Account Status, and View Account Status. Click More Account Status Changes, and choose the link for Remove Automatic Renewal.
There is no pause option for the monthly fee, but you can choose to hide your profile at any time via the Account Status Changes menu. Members will still be charged monthly while free members can resume their search at any time by removing the Hide My Profile option.
How SingleParentMeet Compares to Other Dating Sites and Apps
Casual or serious relationships
Casual or serious relationships
SingleParentMeet vs Match
SingleParentMeet has considerably fewer members than Match and doesn't offer an app, but does offer better customer service with minimal wait times. The sites share an age demographic of 35+. SingleParentMeet offers more affordable membership options than Match, but Match is likely the better option for parents looking for more dating options with the added convenience of an app.
SingleParentMeet vs Stir
SingleParentMeet faces stiff competition from Match's new single parent dating app, Stir. Stir is more inclusive of different genders and sexualities than SingleParentMeet and may also attract a younger demographic with its app for Android users. Unfortunately, Stir's higher membership fees could make it less accessible to many single parents, making SingleParentMeet a more affordable choice.
SingleParentMeet vs Zoosk
SingleParentMeet and Zoosk both rely on messages rather than video chat to connect users. While the monthly membership fees are comparable, Zoosk has far more registered members than SingleParentMeet. Zoosk may also have a slightly younger, more LGBTQ+ friendly demographic, but SingleParentMeet has the benefit of a particular target audience for its platform.
Does SingleParentMeet Work?
SingleParentMeet is competitively priced but lacks many of the benefits of other dating sites. While its customer service representative indicated that video calls are a feature they hope to include in future, the lack of an app could make this dating option less convenient for many on-the-go busy parents.
Additionally, the website appears dated, particularly compared to the bright graphics and convenient swiping options of the latest dating apps. This site is best for older, single parents for whom a user-friendly interface is more important than up-to-date aesthetics.