Dating.com Visit Site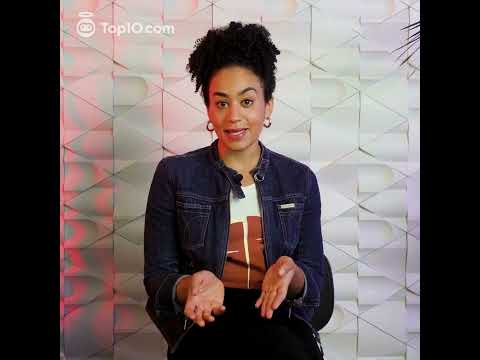 Overview
Best For: Travelers and long-distance romances
Number of Members: 4,400,000 members.
Favorite Features: Members from 32 countries, "Today I Am…" mood sharing, 'Let's Mingle' group messaging, live streaming broadcasts via webcam
Video Chat: Yes
How Dating.com Works
Dating.com is a global dating site, and with 4.5 million members in 32 countries, it's great for travelers, expats, nomads, and people who are interested in getting to know others from around the world.
How to Sign Up for Dating.com
The initial signup screen asks you to indicate whether you're male or female and whether you're seeking a man or a woman. You then choose the age range you're interested in. Finally, either click "Take a Chance," or sign in via your Google account.
The next few screens will ask several questions to set up your account. You can answer them or skip them. You'll be able to fill those in once you've verified your email address and they send you on to your main Dating.com profile page.
Setting Up Your Profile on Dating.com
At this point, you can add information about yourself and what you're looking for. You can choose your interests and add information about yourself (where you live and work) and your relationship status.
In terms of relationship status, the only options are single, divorced, or widowed, or you can leave it blank. There are no non-monogamous options.
You can upload photos in two ways: via your webcam or from a device such as your smartphone. There do not seem to be options for uploading photos from social media.
You can specify the gender and age range you're seeking. There are options for gay or heterosexual searches, but no options for non-binary or genders other than men or women. If you wish, you can also enter free text to describe in more detail what you're looking for in a match.
Once your basic information and chosen photos are on your profile, you're ready to start looking for a match!
How to Find Matches on Dating.com
The main homepage is set up as a gallery. You can click on anyone who interests you, or to filter your search, just click on Search at the top of the screen: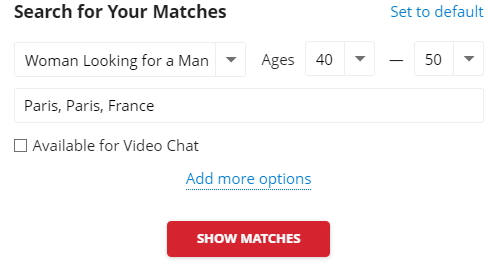 Clicking on "Add more options" takes you to a list of about 33 specific interests to choose from. Matching profiles will appear. It isn't possible to filter these by more detailed options, such as smoking and drinking habits or religious preferences.
Clicking on "Show Matches" will show you a group of members who match your search and filter selections. Click on any profile you like to see more, and you'll have the option to send them a message.
You'll also see chat requests popping up on the right side of your screen. If you click on one, you'll be taken to their profile and have the option to reply. However, if you haven't paid for any credits, you'll see the payment pop-up:
Once you've paid, your main communication options are instant chats and messages, video chats with one member at a time, broadcasting (live stream yourself from your webcam or watch other members' streams), and 'Let's Mingle', a feature that allows you to send an introductory message to a group of members of your choice.
Broadcasting is interactive, meaning you can chat with the broadcaster and with other members watching the same live stream. You'll receive messages from other members in your inbox. Matches do not come into your inbox, only messages.
Safety & Security
In its Terms of Service, Dating.com says it has strict policies regarding the safety of its members, and it will refund any credits incurred by proven scams. Dating.com also asks anyone who believes a profile is fake to contact customer support. However, photos uploaded to profiles do not seem to be verified, and many reviews from users indicate that fake profiles do plague the site.
Dating.com App
A mobile app for Dating.com is only available for Android. There is currently no plan for a release of an iOS version. The app looks very similar to the web version and offers the same features. Members report that it is easy to use but expensive, at an additional $9.99 per month.
Dating.com Customer Support
Dating.com offers email, phone, and online support, including an FAQs database and a "Let Us Know" messaging form you can send to Dating.com for more specific requests. With a paid membership, Dating.com says you get access to customer service 24/7. However, some users report getting no response when trying to email support at that address.
In the Terms of Service, Dating.com provides the possibility of partial refunds to members who are victims of inappropriate or illegal activities by other members, if they can provide proof of this. Dating.com also encourages members to report profiles they believe to be fake, so that it can take appropriate action to remove those profiles.
How to Cancel or Pause a Dating.com Subscription
You can cancel your paid membership for a refund until midnight on the 3rd day after signing up. To do this, you need to send a signed and dated written notice of cancellation to support@dating.com. You can also mail this request by regular post to the address provided in their Terms of Service. Once you've passed the 3-day period, you can still cancel your membership in the same manner described above, but you will not get a refund of the fees paid to that point.
Dating.com Pricing
Dating.com works on a credit system rather than a standard monthly fee for a certain level of service. As of June 2022, there are three levels: 150 credits for $49.99, 600 credits for $149.99, and 1500 credits for $299.99. Credits expire after 365 days. Using the mobile phone app costs an additional $9.99 per month.
The costs for credits varies between actions, for example:
Basic chat: 1 сredit per minute
Basic chat with video: 2 credits per minute
One-way video chat: 4 credits per minute
Two-way video chat: 6 credits per minute
Sending stickers: 5 credits each
Viewing video in profile: 10 credits each
Note that when you purchase a bundle of credits, this is processed as a monthly subscription, which will auto-renew each month unless you cancel it.
Overall, Dating.com seems pricey compared to other dating sites such as Match, EliteSingles, Zoosk, and others. These competitors charge around $19.99 per month to $57.99 per month, while the lowest rate for a membership at Dating.com will set you back $49.99.
What Can You Do with Dating.com for Free?
For free you can get a look around Dating.com to see how it works, and view profiles, including members' photos, interests, and what they are looking for. You can also follow other users and send winks, too.
You can respond to an incoming request to chat or send a chat request to a member for free—but to read their response, you will get a request to upgrade your account:
Without the ability to have a back-and-forth conversation with anyone without paying, you can't schedule a date on Dating.com free of charge.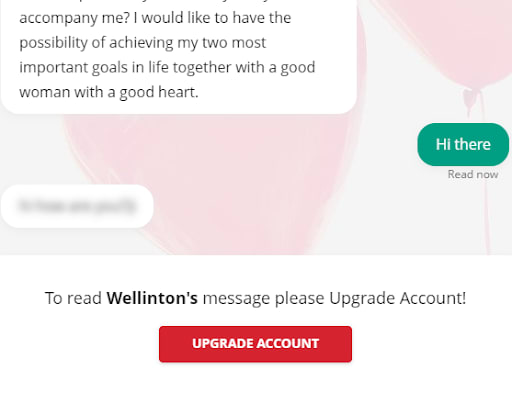 Premium Features and Upgrades on Dating.com
Once you pay to join, you have access to most communication features, including the "Today I am…" mood sharing feature, live-stream broadcasts, and 'Let's Mingle', a group chatting feature for sending out an introduction to several members at once. You can also send messages and respond to incoming messages from other members.
Dating.com also includes a feature called "Connect with Popular Members," but the pricing information on this is not clearly displayed.
Dating.com Alternatives
Young, social media savvy singles
Dating.com vs Match
Match is highly popular, less expensive and has a much larger member base, but possibly offers less cultural diversity than Dating.com. Match might be best for those who are oriented towards more serious and long-term relationships, while Dating.com particularly fosters long-distance and online relationships in addition to in-person connections with people from around the world.
Dating.com vs Zoosk
Unlike Dating.com's limited match filtering (33 specific interests), Zoosk offers more detailed behavioral matchmaking, a larger member base, and possibly more tailored match options. It's also a less expensive platform, with similar prices to Match. However, Zoosk doesn't seem as user-friendly or as international as Dating.com, so if you're looking for an easy way to find an online romance or to meet people while traveling, Dating.com would be the better choice.
Dating.com vs EliteSingles
EliteSingles attracts highly educated professionals and those who particularly value intelligence in a match, while Dating.com particularly serves those looking for multicultural connections around the globe. Dating.com is pricier, and could be worth it if you appreciate Dating.com's uniquely international vibe. But it's perhaps not as good for those who are looking specifically for high-level professionals in their local area.

Dating.com Visit Site
Bottom Line
Overall, it seems Dating.com works better for some people than for others. If you're looking for an international experience, online romance, or long-distance dating, it could be the right site for you. However, it's a bit pricier than others on the market, and you'll have to pay to actually converse with anyone.