In a Nutshell
Dating.com is a global dating site and social network made up of members from 40 countries. It's not just about expanding your dating options⁠—Dating.com's hope is that by extending the borders of your dating pool, global consciousness, awareness, and tolerance toward different cultures will also be heightened. A noble cause to be sure, and with live streaming, video chats, and free features, Dating.com is making waves across the singles scene.
pros
Global dating network
Lots of features in freemium account
Verified profiles
cons
Confusing pricing structure
Questionable free member policy
Dating.com Visit Site
Video Review: Why You Should Consider Dating.com

Dating.com at a Glance
Global dating, online romances, cross-cultural friendships
Males, females, multi-cultures (more males)
Various unique communication tools
Dating.com Love Stories
"Hello I am an honest user on this app & so far I do like it. I wont lie, Customer support has been very kind & courteous to me." Valentines Beauty
"I love it here. I get to the best men, good looking and handsome." Elizabeth Ritah
"I really love this app and here are very very beautiful ladies on this site as well." Ivan Johnson
"I am using this app since few weeks, i never ran into a bot. Yeah it's little bit expensive. But i don't mind. If you are interested in some person, you should be willing to spend that amount." Dasun Sankalpa
"I have not had any of the issues that others have described. You get to meet people from all over the world and have good conversation. Yes it is pricey but that is to protect you which I found out later. I met my current guy here and we are very happy to have had this site to meet. And no I have not been paid for my review and no I am not an employee of the site. I am a regular ordinary person a RN to be exact." Misty Norman
Signup Process
Signing up for Dating.com is very simple. Just specify your gender, what you are looking for, put in your email address, and get started. You can fill in your profile, but you don't have to (which is nice). You can always go back and add more details if you decide you like the way Dating.com works, and you want to get more accurate results.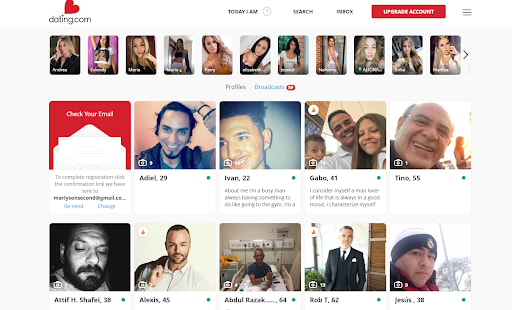 Matchmaking & Search Functions
The Dating.com user base ranges from roughly 30 to 60 years of age and is a mix of females and males, though there are more males. In terms of what people are looking for, the majority are seeking life partners or marriage, while around 40% are interested in sexual partners, 30% for online friendships, and a surprising 25% for travel companions. Bottom line, you can find a lot of different types on the Dating.com site, which makes it ideal for a lot of singles or people looking for a wide range of partners.
What's nice about Dating.com is that, unlike most dating sites, it allows members to find one another based on mutual interests rather than the more generic location-based matchmaking algorithms. Also, if you are homosexual or bisexual, there are plenty of options for you too. Dating.com lets you select same-sex, opposite sex, or both, for who you're seeking.
Dating.com has a lot of search options you can use to search its tremendous database (4.5+M just in the US!). Run a generic search based on country, age range, or gender. Or add more specific tags like interests (biking, camping, nature, music, fashion, etc.), education level, languages spoken, smoker, drinker, body type, and more. Dating.com has an impressive list of tags you can include in your search.
Features & Communication Tools
There are a lot of the usual features and tools. But what really makes Dating.com stand out from others is the fact that it has some communication tools that are truly unique. For starters, you have tons of communication options, including regular chatting, emailing, and rich media exchange. That last one includes sending pics and even video clips to other members who might be potential matches. Additionally, Dating.com has advanced communication features like live streaming and 360-videos.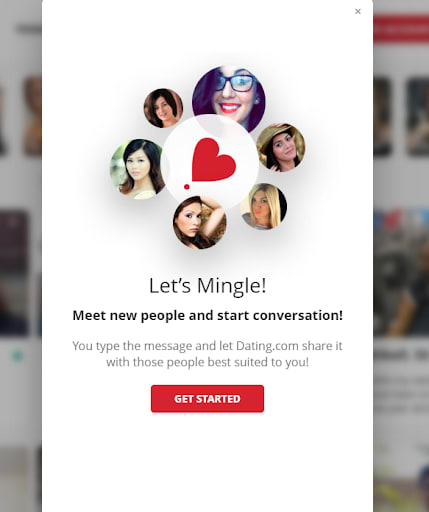 Some other unique features include:
This is an icebreaker feature that lets you type a generic message and then blast it to multiple members simultaneously. When members read and like what you wrote, they'll send you an invite to chat. Accept and get the conversation going on a more personal level.
Boost your profile to get seen more often.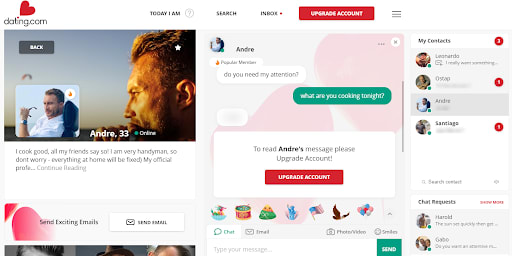 Safety & Security
Dating.com states clearly that the security of its members is of the utmost importance. International legal dating regulations are followed across the board, personal contact information is never shared, and Dating.com publishes a strict dating security policy on the website that members are recommended to adhere to for their own safety (things like don't share personal information, ID numbers, etc., tell someone about any face-to-face meetings you have arranged, don't get picked up at your home...).
Pricing
Dating.com registration is free, as are basic search and communication functionality. But to really get anything out of the Dating.com service, you'll need to pay. Dating.com has an unusual payment structure. Rather than paying a monthly membership fee, some members opt to pay per action. That means you pay for the features you use, the actions you want to take, rather than paying one price for everything in one lump sum. Depending on your style of dating, this payment model can be more or less economical. Here's what some of the features cost:
Free every 24 hours for monthly memberships, 5 credits per mingle after that
Free for first 10 chats up to 3 minutes each with monthly membership, 1 credit per minute after the 10 free chats
10 chats with monthly membership, or first-time communication is free, 1 credit per message after that
Free for first communication, 10 credits per email after that
View member video on profile page
160 credits for members/non-members
1000 credits for members/non-members
If you find yourself purchasing credits constantly, it is probably more worthwhile for you to pay for a monthly subscription. Monthly subscriptions offer Let's Mingle, online chat, and offline chat.
$2.99 (for first-time users), $9.99 per month after that
Free introduction messages
You can get 50% off future packages when you pay for the monthly membership, too. Dating.com also has a somewhat questionable free members policy. It's not 100% clear how this arrangement works, but some members can be sponsored, so to speak, by affiliates for creating high-quality content for their brands. These members can become broadcasters and may receive gifts, travel perks, etc.
Dating.com Visit Site
Help & Support
Dating.com features live chat support hosted by WhatsApp. We like this because it means you won't have to worry about server problems or technical issues and that they're always around.
Find Love on Dating.com
Dating.com is a fun site to use and tosses a lot of fresh content and features your way. The global network expands your dating pool significantly, and the varying interest levels mean just about anyone can find a good match (even if you're just looking for a travel mate!). The pricing structure is confusing, and it can get pricey if you're not careful. But the state-of-the-art communication features put Dating.com far above the competition, and the detailed profiles make it a pleasure to sift through your options.