Having a set of well-chosen questions helps you to better understand your potential partner and determine if they could be your perfect match.
It is important to demonstrate genuine curiosity about a person through both your questions and your responses, notes Antonia Greco, a Relationship Expert in New York. Asking genuine questions not only piques your own curiosity, but it also creates an authentic connection with the person you are with. The result is a balanced dialogue where both parties are engaged.
This guide provides a selection of 21 key first date questions, backed by expert advice, and tips on what to avoid.
Ice Breakers for First Dates
Feeling nervous about a first date is natural, because dating is hard. Preparing light-hearted questions can help alleviate anxiety and offer an engaging entry point to learning about a person's routine, aspirations and personality traits.
Here are some fun and casual ice-breaker questions to kickstart your first date:
1. Would you rather __?
These types of inquiries provide a entertaining way to start the conversation. Here are a few examples:
Would you rather renounce social media or nightclubbing?
Would you rather time travel to the past or the future?
Would you rather live indefinitely in the mountains or on the beach?
Their responses can offer insights into your potential partner's preferences and interests.
2. Do you have any upcoming trips planned?
This query can prompt interesting dialogue about various travel spots or amusing vacation anecdotes. If their answer lacks depth, you can steer the conversation toward their favorite hobbies or preferred leisure activities.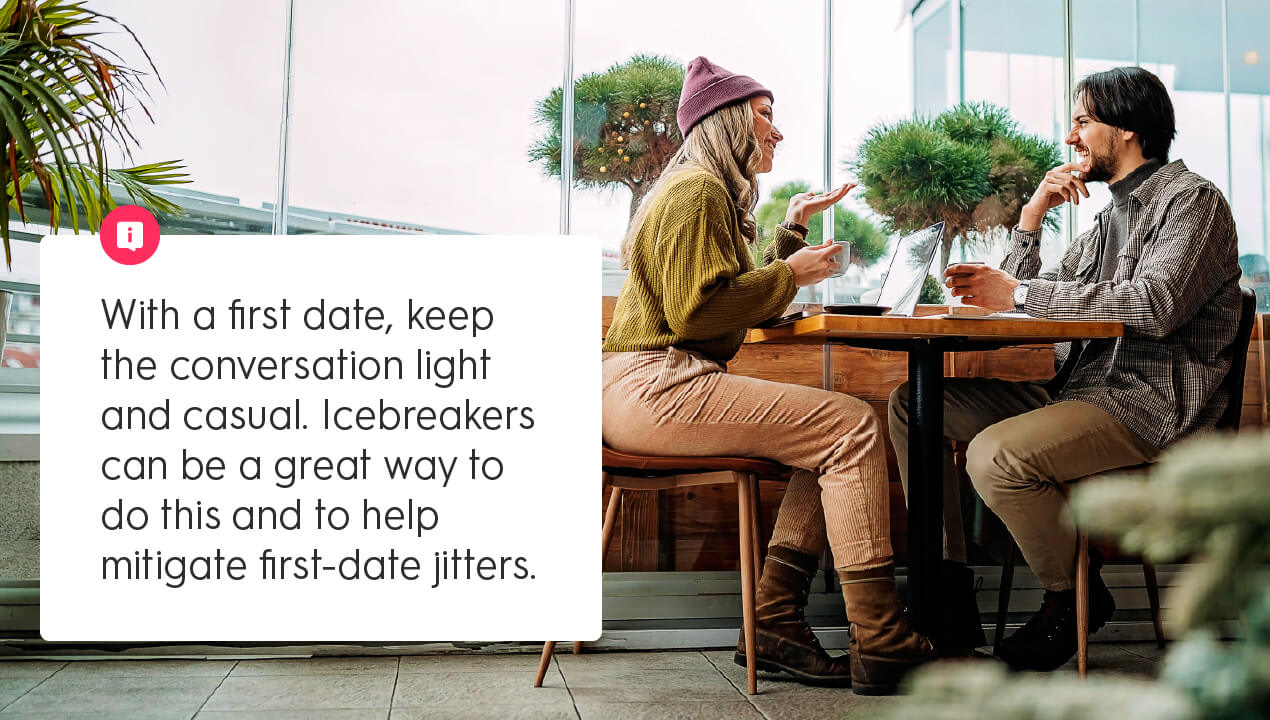 3. What's your favorite movie to quote?
If you're a film enthusiast, asking about their top movie quote can spark an interesting discussion about cinematic tastes and preferences. Shared favorite movie quotes or films can also become a bonding opportunity.
4. If you could have dinner with anyone, living or dead, who would it be and why?
This thought-provoking question can reveal who they respect and would like to spend quality time with, indicating personal values and interests.
5. Do you have a unique talent or skill?
Finding out about an interesting skill or talent your date possesses can clue you into shared hobbies and reveal their individuality and enthusiasm.
6. If you could have any superpower for a day, what would it be and how would you use it?
This imaginative conversation starter can lead to fun and creative dialogues, revealing aspects of your date's character, wishes, and life outlook.
For example, if someone chooses flying, they could be adventurous, free-spirited, and eager to explore new horizons. If they say something like super strength, it could suggest that they like to stay active or have a determined or competitive nature.
Getting-To-Know-You Questions
Once the ice-breaker phase is over, deeper inquiries can acquaint you further, enabling you to ascertain if you're dating them for the right reasons. Here are some thorough questions to help you learn more about your potential partner.
7. What goals or projects are you working on at the moment?
This question can shed light on what inspires and motivates your date, giving an insight into their future aspirations.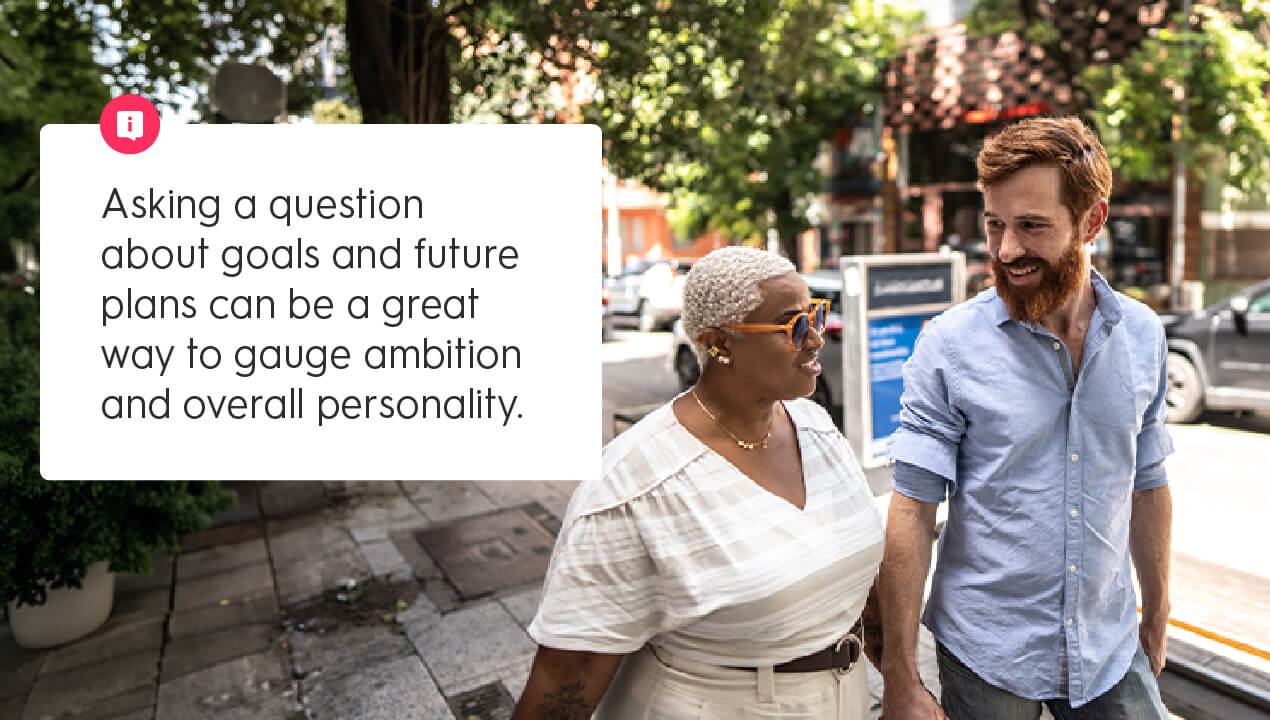 8. What do you do to stay active?
Understanding your potential partner's wellness and health habits can inform you about their lifestyle and whether it aligns with your own.
9. What's a personal achievement you're proud of?
This provides a window to your date's accomplishments, values and what they regard as an achievement.
10. What would you do if you had a week off?
This casual question can give you a good idea of how the person likes to spend their leisure time, informing you of any shared interests.
11. What's your dream job and why does it appeal to you?
Asking about their career dreams can reveal their passions, values, and desired life direction.
If you're curious about what kind of career they currently have, this question could give you an idea of what it is as an alternative to asking straightaway.
Thought-Provoking Questions To Ask
To delve deeper into their psyche, you can deploy thought-provoking questions that encourage an open discussion and reveal more layers of their personality.
12. What does a healthy relationship look like to you?
Understanding each other's definition of a healthy relationship lays the groundwork for a strong and enduring bond.
13. How do you picture your life in five years?
This predictive question allows your potential partner to share their future hopes and plans.
14. What kind of communication do you prefer in a relationship?
Understanding your potential partner's stance on effective communication within a relationship is fundamental.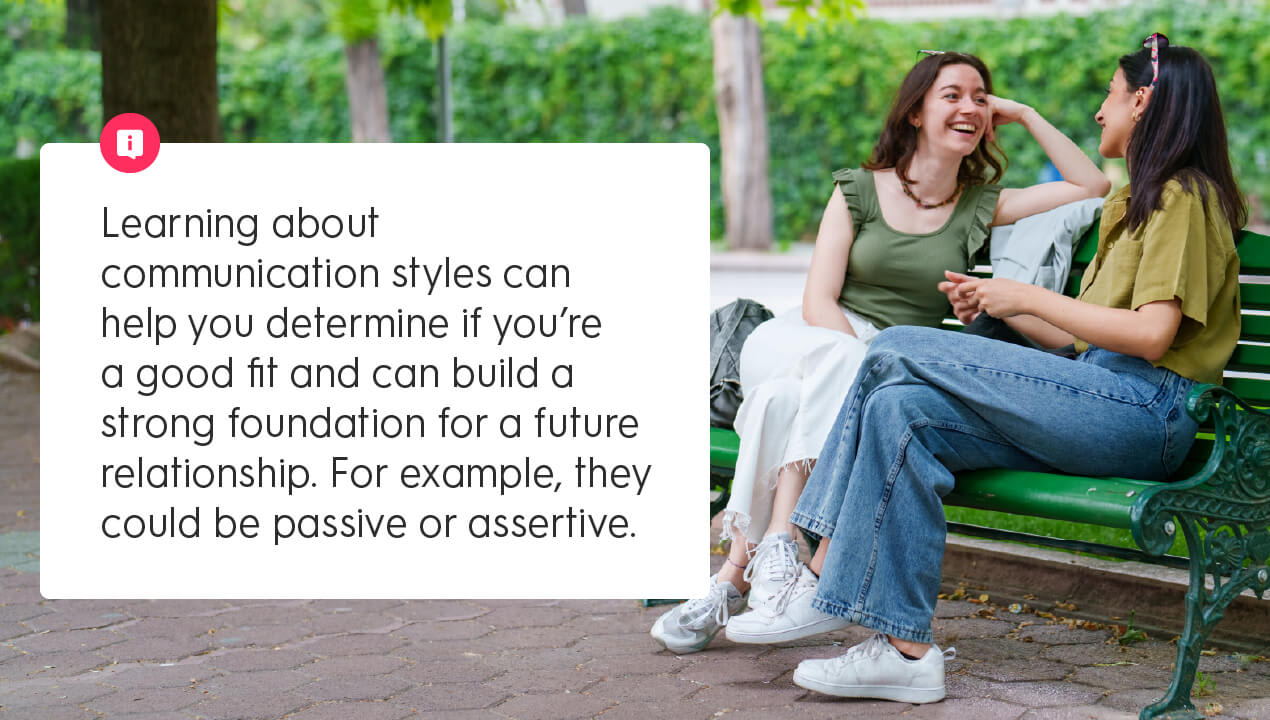 15. What values are most important to you?
Discerning someone else's values and what's important to them can help gauge compatibility by revealing their beliefs, boundaries, priorities, and value-based motivations.
16. What's one thing you've always wanted to learn or experience?
This question provides a glimpse into your potential partner's dreams and aspirations, indicating their willingness to learn new things.
Deeper Relationship Questions
Delving into more profound relationship questions can ascertain deeper connection and compatibility.
17. What's your perspective on marriage and family?
Knowing their views on marriage and family can illuminate their long-term aspirations and values, shaping your potential future together.
18. How do you handle conflict in relationships?
Learning how each party manages conflict is key to fostering mutual understanding and communication.
19. What's the most valuable lesson from your past relationships?
This question allows for reflection on past relationship experiences and the lessons learned.
20. What's your love language and how do you express affection?
People have different preferences when it comes to what their love languages are. There are five different love languages, according to Dr. Gary Chapman:
Words of affirmation
Acts of service
Physical touch
Quality time
Receiving gifts
Understanding each other's love languages is like discovering the secret code to how you both want to experience affection and emotional connection. This question can highlight how you and your potential partner prefer to give and receive love.
21. What motivates you to improve yourself?
Knowing what drives personal growth can build a deeper connection and reveal their goals, values, and aspirations.
Questions to Avoid on a Date
Although it may seem obvious to some, there are plenty of questions and things you should never say on a date. A bad or off-color question can quickly take you from making a good impression to giving someone the "ick."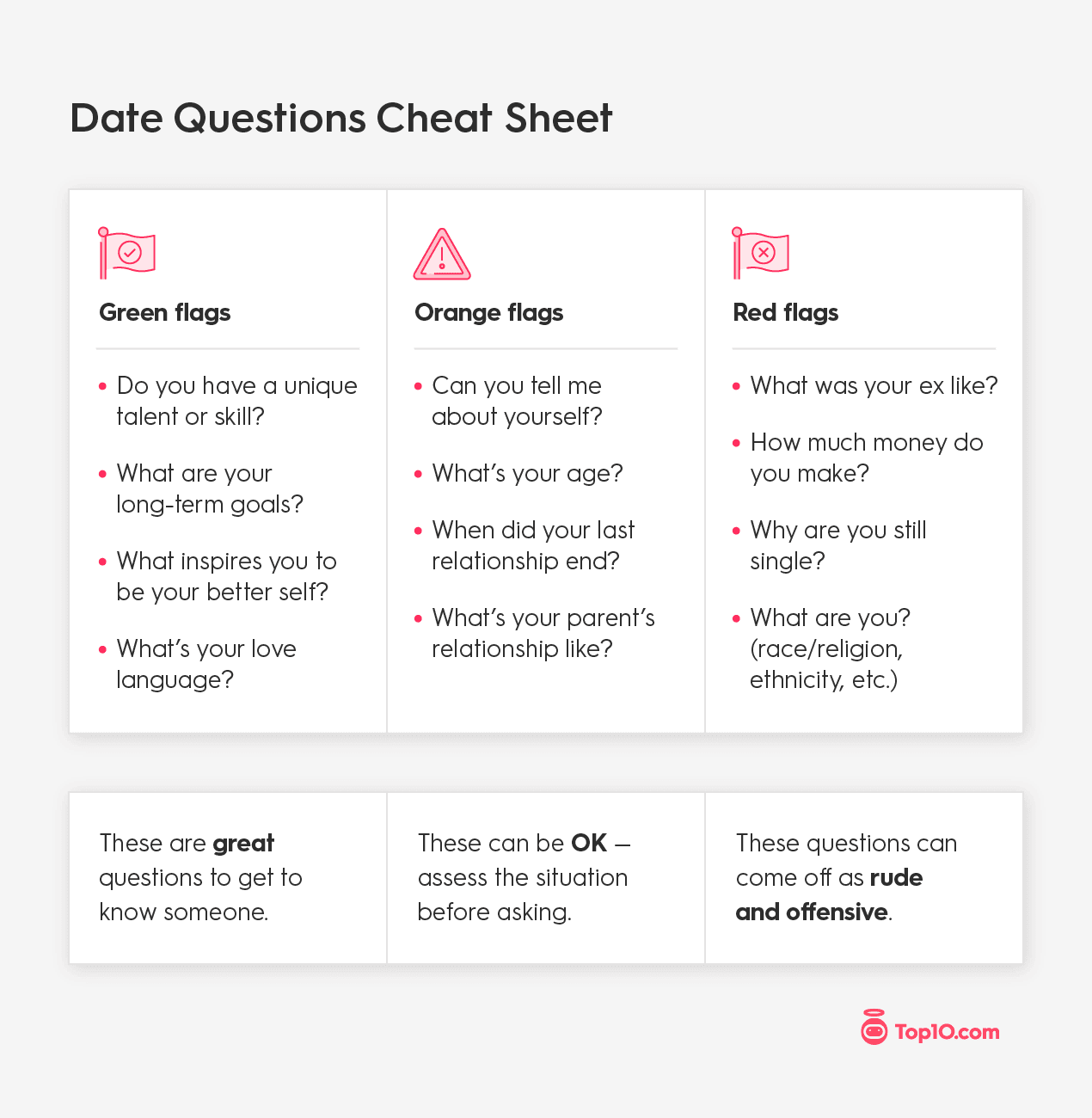 We've rounded these up as red flag questions, or questions you should never ask, and orange flag questions, which you should approach with more care:
Red flags
What was your ex like?: Most people probably don't want to think of their ex, let alone on a date with someone new. It's best to steer clear of this one.
How much money do you make?: No one wants to feel sized up for their monetary value, so this is another one that should always be left out. However, this could be a potential relationship if you're further down the line and are considering taking the next step in sharing finances or marriage.
Why are you still single?: This is a very personal question that you should always avoid at an early date. This type of question comes with negative implications, like there's something wrong with being single.
What are you (i.e., race/religion)?: Curiosity about someone's race, religion, nationality, ethnicity, etc., can give someone a negative impression and can be rude. This is a better question if asked in a better tone or if you know the person better—never on a first date.
Orange flags
Can you tell me about yourself?: This question is too broad, uninteresting, and comes off like an interview. Try being more specific.
What's your age?: Unless it's listed on a dating app, it's a good idea to hold off on asking someone's age until you get more comfortable with that person.
When did your last relationship end?: This should probably be avoided on the first date, and there are ways to phrase this so it's not awkward—you could start the conversation by saying you've moved on from your previous partner, followed by a question about whether your date ended their last relationship amicably.
What's your parent's relationship like?: Asking this question too early in the dating process can be a touchy one—it can also bring up family conflicts or issues, as these can be emotionally charged and uncomfortable to chat about with someone you don't know well yet.
If in doubt, err on the side of caution and focus on lighter, more neutral topics during your early dates.
Printable First Date Scorecard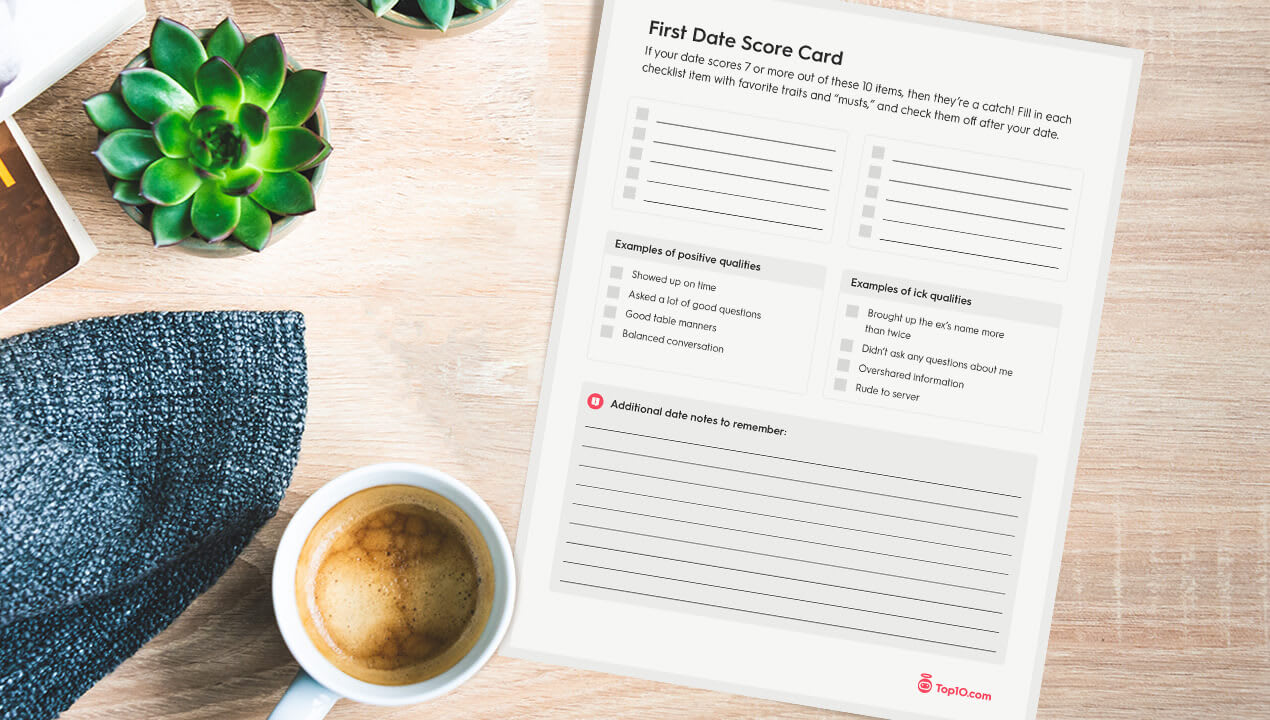 There's a lot to remember about a person after a date—the information you get from asking the above questions is important to consider. To help keep track, use this printable first-date scorecard to help you determine if your date could be a good match for you.
Find Your Perfect Match
Choosing the right questions for a first date can give you a broader understanding of your potential partner. Hopefully, this selection of questions inspires you to boost your dating confidence. Feel free to customize these to suit your style, but most importantly, be genuine.
To enhance your prospects of finding love, try a dating app. With a plethora of apps catering to a diverse range of connections, your odds of finding love have never been better. Browse our top 10 online dating site recommendations today to kickstart your search for the perfect match.