The advantage of these applications is that they work the same way that traditional VoIP services do, but now with the added convenience of mobility (and that comes without wasting your minutes).
With the help of some of the best mobile VoIP providers in the country, we've outlined everything you need to know to make smart choices for your business needs.
What is Mobile VoIP?
With the rise of remote employees, video conferences, and 24/7 business needs, mobile VoIP offers business owners and staff the same VoIP functionality they use at the office, on their mobile or handheld devices. This is typically provided through a dedicated app, and while many people are familiar with this technology already, even if they are not consciously aware of the fact.
Think about apps like Skype, or WhatsApp. It is likely that you use one or both of these on a regular basis. But when it comes to mobile VoIP with some of the top US providers, you have to think bigger to get a true understanding of the potential benefits.
The simplest way to imagine mobile VoIP transforming your business is in creating a mobile office. Think about the common tasks and interactions which take place in your physical office space: mid-day conferences, collaborative chats, IT support issues, and customer service requests.
Mobile VoIP is increasing its functionality all the time to encompass these features into a fully portable system for communication and collaboration.
Comparing the Top Mobile VoIP Providers
If you'd like a quick comparison of top VoIP providers, here's a glance at what the 10 top mobile VoIPs have to offer:
1. Vonage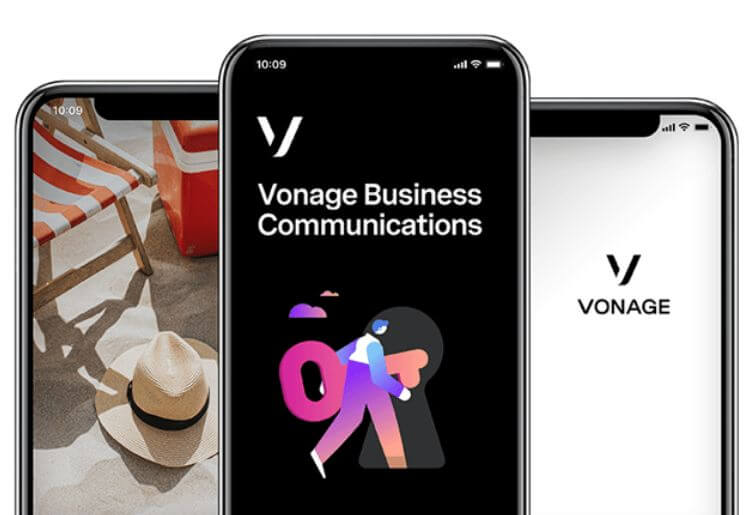 Price: Starts at $14.99/month
Available features: Texting, video chat, video messaging, phone calls
Compatible with: Android and iOS devices
Support: 24/7 live chat, phone support, email contact, and FAQ community
Vonage is one of the most prominent names in the VoIP industry today, and the Vonage mobile app provides the same quality service to mobile users. The VoIP app lets you connect to anyone else with the Vonage app for free, making it an economical and efficient alternative to pricey cellular phone charges. What we really like about the Vonage app is that it even lets you make overseas calls free of charge. International calls to numbers not using the Vonage app are charged a low rate per minute according to your plan.
To be clear, you can call anyone, anywhere, and anytime for free with HD quality as long as the other person has downloaded the Vonage app too. Group chats up to 50 people are supported. You can even leave video messages for more clarity and ease.
The Vonage app works with WiFi, 3G, and 4G, so you're almost always covered.
Vonage connects to your contacts, so you can quickly access and call anyone in your phone book.

Visit Vonage
2. RingCentral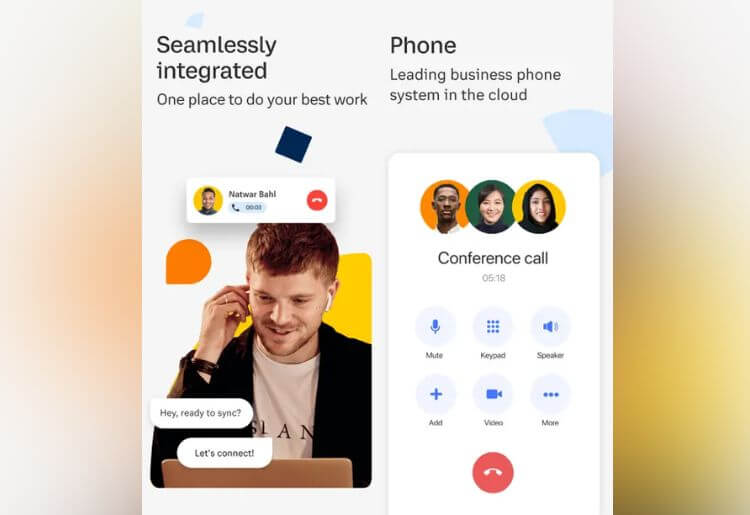 Price: Starts at $39.99/month
Available features: Texting, video chat, video messaging, phone calls
Compatible with: Android and iOS devices
Support: Live chat, email, phone support
RingCentral is another huge name in the VoIP industry, and for good reason. It delivers a good calling product with lots of features that businesses and individuals can take advantage of. The RingCentral iOS VoIP and Android apps bring this convenience to a new level, offering you affordable communication options in the palm of your hands. What's unique about this company is its commitment to security. RingCentral focuses a lot of its efforts on creating secure voice, so you don't have to worry about audio streams being recorded or intercepted, and provides role-based access for added security.
The iOS VoIP app is compatible with iPhones, iPads, and even Apple Watches, allowing you to take your business on the go while still maintaining a seamless identity wherever you are.
Both apps have great features like:
Unlimited calling within the network
Texting
Faxing
Access to company directory
Multiple email logins available for faster communications
Push notifications
Audio conferencing
Video meetings
BYOD for lower per device costs
You can use the app over WiFi, 3G, and 4G, making it a significantly cheaper alternative to your cellular plans.
RingCentral's mobile app features all of the same services as your regular plan including call switching, call recording, call transfers, and more.

Visit RingCentral
3. 8x8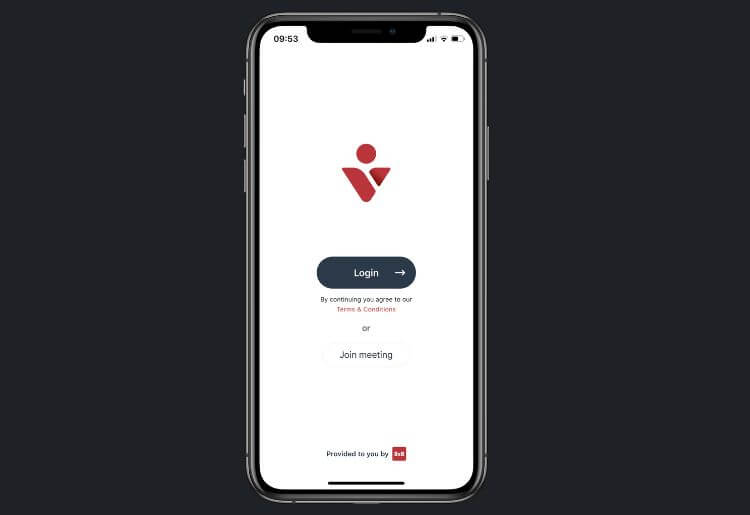 Price: Starts at $15/user/month
Available features: Texting, video chat, video messaging, phone calls
Compatible with: Android and iOS devices
Support: 24/7 live chat, email, phone, community
8x8 has a cloud-based communications solution, Virtual Office, makes communicating across distances easier than ever. As soon as you download the 8x8 app, you'll see the benefits. You can make local, long distance, and even international calls for free from within the network, avoid data and roaming charges when traveling outside the US by turning off data usage and only using 8x8 and WiFi.
Some of the more impressive features that 8x8 mobile includes are:
Instant transfer from desk phone to smart device during a call or video conference without losing the call
Connect to multiple staff members simultaneously for easier collaboration
Create bridges, conference calls, and audio and video meetings with a single button
8x8 lets you utilize all of the tools you are used to with its business plan on mobile as well. This includes call parking, transferring, and voicemail organizational tools. 8x8 lets you share files and videos with others, something that is really important in business interactions.
With 8x8 you can handle all of your business needs directly from your smartphone.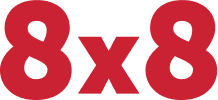 Visit 8x8
4. Comcast Business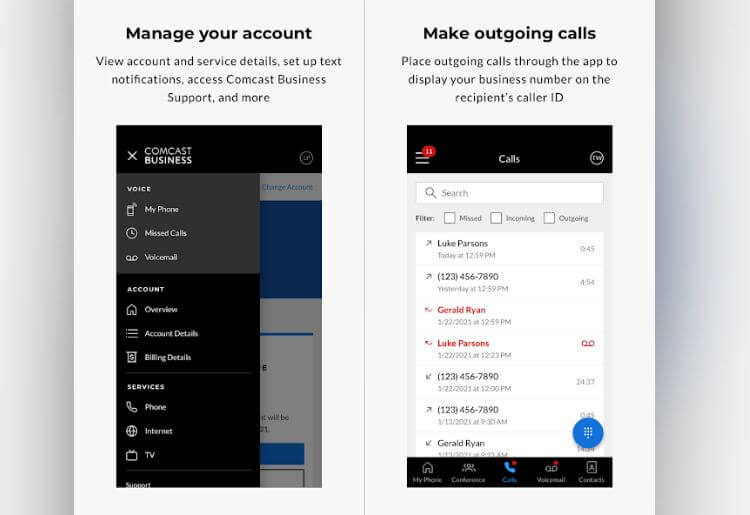 Price: Starts at $29.95/line/month
Available features: Texting, video chat, video messaging, phone calls
Compatible with: Android and iOS devices
Support: Phone, live chat, FAQ, community forum
Comcast is a major communications corporation, and the Xfinity is its VoIP communications solution enjoyed by businesses all over. With the Xfinity Connect mobile app, users can access their Comcast accounts and services directly on their mobile devices, adding convenience and extending the reach of their business possibilities.
In addition to the standard options like checking email, sending SMS, and receiving free calls, some of the features users appreciate from this company are:
Readable voicemail transcripts
Call logs
Free calls and texting, even internationally to 40+ countries
Caller ID
Video calling
The Xfinity app even allows you to incorporate your home phone number into the mix. Using the Voice2Go feature, callers may place calls from their cell phones and have them register as coming directly from their house phones.
Comcast also lets you create up to four personal phone numbers, making this a versatile plan that is not only useful for businesses but personal use as well.

Visit Comcast
5. GoToConnect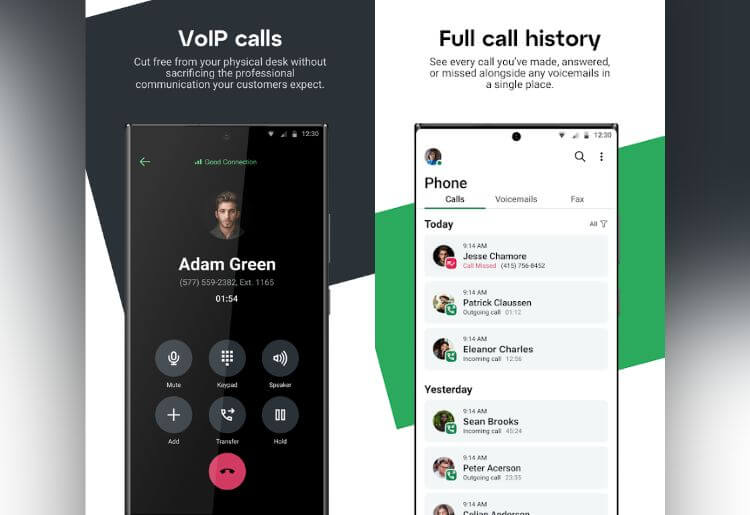 Price: Starts at $24/user/month
Available features: Texting, video chat, video messaging, phone calls
Compatible with: Android and iOS devices
Support: Phone, email, FAQ, community
GoToConnect (Jive) makes doing business from wherever you are easier by allowing you to connect to your business phone directly via your smartphone. You can receive phone calls on your cell phone that come through your business phone number, making anonymity and privacy more reliable. Users can check voicemails, read through call logs, and more.
VoIP is the new way of communicating, and both businesses and individuals can maximize their experiences by using the best VoIP app for them. Consider the features, quality, and pricing plans that work with your needs to find your top choice.
Something we thought was neat about this particular VoIP app was the rules that it allows you to create. For example, the location-specific rules let you decide to automatically switch your status to unavailable when you get in the driveway of your home. It's that kind of small, but noticeable convenience that makes GoToConnect stand out.
The GoToConnect mobile app lets you collaborate with ease using tools like video calls, network chatting, and direct calling.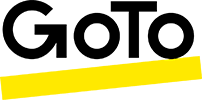 Visit GoToConnect (Jive)
6. Grasshopper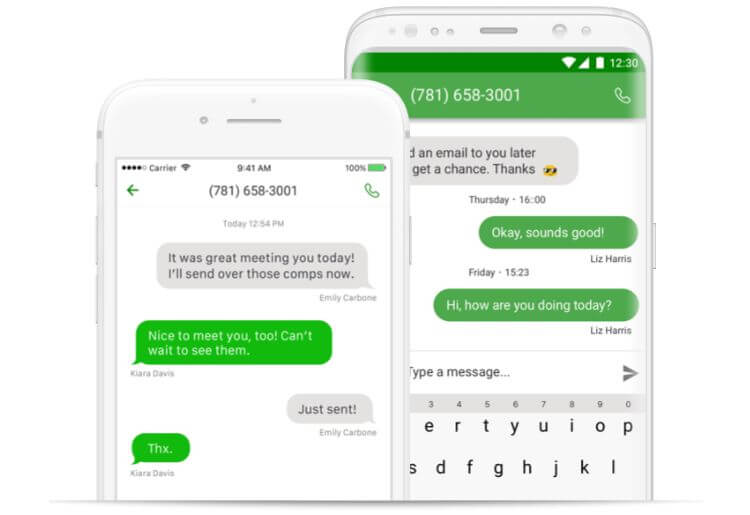 Price: Starts at $29/month
Available features: Phone calls, voicemail, texting
Compatible with: Android and iOS
Support: Phone, FAQs, AI chatbot
Appropriate for the animal it was named after, Grasshopper can be heard from just about anywhere. This was no accident--Grasshopper is a small VoIP whose voice quality, capabilities, and performance far outweigh its actual size.
Grasshopper puts a special focus on inbound calling, though its mobile app also offers outbound call services with a digital dialer programmed into it. At once accessible and robust, Grasshopper makes a lot of noise even amongst its larger competitors.
Grasshopper provides a great mobile VoIP app for small businesses looking to leverage the flexibility that VoIP offers at a low cost.

Visit Grasshopper
7. Verizon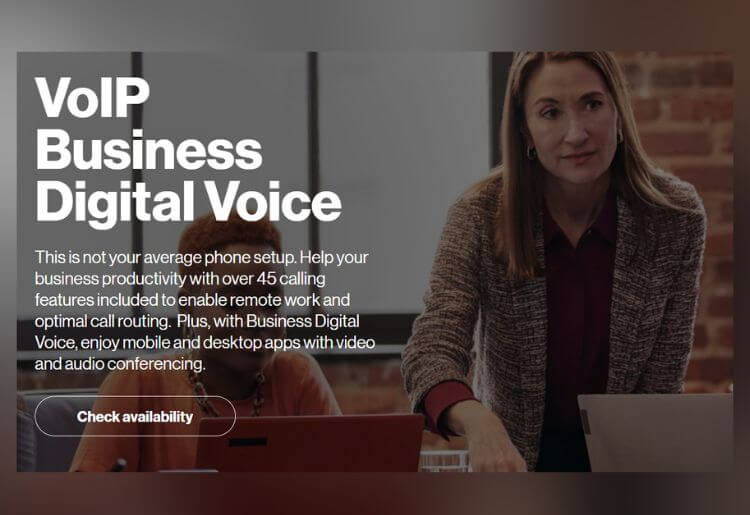 Price: $35/line
Available features: Calling, messaging, auto-attendants, call routing
Compatible with: Android and iOS
Support: Phone, email, live chat
The nationally recognized telecommunications company offers VoIP services backed by the same infrastructure and heft of the larger company.
Verizon offers many traditional VoIP features and a few unique to the service, including fiber optic internet, wireless backups, and business-friendly tools like mobile fleet management.
A capable VoIP phone service for businesses looking to stay in the Verizon network.

Visit Verizon
8. Aircall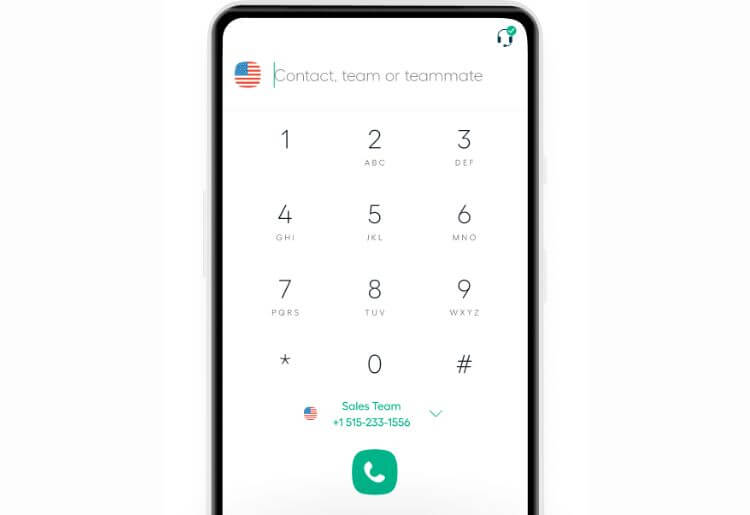 Price: $30-$70/user/month
Available features: Call recording, call routing, and SMS messaging
Compatible with: Android and iOS
Support: Phone, email, live chat
Targeted primarily towards enterprise businesses, Aircall has an impressive infrastructure and business integrations ranging from Zendesk and Salesforce to Pipedrive.
Aircall has mobile apps for both Android and iOS users that allow them to manage communication needs, including annotating and tagging, no matter where they are.
Aircall is a comprehensive VoIP platform with VoIP features that go beyond.

Visit Aircall
9. Intermedia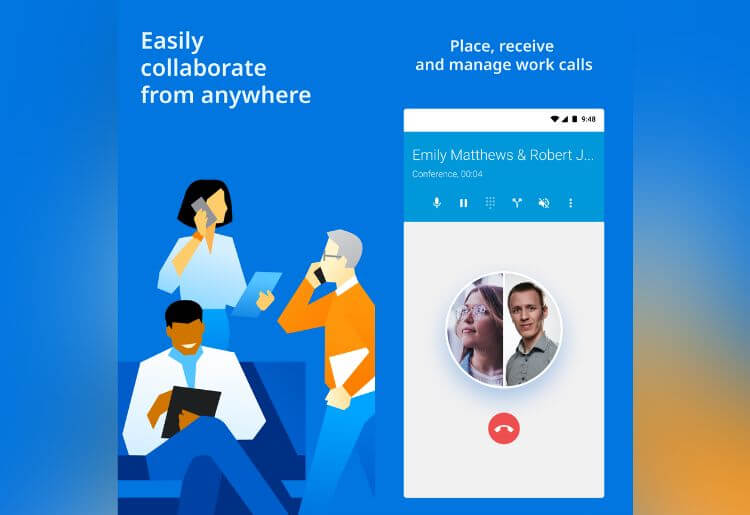 Price: Starts at $27.99/user
Available features: Unlimited calling, SMS messaging, voicemail transcription
Compatible with: Android and iOS
Support: 24/7 support by phone, email, live chat
Intermedia offers contract-free VoIP plans designed primarily for small and medium-sized businesses. It's known as a reliable, user-friendly system with good uptime and single-dashboard accessibility that makes it easy to access by phone, computer, or mobile. The system automatically forwards calls to mobile, making it a solid choice for those always on the go.
Intermedia provides excellent value if you need a comprehensive business phone system.

Visit Intermedia
10. Ooma Office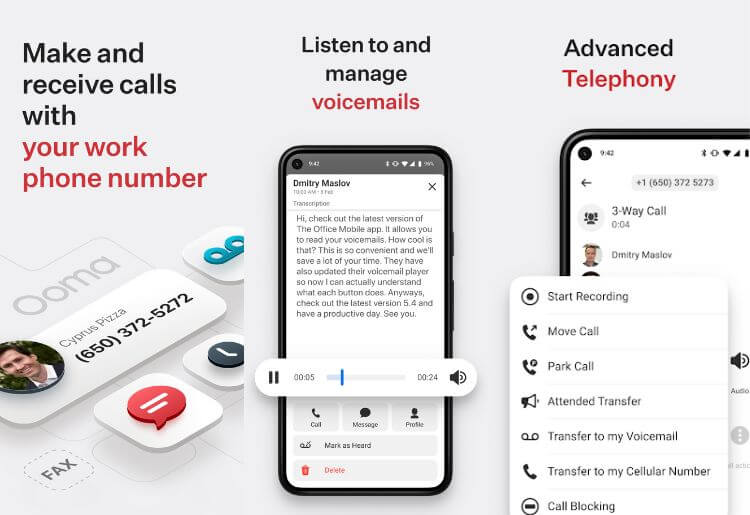 Price: $19.95/month
Available features: Call management tools, on-hold music, call recording
Compatible with: Android and iOS
Support: 24/7 support via phone or live chat, self-help resources
A recipient of PC Magazine's Business Choice award as #1 VoIP provider for Small Business, Ooma Office carries with it a lot of expectations, and lives up to them.
Small and independent business owners love the no-contract service and praise its reliability, call quality, and seamless mobile apps. Ooma may not be robust enough for larger businesses, but provides award-winning service with exceptional mobile capabilities for those looking for a leaner, more affordable VoIP.
Ooma has great call management tools that can make SMBs stand out.

Visit Ooma Office
Popular Features of Mobile VoIP
Mobile VoIP has come a long way since simple voice calls over the internet. Here's a look at the many features that can benefit you and your business:
Link separate offices
If you have more than one office, this is a great way of creating a seamless working environment between them. It also helps alleviate time differences for global workers, as staff can take calls or meetings from home or on the move. Check with your provider to see if it offers PBX capabilities, helping you create a private branch exchange for your staff, not only for all of your physical offices, but also on mobile.
Appear 'always on'
Working hours can become a thing of the past when your mobile phone is also your office phone. Any time a customer has a query or a concern, they have a direct line straight to the correct staff member. VoIP providers allow users to create extensions and groups of extensions so that calls can be routed effectively. If your business wants some downtime, you can also create personalized voicemails or greetings which explain opening hours or redirect accordingly.
Conferencing
Conferencing capabilities are improving all the time, and can include video chat, instant messaging, and a conference floor monitor system. This last tool allows admin to manage invitations to meetings, questions coming in, and options like muting certain members.
Screen sharing
This means that IT support or other colleagues can see your problem or example at a glance from their own screen. Mobile VoIP also allows for video and file sharing, all over the internet, and without a third party middleman.
CRM
Customer relationship management tools which can be integrated into the top business VoIP solutions include Salesforce, Act, Zoho, Microsoft Dynamics, and Oracle. These allow you to keep track of your customer data, your incoming and outgoing calls, capture call notes, and explore real-time accountability.
Integrations
Whether it's customer service, office staff or teleworkers, your business deserves to get the most out of its employees. Your business VoIP can support this, with integrations with popular productivity software such as G-suite or Office 365. Amongst others, Salesforce Desk and Zendesk can support customer service, while software such as Clio or ConnectWise are great for business management.
Security
Security is paramount when it comes to business VoIP, both for mobile and desktop. The latest trends in security include powerful ID authentication tools, end-to-end encryption, and Transport Layer Security (TLS) or Secure Real-Time Transport Protocol (SRTP) encryption.
Professional look
For small businesses especially, having your business number routed directly to you wherever you are is priceless. Some companies allow you to create unique local numbers around the globe, so that your customers always feel that you are a professional local presence for them. Whether your user is calling from Japan or Australia, they will be able to use a unique local area coded number to call your mobile directly.
Mobile VoIP Quality and Performance
The biggest concern that customers have when it comes to mobile VoIP is reliability. This is key when it comes to the image of your business and your interactions with both customers and staff alike.
While free mobile VoIP services, or those intended for personal use, may include issues such as latency errors or weak signal, mobile business VoIPs is a whole different ball game. The most important reason is Quality of Service or QoS. All VoIP companies are required to meet QoS protocols which include an evaluation of jitter, latency and delay, ensuring a certain amount of resources are allocated to voice calls.
Don't forget to factor in bandwidth, though. If you're using WiFi, your call is only as good as the bandwidth it is using. Working from a crowded coffee shop full of people using the network might slow you down.
It's also worth remembering that unlike wired-in VoIP on desktop and in the office, your data charges may vary from provider to provider. While the calls themselves may not be charged, the use of the internet might well be. Users will need to be aware of how much mobile data they have to play with and how much will be used, especially with data-heavy tasks such as video calls. Of course, using home WiFi or any other connection can bring those costs down.
Other common concerns you may want to talk to your mobile VoIP provider about include:
Your VoIP works seamlessly between desktop and mobile, updating in real time, for example when it comes to reporting or client management.
The ability of the mobile VoIP app to work in the background, allowing you to continue other work or check email while you take part in a call.
Degradation issues. Can you limit the bandwidth for certain parts of the interaction, for example giving more resources to voice over video quality, or helping to send a file more quickly?
How Do I Know Which Mobile VoIP to Choose?
Choosing the right mobile VoIP can feel like an arduous task, especially with so many elements to consider. Our experts have compiled the definitive chart of the best mobile VoIP solutions, both standalone and to complement Business VoIP for the office. Make sure to review the top providers on factors such as price, reliability, features and customer service, to help you make the right call, literally.
Want to learn even more? Check out the following resources
Best VoIP Phones for Small Business