In a Nutshell
Dialpad is a cloud VoIP and unified communication (UC) provider that focuses on offering consumers a hardware-free communications environment. The Dialpad Talk business phone system can be trialled on a non-commitment 14-day trial and features swap numbers, easy number porting, and business SMS.
pros
Wide integration library
AI insights for inbound calls
cons
Feature descriptions intimidating for non-experts
Dialpad Visit Site
Standout Features
Port Your Number
Users can port in their existing phone numbers

This allows users to keep existing numbers irrespective of which provider provisioned the lines. This holds true whether they are local, toll-free, or international lines.
Business SMS
Dialpad's VoIP system supports sending messages by SMS, MMS, or group chat
Other Dialpad features include:
Dynamic call routing: Users can configure intelligent routing paths to make it easier for callers to get through to the right agent.

Spam blocking: Dialpad Talk has automated spam detection and blocking capabilities to prevent support lines from getting bogged down with spam callers
Screen capture: Dialpad allows managers and administrators to record agents' screens during support interactions in order to help them better assess agent performance.
Integrations
Dialpad can be used as a softphone through its desktop app, Dialpad Everywhere, which automatically positions itself in front of any other windows that the user has open. The software can be used to access core phone controls as well as the additional browser and CRM features. The solution is available for both Mac and Windows as well as iOS and Android—so only Linux users don't get to take advantage of the Dialpad cloud telephony.
In addition to its operating system integrations, Dialpad's core system works with a wide variety of third party services. These integrations allow the system to be integrated with enterprise-scale user credential directories (Azure Active Directory) as well as CRMs (Salesforce) and marketing tools (Hubspot). In addition to the above, the full list of supported integrations includes:
One Login

Kustomer

Microsoft 365

GSuite

Zendesk

Slack

Zapier
Additionally, Dialpad has an open API. This allows development teams to integrate it with virtually any other software.
Value for Money

Dialpad Talk, Dialpad's business VoIP system, is available at 3 subscriptions levels: Standard, Pro, and Enterprise. The Enterprise tier requires 100 licenses at minimum and pricing is by quotation only.
The Standard user pricing is certainly reasonably good value but lacks some useful functionalities including 24/7 support, the Salesforce integration, and API and webhooks access. Those that sign up for the Enterprise plan get all the Pro features as well as an Okta integration and plans that are governed by Service Level Agreements (SLAs).
Overall, for the functionality provided by this phone system in the cloud, it's hard to argue with the value that Dialpad provides at least on the basic subscription tier.
Mobility
Dialpad Everywhere is available for Android and iOS. This means that mobile users should be able to access the VoIP system from their smartphones. Smartphone endpoints can be fully integrated into the system's call routing tables.
Scalability
Dialpad Talk plans only require one subscribing user to get going (Standard plan). However, the company also offers an Enterprise tier for those that have more than 100 users that need to get connected. The solution supports both desk phones and softphones. So there's easy potential here for scalability.
Ease of Setup and Management
Setting up and managing Dialpad should be no trouble for both experienced and rookie VoIP system administrators. Navigation panels and menus were all clearly laid out and setting up BYOD connectivity and phone call routing is relatively simple. Administration takes place via an online UI. Dialpad also offers support for hybrid premises-cloud implementations via its On-Premise Gateway Solutions (OPGS). These solutions are only available for Enterprise customers and those setting them up should ideally have some prior experience in networking and VoIP.
Equipment
Dialpad makes it easy for businesses to run their VoIP in the cloud by providing a full range of support hardware accessories and softphones to make the transition easier.
Customers that want to deploy a hybrid cloud / on-premises VoIP infrastructure can opt for one of Dialpad's On-Premise Gateway Solutions (OPGS). Dialpad offers both a PBX gateway and a PSTN gateway to address the needs of users that want to maintain legacy equipment while in the process of migrating to a cloud VoIP setup.
For desk phones, Dialpad is compatible with both the Polycom and Obihai range of desk phones. The company maintains full documentation outlining which models are compatible.
Customer Service
Dialpad's support team has put together a nice online help desk area containing lots of knowledge designed to assist users with troubleshooting common queries.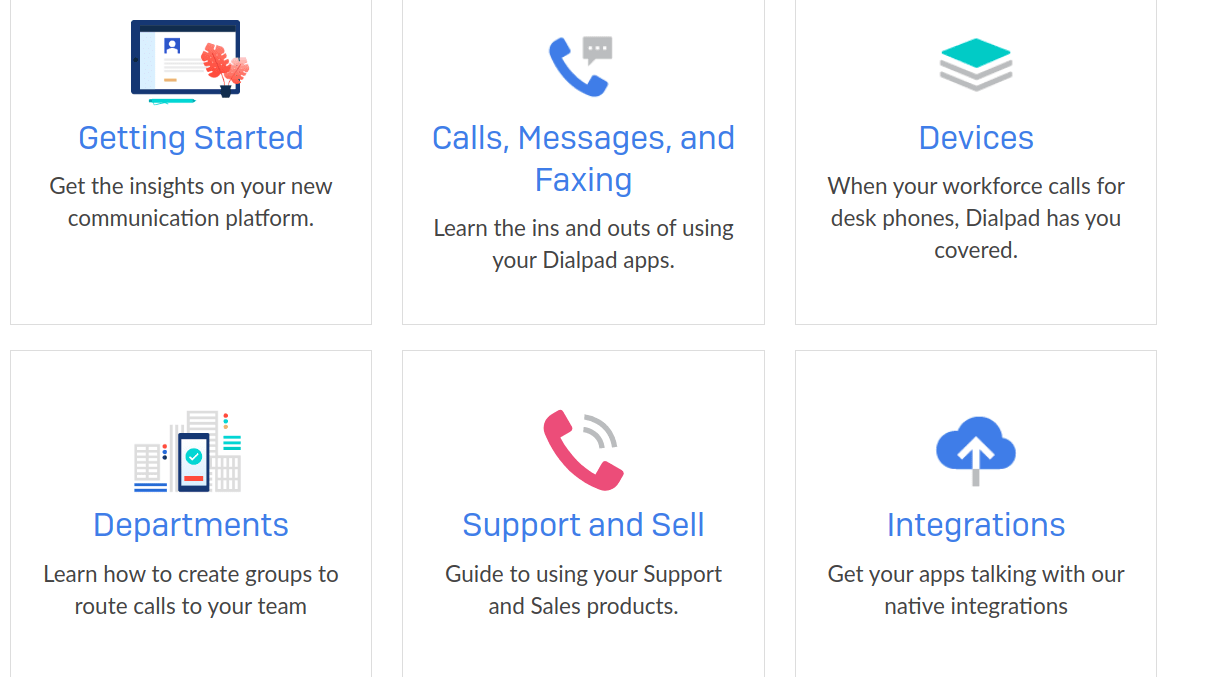 Separate documentation is available to assist users with configuring integrations, setting up Dial Pad on their BYOD devices, and setting up the add-on fax module.

For users that need personalized support, the team relies upon Intercom for ticket-based and live chat support interactions. The team can also be reached by telephone. Those on both the Pro and Enterprise plans are able to use 24/7 phone support as well as local support numbers in more than 50 countries.
International VoIP Calls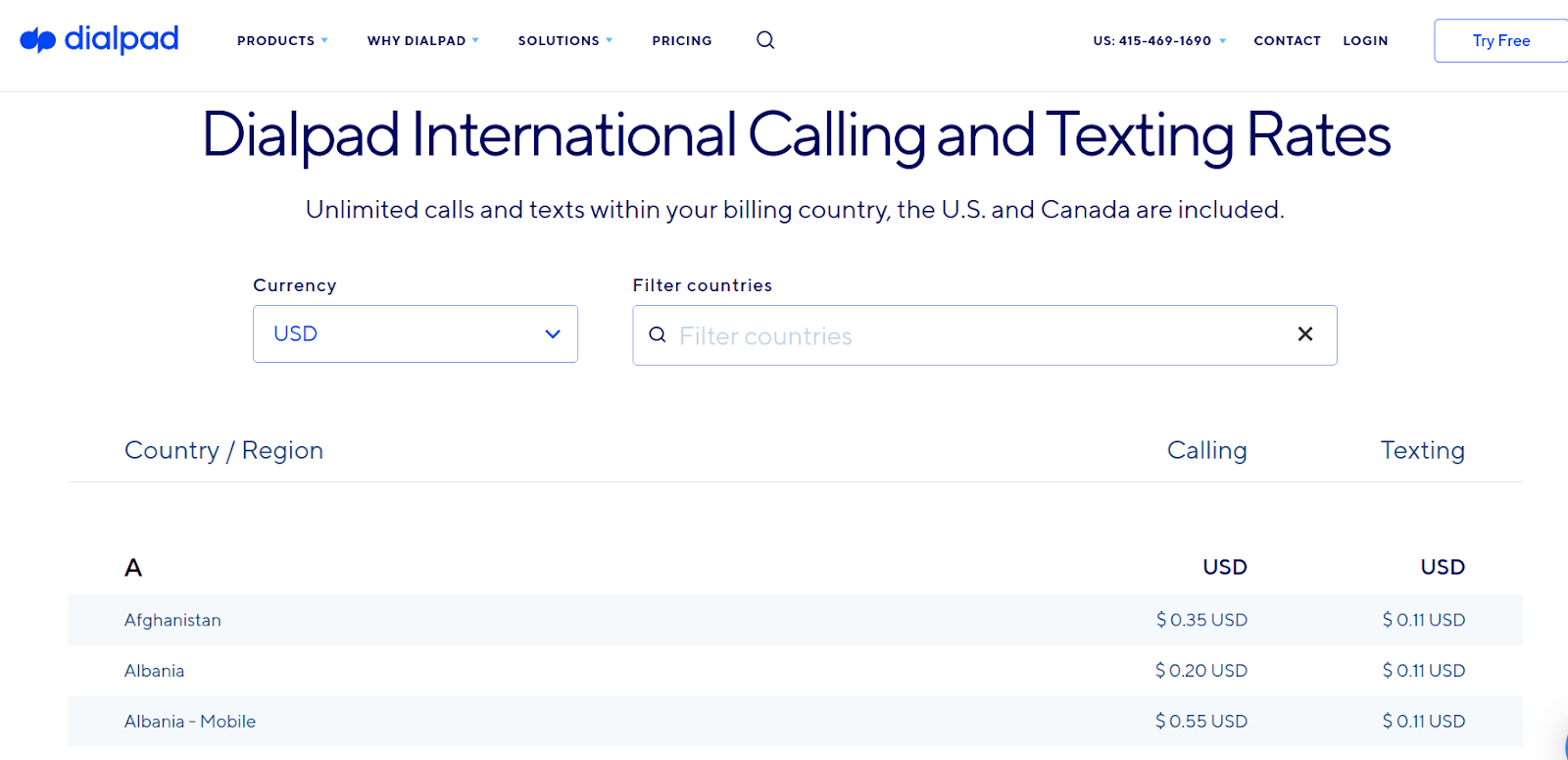 Dialpad has published transparent international VoIP calling rates on a transparent and searchable chart on its website. Separate flat rates apply for SMS. Charges vary according to the country being dialled and whether the user is connected to a landline or cellphone.
Dialpad Visit Site
Unified Communications/Multi-Channel
Omnichannel communication:
Using Dialpad's omnichannel capabilities, users can integrate chat, phone, and email into one support experience. All customer information from across all channels is intelligently matched and aggregated into the contact display page. Omnichannel support teams have been shown to offer better customer care.
Bottom Line
Dialpad Talk is a feature-filled and scalable system suitable for everybody from small solopreneurs to large scale businesses. Its features include omnichannel support, business SMS, and built-in spam call blocking. The team also supports an on-premises gateway for those that would like to keep their legacy PBX while gradually migrating resources to the cloud. This is a winning solution that businesses can stick with for years.