Dialpad Visit Site
Dialpad Available Features
Unlimited call and text
All Dialpad plans include unlimited voice and SMS and MMS messaging within the US and Canada. Pro users also get unlimited international messaging. Your plan includes 1 local or toll-free number per user, but you cannot set up extensions for in-office calls.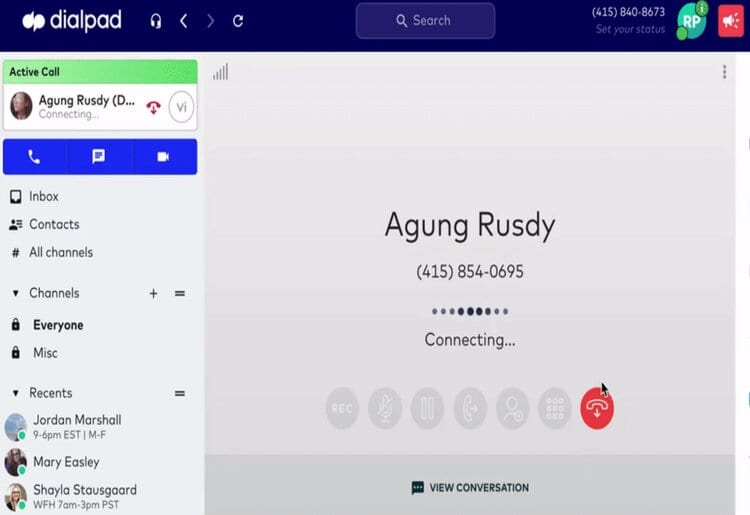 Call routing
You can set up custom routing rules to determine who within your office receives an incoming phone call. Most of Dialpad's call-routing features are what you would expect from a VoIP service. Employees can set their hours and choose to automatically route calls to their mobile device. Pro plan users can create up to 10 offices and up to 25 ring groups.
In addition, Dialpad offers 2 unique call-routing features. First, the platform enables you to set a fallback number in the event of an outage. This is helpful because it means that calls won't be lost even if your office's internet goes down.
Second, Dialpad allows you to automatically route calls based on the area code or country prefix of the number calling. This is useful for automatically directing calls to a regional sales representative or local office.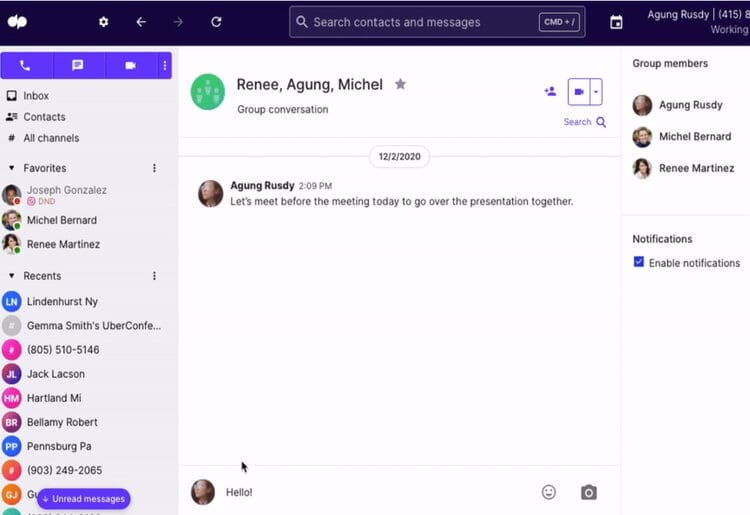 AI assistant
The standout feature of Dialpad is its AI assistant. This virtual assistant can transcribe calls in real time. It also detects action items, such as tasks to be completed, and adds them to an after-call summary that you can email out to colleagues and clients.
Best of all, the AI assistant can be used for coaching during calls. If it detects specific words or phrases, it will provide relevant information to your employee. For example, if the discussion turns to pricing for a specific product, the assistant will automatically display the relevant pricing information in the Dialpad dashboard. The assistant can also notify your employee when they are talking too fast.
Analytics
Dialpad offers an in-depth analytics dashboard where managers can track call volume and duration as well as feedback from customers. You can filter data by individual user, department, ring group, or office. Notably, you can also search through call transcripts and text messages for specific keywords to see how often they're being mentioned in conversations.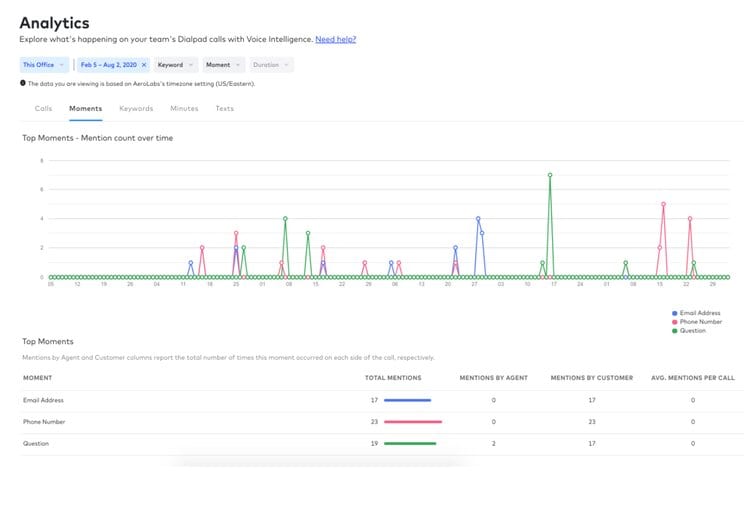 Security and Reliability
Dialpad encrypts all calls over its VoIP network using TLS (transport layer security). Data like call recordings and transcripts are stored in Google Cloud and secured with 256-bit AES encryption. Dialpad is compliant with the SOC2 security standard and HIPAA. If your employees need to collect payment data over the phone, Dialpad enables them to pause recording so that your business is PCI-compliant.
For larger companies, Dialpad's Enterprise plan supports single sign-on using Okta, Microsoft Azure, Google Workspace, OneLogin, and others. Dialpad also provides a 100% uptime SLA (service level agreement) for Enterprise users.
Dialpad Integrations
Integrations are another strength for Dialpad. Standard users can integrate with G Suite and Microsoft 365 products, including email and calendars. This makes it easy to import contacts into Dialpad when you first get started and enables you to add action items identified by the AI assistant to your calendar with a single click.
Pro users get access to more integrations for CRM software, including Salesforce, Hubspot,and more, as well as internal messaging software, like Slack. You can also integrate Dialpad with Zapier, which enables a much wider range of software connections.
Dialpad App
Dialpad offers a free mobile app for iOS and Android devices. It's very easy to use and enables you to make and receive VoIP calls on your mobile device. Helpful, Dialpad also makes it easy to transfer calls from the desktop or web app to the mobile app and vice versa.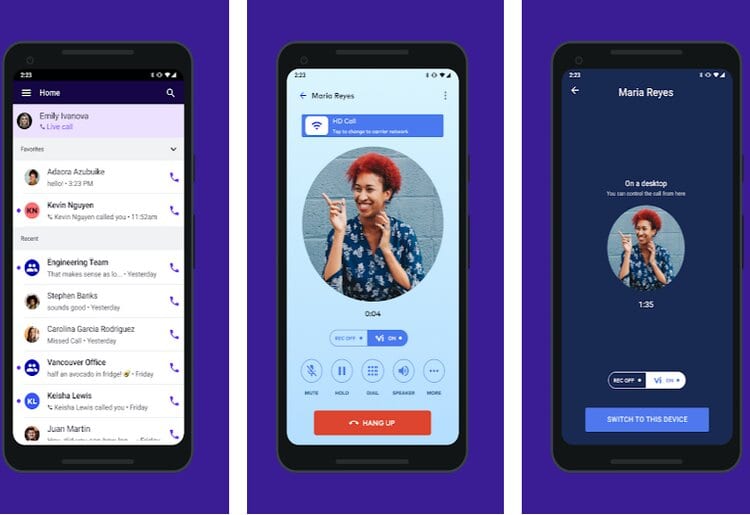 Dialpad Customer Support
Standard users get 24/5 customer support by email and live chat, while Pro users receive 24/7 phone support. We tried the chat support and were able to connect with a representative within a few minutes.
Dialpad also has a very thorough online knowledge base with hundreds of tutorials, each of which includes numerous screenshots of the software in action.
Pricing & Special Offers
Dialpad offers 2 plans, both of which are highly affordable compared to similar VoIP plans from competitors.
Microsoft 365 and G Suite only
The Standard plan costs $20 per user month, or $15 per user month when paid annually. It includes unlimited calling and texting as well as full access to Dialpad's AI assistant. You can integrate Dialpad with Microsoft 365 and G Suite, but not with a CRM or other messaging services.
The Pro plan costs $30 per user month, or $25 per user month when paid annually. It adds more than 40 integrations, including integrations for Salesforce, Hubspot, and Slack. The Pro plan also comes with unlimited voice meetings up to 5 hours each, up to 25 ring groups, and support for desk phones.
Dialpad also offers an Enterprise option, with pricing by quote only. The Enterprise plan adds support for single sign-on with Okta or OneLogin.
All Dialpad plans come with video conferencing, but conferences are limited to 45 minutes and 10 participants. You can upgrade to hold meetings up to 5 hours with up to 100 participants for $15 per user per month.
You can try out Dialpad for free for 14 days.
How Dialpad Compares to Other Voip Services
Phone, email, live chat, support site
Phone, email, live chat, support site
Phone, email, live chat, support site
Dialpad vs Ooma Office
Ooma Office offers a wide variety of features for medium-sized businesses, including a virtual receptionist, ring groups, flexible call routing, and more. Ooma Office also offers unlimited calling to Mexico, which can be an advantage if your company does business there.
With Ooma Office, you'll need to upgrade to a Pro plan ($24.95 per user per month) to get automated voicemail transcription and call recording, which are essential features included in Dialpad Standard. However, Ooma Office Pro also includes unlimited video conferencing for up to 25 participants. So, it can be a good deal if your business needs a video-conferencing solution in addition to VoIP software.
Dialpad vs Vonage
Vonage offers a very different set of features from Dialpad. You won't get an AI assistant or unlimited call recording. However, you do get unlimited video conferencing and the ability to integrate desktop phones into your VoIP system. Vonage also supports call center operations, which Dialpad does not.
Vonage costs significantly more than Dialpad, particularly if you need to set up call groups or want voicemail transcription. Those features require a Vonage Advanced plan, which starts at $39.99 per user per month.
Dialpad vs Phone.com
Phone.com is a budget-friendly VoIP that starts from just $10.39 per user per month when you pay annually. Importantly, that basic plan includes only 300 minutes and 1,000 texts per month across all of your users, so this service won't be right for businesses that make a lot of calls.
Other than that, Phone.com is very competitive with Dialpad. You get features like call recording and transcription, call routing, queues, and audio conferencing. Phone.com also offers video conferencing for up to 10 participants, but unlike at Dialpad, your meetings are not limited in length.

Dialpad Visit Site
Bottom Line
Dialpad is a capable VoIP service with a lot of slick features for small businesses. The platform offers integrations with key business software like G Suite and Microsoft Teams, as well as with CRM software like Salesforce and Hubspot. It also comes with a powerful AI assistant that can help your employees stay on top of action items and provide quick information to anyone who calls.
Dialpad's only significant shortcoming is in video conferencing. The included video conferencing plan supports meetings up to 45 minutes, which may not be enough for many businesses. You can upgrade for longer meetings, but this add-on costs as much per user as Dialpad's Standard VoIP service.
Overall, however, Dialpad is an excellent option for small businesses who want an affordable, feature-rich VoIP platform and don't require video conferencing.