Grasshopper Visit Site
Grasshopper Available Features
Grasshopper punches above its weight in features, offering a long list of calling features. You get unlimited calls in the US and Canada, and it's possible to add international calling for an added fee.
Custom phone numbers
One of Grasshopper's most important features is the ability to have multiple custom phone numbers and extensions. The phone numbers you choose can be in different area codes, and you have the option of combining local numbers and toll-free numbers if you choose multiple phone numbers. Vanity numbers (e.g., 1-800-TECH) are also available.
Extensions can be set to forward calls to different phone numbers or to route all calls to a single number.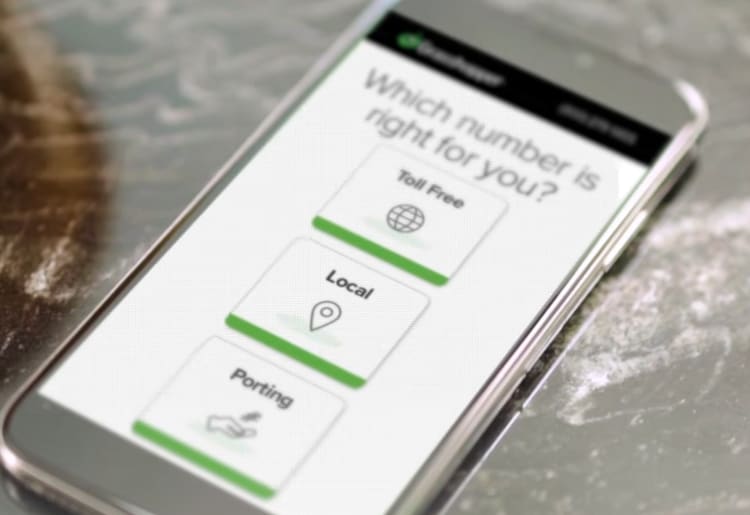 Automated greetings and hold music
You can set up different automated greetings for callers using Grasshopper. For instance, you can have a greeting for when you're available and another for when you're out of the country.
Grasshopper also has several hold music options that can keep your business calls sounding professional.
Voicemail transcription
When you receive a voicemail on your Grasshopper number, it's automatically transcribed and sent to your email or Grasshopper app. You get a text representation of the voicemail alongside an audio recording of the voicemail, so you can quickly decide which voicemails require immediate action.
Text messaging
All the users on your Grasshopper plan can send texts to each other at no extra charge. Employees can send and receive messages on the Grasshopper desktop and mobile apps.
Virtual receptionist
For an added fee starting at $199/month, you can have a real receptionist answer your calls from a remote location. The receptionist can offer a company-specific greeting, schedule appointments, and answer basic customer FAQs. This is a cost-effective alternative to hiring a full-time receptionist.
Security and Reliability
Grasshopper doesn't mention anything about the security and reliability of its products on its website. It does promise a 99.999% uptime, so reliability shouldn't be an issue. Grasshopper uses cloud-based servers with backup servers in multiple geographic regions, so downtime is very rare.
Grasshopper is not HIPAA compliant, meaning it isn't the right choice for companies that need to protect and secure people's healthcare data.
Grasshopper Integrations
Grasshopper doesn't directly integrate with any other platforms, but it's possible to use it alongside some other software solutions. You can use Grasshopper with Skype, for example, by forwarding your Grasshopper number to your SkypeIn number. This also works with Google Voice.
Grasshopper can be used with marketing automation systems like HubSpot or customer relationship management software like Salesforce, but there's not much in the way of automation between the systems. In many cases, agents are required to enter call details manually into the CRM.
Grasshopper App
Grasshopper has a mobile app for iOS and Android. You can make and receive calls just like you do with your mobile phone normally, but your Grasshopper Caller ID keeps your business looking professional.
The mobile app is perhaps the most convenient way to use Grasshopper, as you can use the app wherever you go. You can use the dialer to place calls, check your voicemails, and keep a list of contacts. When you move between WiFi and call networks, Grasshopper continues to work seamlessly.
Other features include the ability to transfer calls and dial extensions. This can make your business appear more professional while still allowing you to work from wherever you want.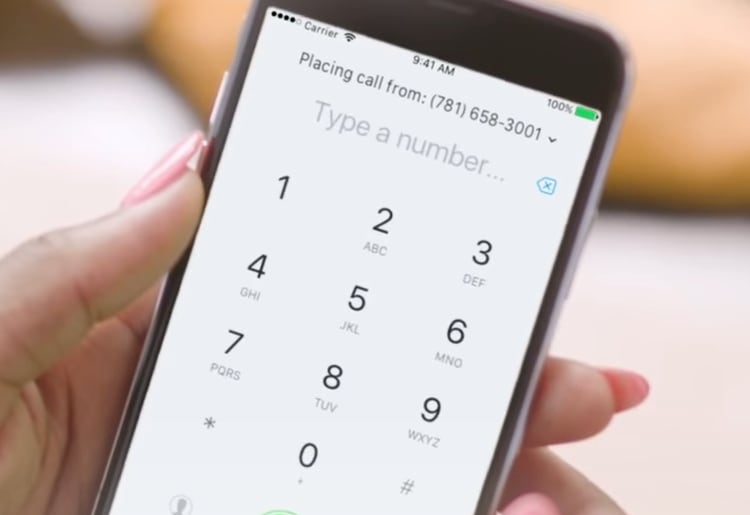 Grasshopper Customer Support
Grasshopper has an informative, well-laid-out support site. FAQs are numerous and well-written, so it's easy to find answers to the queries you have. An AI chatbot can quickly guide you to the articles you need.
Technical support over the phone is also available on a 24/7 toll-free basis, although the number is hard to find on the Grasshopper support site.
Pricing & Special Offers
Grasshopper has 4 plans—True Solo, Solo Plus, Partner, and Small Business. These are priced very competitively in the SMB virtual phone service market. You can choose to pay monthly, but annual payments get a discount of around 10%.
All Grasshopper plans have the same features, but they differ on the number of phone numbers and extensions you can use.
A few features cost extra. Additional phone numbers each cost $10/month. Call blasting (where every call-forwarding number is rung at the same time to reduce wait times) costs $10/month. You can also order a professional voice greeting from a voice actor for a one-off fee of $75.
How Grasshopper Compares to Other VoIP Services
24/7 phone, online ticketing
Business-hours phone, 24/7 live chat
Grasshopper Vs Ooma Office
While Ooma Office is pricier than Grasshopper, it does make up for this by including some useful features. For a start, it's possible to use Ooma Office with analog phones through the purchase of an Ooma Base Station.
Ooma Office has a more advanced IVR (interactive voice response) system than Grasshopper. With IVR, callers can make choices from a set of pre-recorded messages by responding with their voice. Ooma Office's IVR system can be used to transfer calls to specific individuals depending on the choices the caller makes. It also includes call recording and a video-conferencing tool, features that Grasshopper lacks.
Grasshopper Vs RingCentral
Grasshopper is lower-cost than RingCentral, particularly if you just need a single phone number with 3 extensions.
But RingCentral offers significantly more features. There are extensive tools for team collaboration, such as team chat and whiteboarding, and you can use RingCentral for video conferencing.
RingCentral also offers good integration with key software like Zendesk and Salesforce, though you do need to pay for one of the higher-tier monthly plans to unlock this feature.
Grasshopper Vs Vonage
Vonage is designed as a complete replacement for your traditional landline phone service. Where Grasshopper is a purely software-based solution, Vonage can be used with physical phones using an adapter. And unlike Grasshopper, Vonage includes 911 support.
Vonage is a better option for your business if you just want an inexpensive replacement for your physical phone. But Grasshopper has better mobile and desktop apps, making it a more solid softphone choice.
Bottom Line
Grasshopper's best feature is its low price, particularly if you run a small team, as you get 3 extensions on the lowest-priced Grasshopper plan. Its desktop and mobile apps are user friendly, and the option to use a real receptionist can enhance the professionalism of your business.
But Grasshopper doesn't integrate well with other systems like customer relationship databases, and using a physical phone with Grasshopper is clunky at best. So, we recommend Grasshopper to smaller businesses that don't need these features but are looking for a great price on a VoIP service. However, if you're exploring more versatile or feature-rich alternatives, check out our article on Grasshopper Alternatives for comprehensive insights.