RingCentral MVP Visit Site
Overview
How RingCentral Works
RingCentral Available Features
RingCentral MVP is a popular VoIP system that has a wide range of features for businesses of all shapes and sizes.
Versatile Communication Solutions
RingCentral MVP boasts full messaging, audio calling, and video conferencing capabilities. It's available on Windows, Mac, iOS, and Android devices, and it supports large teams of 1,000+ users. The apps are attractive and easy to use, and they boast modern user interfaces and loads of tools.
A Choice of Phone Numbers
When you get started with RingCentral, you will be able to choose from a wide range of phone numbers. More than 200 local area codes are available, along with various toll-free and vanity numbers. The more advanced plans also enable you to add virtual numbers from more than 100 different countries.
Administration Tools
There are numerous admin features built into RingCentral's business phone system. These include auto attendant, on-hold music, greeting, and call monitoring tools. You can assign access permissions to employees, and a range of data and analytics tools are available for you to monitor their performance.
Visual Voicemail
RingCentral's Visual Voicemail tool provides accurate voicemail-to-text solutions. It's a useful option for those who can't listen to audio messages all the time, as it enables you to keep up to date with who has tried to call and why.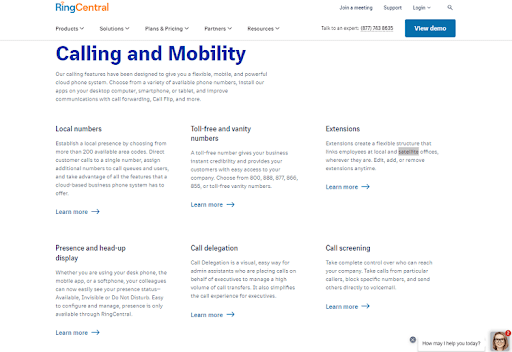 Security and Reliability
RingCentral is known for its excellent security systems. It employs a range of security methods, including both physical data center security and digital security, to ensure your sensitive data is never compromised.
For example, all transmissions are protected by encryption and Transport Layer Security (TLS), ensuring they can't be hacked. Zero-knowledge encryption is advertised to be coming soon, adding another layer of protection for companies working with highly sensitive data.
All infrastructure is protected by advanced software and network security measures. These include powerful firewalls, multi-factor authentication for admin personnel, proactive system monitoring, and state-of-the-art intrusion-detection systems.
To support its built-in security procedures, RingCentral has a range of security certifications. These include ISO27001, ISO27017, and ISO27018 certifications, which relate to data security. It also boasts full compliance with the Health Insurance Portability and Accountability Act of 1996 (HIPAA). However, you will have to reach out to RingCentral and request a Business Associate Agreement to take advantage of this.
RingCentral Integrations
RingCentral boasts loads of integrations through its native App Gallery where you'll find apps for everything from video conferencing to collaboration and marketing automation.
All apps are clearly categorized, and there's a search bar that you can use to find specific options. For example, a quick look at the customer relationship management (CRM) category reveals 94 apps. Here, you will find integrations with loads of popular CRMs, including Salesforce, Zendesk, ServiceNow, and Zoho CRM. There are also options for everything from productivity and workflow management to instant messaging and email marketing.
Another thing that's worth noting here is RingCentral's developer tools. In the RingCentral Developers Hub, you will find the documentation and tools required to create your own integration and link RingCentral to your other business productivity apps. Of course, you will need a significant amount of programming knowledge to be able to do this.
There's also a portal that enables you to suggest an app for development. If there's an integration with a particularly well-known platform that you think could be useful, you can suggest it here.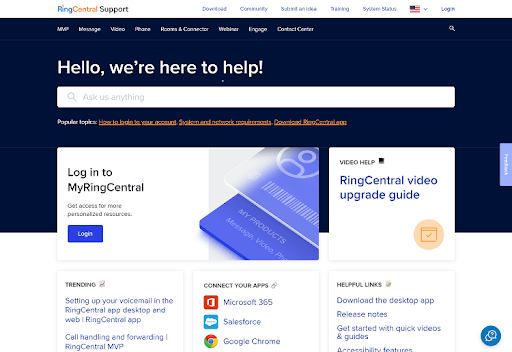 RingCentral App
The RingCentral mobile app is available for both iOS and Android devices. It's quite well-designed and easy to get the hang of using, although we did find it a little cluttered. It supports messaging, audio calls, and video meetings.
There are a range of other tools that make the RingCentral app really stand out. You can schedule meetings, make calls using your carrier network, manage your contacts, and perform various actions through integrations with 3rd-party apps.
RingCentral Customer Support
RingCentral's live customer support is limited to 24/7 phone and online ticketing. It can take some time to get a response via the online ticketing method, but the support agents are generally friendly and knowledgeable.
There's also a large selection of self-help resources. The bubble that might appear to open a live chat bubble instead leads you to a built-in chatbot. Conversing with it is a surprisingly effective way to find relevant articles and guides in a fast, efficient manner.
However, you can also browse the knowledge base yourself. You will find everything from video guides and tutorials to quick-start guides and integration documentation. There's also a community forum, along with a comprehensive training center with resources designed for in-house training.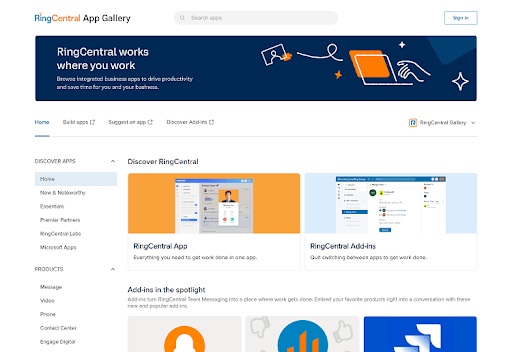 RingCentral Pricing
Pricing & Special Offers
RingCentral has 4 MVP (message, video, phone) plans that are designed for business users. Every plan is available with anywhere from 1 to 999+ users, and the price per user decreases as you add extra team members. You will also save up to 31% with an annual subscription, and a free trial that supports up to 5 users.
Price per user, per month
Device status reports and alerts
The cheapest Essentials plan includes phone and message service for up to 20 users, making it a viable option for small businesses. Prices range from $29.99 to $39.99 per user, per month. Monthly costs may be as low as $19.99 with an annual payment. You will have access to unlimited calling within the US and Canada.
Upgrading to the Standard plan ($32.99 to $49.99 per user, per month) enables you to add an unlimited number of users to your VoIP system. It also includes unlimited internet faxing, a range of integrations with 3rd-party apps, and video conferencing tools supporting up to 100 participants.
The Premium ($42.99 to $54.99 per user, per month) and Ultimate ($52.99 to $69.99 per user, per month) plans add even more advanced tools. These include additional app integrations, various developer tools, and real-time analytics.
Along with its VoIP solutions, RingCentral has both Video and Contact Center products. Signing up for RingCentral Video Pro will enable you to host meetings with up to 100 participants for free. The RingCentral Video Pro+ subscription (from $14.99 per month) adds various advanced features.
The Contact Center solutions vary according to your requirements. Prices are developed on a case-by-case basis, and you will need to speak with the RingCentral team to find out more.
RingCentral is similarly priced to many of its main competitors. For example, Grasshopper's Solo plan starts at $29 per month. There are a few cheaper options, though, such as Phone by Web.com, which starts at $14.99 per month.
RingCentral MVP Visit Site
RingCentral Alternatives
How RingCentral Compares to Other Voip Services
24/7 phone, online ticketing, support site
Email, live chat, business-hours phone, support site
RingCentral vs Vonage
Vonage is another top-rated option that sits right alongside RingCentral as one of the best VoIP service providers on the market. RingCentral is slightly more expensive, but it also boasts industry-leading security and integrations with hundreds of 3rd-party apps.
RingCentral vs Grasshopper
Grasshopper is a cheaper alternative to RingCentral, but it's also much more basic. It doesn't offer the 3rd-party integrations that RingCentral does, and there are no video calling features. However, it remains a decent option for those who require a basic voice and text VoIP solution.
Ringcentral vs Phone by web.com
Phone by Web.com is a basic VoIP option that's much simpler than RingCentral. The $14.99 subscription fee provides access to 2 numbers, making it a good option for small businesses. However, it lacks advanced features like video calling, 3rd-party app integrations, and a support site.
Bottom Line
All things considered, RingCentral MVP offers some of the best business VoIP solutions we've seen. It's a little on the expensive side, but there are options for everyone from individual entrepreneurs to enterprise-level companies.
Everything RingCentral does, it does professionally. Its security measures leave nothing to be desired, it's available on a selection of mobile and desktop operating systems, and there are integrations with hundreds of 3rd-party platforms.
You will also benefit from attractive user interfaces across the board. Access controls are available for those managing large teams, and the 24/7 phone support team is responsive and knowledgeable. There's even a selection of user guides and videos to help you get started.
The bottom line: RingCentral is a VoIP option worth considering for businesses of all shapes and sizes. We'd suggest taking advantage of its free trial and giving it a go if you need an advanced VoIP program that supports video conferencing.