Phone by web.com Visit Site
Phone by Web.com Available Features
Phone by Web.com offers very simple, no-frills VoIP services, but there are still a few features worth mentioning.
Multi-number support
One thing we like about Phone by Web.com is its support for multiple numbers. When you sign up, you will be able to keep your personal cell phone number. You will also get a new business number, and the app easily differentiates between incoming personal and business calls. Toll-free numbers can also be added if required.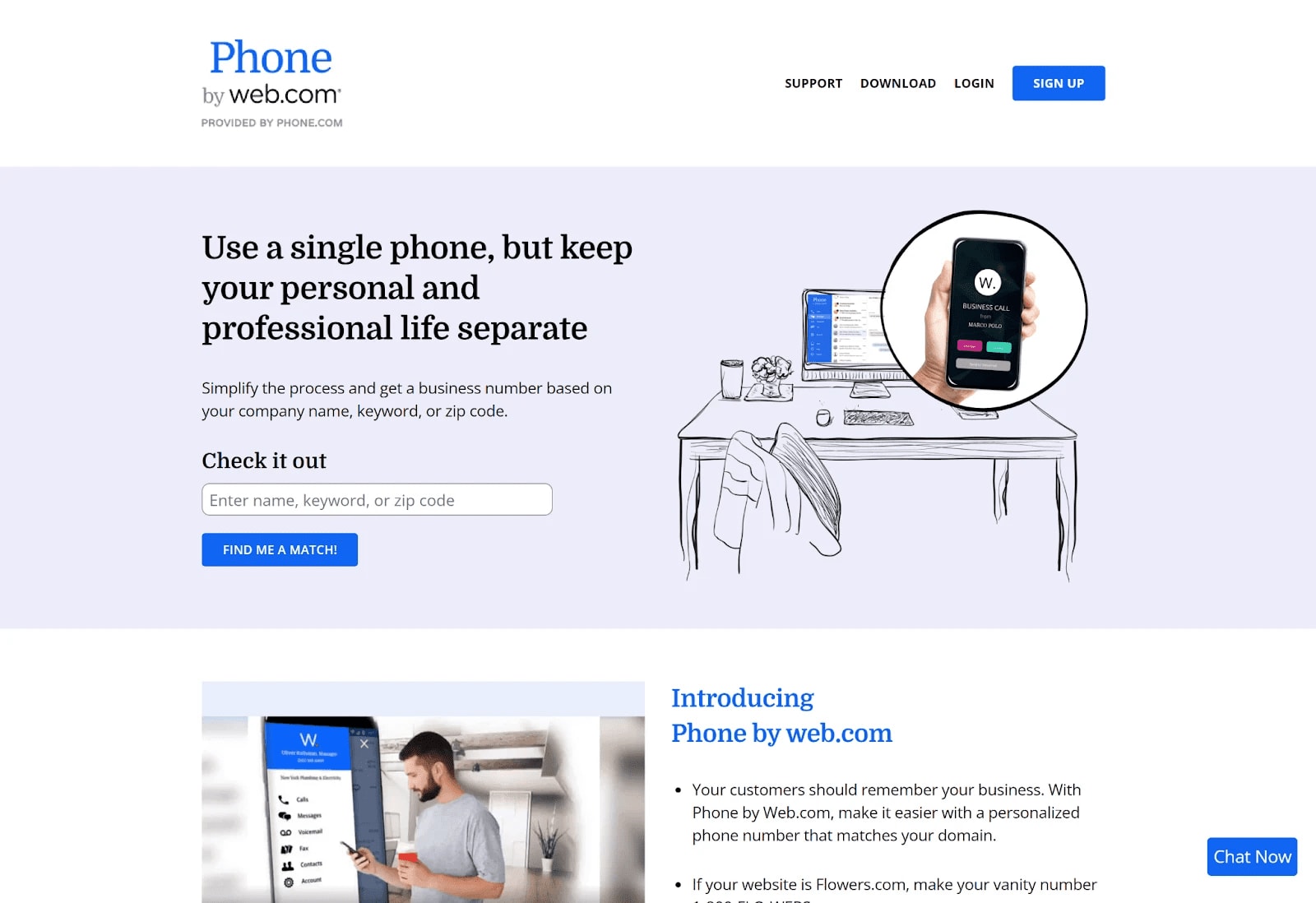 Voicemail-to-text
The voicemail-to-text feature is another excellent tool. With it, you can have your voice messages transcribed and delivered to your email address in text form, enabling you to read them quickly at times when you can't listen to voicemails.
Custom greetings
Once you've signed up with Phone by Web.com, you can record your own custom greetings and announcements. This can be useful, especially if you run a business where you can't always be on hand to answer the phone.
Vanity numbers
One of Phone by Web.com's main selling points is its use of vanity numbers. Basically, this enables you to create a custom branded phone number to boost your business visibility and ensure potential customers can find you.
Transfer your own number
If you have a business number that you would like to use with Phone by Web.com, it's not a problem. You can simply reach out to the customer service team with the number you want to transfer, and they will help you port it to your account. Note, though, that this can take a number of business days to complete.
Desktop app
Along with its mobile apps, Phone by Web.com offers a simple desktop app that enables you to manage business communication from your computer. Like everything to do with the platform, the desktop app is basic, but it's functional and does what it's designed to. For example, it enables you to make and accept calls, view voicemail, and send SMS messages.
Security and Reliability
Phone by Web.com provides no information about its security processes and features, apart from stating that it is HIPAA compliant. However, it is open about the fact that its VoIP services are provided through Phone.com, so we had a closer look at the security it uses.
All Phone.com VoIP solutions are compliant with the PCI DSS framework and HIPAA regulations. Triple DES encryption, which is designed to secure your data transmissions, is available. It would be safe to assume that Phone by Web.com's VoIP is similarly secured, although we were unable to confirm this.
Phone by Web.com Integrations
Phone by Web.com does not offer any third-party integrations.
Phone by Web.com App
The Phone by Web.com mobile app is available for Android and iOS users. It's quite simple, but it provides full functionality and enables calling via your cellular network or an internet connection.
The user interface is basic but intuitive, and you shouldn't have any issues navigating around the app. However, the app is quite large (150MB+, varies by device) and could slow older devices. There are few customer reviews of the Phone by Web.com app, but the ones we could find touched on various performance issues. These included poor connectivity, frequent crashes, and high latency.
Phone by Web.com Customer Support
You can reach out to Phone by Web.com support via 24/7 email or the integrated chatbot. We explored the chatbot, and we felt that it could have been better. It began by asking us a few questions and directing us to possible self-help resources. We asked to be connected to an agent, and we were.
However, the agent continually asked us to create an account and wouldn't address our questions, which led us to believe that we were still conversing with the chatbot.
There's also a lack of self-help resources. You will have access to a short list of FAQs, but there's nothing in the way of video tutorials, self-help guides, or anything else to help you deal with issues.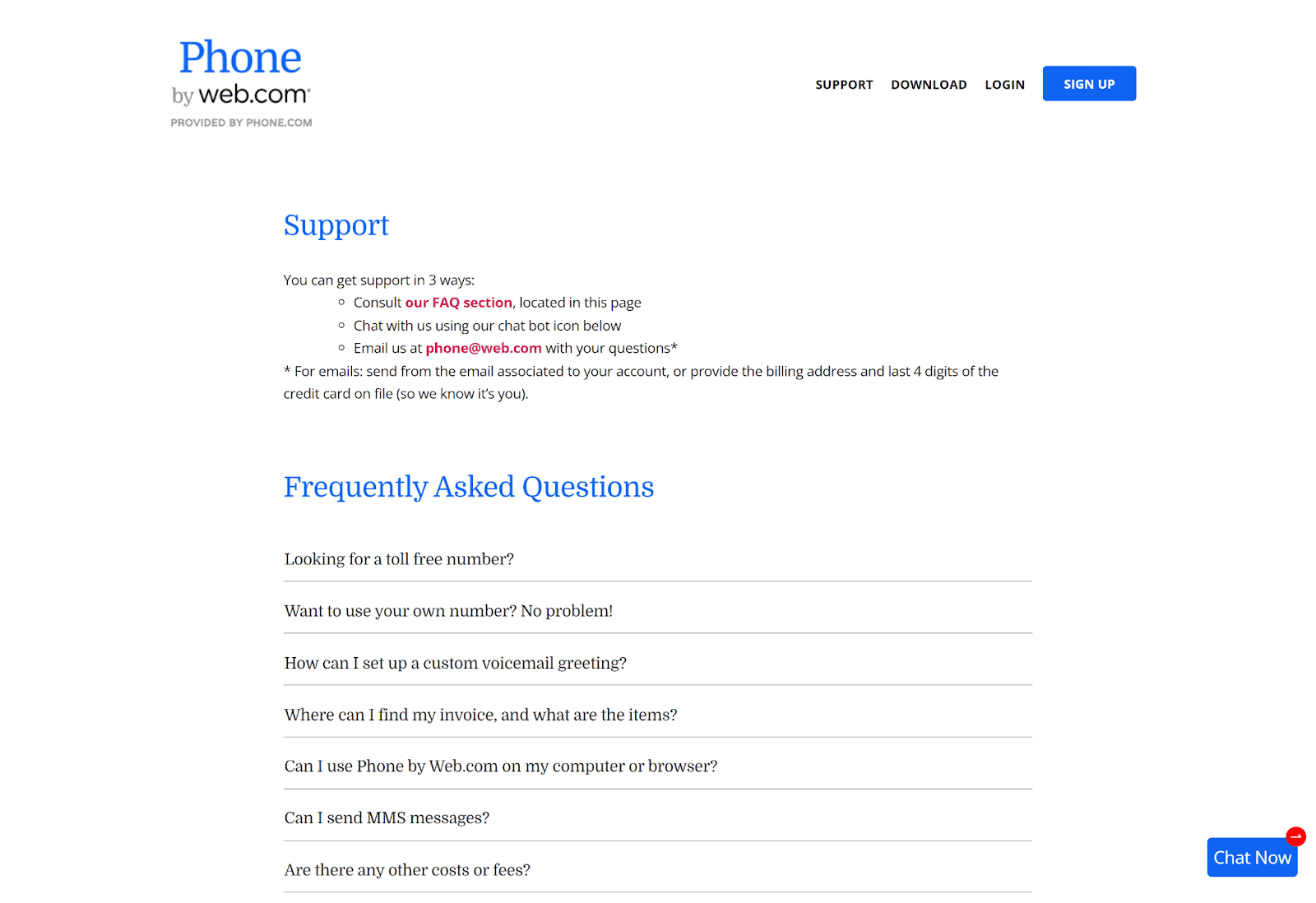 Pricing & Special Offers
Phone by Web.com offers a single $14.99 per month subscription. This includes access to all of the company's VoIP solutions, a new business phone number, and continued access to your personal phone.
There are no equipment or setup fees, but you may have to pay additional taxes, depending on your location. Phone by Web.com offers regular deals that are automatically applied when you reach the checkout, and you will often find that it offers new subscribers the first month for free. Toll-free numbers are also available for an additional fee.
This is a low-cost option when compared to some of the alternatives, but its features are also fairly basic.
How Phone by Web.com Compares to Other Voip Services
Phone, email, live chat, support site
Phone, email, live chat, support site
Phone by Web.com vs Verizon
Phone by Web.com offers some of the most basic VoIP solutions we've seen, but Verizon comes very close. It offers simple, no-frills voice and text communication options, although it's much higher cost at $35 per month. Verizon's support is better than Phone by Web.com's, but both are simple solutions without advanced tools or features. Both are viable options for businesses requiring no-frills VoIP solutions, but Phone by Web.com stands out because of its lower price.
Phone by Web.com vs VoxDirect
Like Phone by Web.com, VoxDirect targets small businesses with one or a small number of employees. Like Phone by Web.com, it comes with the basics, such as call recording and voicemail transcription. It also offers SMS marketing, but there are few other advanced tools to speak of. It could be a good option for businesses who can take advantage of the SMS marketing tools, but Phone by Web.com's low prices are attractive.
Phone by Web.com vs CloudPhone
CloudPhone is a VoIP platform that focuses on automation, enabling you to reduce the impact of missed calls and reply to basic text messages rapidly. Like Phone by Web.com, it lacks advanced features and there's no help site. However, it's an excellent option for those looking for workplace automation solutions.

Phone by web.com Visit Site
Bottom Line
Phone by Web.com offers very simple VoIP solutions, and it has nothing to make it stand out from the crowd. It offers a single plan supporting a single user or small team using the same number and has simple voice and text communication tools. Video conferencing isn't available, and there are no advanced features.
On the plus side, the expected call-management tools are available. For example, you will have access to call recording and voicemail-to-email functionality, which will make it easy to manage your communications alongside other business tasks. You can also record custom greetings.
However, the customer service is below average at best, and there are few self-help resources. Phone by Web.com provides no information about its security features either.
Overall, Phone by Web.com could be a good option for small businesses or sole traders looking for a basic VoIP solution. However, we wouldn't recommend it for larger businesses or anyone requiring access to advanced features and integrations.