Vox Direct Visit Site
VoxDirect Available Features
Unlimited calling and 1-to-1 messaging
All VoxDirect plans include unlimited calling and 1-to-1 SMS messaging in the US and Canada. 1-to-1 messaging includes both messages to external phone numbers and messages between employees at your business—anything that is not part of a bulk marketing message campaign. You can choose a custom or toll-free phone number, or port your existing business number to VoxDirect.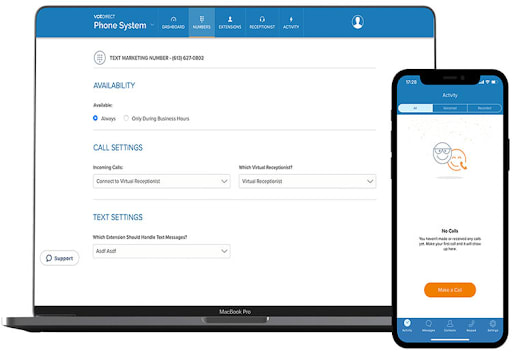 Conference Calling
VoxDirect allows you to initiate 3-way calls. Audio conferencing is also supported, although you must have participants call in to a dedicated conference number. VoxDirect does not offer video conferencing.
Virtual Receptionists
VoxDirect lets you set up 1 or more virtual receptionists to help route calls coming into your business. The virtual receptionist can automatically transfer calls to your primary business number to any phone number. With a Standard or Professional plan, you can customize which routing options callers hear based on your business's hours.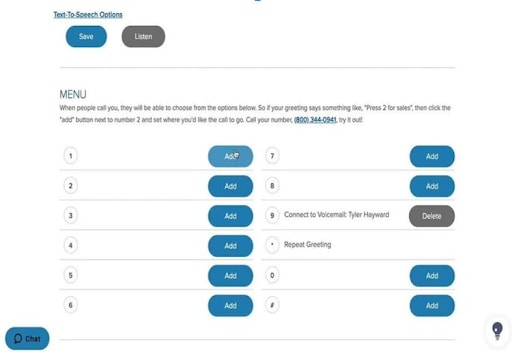 Call Recording
Standard and Professional subscribers have the ability to automatically record calls.
SMS Marketing
What makes VoxDirect unique is that it combines a VoIP phone service with SMS marketing functionality. All VoxDirect users receive a specific number of marketing texts each month, and you can purchase more as needed.
VoxDirect allows you to set up an unlimited number of contact lists, each with an unlimited number of contacts. The platform makes it easy to import contacts from a spreadsheet, although it does not integrate directly with email marketing or CRM platforms. You can schedule texts ahead of time as well as set up automatic responses.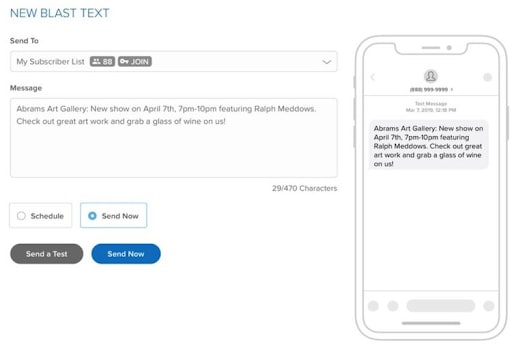 Security and Reliability
VoxDirect uses end-to-end encryption to secure all phone and text communications. All customer data is stored in commercial data centers that are certified to the ISO 27001 security standard.
VoxDirect requires that you get contacts' consent in order to send them marketing text messages. However, the platform is not compliant with GDPR. It also does not meet PCI or HIPAA requirements.
VoxDirect Integrations
VoxDirect integrates with Zapier, which in turn integrates with many popular business platforms to automate your workflows.
However, you cannot directly integrate VoxDirect with any other software. This includes email marketing and CRM software, which many businesses need to run SMS marketing campaigns.
Vox Direct App
VoxDirect offers a free mobile app for iOS and Android devices. The app gives you access to all of VoxDirect's features. You can make and receive calls, send 1-to-1 and marketing SMS messages, and configure your virtual receptionist.
Vox Direct Customer Support
VoxDirect offers customer support by phone, email, and live chat from 5AM-6PM (PT) Monday-Friday. We called and were able to talk to a support representative within 2 minutes.
VoxDirect also has an online knowledge base. It's not as thorough as we expected, with few tutorials to help you configure your virtual receptionist or set up call routing. However, it does answer common questions succinctly.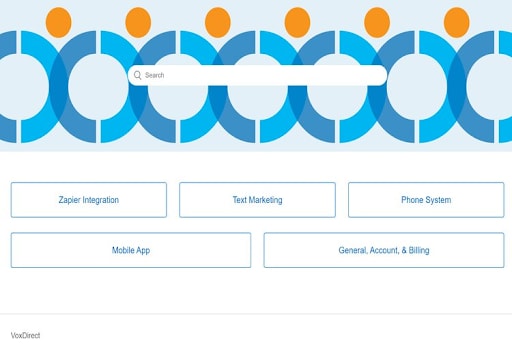 Pricing & Special Offers
VoxDirect offers 3 plans: Essentials, Standard, and Professional. All 3 plans are relatively high-priced compared to other VoIP services, but that's in large part because they include a monthly allowance of SMS marketing texts.
Monthly SMS marketing messages
The Essentials plan includes 1 phone number, 2 extensions, and 2 virtual receptionists. It also comes with 500 SMS marketing texts per month, but 1-to-1 messaging is unlimited. Importantly, the Essentials plan doesn't enable you to record calls or route calls based on custom business hours.
The Standard and Professional plans both cost $89 per month. The Professional plan is discounted from $139 per month at the time of writing, and this discount applies for as long as you keep your service.
The Standard plan offers 2 phone numbers and 1,000 marketing texts per month, while the Professional plan offers 3 phone numbers and 2,000 marketing texts per month. Both plans include call recording and custom business hours.
All plans are paid monthly. You can try out VoxDirect free for 30 days, and you can purchase additional marketing SMS messages from $0.0033 per text.
How Vox Direct Compares to Other Voip Services
VoxDirect Vs RingCentral
RingCentral is best for medium-sized businesses that need robust audio and video conferencing tools. RingCentral's Standard plan ($27.99 per user per month) offers unlimited audio conferencing, unlimited video conferencing for up to 100 participants, and team messaging for your employees.
More advanced plans add hot desking, CRM integrations, and real-time call analytics, turning your VoIP platform into a force for business growth. However, if you only have a few employees, RingCentral can be much costlier than VoxDirect. RingCentral also doesn't offer any SMS marketing features that are comparable to those available from VoxDirect. So, VoxDirect may be the better option if you want SMS marketing.
VoxDirect Vs Zoom
Zoom is best known for its video conferencing software, but it also offers VoIP software for businesses starting at $10 per user per month. For this price, you get a number of features that VoxDirect doesn't offer. Call recording, video conferencing, team messaging, call whispering, and single sign-on are all included. Zoom also offers integrations for several popular productivity suites, including Microsoft 365 and Google Workspace.
For business with several employees, Zoom offers a lot more functionality than VoxDirect. However, you have to pay extra for a toll-free number, and it doesn't support SMS marketing.
VoxDirect Vs GoToConnect
GoToConnect is in a much higher price range than VoxDirect, with plans starting at $26 per user per month. That's because this VoP service is designed for scale. GoToConnect supports unlimited ring groups, multiple business locations, hot desking, and free international calling across more than 50 countries. It also includes video conferencing, real-time call analytics, and numerous integrations.
If your business has multiple departments or offices in different countries, GoToConnect offers more ways to stay connected than VoxDirect does.

Vox Direct Visit Site
Bottom Line
VoxDirect is a VoIP platform that was designed with the needs of sole proprietorships, startups, and other businesses with only a few employees in mind. It offers an easy-to-use system for greeting customers and routing calls to the right person within your business. The platform supports essential features like voicemail transcription and call recording, but you won't find many of the bells and whistles that more advanced VoIP platforms offer.
The most unique aspect of VoxDirect is that it combines SMS marketing with VoIP phone service. All plans enable you to build contact lists and send out marketing messages. However, VoxDirect doesn't integrate directly with any email marketing or CRM software, so it can be difficult to manage your marketing efforts across channels.
Overall, VoxDirect might make sense for businesses that are just starting out or that want a way to launch SMS marketing campaigns. But if you want an affordable VoIP phone service that can scale with your business, platforms like RingCentral and Zoom offer far more features.