GoTo Connect Visit Site
GoTo Connect Available Features
GoTo Connect goes beyond being a replacement for traditional phones and offers a multichannel communication platform for team meetings and customer interactions.
Voice and call management
Goto Connect supports call forwarding, virtual voicemail, phone number extensions, hot desking, custom greetings, and call filtering.
With the virtual voicemail features, you can check your voicemails by email, text, or web app. You can either listen to the voicemail as they were left or read a version that was automatically transcribed by an AI bot.
A powerful call routing feature allows you to plan exactly how calls will flow through your organization. For example, you can set a greeting to play, allow the caller to choose an extension, call multiple phones at the same time, and then offer a voicemail service if no one picks up.
Goto Connect has features specifically designed for use in call centers. These include interactive voice response (IVR, call monitoring, automatic call distribution (ACD), and agent effectiveness reports.
Conferencing and meetings
GoTo Connect can handle conference calls, and this extends to HD video conferencing and screen sharing. Beyond the features of the desktop and mobile app, you can add GoTo Room, a hardware and software bundle you can use to turn a room into a professional video conferencing venue. And participants who aren't available to video conference can still participate via GoTo Connect VoIP.
Participants don't need to install GoTo Connect to join a meeting. Send them a link to your GoTo Connect meeting, and they can join from within their browser.
Call monitoring
Perfect for call training purposes, GoTo Connect can be used to listen in to calls made by any member of the team. Call center managers can visualize who on the floor is a call, listen in to their calls, whisper advice to them, or even make the call a 3-way conference, all from a central administration panel.
VoIP phones
Hardware phones aren't strictly required to make use of GoTo Connect's features, but they can make the transition to VoIP more natural for employees used to a traditional exchange system. Call quality can be improved too, making for a more professional image.
Instead of leasing VoIP phones, GoTo sells them outright. You can buy VoIP phones manufactured by Yealink, Polycom, and Cisco straight from GoTo, in corded or cordless variations.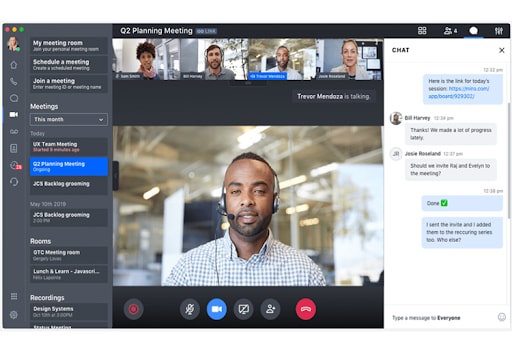 Security and Reliability
GoTo Connect is a good choice for companies concerned about security. With support for enterprise single-sign-on, your employees need only remember 1 password—or you can use multifactor authentication. Logins from unusual locations are flagged, and meetings can be password protected.
GoTo Connect is GDPR and CCPA compliant, and it's HIPAA ready. Data is sent using AES-256 Bit Transport Layer Encryption. For businesses where sensitive customer information is being discussed over the phone or in meetings, GoTo Connect is a solid choice.
One thing that many people have issues with is GoTo Connect's digital fax feature, which is limited and relatively troublesome to set up.
GoTo Connect Integrations
GoTo Connect has an app store that allows for integration with other popular software. With around 30 integrations, it's not as comprehensive as competitors like Zoom, but it covers all the most popular apps typically used in conjunction with VoIP software.
For instance, you can integrate GoTo Connect with Microsoft Teams, Zendesk, Salesforce, Slack, Zoho, and CirQLive. Thanks to the app store, it's easy to get your GoTo Connect installation working with these popular software suites in a matter of minutes.
GoTo Connect App
Besides the GoTo Connect desktop apps for Windows and macOS, team members can use the GoTo Connect mobile apps on Android and iOS devices by downloading them from their respective stores.
The mobile apps can be used for making phone calls, video conferencing, and text messaging. You can also check your voicemails. Besides traditional SMS, you can send chat messages to other members of your team. If you set up a virtual fax machine, you can use the GoTo Connect mobile app to check the faxes you've received, too.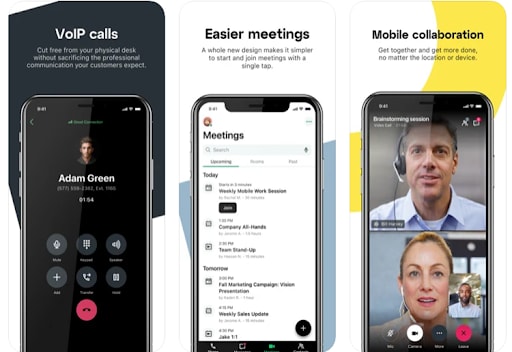 GoTo Connect Customer Support
Support for GoTo Connect starts at the support site, which includes hundreds of FAQs that are well laid out and easy to search through. There's a more limited community forum as well.
Direct support from GoTo comes through 24/7 phone and email support. There are toll-free support numbers in 26 countries, and we were put through to helpful, knowledgeable agents when we tested the support in the US.
Pricing & Special Offers
GoTo Connect has 2 pricing plans—Basic and Standard. All require discussion with a sales representative to get started.
The Basic plan includes support for unlimited devices, toll-free numbers, smart call routing, and team messaging.
The Standard plan adds more features, including free international calling to over 50 countries, call recording, and unlimited-length meetings.
Connect's plans cost more than the industry average, but the inclusion of unlimited international calling to over 50 countries and advanced contact center features could make GoTo Connect the smart choice for mid-sized businesses that make a lot of international calls.
You can also buy VoIP desk phone hardware from GoTo separately from your subscription. Phones are priced between $189 and $899 each.
Another option is GoTo Room, a complete set of video conferencing hardware that transforms a room into a video conferencing venue. You can either buy GoTo Room hardware outright or lease it on a 1, 2-, or 3-year financing model. Pricing for this service is available on request.
How GoTo Connect Compares to Other Voip Services
$23/month for 3 extensions
GoTo Connect Vs Dialpad
Dialpad is a worthy alternative to GoTo Connect, with a similar set of features, ease of use, and customer support. More of Dialpad's features are locked into its higher-priced plan, such as integrations with Salesforce and support for desk phones.
Dialpad limits the use of video conferencing to 45 minutes on its $20/user plan, too, so though GoTo Connect is more expensive on paper, we think businesses who plan to use more than just the basic features of the services will come out on top if they choose GoTo Connect.
GoTo Connect Vs Grasshopper
GoTo Connect is undoubtedly in a higher price range than Grasshopper VoIP, but it offers significantly more functionality. Grasshopper is a low-cost VoIP provider that mostly offers a replacement for traditional phones, whereas GoTo Connect includes video conferencing and call-center management features, to name just a few.
GoTo Connect also integrates well with a lot of popular software, where Grasshopper is a mostly closed system. Grasshopper may be a cost-effective choice for very small businesses, but most SMEs will appreciate the additional flexibility that GoTo Connect offers.
GoTo Connect Vs Phone by web.com
Phone by web.com is a simpler and lower-cost solution than GoTo Connect for businesses that only need the bare minimum VoIP service. There's support for vanity numbers, custom greeting tools, and voicemail-to-text, but there's little information on security practices available from Phone by web.com, and it doesn't offer video calling or integration with other apps.
We would only recommend Phone by web.com over GoTo Connect to companies with only a few employees that are looking to save money with a basic VoIP service.

GoTo Connect Visit Site
Bottom Line
GoTo Connect is a good fit for businesses that need not just a VoIP phone service, but video conferencing and team messaging. We also suggest GoTo Connect to companies that make lots of international calls, as the unlimited calls to over 50 countries could save your business a fortune over the long run.
GoTo Connect is probably overkill for entrepreneurs or tiny businesses. More cost-effective options exist for those cases. But GoTo Connect is a solid choice for mid-sized businesses or even companies with a sizable contact center, as it offers all the features you could need.