Vonage Visit Site
Features Available with Vonage Business VoIP
Vonage lacks a few minor features with its cheaper plans, but with Premium and Advanced subscriptions there's loads on offer.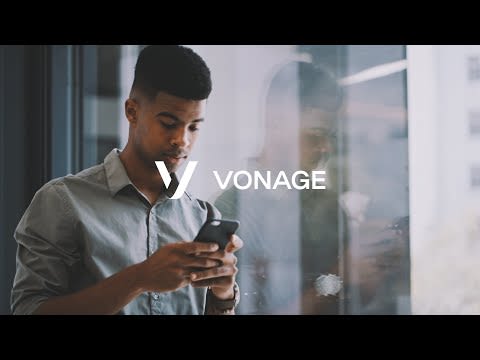 Vonage Meetings
All Vonage VoIP plans come with access to the Vonage Meetings video conferencing software. It's an excellent tool enabling large meetings between team members. You can send out guest invitations if required, and there are screen sharing and meeting recording tools.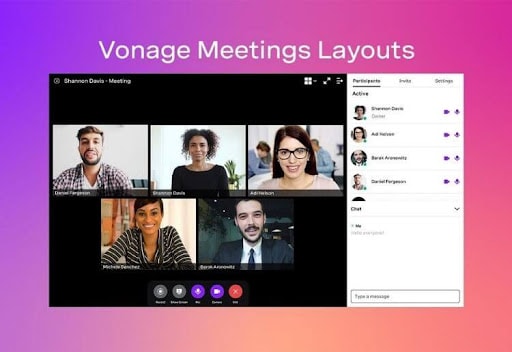 Integrated Admin Tools
There's also an advanced admin portal that's particularly useful for larger businesses. It enables you to manage every aspect of your phone system from a central hub, which should streamline general operations. In addition, your admin portal enables you to control access permissions while showing real-time activity associated with your account.
Business Inbox
Vonage Business Inbox is a separate add-on that will cost you $9.99 per month, but it's worth considering. It enables you to gather SMS, MMS, and Facebook Messenger conversations in a single inbox so you can manage and reply to them efficiently.
Voicemail to Email
The voicemail to email tool does exactly what its name suggests—transcribes any voicemails and sends them to the specified email address. An MP3 recording will also be sent as an attachment, enabling you to listen to and/or save it as required.
Call Recording
Vonage offers excellent call recording options. You can configure the app to record all calls, or you can use on-demand call recording to save the most important ones. You can also record inbound and outbound company calls according to specific rules, which you can set.
Vonage Security and Reliability
Vonage claims to be "putting a variety of safeguards in place" to protect customer data. Without listing the exact measures it uses, it does show compliance and certification from various bodies, including HITRUST, ISO 27001, PCI-DSS, and SOC. It's also compliant with GDPR regulations.
Vonage Integrations
Vonage offers 20 integrations with various CRM and business apps. The business apps, which include Microsoft Teams and Surfly, are available with all plans. However, you will need to upgrade to one of the 2 high-end plans to access CRM integrations, which include Bullhorn, G-Suite, Hubspot, Office 365, Salesforce, Sugar CRM, ZenDesk, Zoho, and others.
Some of Vonage's integrations are free, but many of them require an additional monthly fee. Connecting your apps to Vonage is a simple process, and no specialized tech skills are required. On top of this, many of the integrations are customizable.
Vonage App
Vonage has a highly functional mobile app for both iOS and Android devices. It offers full text, voice, and video calling, along with team messaging, call forwarding, and various other tools. You can also sync accounts across multiple devices.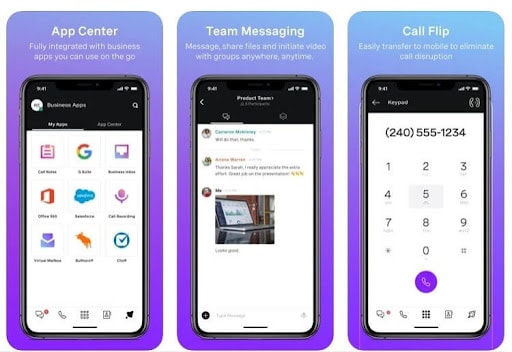 The mobile interface is attractive and easy to navigate. There are loads of VoIP tools, but these are cleverly spread throughout the app so things never seem too cluttered or confusing. Another noteworthy feature is the App Center, which enables you to integrate your mobile VoIP with various other business and productivity apps.
Vonage Customer Support
Vonage offers live chat, phone, and email support. Email tickets can be viewed through your management portal. Phone support is available from Monday to Friday (8am to 12am, ET), and from Saturday to Sunday (9am to 9pm, ET). The live chat is only accessible through the integrated chatbot, and it's very slow. At one point, we wanted to ask a simple question about Vonage's call recording features. However, we had to give up after not receiving a response for over an hour.
On the plus side, there are plenty of self-help resources available through the Business Support Center. Various articles and guides are available, including a comprehensive Getting Started section and a thorough range of FAQs. A selection of other informational and training content can be found under the Resources page of the main website.
Pricing & Special Offers
Vonage offers three Unified Communications plans, with prices ranging from $19.99 to $39.99 per month for a single user. The price per user decreases as you add more users, and all plans with 100+ users are custom priced.
The cheapest Mobile plan starts at $19.99 per month with a single user and includes unlimited SMS and calls, as well as access to the Vonage App Center. The Premium plan (starting at $29.99 per month) adds CRM integrations and a multi-level auto attendant, and an Advanced subscription (starting at $39.99 per month) adds call recording and visual voicemail.
Hardware phones and other products are available for purchase through the Vonage website. Various add-ons are available during the checkout process, including toll-free numbers ($49.99 per month), voicemail transcription ($4.99 per month), and a call queue tool ($14.99 per month). You can also purchase premium support services if required.

Vonage Visit Site
How Vonage Compares to Other VOIP Services
Email, live chat, business-hours phone, support site
24/7 phone, online ticketing, support site
24/7 phone, online ticketing, support site
Vonage vs RingCentral
RingCentral is another notable VoIP service provider, and like Vonage, it has options for businesses of all sizes. RingCentral is slightly more expensive, but it boasts hundreds of integrations compared to Vonage's 20, and its 24/7 support is excellent. RingCentral is also very transparent about its security practices, which are up there with the best we've seen.
Vonage vs Ooma Office
Ooma Office is slightly more expensive than Vonage, but it offers many more advanced features. For one, it's compatible with analog phones (with extra hardware), and it has an excellent IVR system. Ooma Office also has a 30-day free trial, which Vonage lacks.
Vonage vs Grasshopper
Grasshopper is a very affordable VoIP service provider that's excellent for small- and medium-sized businesses. It has a handy free trial and a user-friendly mobile app, but some features are a little limited. For example, Grasshopper doesn't offer any integrations or video conferencing features, which are two things that Vonage excels at.
Bottom Line
Vonage is a highly regarded VoIP service provider, and it's easy to see why. It's relatively affordable when compared to the competition, offers a load of useful features, and is backed by a user-friendly interface and mobile app. While some aspects of live support are a little limited, there's a comprehensive help center with useful guides, tutorials, FAQs, and other resources.
Some of Vonage's standout features include its Business Inbox, the Vonage Meetings video conferencing tool, and its voicemail to email tool. While the full details of its security practices are not available on its website, Vonage has certifications from a number of noteworthy organizations and is GDPR compliant.
On the downside, there's no free trial or way to test the platform without a premium subscription. But if you're looking for a scalable VoIP solution or a decent phone company, Vonage is certainly worth considering.