In a Nutshell
Vonage VoIP Business Solutions are a good option for small-, medium-, and enterprise-level businesses that need a scalable, easy to use VoIP platform with premium voice clarity and a wide array of solutions for specific business needs. A long-time industry leader in VoIP, Vonage also provides business integrations and unified communications features that stack up well against the competition.
pros
Superior voice quality
Mobile and desktop calling apps
Affordable international calling rates
cons
Some features that are standard elsewhere require upgrading
Call recording is only on advanced plan and 15 hours/month max
Vonage Visit Site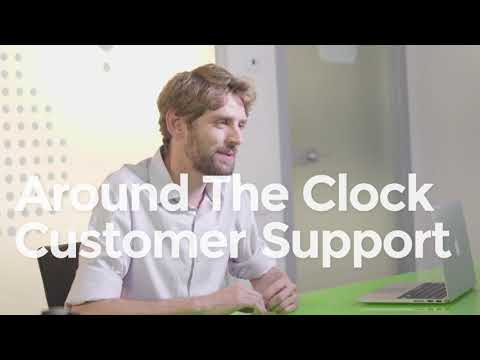 Vonage Business Cloud for SMBs
For a small- or medium-sized business, any Vonage Business Cloud package will come with a standard set of features that will improve telecommunications capabilities without breaking the bank. These include: unlimited calling, bandwidth, and SMS messages, as well as 99.999% uptime and clear, premium voice quality which makes great use of Vonage's massive telecommunications infrastructure. Every plan also comes with the VonageFlow team messaging feature, which means that even a small company with only a few VoIP lines can get all of its employees sharing files and communicating by group chat and voice or video calls.
Vonage Business Cloud Plans and Prices
Unlimited calls & SMS, Team messaging, Call group, Desktop & mobile apps
Includes Mobile Plan plus: Call recording, Amazon Chime, Multi-level auto attendant
Includes Premium Plan plus: CRM integrations, Visual voicemail, Orange glove setup
* all prices listed are per phone line per month on the 1-4 lines plan. With each plan, as the number of phone lines increases the per line price decreases.
What's included in each Vonage Business Cloud plan?
Mobile Plan
The entry-level mobile plan, starting at $19.99 per month per user, comes with a set number of features including unlimited calls and SMS, the Vonage Flow team messaging system, and desktop and mobile apps. It should be enough for a small company that doesn't need features like auto attendant or video-conferencing, which are more suited to larger businesses with more employees and a higher volume of calls.
Premium Plan
If you're only using 1-4 lines, moving from the mobile to premium plan will cost you an additional $10 per line per month. This is pricier, but it means you can take advantage of additional features like auto attendant and video conferencing.
Advanced Plan
The advanced plan, starting at $39.99 per month per user, lets you take advantage of all of Vonage's business software integrations such as Salesforce, Microsoft Dynamics, and G Suite. And if you are running an Ecommerce store, the Vonage Advanced plan offers an AI-based chat support bot to help customers get the information they need to make a purchase.
Vonage Advanced also has call groups, so you can forward calls to up to 28 separate extensions at the same time or in sequence. A valuable tool if you deal with a large volume of customer calls that you need to send to multiple associates simultaneously.
You will also get vonage visual voicemail. Now, this isn't a hologram that pops up and reads you a voicemail, rather, its a service that transcribes your voicemails into text and then emails them to you—a great way to keep documentation of voice communications that you can easily refer to, or search through, later on.
Vonage Visit Vonage
Vonage Enterprise
For larger, enterprise-level companies, Vonage provides an extended, feature-rich plan that includes video conferencing and a long list of unified communications tools to help bigger operations create the telecommunications platform they need.
Vonage Enterprise VoIP Plans
Enterprise Basic Includes
Local telephone number
Authentication
Call return
Call forwarding
3-way call
Basic call logs
Call trace
Privacy
Call number delivery
Enterprise UC - Includes Enterprise Basic features plus
Local telephone number
Authentication
Call return
Call forwarding
3-way call
Basic call logs
Call trace
Privacy
Call number delivery
Enterprise Plus - Includes Enterprise UC features plus
Visual voicemail
Anonymous call rejection
Automatic call back
Busy lamp field
Call forwarding selective
Customer admin portal
Directed call pickup
Unified messaging
User portal
Virtual numbers
Vonage "Anywhere"
Hoteling guest
Hoteling host
Portal call management
Push to talk
Last number redial
Sequential ring
Remote office
Shared call appearance
Simultaneous ring
*With local TN included per customer with purchase of at least one Enterprise Plus seat. Additional charges may apply for multiple hunt groups and auto attendants.
Vonage Enterprise Prices
For Vonage Enterprise prices inquire with Vonage.
What's included in each Vonage Enterprise plan?
All Enterprise plans include a number of other features standard, including basic call logs, call forwarding, and 3-way calling.
The Enterprise Plus plan is the most extensive option. It is the only way to make use of a number of essential features such as auto attendant, hunt groups, a mobile connect softphone, and the mobile connect collaborate tool, which allows desktop sharing for up to 8 participants.
You can add a number of additional features to your enterprise plan, including conferencing for up to 300 associates, call recording, HD video conferencing, digital fax mail, speech-recognition based directory, and more.
Vonage Visit Vonage
Vonage - In Its Own Words
A query send out on the Vonage live chat on a weekday morning was answered within seconds by a company representative who seemed eager to talk about the product. The rep was helpful, informative, and was able to quickly and thoroughly answer each question.
When asked what sets the company apart from the competition, the rep said that no matter which plan you use, Vonage provides "+40 powerful features for you to have a reliable business communication set-up for your customers." In response to a query about the quality of the phone calls, the rep said "Vonage Business was built with this in mind so reliability and quality is our number one goal! We provide true digital sound through IP phones that are designed for cloud-hosted VoIP."
He added that all plans on mobile are month-to-month with no contract.
The representative described Vonage as a company that specializes in small business solutions with "features designed to benefit different industries."
About Vonage - The Company
Headquartered in Holmdel Township, New Jersey, Vonage was founded in 2001 as a residential telecommunications provider but today is focused on using its cloud-based telecoms solutions to help businesses "collaborate more productively and engage their customers more effectively across messaging, chat, social media, video, and voice."