Ooma Visit Site
How Ooma Office Works
Ooma Office Available Features
Both Ooma Office plans are backed by a selection of excellent features. Some of the more advanced features, such as call recording, are only available with the Office Pro plan.
Virtual Receptionist
With Ooma Office's virtual receptionist tool, you can set up a streamlined virtual receptionist to help direct incoming calls to the right department. It enables you to create custom messages, route calls, and create different language menu options.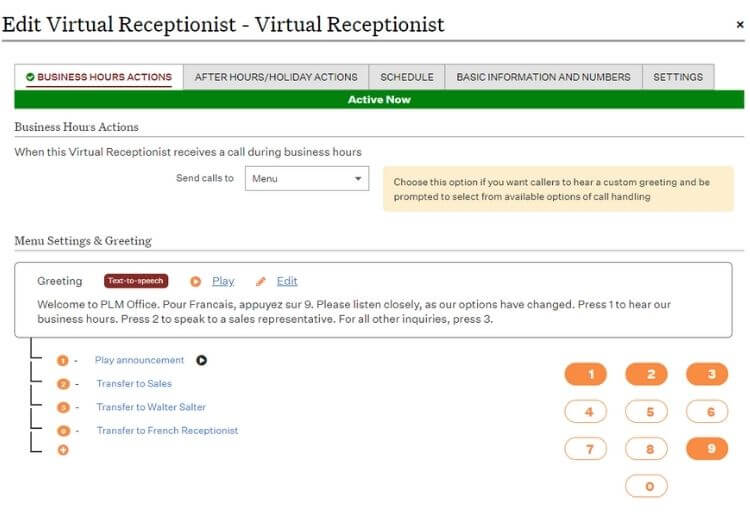 On-Hold Music
Adding on-hold music to your VoIP system will help you ensure customers don't get bored and hang up on you after being placed on hold. Adding on-hold music is as simple as uploading it to your Ooma Office Manager account and configuring its play settings.
Call Recording
With Ooma Office Pro, you can record calls in a simple, efficient manner. Both permanent and on-demand call recording are available, and you can save MP3 recordings for later use.
Voicemail Transcription
Ooma Office Pro also enables you to set up automatic voicemail transcription. This is an excellent tool if you don't always have time to listen to your voicemails. A transcription will be forwarded to a specified email address, along with an MP3 attachment of the audio message.
Security and Reliability
Ooma offers little information about the security processes it employs with its Ooma Office software. We were able to find an article on the company blog that states that all voice data is securely encrypted using Secure Real-Time Transport Protocol (SRTP) technology. End-to-end encryption is available if both parties are using Ooma Office, although encryption isn't available at all if you use the Ooma calling app.
Ooma Office Integrations
There are a couple of tools that enable you to import contacts quickly from a small number of sources, including Microsoft Outlook. You can also link your Ooma Office account with an overhead paging system. But overall, Ooma Office has no app or extension market and offers little in the way of integrations.
Custom integrations aren't possible with Ooma Office, as it provides no application programming interface (API) access. However, Ooma also offers an advanced Enterprise VoIP solution separate from Ooma Office that does include developer tools.
Ooma Office App
The Ooma Office mobile app is free for both Android and iOS devices. It enables you to use your VoIP system as you would a normal mobile phone. Calls can be transmitted over either WiFi or your mobile data connection, and it uses a surprisingly small amount of data.
With the app, you can perform a variety of actions. At the most basic level, you can make and receive calls and send and receive SMS messages. You can also transfer calls, manage your Ooma Office account, and listen to voicemail. There are various team communication tools to help you collaborate efficiently.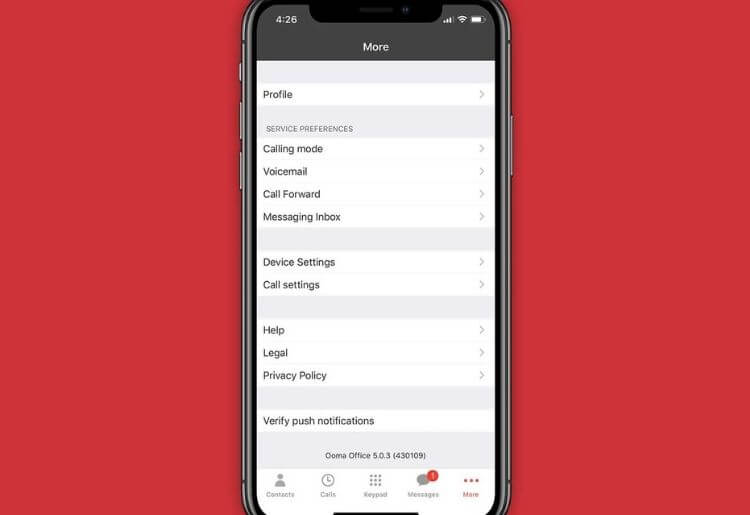 Ooma Office Customer Support
Ooma Office is backed by a decent support center with a number of self-help resources. Here, you will find complete manuals for all Ooma Office products, including the mobile app. There's also a getting started guide, along with various articles and tutorials detailing common actions.
Ooma claims that it has customer service agents available 24/7 via phone or live chat. Local phone numbers are available in both the US and Canada. But the live chat service didn't live up to expectations. We tried to speak with an agent a few times, and every time we received a message stating that support staff was unavailable.
Ooma Office Pricing
Pricing & Special Offers
There are 2 Ooma Office plans, and while there's no free trial or free-forever version, there is a 30-day money-back guarantee. A basic Ooma Office subscription will set you back $19.95 per month, per user. It includes full access to the mobile app, call forwarding, SMS messaging, and a selection of other call management tools.
The more advanced Ooma Office Pro plan ($24.95 per month, per user) adds video conferencing, call recording, voicemail transcription, and access to the desktop app. Additional numbers can be added to your plan at an extra cost, which varies according to your location and the type of number you need.
Ooma Office Alternatives
How Ooma Office Compares to Other Voip Services
24/7 phone, 24/7 live chat, support site
24/7 phone, online ticketing, support site
24/7 email, 24/7 live chat, business-hours phone, support site
Ooma Office vs RingCentral
RingCentral is similarly priced to Ooma Office, but it offers much more advanced VoIP solutions. There are hundreds of integrations to take advantage of, and RingCentral is clear about the security methods it employs. However, Ooma Office is basic and easy to use, making it a better option for those looking for a no-frills solution.
Ooma Office vs Vonage
Vonage and Ooma Office offer quite similar VoIP solutions. Vonage is slightly cheaper, and it integrates with a small number of customer relationship management (CRM) and other workflow management platforms. But Ooma Office's call management features are hard to look past, and they stand out above Vonage's.
Ooma Office vs Grasshopper
Grasshopper is a more budget-friendly alternative to Ooma Office. It boasts a similar service to Ooma office, with no integrations or advanced features. However, it also lacks video conferencing features, which may be an issue if your business conducts a lot of virtual meetings.
Bottom Line
All things considered, Ooma Office is an excellent option for businesses that don't need a fancy VoIP platform. It lacks advanced features and integrations with 3rd-party apps, but its call management features are excellent.
All Ooma Office subscribers will have access to features such as a virtual receptionist and on-hold music. A Pro plan unlocks more advanced tools such as call recording and voicemail to email.
On the downside, the company is quite secretive about its security practices. The self-help support site is decent, but the live support is far from what we expected. Despite claiming 24/7 customer service, we were unable to reach a live chat agent at any point in time.
There's no free trial, but Ooma Office has a 30-day money-back guarantee. We'd recommend taking advantage of this and giving it a try if you're looking for a basic, easy-to-use VoIP solution for your business.