In a Nutshell
Zoom's VoIP add-on, Zoom Phone, is a feature-packed addition at a great price. Used by over 2 million people worldwide, Zoom Phone integrates well with the Zoom video conferencing app and other software. It's user friendly and offers advanced metrics on call use. Zoom's security issues in the past are a cause for concern, and its per-user pricing can cost more for businesses with many employees. But it's an excellent VoIP service we recommend.
pros
Excellent modular pricing
Massive list of software integrations
User-friendly interface
cons
Has suffered security breaches
Per-user pricing can get expensive for big companies

Zoom Visit Site
Zoom Phone Pricing & Plans - How much does Zoom Phone cost?
Zoom Phone comes in 3 plans, all of which can be paid for monthly or annually. Yearly accounts get a discount of up to 20%.
The Pay As You Go plan includes all the features of the software, but calls are charged on a per-minute basis. Each country has its own pricing, and you'll also pay for local toll-free numbers and SMS.
For those who plan to make many calls in the US & Canada region, the $15/user/month Unlimited Regional Calling plan is appealing.
Companies operating outside of the US must choose the Pro Global Select plan. This offers unlimited domestic calls in 1 of the 40+ countries Zoom supports.
On top of this, you can buy an unlimited international calling add-on that costs an additional $120/user/year. This gets you unlimited calls across 18 countries.
Zoom also offers quite a few add-on services payable monthly. Toll-free numbers and additional phone numbers cost $5/month each. You can even lease hardware from Zoom, starting at $5.99/month/device. Finally, real-time call queue analytics and reporting cost $25/user/month.
Zoom Phone, therefore, has affordable, transparent base pricing. The cost certainly can add up if you have a lot of users who need the additional add-on features, but the modular nature of the pricing makes it very flexible.
Unlimited Regional Calling
Unlimited domestic calling
Unlimited international calling
Optional, to 18 countries
Optional, to 18 countries
Zoom Phone Available Features
Zoom Phone impresses with its many features that don't just make VoIP a viable alternative to traditional desk phones but improve on them in just about every way. Beyond the usual features such as call transferring, call blocking, call forwarding, and voicemail, Zoom Phone adds some extra-useful features to the Zoom app.
Call monitoring
Admins have call monitoring options, such as being able to listen in to a call with neither party being aware, taking over a call from a junior member of the team, or giving advice to one party of the call without others being aware. Supervisors can use the Barge feature to force a call to become 3-way, too.
Elevate to meeting
If you're in a phone call, you can elevate the call to a video meeting without the participants needing to start up a separate application. Zoom Rooms can be assigned a direct phone number, and you can run multiple Zoom Phone calls and meetings concurrently.
Support for existing infrastructure
Unlike many VoIP providers, Zoom can be used with existing VoIP hardware. There's a long list of compatible desk phones from leading providers, and you can assign, provision, and manage desk phones from a central administration portal.
If you currently have a PSTN service provider, you can redirect the voice circuits to the Zoom Phone cloud PBX. This way, you keep all your existing service provider contracts, special calling rates, and phone numbers, but you're able to take advantage of Zoom Phone features. For companies with a long service contract on favorable terms with a current provider , this can be a flexible way to migrate to cloud-based VoIP services with minimal cost and disruption.
Contact center support
With all Zoom Phone plans, you can set up different routing options based on the time of the day, and powerful queuing capabilities can automatically distribute calls to those available. You can set music to play on hold.
Integration with popular contact center software like Twilio Flex and Five9 is available out-of-the-box, and you get advanced analytics on the calls your contact center has been making.
Security and Reliability
When you use the Zoom desktop application on your computer or the Zoom mobile app to make calls, voice data is AES-256-bit encrypted.
If you use hardware devices with Zoom Phone, they use AES 128-bit encryption using SIP and can be upgraded to AES 256-bit encryption on certified devices. Zoom maintains a long list of the supported desk phones and the levels of encryption each offers.
During the early years of the COVID-19 pandemic, Zoom saw a massive uptake in users. It was also affected by multiple high-profile security issues, including credentials being hacked, Windows login credentials being leaked, and over 530,000 Zoom credentials being shared on the dark web.
However, since 2020, Zoom has had very few security issues. It appears to have patched all the major holes in its software. Plus, Zoom is one of the most reliable providers we've tested. It's very rarely unavailable, and the quality of calls is always high.
Zoom Mobile App
Zoom Phone is integrated into the Zoom app that's become a household name. The Zoom mobile app, available for iOS and Android, was downloaded 485 million times in 2020 alone.
Because you use the Zoom video conferencing app for access to Zoom Phone functionality, there are a lot of useful features rolled into 1 app. Having Zoom on your phone allows you to participate in video meetings, send and receive phone calls, share content with others, and send chat messages.
This all comes together to make Zoom on mobile an extremely powerful VoIP app.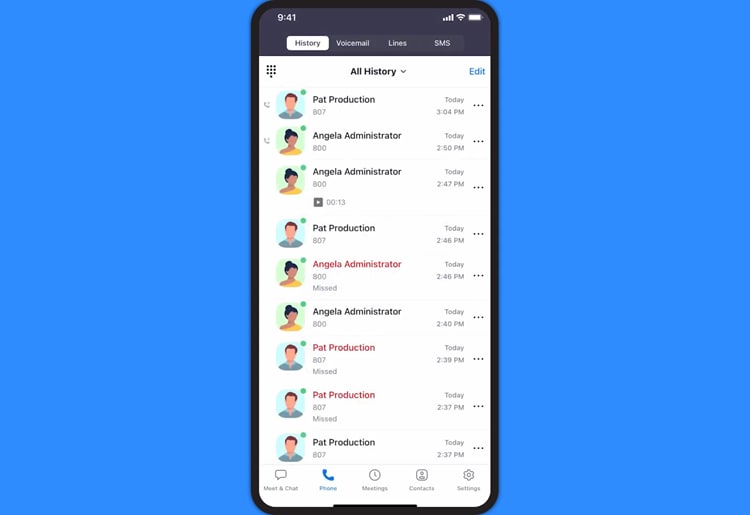 Zoom Phone Integrations
Zoom is a company that's embraced integration with other apps, making it an extremely powerful option for companies looking to streamline and optimize their operations. Zoom has a massive app marketplace, filled with integrations with over 1,800 other apps. If it's software that's used in business, it probably already has an app linking it to Zoom.
Around 60 of these apps are designed specifically with Zoom Phone in mind. Big names like Google Workspace, Microsoft Teams, and Slack all have apps for Zoom Phone, and there are also many tools for measuring the productivity of a sales force or tracking organization spending.
And if you need your own bespoke solution, Zoom has a well-documented and powerful API, making it relatively easy to hook up your in-house systems to Zoom and Zoom Phone with just a few lines of code.
Help and Support
Zoom offers 24/7 support by phone, email, and live chat. The online documentation is great, too, with hundreds of tutorials on the various products that now fit under the Zoom brand. There are video tutorials, live training, and a bustling community forum. This makes rolling out Zoom across your organization easy, as you can just ask new users to watch Zoom's provided training videos.
Zoom goes further than most companies with its documentation on how to use the software and how to develop solutions using the software's API. Too many VoIP providers keep this information vague, and Zoom gets top marks for making it easy for your company's developers to integrate Zoom into your workflows.
How Zoom Compares to Other VoIP Providers
Phone, email, live chat, knowledge base
Zoom Vs GoTo Connect
GoTo Connect's cheapest plan starts at $24/user/month, though it does include unlimited domestic calling and unlimited extensions. GoTo Connect requires a $29/user/month plan to unlock video conferencing features, though, so Zoom is better value for money for most businesses.
Zoom trumps GoTo Connect in software integration, too. While GoTo Connect has some integrations, notably with Microsoft 365, Slack, and Salesforce, Zoom offers many more options.
Zoom Vs 8x8
8x8's marketing focuses on how it's more secure than Zoom, highlighting Zoom's high-profile security breaches.
8x8 is priced very similarly to Zoom Phone. Unlimited voice calls to 14 countries come in at $24/user/month, which is slightly lower-cost than Zoom, which requires add-ons for comparable international voice service.
8x8 also has good call handling and metrics. It goes beyond Zoom in functionality for contact centers, with skills-based routing, social media management, and speech analysis.
Zoom Vs Comcast Business
Comcast Business VoiceEdge is a similar service to Zoom but puts more focus on hardware phones. With a one-time installation fee of $29.95 per seat and a monthly cost starting at $24.95/seat, you get hardware phones, unlimited nationwide calling, and inexpensive international calling.
Comcast Business costs more than Zoom, then, while Zoom does support a long list of hardware phones if you want to go that route. This makes Comcast Business a hard sell, particularly as customers often report issues with contracts and service quality.
Is Zoom Phone Right for Your Business?
Zoom Phone is a natural VoIP choice for companies that have moved to use Zoom for video conferencing, as employees will already have the Zoom app on their computers and mobile devices. Add the competitively-priced VoIP component, and your team can make and receive domestic and international calls all from the same app.
Zoom Phone's integrations with the Zoom video conferencing app and other software through the App Marketplace elevate it above most other VoIP solutions, which often feel disconnected from the other software used in your business. And with the option to use hardware phones and call monitoring features, Zoom Phone is an excellent choice for SMEs.