In a Nutshell
Comcast Business has VoIP plans for any sized business. The onboarding process is smooth, as it includes a consultation with a product expert. Any hardware VoIP phones you buy will be installed by Comcast professionals. The software is also easy to use, though it lacks features like video conferencing that many businesses have come to rely on. There's also very limited integration with 3rd-party software tools.
pros
24/7 phone support
Slack integration
HD call quality on Business VoiceEdge plan
cons
Limited 3rd-party app integrations
Lacks features like team chat and video conferencing

Comcast Business Visit Site
Comcast Business Pricing & Plans - How much does Comcast Business cost?
Comcast Business VoIP products are available in 3 different plans: VoiceEdge Mobility, VoiceEdge Select, and Business VoiceEdge. It's also possible to get VoIP services bundled as part of your internet service plan if you choose Comcast as your internet service provider.
At $29.95/line/month, VoiceEdge Mobility is a cloud-based VoIP solution designed for small businesses and entrepreneurs on a budget. You don't get hardware desk phones on this plan, but you do get unlimited local calling and basic features like call forwarding and call waiting through the use of the desktop and mobile apps.
VoiceEdge Select is an upgrade to the Mobility plan and costs $34.95/line/month. You get a desk or cordless phone with each user account, voicemail, and hunt groups (the automatic routing of incoming calls to several numbers in your company). There's also an activation fee of $29.95/phone.
Finally, Business VoiceEdge is the solution for businesses that need a more advanced system or more lines. If you only have 5-9 users, it costs $44.95/line/month. Between 10 and 19 users costs $39.95/line/month. If you have any more users than that, it costs $34.95/line/month. Like the VoiceEdge Select plan, there's also an activation fee of $29.95/phone.
Comcast Business's prices are about average for a VoIP service, but many competitors offer more features for the money.
Comcast Business Available Features
Comcast Business plans include unlimited local calling, caller ID, call waiting, call hold and transfer, and call history.
Desktop app
Many businesses will opt to use hardware VoIP desk phones with Comcast Business, but you can also use the Comcast Business VoiceEdge Desktop app. This means you can make and receive calls using your desktop computer.
The VoiceEdge Desktop app doesn't have some features you might expect, such as video conferencing or team chat. But it does excel as an easy-to-use replacement for a physical phone.
You can call people from your list of contacts, easily add people to an existing call, and switch between multiple active calls at the click of a button. You can invite people to conference calls by sending them a link and automatically mute participants when they join your call.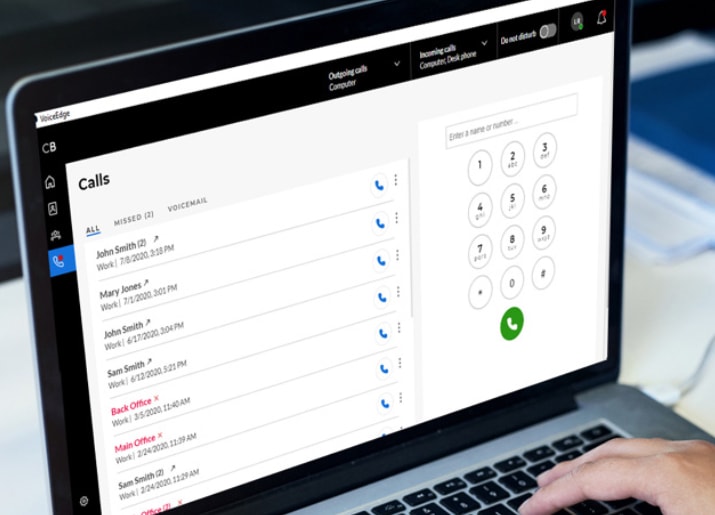 Voicemail
The Comcast Business voicemail service, available on all plans except for VoiceEdge Mobility, is quite flexible. You can check your voicemails and change your outgoing messages from the desktop or mobile apps.
You can also get voicemail alerts by email. And with Readable Voicemail, your voicemails will be transcribed into text so you can quickly see what they're regarding without having to listen to the message at all.
Hunt Group
The Hunt Group feature is used to set up a list of numbers to route incoming calls to should there be no answer. For instance, you can set the system to transfer calls to your desk phone, cell phone, home phone, and colleague's phone in that order if there's no answer. This can be useful if you're always on the go, as you're less likely to miss an important call.
Security and Reliability
For plans that include hardware phones, Comcast technicians will install, set up, and test the equipment on-site for you. This attention to detail can help ensure the quality of your calls and the reliability of the service is good, as service quality tests are performed on-site by professionals.
Comcast has an online Service Status Center that can show you whether your service area is experiencing a service interruption and the expected resolution time. Voicemail and meetings can be protected with a PIN.
Comcast Business Mobile App
Comcast Business has mobile apps for Android and iOS. You can make outgoing calls through the app, transfer calls, and forward calls to your home, office, or colleagues. From within the app, you can set up conference voice calls for up to 50 participants.
If your plan includes voicemail (VoiceEdge Select and Business VoiceEdge plans), you can also check your voicemails and change your voicemail greeting from within the app.
If you use other Comcast services like internet and TV, you can also administer them in the Comcast Business mobile app. For example, you can check your billing for your internet service and view your current TV station lineup.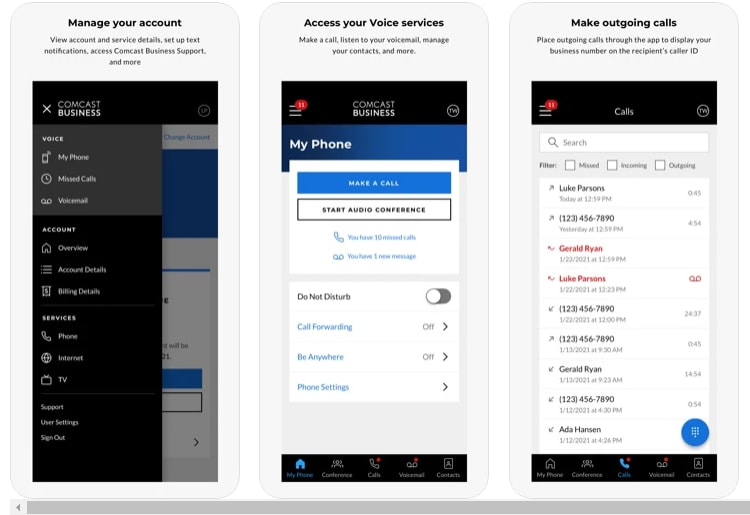 Comcast Business Integrations
Comcast Business VoIP products have some limited integrations with 3rd-party software. There's an app you can add to Slack that enables you to quickly create a conference call using Comcast Business.
There's also a Google Chrome extension for VoiceEdge you can use to initiate calls from a Chrome browser. An icon will appear beside any phone number in your browser. Clicking this icon will send the number to the Comcast VoiceEdge Desktop App and initiate the call over VoIP.
Help and Support
Comcast's website includes a help and support section for its VoIP products. It's quite detailed, with long articles on how to use the software, the phones, and how to manage your account. It can take some time to find the exact article you need, though.
Support is also available 24/7 through a customer support number. Live chat is another option, but it is often unavailable, and agents have limited training on Comcast's VoIP products.
How Comcast Business Compares to Other VoIP Providers
24/7 phone, online ticketing
Comcast Business Vs Zoom
Zoom outshines Comcast Business in most metrics. Zoom's service is less expensive, and you can try it out for free for 30 days. Zoom's apps support video conferencing, and it integrates well with many popular business software suites.
Comcast Business offers better technical assistance during initial setup, with technicians coming to your premises to install any purchased VoIP phones. But we feel the Zoom software's better functionality and flexibility is a significant strength.
Comcast Business Vs Optimum Business
Comcast and Optimum both offer a range of services including internet, TV, and phone. Both also offer standalone VoIP products for business, and their feature sets and pricing are broadly comparable.
Optimum Business's voice product only supports up to 24 lines at its maximum, whereas Comcast Business's product supports up to 5,000 lines. Optimum Business's installation fees are higher, though, and it doesn't have a mobile app.
Comcast Business Vs RingCentral
RingCentral is a strong rival to Comcast Business. Pricing starts at just $19.99/month/user for unlimited voice calls within the US and Canada. Higher-tier plans include unlimited audio and video conferencing for up to 200 people, call handling features such as call monitoring, and great integration with software like Google Workspace, Slack, and Microsoft 365.
Therefore, RingCentral beats Comcast Business in features and pricing. RingCentral setup is a bit more involved than that of Comcast Business, but we think that the choice of RingCentral will pay off for most businesses.
Is Comcast Business Right for Your Business?
Comcast Business is a reasonably priced VoIP product that's easy for a company to implement. It's far from the most comprehensive VoIP service out there, and it lacks features like video conferencing and team chat that many businesses have come to expect from their business communication services. But Comcast Business's onboarding is great, with technicians installing and testing phones for you, and the software is easy to use.
We recommend Comcast Business's VoIP products to companies stressing about the complexity of moving from a traditional phone exchange to VoIP. However, more fully-featured VoIP services certainly exist, and they're cheaper, too.