In a Nutshell
Comcast helps build on business productivity and allows seamless and intuitive work practice for your staff. The top integrations for VoiceEdge™ include Skype, Google Chrome, Office365 and Salesforce. It supports features such as click-to-dial, allowing your end users to engage with customers and business partners seamlessly and efficiently.
pros
Feature-rich, cloud-based Virtual PBX system
One of the largest VoIP networks in the US
Integrates with Slack
cons
Add-ons can become costly
Limited choices for plans
Comcast Business Visit Site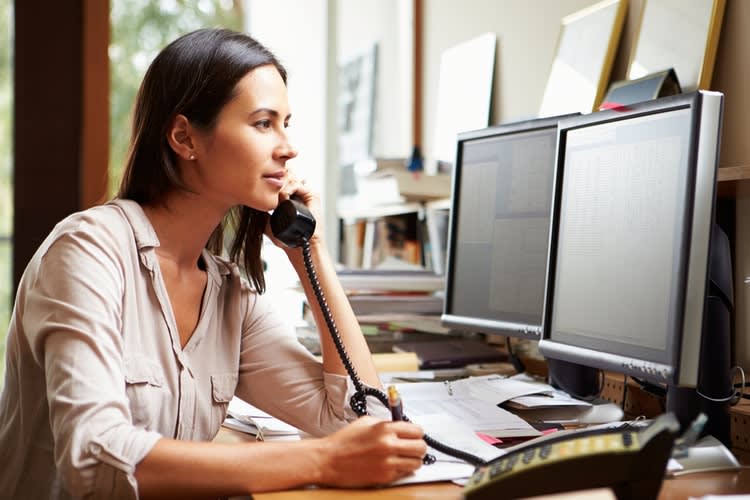 Price
The pricing structure is transparent at Comcast. For VoiceEdge™ Business Phone, each user will need a phone, and the service will require a one-time installation fee which is $29.95 per unit.
The system is affordable because it includes unlimited nationwide calling and free on-net calling between staff. International calls start from as little as $0.02 per minute. As an alternative to a traditional PBX, the company will also save money on expensive hardware and installation.
*Prices last updated June 2018
Standout Features and Integrations
Business VoiceEdge™ contains cutting edge features, including but not limited to:
High Definition Voice
Extension Dialing
Hunt Groups
Call Waiting
Point to Point Video
Voicemail
Simultaneous Ring
Unlimited Local and Domestic Calling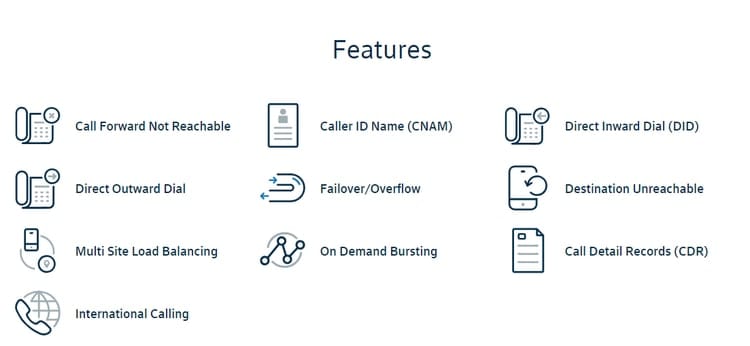 Scalability
The Comcast VoiceEdge™ system works for small and medium sized offices up to 500 seats. It is created to grow alongside business requirements, and is affordable to build up slowly from five to as many as five hundred seats where needed.
If the business already has a PBX which they would like to leverage, as well as onsite IT staff, users might find VoiceEdge™ PBX or PBX trunking suit their needs for scalability.
For a growing business, Comcast recommends its ISDN PRI. This connects your existing PBX to the Comcast VoIP network, giving you great calling features, unrivalled disaster recovery, and the highest quality voice traffic, scalable into 6-23 channel blocks.
Customers who need up to 800 concurrent call sessions and have multiple location offices will find the most robust business tools with Comcast SIP Trunking services. This optimizes IP PBX with an 100Mbps connection, allowing businesses to configure their trunks any way they need, including inbound, outbound, single/multiple or 2 way trunk groups.
Setup, Reliability and Maintenance
Customers will need to call Comcast directly or enter some information online to be given a consultation. Enterprise specialists will visit the offices and discuss the best options for each specific business need. Once this has been chosen, the company will be given a date for installation. The whole process is completed with as little upheaval as possible.
Comcast promises a station review and network assessment to allow ultimate network optimization before the first call is taken. Only top of the range quality equipment is used with tested configurations for guaranteed smooth sailing. Comcast also monitor the solution in real-time, allowing them to track quality of service and performance.
Comcast delivers its business VoIP solutions over one of the most secure networks in the United States. It is privately owned and operated, ensuring ultimate reliability and security for your data. The company also uses a dedicated line for voice traffic on Business VoiceEdge™, which gives superior Quality of Service. If your company has the need for 100s of call paths and seats, Comcast will utilize fiber service, giving them another edge over the competition.
Once the system is in place, it should run seamlessly without the need for in-house IT or management. However, if the company needs any support or has any problems, Comcast has specific installation experts who are on hand round the clock to help with troubleshooting. If it is out of usual working hours, you may be given a ticket and called back the next working day.
Customer Help and Support
The Comcast customer service is built around the Comcast Business Promise for superior customer support. It has over 1,700 business reps who are available 24/7/365. There is also a 60-day money-back-guarantee which should give companies confidence when signing up with the solution. Any service outages shouldn't happen, but if they do, Comcast will credit the bill.
The Help Center on the Comcast website is slightly cluttered, making it difficult to find the help you need. There are a lot of resources available, from a specific enterprise library, to a community forum and a speed test. Customers can call support directly on (877) 761-7401, where they will be given a ticket, or log in from the website to receive premium assistance. There is also live chat available on the website, but they have limited knowledge about plans and process.
Comcast is proud to have only US-based care centers and is currently building out additional support capabilities into Comcast Xfinity stores, found in more than 600 locations.
Comcast Business Visit Site
Multi-Channel and Mobility
Because the Comcast system is cloud-based, users will be able to manage their communications from desktop, laptop, tablet or mobile device, with seamless integration. Customers can take their voice calls anywhere, with synchronous ringing on all devices, wherever one is. You'll be immediately alerted on the arrival of new business calls or even voicemail.
Voice Mobility
With the Voice Mobility phone line, customers can use their smartphones to make business calls, allowing their usual business number to show up when they call, and dial quickly using the VoiceEdge directory, which is seamlessly available from every device.
Users can use their mobile to listen to business voicemail, recording specific greetings for business customers, and even forward the voicemail as an email attachment to deal with once they are back in the office. Users can create rules for holiday schedules and select the call types and phone numbers to connect.
The app can be downloaded for both iOS and Android devices.
Conclusion
With more than 50 years in communications, Comcast VoiceEdge™ is a great VoIP choice for small or large businesses looking for an alternative to PBX, or to leverage their existing solution. Feature-rich and robust, the system is hosted and managed privately and on a dedicated line, and is extremely user-friendly. The solution includes a mobile app which is perfect for ultimate business mobility.
Plans start from a competitively priced $34.95 per month and users can pick and choose from a la carte extras such as a Reception console and Toll-free numbers. While it may be one of the highest price solutions on the market per seat, the superb quality of service, expert support, and robust features make Comcast a popular choice.