In a Nutshell
Optimum Business Hosted Voice offers basic VoIP solutions focusing on voice communication. It offers mobile and desktop apps, but these are pretty plain. There are no integrations, and the customer service could be better. But all plans come with call recording, and you will have access to a decent selection of educational resources. Optimum Business is simple, but it's worth considering if you want a no-frills VoIP solution.
pros
Decent call-management features
Call recording with all plans
Simple IVR auto-attendants
cons
No integrations
Feature-poor mobile and desktop apps

Optimum Business Visit Site
Optimum Business Pricing & Plans - How Much Does Optimum Business Cost?
Optimum Business offers quote-based VoIP solutions to its customers. It encourages you to chat with sales at every opportunity, although we had some issues with the chat window failing to load.
If you dig deep enough, you will be able to find a pricing guide on the Optimum Business website. This indicates that a Basic Seat costs $24.95 per seat per month and a Business Seat costs $34.95 per seat per month—relatively expensive compared to some of the other options on the market.
According to information in the Business Hosted Voice user guide, the Basic plan includes a range of calling features, account management tools, and productivity tools. The Business plan adds things like call forwarding, desktop phone management, a mobile client, and an attendant console. All plans include unlimited calling within the US and Canada, free 411 calls, and a suite of extra features according to your requirements.
Equipment rental fees range from $4 to $20 per month. You can add an extra auto-attendant for $20 per month, and there's a 30-day money-back guarantee that enables you to test the software risk-free.
Optimum Business Available Features
Optimum Business Hosted Voice offers excellent VoIP solutions backed by a range of traditional features. There's no video conferencing and you won't find much in the way of integrations or extra tools—intra-organization chat tools are notably absent—but the things you will get are great.
Authorization codes
Optimum enables you to add authorization codes to restrict call access to certain numbers. When an authorization code is attached to a number, you will need to enter it and press # before your call will be connected.
Interactive voice response (IVR)
Optimum Business's VoIP solution enables you to create your own auto-attendants with interactive voice menus. Prompts telling callers what buttons to press for what reason can be created with a click of a button. This tool is particularly useful for ensuring callers are connected with the correct department or team member.
Call recording
Everyone on your team will have access to full call-recording tools, regardless of your subscription. These include always-on and on-demand recording. All calls are saved in .wav format and can be downloaded individually or in bulk as a zip file.
Voicemail
Optimum Business Hosted Voice enables you to receive up to 200 voicemails without having to delete them. These can be up to 3 minutes long, and there are various tools to help you set up your voicemail prompt. You can also take advantage of a voicemail-to-email tool to have your messages sent as audio files to your email inbox.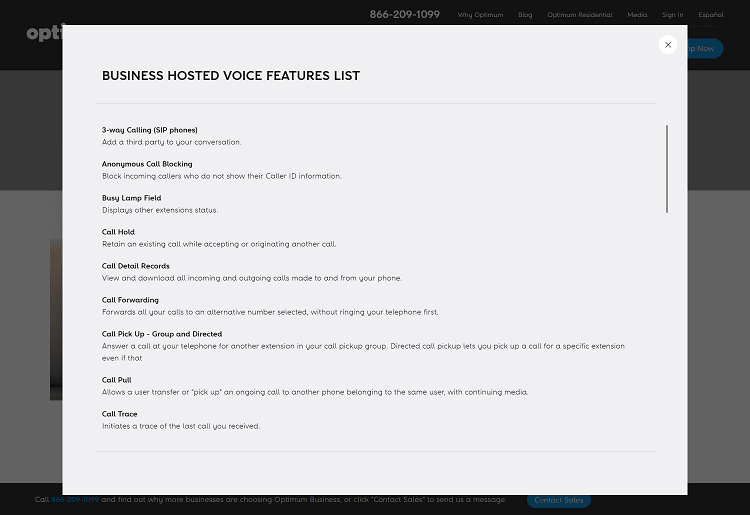 Security and Reliability
Optimum Business provides very little information about its security procedures, and we were unable to find out more from the customer service team. There is a 30-day money-back guarantee, so we can assume that the company is confident in the level of service they offer. The company also claims that any issues will be dealt with on the same day you report them.
Optimum Business Mobile App
Optimum Business offers a VoIP mobile app for its customers with a Business Seat subscription, but it's quite simple. It enables you to make and receive calls, view call history, view contacts, send and receive SMS messages, and configure a very small number of settings.
Optimum Business Integrations
Optimum Business offers no integrations with its Hosted Voice solutions.
Help and Support
Optimum Business offers 24/7 phone, email, and live chat support. We attempted to speak with the live chat team, and we found that the chat window wouldn't load, even on different devices.
One thing we did like was the comprehensive user guide, which outlines every aspect of the Hosted Voice service. There's a small number of FAQs and other support resources available in the support center, but these are quite basic and may be hard to understand. You will also find a Small Business Resource Hub with a range of free educational content, as well as a few tutorial videos.
How Optimum Business Compares to Other VoIP Service Providers
24/7 phone, 24/7 email, 24/7 live chat, support site
24/7 phone, online ticketing, support site
24/7 phone, 24/7 live chat, support site
Business-hours phone & email, support site
Optimum Business vs RingCentral
Optimum Business offers high-level VoIP solutions, but it focuses on traditional phone service. On the other hand, RingCentral offers hundreds of integrations, feature-packed web and mobile interfaces, integrated video conferencing, and flexible pricing. Its lowest-tier plan is also more affordable than Optimum Business, and we'd recommend it if you want extra tools and features with your VoIP solution.
Optimum Business vs Zoom
While Optimum Business offers traditional VoIP, Zoom sits at the other end of the spectrum with its innovative solutions. It's super affordable, with prices starting from $10 per user per month, and it's built around video conferencing. There are thousands of integrations, and Zoom is a very user-friendly option that shouldn't take you more than a couple of hours to get set up.
Optimum Business vs OnSIP
Like Optimum Business, OnSIP focuses on more traditional communications, offering VoIP solutions with an advanced selection of cal- management features. It has no video calling or integrations with business software, but its mobile app is more versatile than Optimum's. OnSIP also has low-cost plans for businesses with low call volumes.
Is Optimum Business Right For Your Business?
All things considered, Optimum Business offers decent VoIP solutions without anything to set it aside from the competition. There are numerous other providers offering similar services, and Optimum's prices aren't anything special.
There are basic desktop and mobile apps, and integrations and video conferencing are notably lacking. However, its Hosted Voice VoIP solutions do come with the expected voice communication tools.
The support site is a little complicated, and there's little information about the company's security practices. But if you're looking for a streamlined, no-frills VoIP solution backed by a reliable service provider, Optimum Business could be worth considering.