When the astronauts landed on the moon, they didn't drop a horse and buggy from the lunar lander. And when Beyonce and Jay-Z released a surprise album this year, they didn't put it out on 8 track. Every day, we use the most up-to-the-minute contemporary technology to run our lives, so shouldn't we do the same with our phones? If you're still using a landline for your home or small business, it's probably time to up your game. It really couldn't be easier, so let's break it down.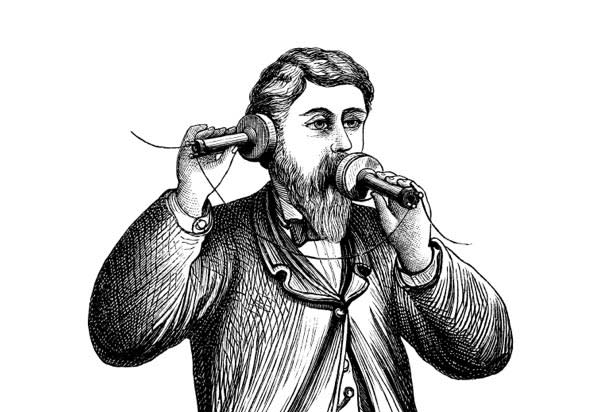 1876: Alexander Graham Bell makes a phone call using the same pre-VoIP technology as your landline
How it Works
Unlike a landline, a VoIP system is powered by the Internet. Calls are sent using the data network that's used to deliver Internet service to the home, such as with companies like RingCentral. If you already have internet service provided to your home or business then you already have the infrastructure in place to run a VoIP system. Most providers will allow you to plug your VoIP system directly into your modem or server, but even if not, you can run them off the WiFi connection.
RingCentral MVP Visit Site
The Benefits of Internet Phone Service
VoIP offers enhanced features
Traditional phone lines, for the most part, have a limited batch of features, such as call waiting and caller ID. With most VoIP providers the possibilities are far greater. You can get personalized ringtones for different callers, audio and video conference calling, call forwarding, and even arrange for your voicemails to be sent to you by email. And if you're running a business, you can use the auto attendant and similar features to help you keep up with your incoming calls when things get busy.
Now, some of these features may cost extra or may only be available on a premium VoIP plan. Nonetheless, they allow your VoIP-powered phone to play in a different league than the old landline phone that's carved out a spot in your home office for the last decade.
VoIP is significantly cheaper
Moving to VoIP can mean big savings. A TechTarget study found that businesses can potentially save up to 40% on their monthly phone bills by moving to VoIP, and around 90% on their international phone calls. Factor in the time-saving features, and the cost-benefit becomes even clearer.
Never miss a call
VoIP systems are every bit as mobile ready as you'd expect in today's day and age. With your VoIP provider you can purchase a "hard" VoIP phone or just download the provider's mobile app, and never miss a call to your home phone, even if you're miles and miles away.
With the mobile app, you can actually set up your smartphone and other mobile devices so that they receive calls from your VoIP line in addition to your regular mobile calls. Also, VoIP providers include features (like voicemail to email) that make it easier to receive your voicemail—meaning that even if you do miss a call, you're much more likely to receive the message and be able to follow up in time. RingCentral offers this standard for all business plans.
RingCentral MVP Visit Site
Keep those phone lines separate!
With your VoIP line you can easily calibrate separate extensions for different members of your business or household, typically with a mini-switchboard of sorts. With this auto attendant, a caller will hear a message telling them, for instance, "press 1 for Dad, 2 for Mom" and so on. Then when the caller selects the person they want to speak to, only that person's cell rings. No more busy lines, no more fighting for the phone.
Make video and conference calls easier than ever
If you've ever used Skype to keep up with a loved one across the country, at college, or on extended vacation in a far-off time zone, then you know how video phone calls can make you feel that much more connected, no matter how much distance is between you.
Most VoIP systems come with the capability to place video calls, which is great for keeping up with your loved ones, and can be even more beneficial if you're a business owner. Video conferencing calls on VoIP allow you to create a mobile boardroom even if you and all of your employees are far away from the home office. It can bring everyone into the same location—in a sense—meaning that you can feel like you're collaborating together in person, even if you're all working remotely in different locations.
Call recording capabilities
The ability to record a call can be valuable in a number of situations, even if you aren't a private investigator. Whether it's for keeping up with important company calls, organizing your appointments, remembering a grocery list, or taking minutes of a company call, call recording can come in quite handy. The top VoIP service providers, such as Vonage or RingCentral, offer optional call recording as part of their Advanced and Premium business plans, respectively. But, with a landline, you can pretty much forget about call recording.
RingCentral MVP Visit Site
Cloud-based phone system advantages
Another attractive aspect of VoIP is the fact that it can be (but is not limited to being) a cloud-based phone system. This means that all of the user's contacts, phone records, messages and auto-responses are all logged and stored conveniently on the cloud for instant access from wherever they are, and whenever they need them.
Adjust your settings with ease
Upgrading or changing services with a traditional phone plan can be complicated. Internet telephone providers make it easy by providing users with an intuitive interface. Over the web, users can change a call forwarding number, enable anonymous call blocking and change a variety of other features and options.
Keep or choose your own number
With VoIP, users can choose any number, and virtually any area code, they want. This type of service is not limited by geographical constraints, so you can keep your New York number even if you moved to California and are pining for the subway.
This also means that if you move your home or office, you don't have to worry about the hassle of moving your landline. The number is stored in the cloud—along with your contacts—so relocation isn't any tougher than it has to be.
So, what are you waiting for?
You've gotten to the point where you want to switch from a landline to VoIP, and you know what it can mean for your monthly budget, and the convenience and efficiency of your communications.
Now all that's left is for you to decide which provider is the one for you. If you are interested in VoIP for business, check out this list comparing the top ten best business VoIP providers of 2020. And if you are interested in VoIP for personal use, check out this list comparing the best residential VoIP providers of 2020.