OnSip Visit Site
Overview
How Onsip Works
OnSIP Available Features
Custom phone numbers
OnSIP offers custom local and toll-free phone numbers for most area codes in the US and Canada.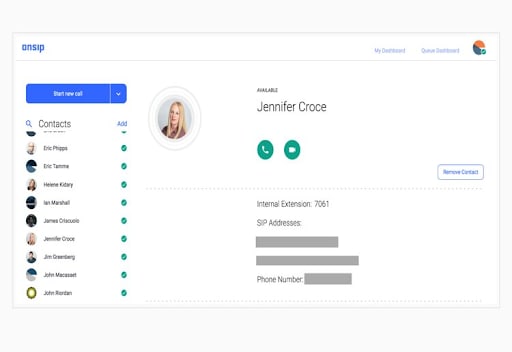 Desktop phones
With an OnSIP Unlimited plan, each user on your plan receives a Polycom desktop phone. OnSIP is compatible with most standard SIP phones if you prefer to use your own hardware. OnSIP does not sell additional phone hardware.
Ring groups
OnSIP supports ring groups, call forwarding, and automatic call routing. Incoming callers can be directed to any employee in a ring group or routed to specific employees based on availability status. You can also set custom business hours to direct calls.
Auto-attendants
OnSIP enables you to record an announcement to play for callers when they dial in to your company. You can also set up auto-attendants to route calls to specific employees or departments.
Voicemail
OnSIP includes voicemail inboxes for your users. Voicemails are automatically transcribed and sent to employees' inboxes.
Website chat
All OnSIP plans include Sayso website chat, a chat tool for your company's website that also allows you to connect with customers by voice and video. Sayso does not support live chat.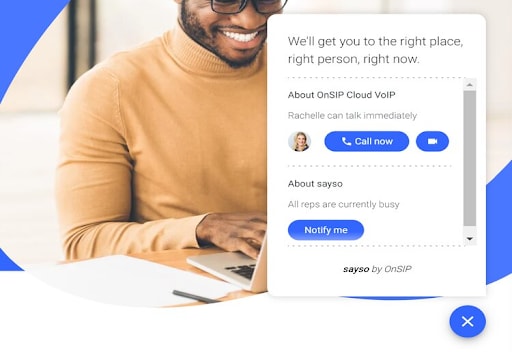 Security and Reliability
OnSIP encrypts all incoming and outgoing calls using the SDES-SRTP encryption protocol and is compliant with both PCI and HIPAA requirements. The OnSIP platform also offers customizable anti-spam filters to block unwanted calls.
OnSIP Integrations
OnSIP integrates with Google Chrome, enabling you to place calls directly from your browser. However, it does not integrate with any productivity suites or CRM software.
Onsip App
OnSIP offers free mobile apps for iOS and Android devices. The app enables you to make and receive calls, access your voicemail, and see your company's contact database.
You can easily transfer calls back and forth between your computer, desk phone, and mobile device. It's also simple to set your availability status in the mobile app so that calls are routed to available employees.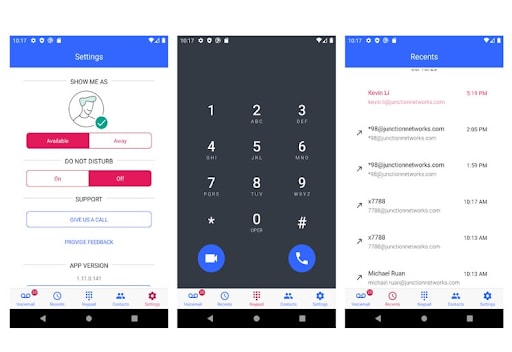 Onsip Customer Support
OnSIP offers customer support by phone and email from 9am to 8pm (ET), Monday to Friday. We called and were able to get in touch with a representative immediately. Notably, you can get in touch with support through the mobile app just by tapping a button.
OnSIP also has a detailed online knowledge base that walks you through the software and explains how to set up a wide variety of popular SIP phone models. Tutorials are accompanied by screenshots, making them easy to follow.
Onsip Pricing
Pricing & Special Offers
OnSIP offers 2 different pricing options: Unlimited and Pay-as-you-go.
The Unlimited plan is available to businesses with at least 5 users and offers unlimited calling in the United States and Canada. It costs $18.95 per user per month and includes a desk phone for every user, unlimited voicemail and call recording, unlimited ring groups, and unlimited auto-attendants.
The Pay-as-you-go plan is designed for businesses with low call volume. It costs $49.95 per month for an unlimited number of users, but you'll also pay 2.9 cents per minute for domestic calls. This plan does not come with phone hardware and you only receive 5 voicemail inboxes, 3 ring groups, and 3 auto-attendants.
You must also pay for phone numbers with OnSIP. Each new number involves a $7 setup fee and a $2 monthly charge. If you port a number, the setup fee is $15.
Many features are available as paid add-ons to either the Unlimited or Pay-as-you-go plans. For example, additional voicemail inboxes cost $2 each, and audio conferencing costs $14.95 per conference room (up to 15 participants per room). Setting up E911 service requires a one-time fee of $1.80 per user.
Relative to competing VoIP services, the Unlimited plan is a very good deal since it comes with phone hardware for your employees. The Pay-as-you-go-plan is one of the only VoIP plans that doesn't charge on a per-user basis, making it an inexpensive option for businesses with several employees but low call volumes.
Onsip Alternatives
How Onsip Compares to Other Voip Services
OnSIP vs Grasshopper
Grasshopper is a moderately priced VoIP service that could be a good fit for businesses that don't have enough users to take advantage of OnSIP's Unlimited plan. With Grasshopper's Solo plan, you can get 1 phone number and 3 extensions starting at $29 per month. You get many of the same features that OnSIP offers, including unlimited domestic calling, voicemail transcription, and an auto-attendant.
Additional phone numbers at Grasshopper cost $10 per month, so the more you need, the less price-competitive with OnSIP it becomes.
OnSIP vs Aircall
Aircall is a much more expensive VoIP service compared to OnSIP. Plans start at $40 per user per month and each phone number costs $6 per month. Aircall also doesn't offer phone hardware.
However, Aircall has a huge range of integrations. It supports productivity software like Google Workspace and Microsoft 365, CRM software like Salesforce and Hubspot, and messaging platforms like Slack and Microsoft Teams. If your business runs on these platforms, Aircall could be worth the price.
OnSIP vs Fusion Connect
Fusion Connect offers many of the same features as OnSIP's Unlimited plan, but at a slightly lower price point. Fusion Connect costs $14.95 per user per month compared to $18.95 per user per month for OnSIP. However, desk phones for your employees are not included in that price.
Notably, Fusion Connect supports integrations with CRM platforms like Salesforce, SugarCRM, and NetSuite. It also offers on-demand audio conferencing at no extra cost. If you don't need desktop phones, Fusion Connect is an attractive alternative to OnSIP.

OnSip Visit Site
Bottom Line
OnSIP is a capable VoIP service that's easy to use and packed with features. The Unlimited plan comes with desktop phones for all of your employees, unlimited auto-attendants and call groups, and even a built-in tool to connect with visitors on your company's website. While OnSIP can get pricey if you need to purchase additional phone numbers or other add-ons, it's still very competitive with similar services.
OnSIP also offers a plan for businesses with low call volumes, which you won't find at many competing VoIP providers. This makes OnSIP an excellent choice if your business only has a few employees and you only want to pay for the calling minutes you actually use.
The biggest drawback to OnSIP is that it lacks integrations for popular business software platforms. Thanks to mobile apps for iOS and Android, you can use OnSIP on the go, but you cannot connect to a CRM or an internal communications service like Slack.
Overall, OnSIP is worth a look if you want a reliable, unlimited business phone service at a price that won't break the bank. If integrations are important for your business, you might consider alternatives like Fusion Connect or Aircall.