In a Nutshell
Aircall is a comprehensive VoIP platform that goes beyond standard VoIP features like call recording, with collaboration tools, international numbers, and detailed analytics. You can set up a virtual call center with ease, and the platform integrates with hundreds of applications, including Salesforce. While expensive relative to competitors, its many unique features make it well worth the price, and it comes with a free 7-day trial.
pros
Set up a virtual call center
100+ business software integrations
Excellent mobile app for iOS and Android
cons
Very expensive
Doesn't support video conferencing

aircall Visit Site
Aircall Pricing & Plans - How Much Does Aircall Cost?
Aircall is one of the more expensive VoIP providers we've seen. The company offers 2 plans—Essentials and Professional—each of which require a minimum of 3 users.
Dedicated Account Manager
The Essentials plan offers access to the majority of Aircall's features. However, it doesn't offer integration with Salesforce, and it only offers a basic analytics dashboard. The Essentials plan costs $40 per user per month or $30 per user per month if you pay annually.
The Professional plan offers Salesforce integration, advanced analytics, and access to a dedicated account manager. It also adds a callback queue for responding to customers without making them wait on hold. The Professional plan costs $70 per user per month or $50 per user per month if you pay annually.
Only 1 phone number is included for these plans, and each additional number costs $6 per month. All incoming and outbound calls in the US and Canada are toll-free. You must contact Aircall for outbound international calling rates. Aircall also offers custom packages with unlimited international calling.
You can try out Aircall for free for 7 days.
Aircall Available Features
Aircall is packed with features for teams that make a lot of calls.
Productivity
To start, this VoIP service offers all the basics you'd expect, such as call recording, call routing, and SMS messaging. In addition, Aircall has handy features for productivity like click-to-dial on your computer and the ability to forward calls to a mobile app on your smartphone. You can also tag and describe calls so that it's easier to find recordings later.
One feature that's reserved for Professional users is the power dialer. This automatically adds phone numbers from any webpage to a queue, enabling you to make a large volume of sales calls in rapid succession.
Toll-free and International Numbers
Aircall enables you to create toll-free and international numbers instantly, even if your company doesn't have a physical presence in the country where you want a phone number. Aircall has numbers for more than 100 countries.
Collaboration
Aircall has several tools to help your team manage calls more effectively. A shared call inbox and address book ensures that everyone on your team is working with the same information. You can also assign a call to a teammate to add it to the to-do list on their Aircall dashboard.
During live calls, Aircall offers an option for you to speak privately to a teammate before transferring a call. With a Professional plan, you also get access to call monitoring and call whispering, which enables a manager to privately provide advice in real-time during an ongoing call.
Call Center
Aircall enables you to set up a virtual call center complete with a queue for incoming calls. You can create ring groups based on location, language, or help topic and take an unlimited number of concurrent calls on the same phone number. If you have a Professional plan, you can set up a callback queue for customers who don't want to wait on hold.
Analytics
Aircall offers an analytics dashboard to give you an overview of your call activity. You can monitor average call length and queue times, as well as filter calls by tag. With a Professional plan, you can also monitor live call activity across your business.
Security and Reliability
Aircall takes several steps to ensure that its network remains up and running and to protect customers' data. The VoIP network is hosted by Amazon Web Services, which holds security certifications including ISO 27001, SOC2, PCI DSS, and FedRAMP.
Aircall also uses Transport Layer Security (TLS 1.2) and 256-bit AES encryption to keep your data secure. Aircall automatically backs up all of your data, including call recordings.
Aircall Mobile App
Aircall offers a free mobile app for iOS and Android devices. The app offers most of the features you'll find in Aircall's desktop software, including the ability to place, take, transfer, and tag calls. You can access your address book and create new contacts on the go.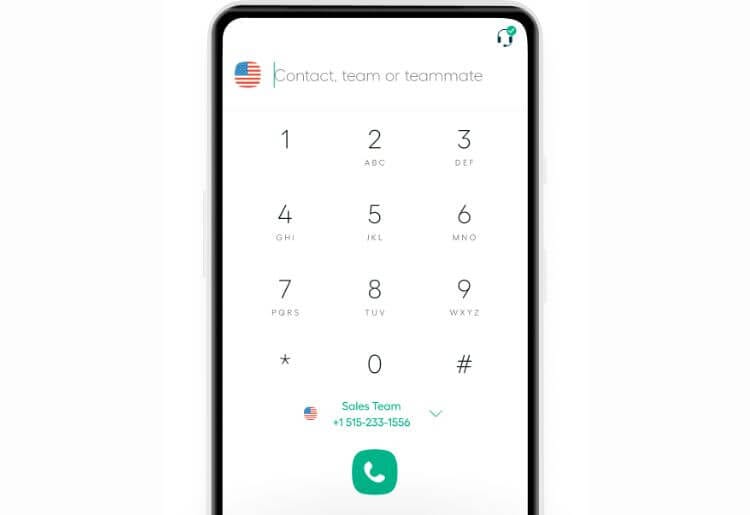 Most important, you can forward calls from your desktop to your smartphone. You can also set your availability status in the mobile app to ensure calls are routed to the right person when you're not available.
Aircall Integrations
Aircall offers integrations for more than 100 business software platforms. Popular integrations include HubSpot, Zendesk, Pipedrive, Salesforce, Microsoft Teams, and Slack. All integrations are free, but you must sign up for the Professional plan to use the Salesforce Sales Cloud or Service Cloud integrations.
Help and Support
Aircall offers customer support by phone, email, and live chat. Support is available 24 hours a day from Monday-Friday. It typically takes around 5 minutes to get in touch by live chat.
Aircall has extensive online support resources, including an onboarding portal, how-to guides, and a detailed knowledge base. There are more than 200 articles in the knowledge base, and each contains detailed screenshots.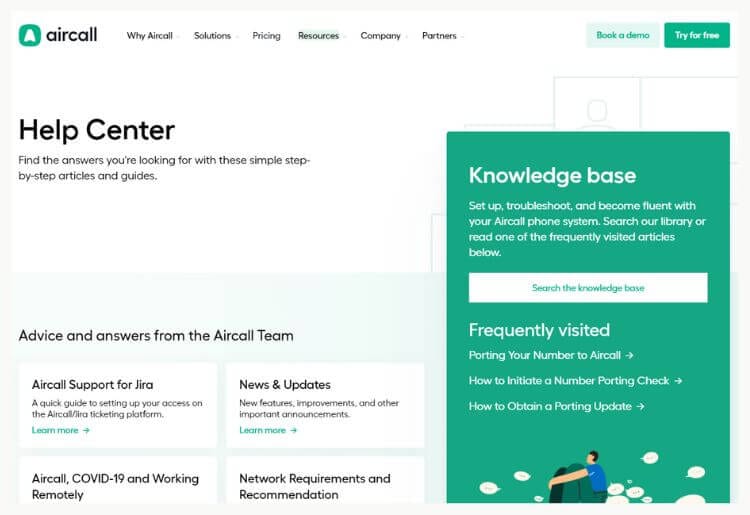 How Aircall Compares to Other VoIP Providers
Here's how Aircall stacks up against competing VoIP services:
Microsoft Teams, Salesforce, G Suite
Phone, email, chat, 24h M-F
24/7 phone, email, support site
Business-hours phone, email, live chat, support site
Phone, email, and live chat
Aircall vs. Mitel
Aircall can be more expensive than Mitel, but it also offers a much greater range of features. Call recording and analytics are standard at Aircall, whereas they require an upgrade at Mitel. In addition, Mitel has very limited integration options, so it may not be suitable unless you use Salesforce as your business customer relationship management (CRM) tool.
Aircall vs. 8x8
8x8 is significantly cheaper than Aircall if you only need a VoIP service without a call center. Plans for unlimited calling in the US and Canada start from $15 per user per month, compared to $30 per user per month at Aircall. In addition, 8x8 offers video conferencing as part of its plans.
However, 8x8 is much more expensive than Aircall if you want to set up a virtual call center or integrate your CRM software. Plans for a call center at 8x8 start at $95 per user per month for features that are similar to what you'll get with an Aircall Essentials plan.
Aircall vs. Intermedia
Intermedia offers a more comprehensive communication service for small businesses than Aircall. While you can purchase just a VoIP plan, Intermedia also offers phone hardware, email hosting, and data backup services.
The VoIP service offers integrated hardware as well as integrations for most major CRM platforms. Intermedia's Enterprise plan ($32.99 per user per month) is a cheaper alternative to Aircall's Professional plan ($70 per user per month), but it doesn't include advanced collaboration features like call tagging and commenting.
Is Aircall Right For Your Business?
Aircall is a premium VoIP service with a lot of features to offer for growing businesses. The platform makes it very easy to set up a call center, manage calls with a team approach, and analyze your team's call activity to spot areas for improving productivity. Aircall also has several unique tools, such as the power dialer and call whispering, that can help your business generate new sales.
Aircall especially stands out for its wide range of integrations and the quality of its mobile app. The integrations ensure that you can use Aircall seamlessly with all of the other software your business is already using. The mobile app allows your employees to take calls on the go and manage call routing so that customers are always connected to the right person.
Overall, if you can take advantage of Aircall's many features, this platform justifies its high price. However, if you can get by with a less feature-rich VoIP service, competitors like 8x8 and Intermedia can be much less expensive.