Intermedia Visit Site
Intermedia Unite Available Features
Unlimited Calling and SMS
Both Intermedia Unite plans offer unlimited calling and SMS messaging in the US and Canada. You can have up to 5 concurrent endpoints, meaning that a single phone number can ring for up to 5 different users.
Audio and Video Conferencing
Intermedia Unite includes audio conferencing for up to 200 participants and video conferencing for up to 100 (Pro) or 200 (Enterprise) participants. The number of participants that can be on video at any time is limited to 30.
You can record and transcribe audio and video conferences. Intermedia Unite also offers a virtual whiteboard and screen sharing for collaboration.
Voicemail Transcription
All Intermedia Unite users receive a personal voicemail with up to 10GB of storage space. Voicemails can be automatically transcribed and sent to your email.
Auto-attendant
Intermedia Unite includes an auto-attendant that can customize greetings and route calls based on the time of an incoming call. This feature is easy to use thanks to the desktop app's simple calendar system for adjusting business hours and employee schedules.
Team Messaging
Intermedia Unite supports 1-to-1 and channel-based messaging within your organization. You can share files or quickly initiate an audio or video call. Channels can be public or invitation-only, and your entire message history is searchable.
Call Analytics
A call analytics suite enables managers to easily track the volume of calls by employee, ring group, time, or other factors. The visualization options aren't as flexible as those we've seen in other VoIP platforms and you cannot monitor ongoing call activity in real-time. However, Intermedia Unite does enable you to easily export data to Excel for further analysis.
Security and Reliability
Intermedia Unite uses Transport Layer Security (TLS) to encrypt all audio and video communications end to end. Communications are routed through secured data centers that are distributed around the US and monitored for physical and digital intrusion. In addition, all Intermedia Unite apps require 2-factor authentication by default.
Intermedia Unite is HIPAA and PCI-compliant and the service is certified to the SOC-2 security standard.
Intermedia Unite Integrations
Intermedia Unite offers integrations for 18 popular business platforms including Microsoft Teams, Slack, Google Workspace, and Zoho. CRM integrations include Salesforce, SugarCRM, Microsoft Dynamics, and NetSuite. You'll also find integrations within Intermedia Unite for Microsoft Exchange, Outlook, and Active Directory.
Intermedia App
Intermedia Unite offers free mobile apps for iOS and Android devices. The app offers many of the same features as the desktop app, including team messaging and access to your organization's directory. You can transfer calls from your desktop to a mobile device with one click.
The only notable feature not supported through the Intermedia Unite app is video calling. You must download the AnyMeeting mobile app to launch or join a video conference.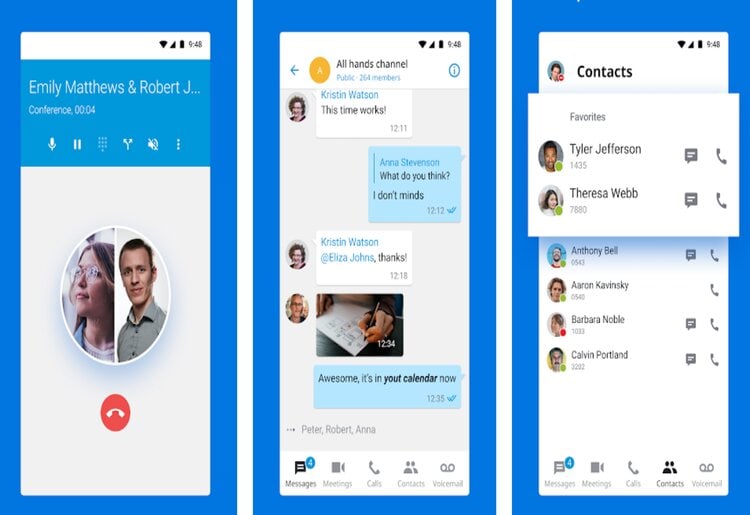 Intermedia Customer Support
Intermedia offers 24/7 customer support by phone, email, and live chat. You must have an Intermedia Unite phone number or administrative account to access live chat support. We were able to get in touch over the phone within a few minutes.
An online knowledge base provides dozens of tutorials about common operations within Intermedia Unite. The tutorials are very thorough and include step-by-step instructions with screenshots.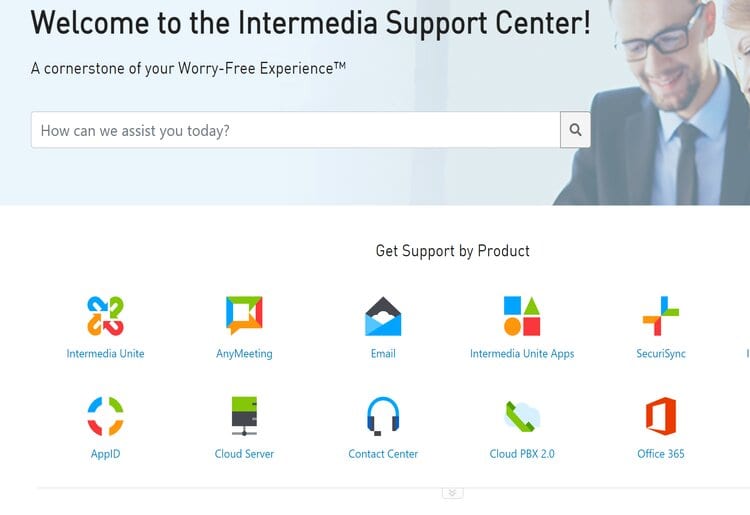 Pricing & Special Offers
Intermedia Unite is available in 2 pricing tiers: Pro and Enterprise. The Pro plan costs $27.99 per user per month, while the Enterprise plan costs $32.99 per user per month.
Unlimited calling and SMS
Microsoft Exchange mailbox
Both plans include your choice of a desk phone, webcam, headset, or speakerphone for each user. You can also bring your own hardware to Intermedia Unite at no cost.
The Pro and Enterprise plans each provide unlimited calling and SMS in the US and Canada, video conferencing, unlimited call and video recording, and voicemail transcription.
The most significant difference between these plans is that the Enterprise plan includes a Microsoft Exchange mailbox. You will also need an Enterprise subscription to integrate Intermedia Unite with Salesforce and Microsoft Dynamics, although other CRM platforms are supported with a Pro subscription.
How Intermedia Compares to Other Voip Services
Phone, email, and live chat
Intermedia Vs Vonage
Vonage offers a comparable set of VoIP features to Intermedia Unite, but at a much steeper price. While Vonage plans start at just $19.99 per user per month, that price doesn't include hardware. If your business needs call groups or voicemail transcription, you'll need to upgrade to a plan that costs $39.99 per user per month.
For most businesses, Intermedia Unite provides better value than Vonage. Vonage may make more sense if you have international offices or customers since the company offers calling options in more than 40 countries.
Intermedia Vs Dialpad
Dialpad starts at $20 per user per month, making it one of the most affordable VoIP platforms for small businesses. However, note that this price does not include hardware or integrations for popular CRM platforms. Video conferences are also limited to 45 minutes unless you pay for a pricey add-on.
If your business needs any of these features, Intermedia Unite offers more bang for your buck.
Intermedia Vs RingCentral
RingCentral starts at $19.99 per user per month, and a Premium plan that costs $34.99 per user per month offers features like unlimited call recording, CRM integrations, and single sign-on. It's competitive in price with Intermedia while providing many of the same advanced features, although RingCentral doesn't offer free phone hardware.
Features available in RingCentral that you won't get with Intermedia Unite include hot desking and support for multiple offices. So, RingCentral stands out for businesses with multiple locations or hybrid work arrangements.
Bottom Line
Intermedia Unite is a comprehensive VoIP service that offers all the features most small and medium-sized businesses could want. You get unlimited calling and SMS messaging in the US and Canada, plus video conferencing, team messaging, call recording, and voicemail transcription. Even better, the platform integrates with popular productivity, communication, and CRM software.
Intermedia Unite isn't cheap, but it's important to factor in that every user you pay for will receive a free piece of phone hardware. You can also bring your own hardware to Intermedia Unite at no additional cost. Unless you have international offices or need specialized features like hot desking, Intermedia Unite offers more value for your money than most competing VoIP providers.
Overall, Intermedia Unite is a high-quality VoIP service with a lot to offer. Whether your business is just starting out or needs to upgrade an outdated phone system, this service is worth considering.