In a Nutshell
8x8 is a publicly-traded company providing VoIP products and services to more than two million business users worldwide. 8x8's unified cloud solution for businesses comprises contact center, voice, video, chat, and communications APIs. 8x8's desktop and mobile applications make it ideal for office, distributed, and remote operations.
pros
Single app for voice, video, chat, and file-sharing
Unlimited calling to up to 47 countries
Compliant with US and EU data protection standards
cons
Customer service reputation
Admin console is difficult to use
8x8 Visit Site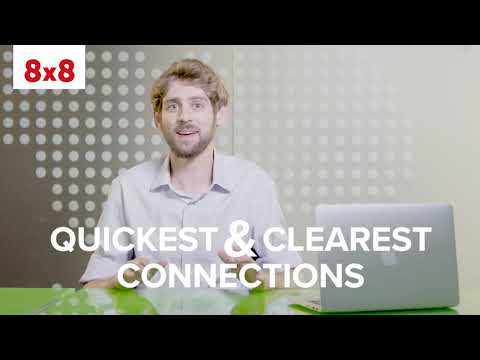 Standout Features
As one of the oldest VoIP providers (it was founded in 1987 and is currently valued at around $3 billion on the New York Stock Exchange), 8x8 offers lots of features. The three standout features are as follows.
Single platform, single app. 8x8 integrates all communication channels through one technology stack and exposes them to users through one interface on web, desktop, and mobile devices. You can jump from chat to call or a video meeting with a single click. In addition, you can send messages, share files, or tag colleagues in one-on-one, public, or private chatrooms.
Reliability. 8x8 recently announced the industry's first platform-wide 99.999% global uptime SLA across an integrated cloud UCaaS (Unified Communications as a Service) and CCaaS (Contact Center as a Service) solution. The new platform, named 8x8 XCaaS (eXperience Communications as Service) now offers an enhanced uptime guarantee for organizations requiring the highest levels of reliability everywhere they operate.
Scalability. With three price points, 8x8 lets you start small and scale up as you grow. The basic plan includes all communications channels and unlimited calling within the U.S. and Canada, while premium plans add unlimited international calling and advanced features like analytics.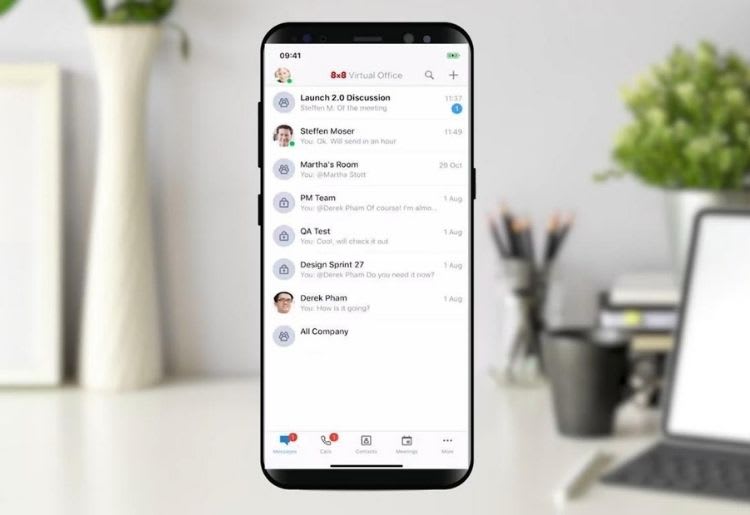 Integrations
8x8 offers 50+ native integrations with a range of business and CRM platforms, including:
Microsoft Teams - provides global direct routing and contact center capabilities in the native Teams dialer.
Salesforce - integrates unified communications capabilities and call analytics into Salesforce.
Office365 - enables you to schedule meetings directly from your Microsoft Office Calendar.
Azure – provides seamless access to Microsoft Azure applications through single sign-on and multi-factor authentication.
Freshdesk – integrates with Freshdesk for safe and secure communication between customers and call center agents.
HubSpot – adds team chat to Hubspot, integrating your chat system with your sales and marketing activities.
Slack – enables you to call and initiate meetings straight from the Slack Command box.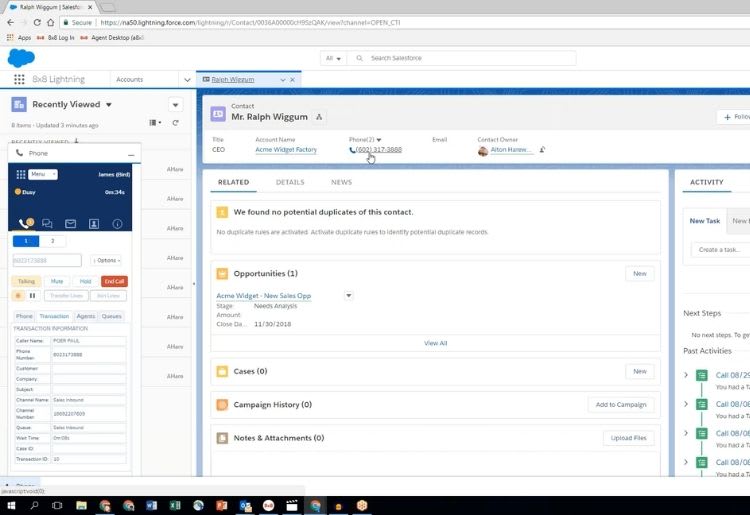 Value for Money
8x8 offers three competitively priced plans, and its basic plan is cheaper than average for a major VoIP provider. Of course, the price depends largely on what you need. Small and medium-sized businesses can get by with the Express or X2 plans, while businesses with distributed, global operations may find they need the X4 plan. X2 and X4 subscribers can save up to 25% on the below prices with annual billing.
8x8 Pricing and Plans:
$24/user billed annually (or $32 billed monthly)
$44/user billed annually (or $57 billed monthly)
Voice-to-email notification

Web browser click-to-dial

Salesforce, netsuite and zendesk integrations
*Prices last updated January 2021
Mobility
As we mentioned earlier, the 8x8 Work app is compatible with most mobile devices and offers 99.999% uptime. As a result, 8x8 can be comfortably used by businesses with distributed workforces situated all over the globe. The entire system works in the cloud, allowing users to access it wherever they go and to sync between multiple devices.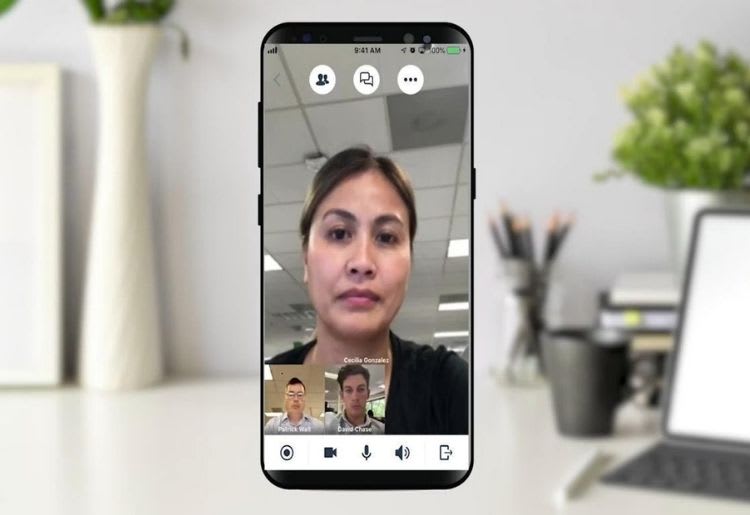 Scalability
8x8's per-user pricing and flexible plans make it easy to scale. Its inherent scalability is demonstrated by the fact that it is used by everyone from small businesses to global corporations (8x8 lists McDonald's, AON, Regus, MOBI, and Shimano among its customers).
The platform has a single admin interface where administrators can provision, configure, manage and monitor all communications.
For enterprise customers, 8x8 has a virtual office that allows users to segment their primary cloud-based communications system to unique physical locations (such as new office locations), while still keeping each location fully integrated with the single unified communications platform. This saves customers the cost of having to purchase, install, or maintain disparate and expensive on-premise equipment for each location.
Ease of Setup and Management
Regular users will find the platform intuitive and user-friendly, although administrators may have to invest time learning the platform.
8x8 offers training and courses in everything from the basics (such as performing common 8x8 Work tasks on your desktop) to the intermediate (such as using 8x8 Work's analytics functions to identify key trends) to the advanced (such as learning how to create call flows with intelligent interactive voice response, or IVR). Beginners' courses are generally free while advanced courses are paid. Most courses are self-paid, but a handful of advanced courses are instructor-led.
Equipment
8x8 offers a range of desk phones, conference phones, and cordless phones from leading manufacturers Cisco and Poly. Its accessories include headsets from Poly and Jabra and analog and wireless adapters from Poly and AudioCodes.
Customer Service
There's no denying that 8x8 has a poor customer service reputation. Many customers have complained of a lack of support during setup, a lack of help with troubleshooting, generally slow response times, and other problems with customer service.
The 8x8 Knowledge Base (on the 8x8 website) is the best place to find answers and guides to common questions and issues. If you have a specific query, then live chat support is available 24/7.
International VoIP Calls
The Express plan offers unlimited calling in the U.S. and Canada.
X2 adds unlimited calling to the following countries/jurisdictions:
Australia
France
Germany
Ireland
Italy
Netherlands
New Zealand
Puerto Rico
Spain
Sweden
Switzerland
United Kingdom
X4 adds a further 33 countries/jurisdictions:
Argentina
Belgium
Brazil
Chile
China
Cyprus
Denmark
Dominican Rep
Finland
Greece
Guam
Hong Kong
Hungary
India
Indonesia
Israel
Japan
Luxembourg
Malaysia
Malta
Mexico
Norway
Peru
Poland
Portugal
Romania
Singapore
Slovakia
South Africa
South Korea
Taiwan
Thailand
Turkey
Unified Communications/Multi-Channel
8x8 offers separate plans that combine all the features outlined in this review with a Contact Center. The plans are:
X6, $95/user/month – includes skills-based routing, call recording, reporting and analytics
X7, $105/user/month – includes all X6 features, plus social media, chat/email/SMS, co-browsing
X8, $133/user/month – includes all X7 features, plus quality management, speech analytics, screen recording, and real-time multi-screen monitoring.
8x8 Visit Site
Bottom Line
As one of the largest and most recognizable players in the VoIP market, 8x8 offers an extensive range of products. Its platform combines all communication channels into a single desktop/mobile app, and it can be scaled up to suit your business needs at any time. The platform is known for its mobility and reliability, making it ideal for business with distributed workforces.