In a Nutshell
Mitel offers functional business VoIP solutions, but there's little to set it apart from the competition. It's slightly expensive, but you will have access to a comprehensive mobile app that comes with audio, video, and message functionality. Mitel also offers a small number of integrations and decent support. It's highly scalable, and despite its high price, it's a decent option for larger businesses requiring a no-frills VoIP solution.
pros
Customizable solutions
Highly scalable
Decent mobile app
cons
Secretive security processes
Limited integrations

Mitel Visit Site
Mitel Pricing & Plans - How much does Mitel cost?
Mitel Business VoIP offers 3 different subscription options. The cheapest Essentials plan starts at $25.49 per user, per month, making it quite expensive compared to many of the alternatives. This includes unlimited minutes, video conferencing, and most call management tools.
Upgrading to the Premier plan—which starts at $32.29 per user, per month—adds integrations with Salesforce CRM, voicemail transcription, and on-demand call recording. Even more advanced tools such as always-on call recording and archiving are included with the Elite plan, which starts at $46.76 per month.
One unique thing about Mitel is that it enables you to add multiple users to each plan to minimize your costs. For example, you might decide that only a small number of your team members require call recording tools, and everyone else can use the cheaper Essentials plan.
It's also worth noting that the prices are for teams of 50-100 users. Exact quotes are only available if you speak with the Mitel sales team, but you can expect to pay more if you have a smaller team. Monthly, annual, and longer-term contracts are available, and you will pay less per month with a longer subscription.
Price per user, per month*
*Quoted prices are for teams of 50-100 users.
Mitel Available Features
Mitel's VoIP software can be used on computers, mobile devices, and even dedicated deskphone hardware. There are a number of noteworthy features worth mentioning.
Instant messaging
All users will have access to full instant messaging features, enabling you to communicate within your business in a streamlined, efficient manner. You will also have full SMS messaging capabilities.
Video collaboration
You will also have access to comprehensive video calling tools. Mitel's video conferencing feature enables you to join or create calls with up to 100 participants, making it great for business meetings.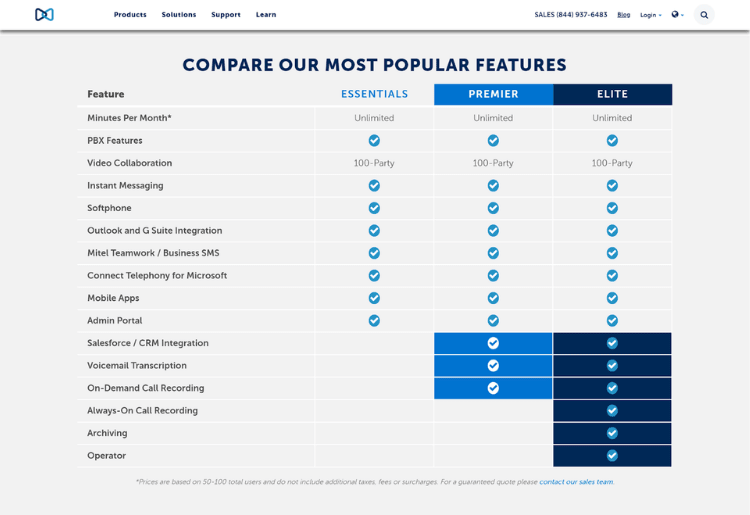 Voicemail transcription
With a Premier plan or higher, you will also have access to full voicemail transcription. This is useful for those who don't have time to listen to all their voicemails, as it enables you to scan them quickly in a text format.
Call recording
You will also be able to take advantage of call recording if required. With the Premier plan, you will have access to on-demand call recording to save specific calls. An Elite subscription includes always-on call recording, which can be very useful for many businesses.
Security and Reliability
Mitel provides little information about its security procedures or the ways in which your account is protected. There are privacy guides for most of its products, which look comprehensive, but information about its VoIP solution is notably absent. Despite this lack of transparency, we're confident that Mitel does employ advanced security solutions and wouldn't worry too much—after all, the rest of its products come with excellent protection.
Mitel Mobile App
The Mitel Connect app is available for both Android and iOS devices. It enables you to use your VoIP service through your smartphone. It boasts a tidy management dashboard that's intuitive and easy to navigate, and there are loads of tools on offer.
For example, Mitel Connect enables you to connect with your colleagues with the touch of a button. You can view and manage your voicemails, use your cell phone carrier's network to place calls, and set a business caller ID for outbound calls.
Most customer reviews are positive, but some reviews cite concerns about battery usage and configuration options.
Mitel Integrations
Mitel offers 6 basic integrations with 3rd-party platforms and web browsers. Comprehensive guides are available to help you set these up. You can link to 4 3rd-party platforms: Microsoft Teams, Salesforce, Netsuite, and Microsoft Outlook. You can also add the Mitel Connect plugin to your browser to enable in-browser dialing or use the specialized Chrome extension to add even more tools.
Help and Support
Mitel boasts 24/7 technical support throughout the United States and the rest of the world. You can reach out to the North American support team via phone or email, and you should receive a response in a timely manner.
There's also a document center containing a small number of user guides and other resources, but it's confusing and poorly designed. You can find more free resources, including eBooks, white papers, videos, and webinars in the Resource Center.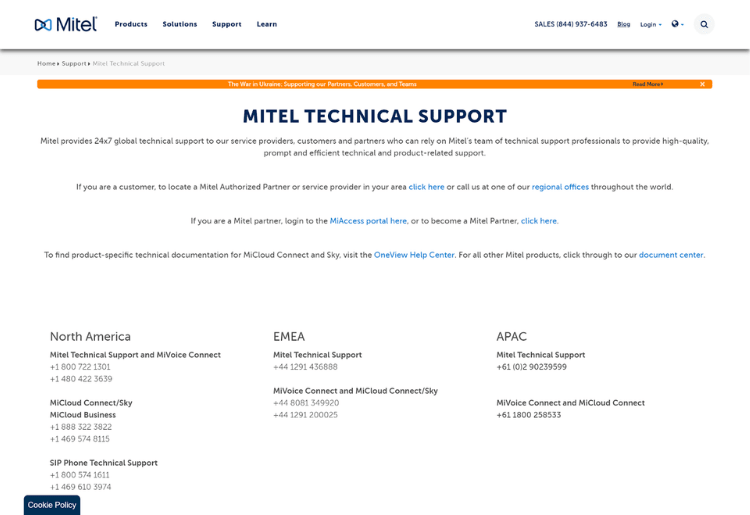 How Mitel Compares to Other VoIP Platforms
$25.49 per user, per month
$14.95 per user, per month
24/7 phone, email, support site
Business-hours phone, email, live chat, support site
Business-hours phone, email, live chat, support site
24/7 phone, 24/7 online ticketing
Mitel vs 8x8
8x8 is an excellent option for businesses wanting that little bit extra from their VoIP platform. It comes with a number of integrations with popular business software, unlimited HD video conferencing, and unlimited calls and SMS texts to 14 countries. It also boasts excellent security and is very transparent about the procedures it uses, unlike Mitel.
Mitel vs VoxDirect
Mitel targets medium to large businesses requiring scalable VoIP solutions, but VoxDirect is designed specifically for small businesses. It's an excellent choice for sole traders, and there are great tools to help you manage call loads. VoxDirect also comes with various SMS marketing tools, making it an interesting option for businesses interested in taking advantage of this.
Mitel vs Fusion Connect
Fusion Connect is a very competitively-priced VoIP option, and its services are backed by a range of useful features. Like Mitel, it only boasts a small number of integrations, but unlike Mitel, its mobile app is well-rated and very useful. Overall, we'd pick Fusion Connect over Mitel in almost any case due to its more advanced features and lower price.
Is Mitel Right For Your Business?
Mitel offers decent VoIP solutions that are best suited to medium and large businesses. However, it's slightly expensive, and it doesn't include anything other than the VoIP basics. For example, there are only a handful of integrations, and there is no way to create custom connections.
On the plus side, Mitel comes with everything you need to take care of simple business communications. Depending on your subscription, you may have access to voicemail, always-on and on-demand call recording, voicemail transcription, and video calling, among other things. There's also an excellent mobile app that enables you to access every aspect of your VoIP system.
Mitel also boasts decent customer service, although there's no live chat option. The lack of information about the security procedures it employs with its VoIP systems is a little concerning as well.
All things considered, we'd suggest reaching out to the Mitel team if you're looking for a no-frills VoIP solution for your business. However, you should look elsewhere if you're on a tight budget or require specialized tools.