In a Nutshell
Fusion Connect, formerly known as MegaPath, has all the standard features you can expect from a VoIP provider, including call from any device, audio and video conferencing, and visual voicemail. It is priced below its competitors at $14.95/user/month, and offers 24/7 customer support. If you want a VoIP solution with an affordable per-user plan and a good featurese, look no further than Fusion Connect.
pros
Affordable
100% uptime guarantee during business hours
24/7 customer support
cons
No free trial
No money-back guarantee

MegaPath Visit Site
Fusion Connect Pricing & Plans - How much does Fusion Connect cost?
Fusion Connect currently offers the FusionWorks Pro Employee National Plan for $14.95/user/month. This plan gives access to a full-featured business VoIP suite that allows for calls from any device, audio conferencing, and voicemail transcription.
This is a great deal, as many competing brands charge as much for their most basic pricing tier, essentially offering less for more. It is worth noting, however, that this pricing is only available to businesses with at least 2 users.
In addition to your subscription, you will need to purchase a voice gateway, or router, from Fusion Connect. To get a quote for this hardware or learn about other plan options besides FusionWorks Pro, you will need to get ahold of Fusion Connect directly.
On top of this basic offering, you can purchase additional voice mailboxes, an auto attendant, or a complete call center package. These add-ons are not included in the subscription price, so contact Fusion Connect if you are interested in these options as well.
Fusion Connect Available Features
Fusion Connect has all of the necessary features you would expect from a modern VoIP provider, such as voice calling from any device and audio and video conferencing. Let's take a look at a few that stand out.
Call from any device
This feature is somewhat self-explanatory. You can use Fusion Connect to call from any device. This includes personal mobile devices, existing office phones, or phones/headsets purchased directly from Fusion. Existing office phones and headsets purchased from Fusion require a desktop or laptop computer to place calls with Fusion's VoIP software.
Audio and video conferencing
Fusion allows for conference calls or multi-way calls. In a multi-way call, up to 13 people can join a single call. In a conference call, invitees receive a PIN and a conference code. You can enter a call from a mobile or desktop computer using Fusion's built-in conference call client. Unlike a multi-way call, there is no limit to the number of callers in a conference call.
Fusion also offers video conferencing through a partnership with Cisco Webex. This is a relatively new feature that is included with your Fusion Connect subscription. To use it, download the FusionWorks with Webex app, which is available for Windows, Mac, iOS, and Android devices, and set up conference calls using the instructions in the FusionWorks with Webex User Guide.
Find Me/Follow Me
This configurable feature combines simultaneous and sequential ring. When a call comes in, you can configure which devices it goes to. For instance, you can make it go to your office phone first, followed by your mobile phone, followed by the reception desk. This is called a sequential ring.
Alternatively, you can configure the feature so your phone and the reception phone ring simultaneously, followed by your mobile phone, thus making use of simultaneous and sequential rings. In this way, you can configure the sequence in which an inbound call bounces between different phone lines, essentially enabling a customer to follow you until they find you.
Visual Voicemail
With Visual Voicemail, incoming voicemails are automatically recorded and transcribed to text. The software then sends an email with the recording and a text version of the message to your inbox.
Alternate phone numbers
With Fusion Connect, you can have up to 10 phone numbers associated with your business in addition to your main phone number. You can configure these numbers with up to 4 distinct ring patterns, each with its own call-waiting tone.
Security and Reliability
Fusion Connect has implemented the FCC's STIR/SHAKEN call-authentication framework on its network.
Among other security features, Fusion monitors its network with an automatic system that views call records and detects patterns commonly related to robocalling and fraud as part of the STIR/SHAKEN standard. Detected cases escalate to a dedicated security team for further analysis, and the responsible customers could face account termination if their calling activity is illegal.
Fusion also offers a 100% uptime guarantee to all customers, although this guarantee only applies between 8 am and 5 pm in your local time zone, Monday to Friday. Fusion does not guarantee uptime on weekends or outside those business hours.
Fusion Connect Mobile App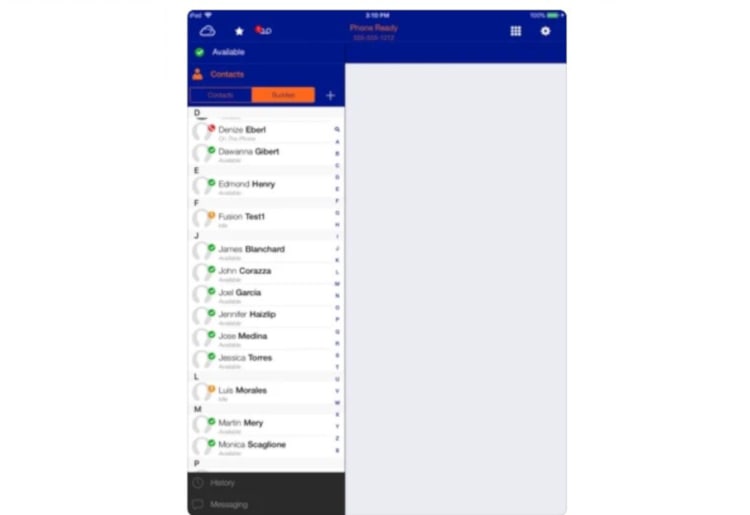 The Fusion MobileConnect app is available for iOS and Android devices. Note that there is another app on the App Store called Fusion Connect, but it is for an unrelated company with the same name—the VoIP service app is called MobileConnect.
The app is a mobile version of Fusion's VoIP service and comes with all of the associated features like calling, instant messaging, and business collaboration features like audio and video conferencing. Fusion Connect's VoIP service is device independent, and the app can be used on a mobile device of your choice with full functionality.
Fusion Connect Integrations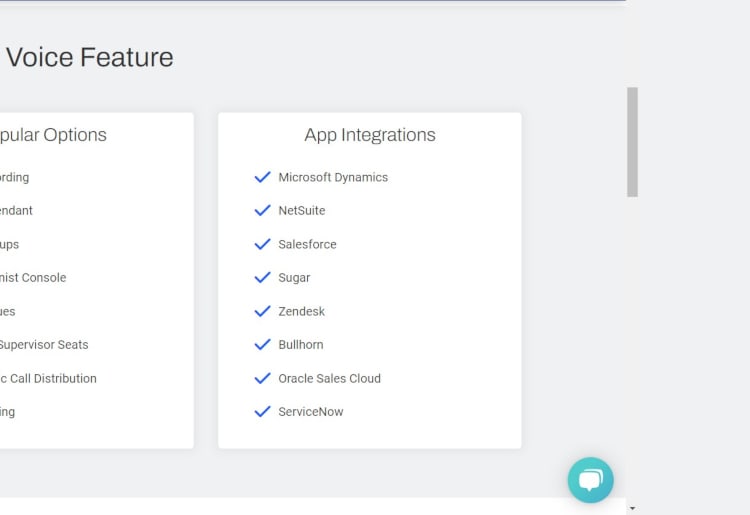 Fusion's Hosted Voice Product Page has a list of 8 programs that integrate with its business VoIP product. Fusion integrates with most commonly used customer service CRM platforms, including Zendesk, Salesforce, and ServiceNow. The image above shows a complete list of programs that integrate with Fusion Connect.
Help and Support
You can submit a ticket to Fusion's Tech Support or Customer Care team via Fusion Connect's support page. Tech Support can assist you with technical issues like bugs, patches, or service outages, while Customer Care can help with account-related topics like billing, service changes, and account updates.
You can also call support at 1-888-301-1721. If you are a legacy customer using MegaPath, call 1-877-611-6342 instead. Both the support number and the ticketing system are available 24/7.
How Fusion Connect Compares to Other VoIP Providers
24/7 phone, 24/7 online ticketing
Self-service support site
Business-hours phone, 24/7 online ticketing, support site
*pricing from 2018—current pricing not publicized
**compatible with any third-party software that uses the REST API standard. Will require an IT professional for initial setup.
Fusion Connect Vs Grasshopper
Grasshopper has fewer features than Fusion Connect, but it can be more cost-effective in some instances. Its basic plan is higher-priced at $26/month. However, it allows for 1 phone number with 3 extensions, which is more affordable than a Fusion plan for 3 users. On the other hand, Grasshopper lacks any third-party integrations, does not come with 10 alternate numbers, and does not feature Find Me/Follow Me.
This makes Grasshopper less beneficial to larger teams that might appreciate Fusion's breadth of features. On the other hand, small business users might enjoy the lower cost of a Grasshopper subscription.
Fusion Connect Vs Amp Telecom
Amp Telecom is very similar to Fusion Connect. It offers many of the same features, like Find Me/Follow Me—which it calls Call Hunting—multi-way calling, and third-party integrations. Based on the last known publicly available pricing plan, their pricing is nearly identical to Fusion's.
There are some key differences between the two programs. Firstly Amp only allows multi-way calls with up to 5 users, not 13. Secondly, Amp has automated reception as a built-in feature, while Fusion requires users to pay extra. Finally, although Amp allows for voicemail-to-email functionality, it does not offer transcription. Instead, Amp users receive an email with the voicemail recording attached. Which of these similar programs is best for you will depend on your particular needs.
Fusion Connect Vs OnSIP
OnSIP's feature set is broadly similar to Fusion's; however, its payment plans are entirely different. OnSIP offers 2 types of payment plans, per user and pay-as-you-go.
Which provider is best depends on your monthly call volume and how many users your business has. OnSIP is less economical than Fusion for companies with less than 5 phone users, given its 5-user minimum. But for teams of 5 or more, OnSIP's pay-as-you-go plan is cheaper than a Fusion plan with 5 users if your monthly call volume is less than 850 minutes a month.
Is Fusion Connect Right For Your Business?
Fusion Connect has a solid feature set, with everything you need for a fully functional VoIP system. With calling from any device, video and audio conferencing, find me/follow me, and visual voicemail, all of your VoIP needs are effectively covered. The package is backed by 24/7 customer service and a 100% uptime guarantee during business hours. Moreover, at $14.95/user/month, Fusion's pricing is better than that of most competitors for a full-featured VoIP product.
Fusion is best suited for users with a large call volume, as it does not offer a pay-as-you-go plan nor charge per the minute. So if you have high call volumes, and want an affordable VoIP platform with all the standard features, look no further than Fusion Connect.