In a Nutshell
Amp Telecom offers all of the basics you need to have a functional, secure, and effective phone system as a solo or small business user. Key features include call management, conference calling, and video conferencing. The pricing is fair, and the platform is HIPAA compliant, but customer support is limited, with no self-service options. In our review, we take a look at Amp's features and benefits, and see how it compares with the competition.
pros
Video conferencing available
Good discount for solo users
HIPAA compliant
cons
No knowledge base or FAQs
No free trial

Amp Telecom Visit Site
Amp Telecom Pricing & Plans - How much does Amp Telecom cost?
Amp Telecom offers three plans: Flying Solo, Ramping Up, and Small Business. We compiled the table below using the most current pricing data available:
$14.99/user/month, 2-year contract***
$7.99/user/month, 2-year contract***
$19.99/user/month, 2-year contract
Unlimited, via mobile phone only
*Pricing can be found on this landing page, not the main company website.
**Minimum of two users required
***last updated 2018
These prices are for a two-year contract. 1 year and month-to-month options are also available at a higher cost. The Small Business month-to-month subscription, for instance, costs $24.99 per user per month. However, Amp does not publicly disclose month-to-month pricing for its Flying Solo and Ramping Up plans or annual pricing for any of its price tiers.
Pricing for Amp's Ramping Up and Small Business plans is pretty standard for the industry. Ramping Up is a pay-as-you-go plan, meaning that it is best suited for businesses with multiple users but lower call volumes. Assuming you do not receive any inbound calls, the Small Business plan becomes the cheaper option once your monthly call volumes exceed 600 outgoing minutes per month.
The Flying Solo plan is a nice touch, effectively functioning as a small discount for a solo user. However, it can only work with your personal mobile phone, not an office phone.
Overall, Amp Telecom's pricing is fair for the features it offers. Amp also offers a volume discount. Contact them directly to inquire about this.
Amp Telecom Available Features
Call management
Amp Telecom has all the basic call management features you would expect from a VoIP provider. Some key call management functions are call monitoring, recording, whispering, parking, blocking, and screening.
Call whispering lets a 3rd party speak to just 1 participant in the call without the other hearing it. Managers typically use this feature to talk to a customer service rep without the customer being aware. Parking lets you put a call on hold at a parking extension until an available person can pick it up. Blocking and screening are features that protect your phone line from inbound spam calls, while monitoring lets managers listen in on a call in progress. As you might expect, call recording automatically records phone calls for later playback.
Call hunting
This is another common feature that allows you to specify a series of extensions for a call to route through automatically. For example, you can have calls go to your office phone first, then to your cell phone if you don't pick up at the office, then to the reception desk.
If you need more control than this, you can set up a more advanced version of call hunting called Follow Me. Follow Me allows for simultaneous ringing. You can, for example, have a call route to the reception desk and your office phone simultaneously, then route to your cell phone if no one picks up.
5-way calling and conference calling
You can facilitate a 3 to 5-way call with Amp. To set this up, start by calling 1 of the participants. Then dial the number of the 3rd person you want to include and press the conference call button on your phone to add them to the call. Repeat for the 4th and 5th participants as necessary.
While this method is fine for small conferences, it would be incredibly time-consuming and impractical to set up a large conference call in this way. Amp Telecom lets you create a conference number and a PIN, which you can then email to all the conference participants. Participants have to call the conference line and dial their PIN to join the conference call.
Voicemail transcription
Voicemail messages are stored securely on Amp Telecom's cloud. You can also set up Voicemail to Email, which emails you a file containing a recording of every incoming voicemail. Voicemail to Email works hand in hand with voicemail transcription, which transcribes voicemails into a text format before emailing them to you. The email will still have the original recording attached if you prefer to listen to that instead.
Automated call routing
Amp Telecom's Automated Attendant can route calls to specific numbers or departments based on certain conditions, like incoming telephone number, time of day, caller ID, and more. Using the Automated Call Distributor (ACD), you can take this one step further. The ACD will automatically attempt to spread calls evenly throughout a department. This is great for sales or customer service teams, as it will ensure a fair distribution of calls between phone reps in a single department.
Amp also has an Interactive Virtual Receptionist (IVR), which is essentially a set of options that the customer can choose from to route their call manually. This feature works with the Automated Attendant and the ACD to create a complete Automated Call Routing system.
Security and Reliability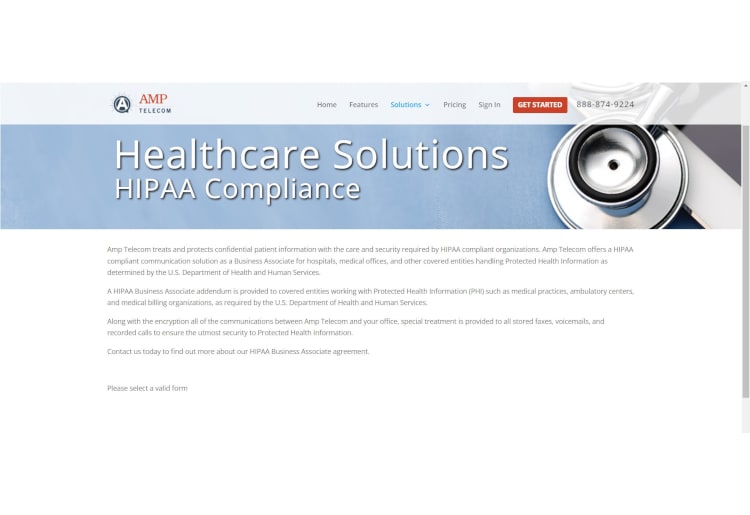 Amp Telecom is a VoIP provider, which means that it acts like a middle person between callers. When a call comes in, it routes to Amp Telecom's cloud servers, which then automatically route it through to you. To ensure that this entire process remains secure, Amp encrypts the details of the conversation using the Transport Layer Security protocol. It encrypts the conversation itself using the Secure Real-time Transport Protocol (SRTP).
Thanks to these security precautions, Amp Telecom is certified HIPAA compliant.
Amp Telecom Mobile App
Amp Telecom's service is device-independent. It has a mobile app for iOS and Android devices that you can use for VoIP dialing in the same manner as its desktop-based service. The Amp Telecom App has the same features as the desktop platform, such as call management, call hunting/Follow Me, conference calling, voicemail transcription, and automated call routing.
Amp Telecom Integrations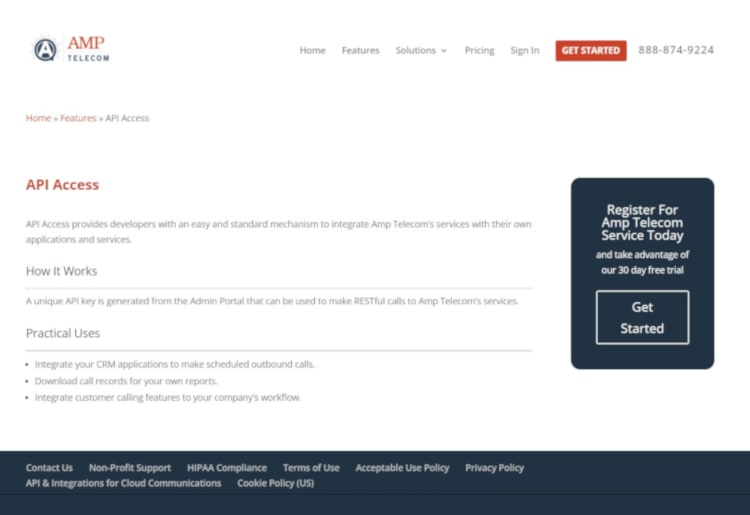 Amp Telecom uses the REST API, and provides API access to developers on request. This means that Amp can integrate with any application that uses REST API, but it is up to your developers to build that bridge in-house. There are also 3rd-party services that can help you set up integration between AMP and any other REST API app.
The good news is that, when it comes to integrations, REST API is one of the most popular API connections out there. You have access to thousands of popular integration options like Slack, Zoho CRM, and Pipedrive.
Help and Support
Amp Telecom offers customer support by phone at 888-874-9224 or you can navigate to their Contact Us page and fill out the contact form to submit a support ticket. Amp does not disclose customer service hours or service-level agreements, but a representative picked up within a few minutes when we called. It lacks an FAQs page, and offers no self-service options. This is a shortfall relative to the industry standard. Most VoIP providers offer a robust FAQs page and knowledge base.
How Amp Telecom Compares to Other VoIP Providers
Knowledge base, 24/7 phone support
Phone, knowledge base, dedicated concierge
Amp Telecom vs Ooma Office
Amp Telecom and Ooma Office are very similar. Both programs offer most of the default features you can expect from a VoIP program, with near-identical pricing. Ooma Office offers 24/7 phone support, while Amp does not disclose its support hours. Ooma also has an extensive knowledge base for self-service support, while Amp does not.
On the other hand, Ooma only allows access to its desktop app, call recording, and video conferencing features if you purchase its Pro tier, which costs slightly more at $24.95 per user per month. Amp Telecom makes all of these features available in its Small Business tier at just $19.99 per user per month.
Amp Telecom vs Aircall
Aircall's major differentiating factor is its robust 3rd-party integration offering. It offers integrations with Salesforce, HubSpot, Zendesk, Pipedrive, and many other popular platforms, with 100+ in total. Unlike Amp Telecom, many of these integrations are premade, meaning that you can connect Aircall to a 3rd party without the assistance of a developer. Aircall also offers business analytics, sales features, and significantly more customer support than Amp. Aircall is considerably more expensive than Amp Telecom, so you will have to decide for yourself if these features are worth the extra $10-$30 per user per month.
Amp Telecom vs Alliance Phones
Alliance Phones has a 30-day free trial and customer support via phone, email, and live chat. On the other hand, it lacks video calling capabilities and does not offer mobile support. It is also significantly more expensive than Amp Telecom, unless you have over 20 users.
At 21+ users, Alliance offers a bulk discount, which drops its monthly cost to $19.97 per user per month. This is comparable to Amp Telecom's pricing. You can also unlock certain features that Amp Telecom lacks, like multiple auto-attendants. However, it is difficult to recommend Alliance over Amp due to the lack of mobile support, which can be a dealbreaker for many users.
Is Amp Telecom Right For Your Business?
Amp Telecom is a middle-of-the-road VoIP provider that does not stand out or fall too short in any notable way. It is a good choice if you want a VoIP provider that ticks all of the boxes at a fair price point.
If Amp has one weakness, it's customer support. While they do offer a contact number, we cannot confirm the exact hours that it operates. Moreover, there is no knowledge base and no FAQs page. This is significantly below the industry standard, as nearly all VoIP providers have an FAQs page, and most offer a comprehensive self-service knowledge base.
On the positive side, Amp's use of the REST API allows it to integrate well with most software on the market. It also uses excellent security protocols and is HIPAA compliant. To make the best use of Amp Telecom, make sure you have access to a developer who can help with 3rd-party integrations. Overall, we consider Amp to be a reliable, if average, VoIP platform, priced fairly for what it offers.